Microgreen Salad, Chickpea Croutons + Green Goddess Dressing
Kickstart your summer with a healthy Microgreen Salad! This microgreen salad will blow your tastebuds away! Yes microgreens are light. But when paired with crunchy garbanzo bean croutons and homemade vegan green goddess dressing they make a hearty meal that's just as packed with protein as it is with flavor.
This post may contain affiliate links. As an Amazon Associate I earn from qualifying purchases at no cost to you. See my Affiliate Disclosure to read my policy and more about affiliate links.
Table of Contents
The Quickest Way to Make a Microgreen Salad
The next time you see micro greens at the grocery store make sure to pick them up! You can whip up a quick micro green salad in five minutes that will make you feel like you're basking in the southern california sun. Simply place micro greens in a large bowl with other salad ingredients like pea shoots, tomatoes and cucumbers. Other summer centric fresh produce you can use are strawberries and peaches!
Microgreen salads go well with a light vinaigrette so whip one up in a separate bowl! Ingredients like olive oil, balsamic vinegar, lemon juice or lime juice work best. Don't forget to season your salad with a pinch of sea salt and a crack of black pepper.
For extra flavor you can a salty cheese like goat cheese!
Why You'll Love this Microgreen Salad
If you're looking for a gluten free, grain free vegan microgreen salad recipe then you've come to the right place! This microgreen salad is:
Vegan
Raw
Gluten Free
Soy Free
Dairy Free
Colorful
Paleo
Grain Free
What Are Micro Greens?
Micro greens are the young seedlings of edible mature plants including large vegetables and leafy greens. They can be grown from almost any type of plant, even herbs. Unlike adult plants, microgreens can be harvested within 1 to 10 days after a process called cotyledon. Cotyledon is a fancy word for when a baby (embryonic) seed sprouts it's first leaves.
Microgreen farming first started in Southern California in the 1980's. Before micro greens became popular they were only served at fancy restaurants as a garnish because they were rare and expensive. They started gaining popularity in the 1990's, and their fandom has only grown since then. Now micro greens can be purchased at local farmer's markets and grocery stores throughout the United States.
What Do Micro Greens Taste Like?
There are over 87 varieties of micro greens and they all have their own distinct flavor. Essentially all "micro" greens taste milder than their adult versions. So they can have flavors ranging from bitter, peppery, nutty to sweet. To me, all micro greens taste like herbs.
For instance, arugula microgreens taste peppery just like mature arugula.
What Is the Best Way to Eat Microgreens?
The best way to eat micro greens is raw because cooking them lowers their nutritional value and ruins their delicate flavor. You can enjoy raw micro greens in a variety of ways. They can be used as a garnish on soups, dips, seafood and meat dishes. Another fun way to eat microgreens is to use them as a filling for wraps, tacos and sandwiches. However the most effective way to get all of their wonderful protein, enzymes, vitamins and minerals is to eat a microgreen salad.
Microgreens are tiny versions of full sized vegetables and therefore have a flavor profile similar to their full sized counterparts. Picking a microgreen variety that compliments the main dish will add more depth of flavor. For example carrot microgreens would taste great garnished on top of roasted carrots.
Garbanzo Bean Croutons Are A Great Gluten Free Crouton Replacement
I love croutons. Even though I don't eat grains anymore, croutons give salads a crunch. So I set out to find a replacement for traditional croutons. I came up with chickpea croutons. I know it sounds crazy but they're crispy, flavorful and filling. Chickpeas are also much easier to digest than traditional wheat croutons. I load them up with spices like cumin, garlic powder, Peruvian Spice Blend to intensify their flavor.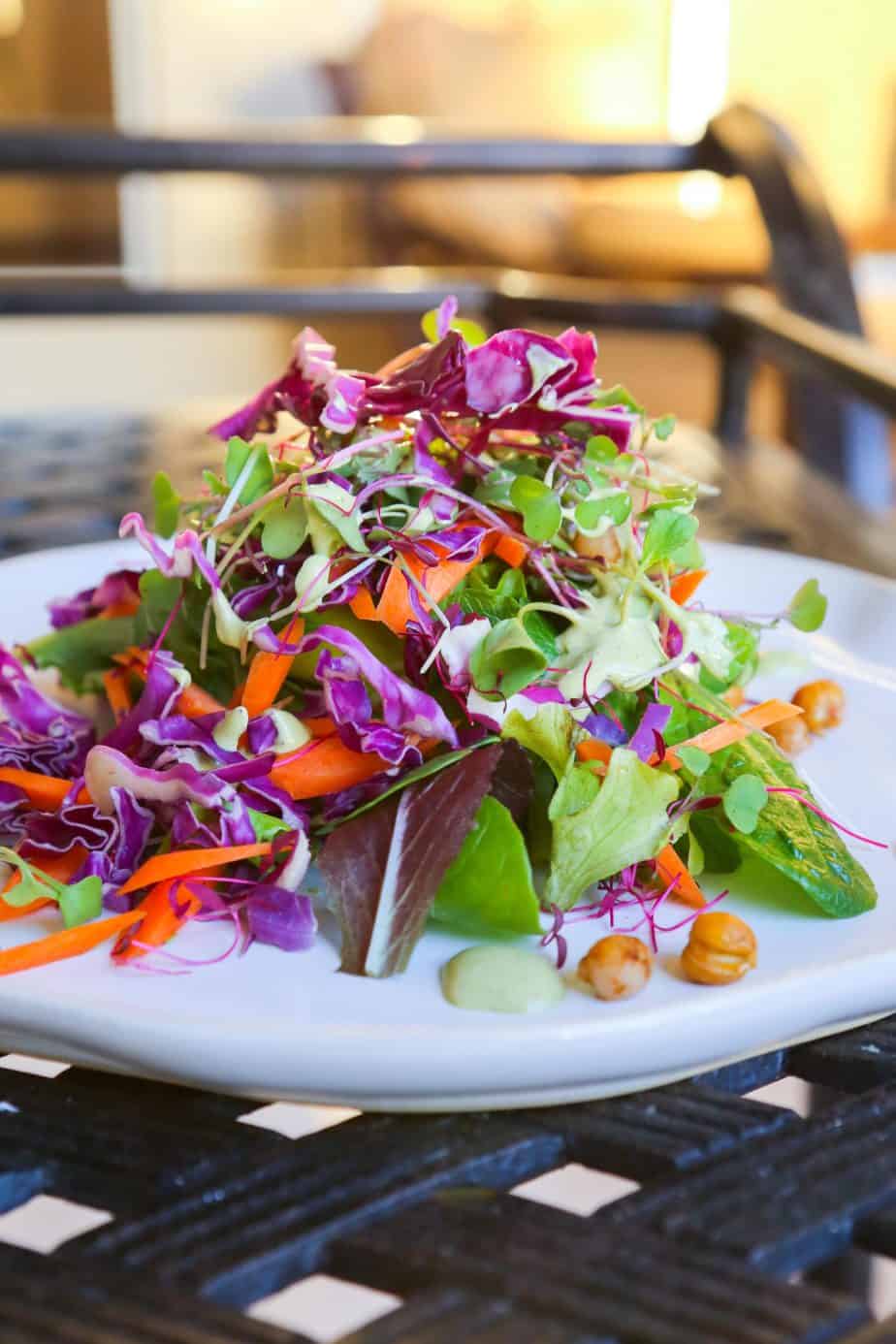 Salad Ingredients
Baby greens might be the star of the show but without the rest of the ingredients you wouldn't have much of a salad.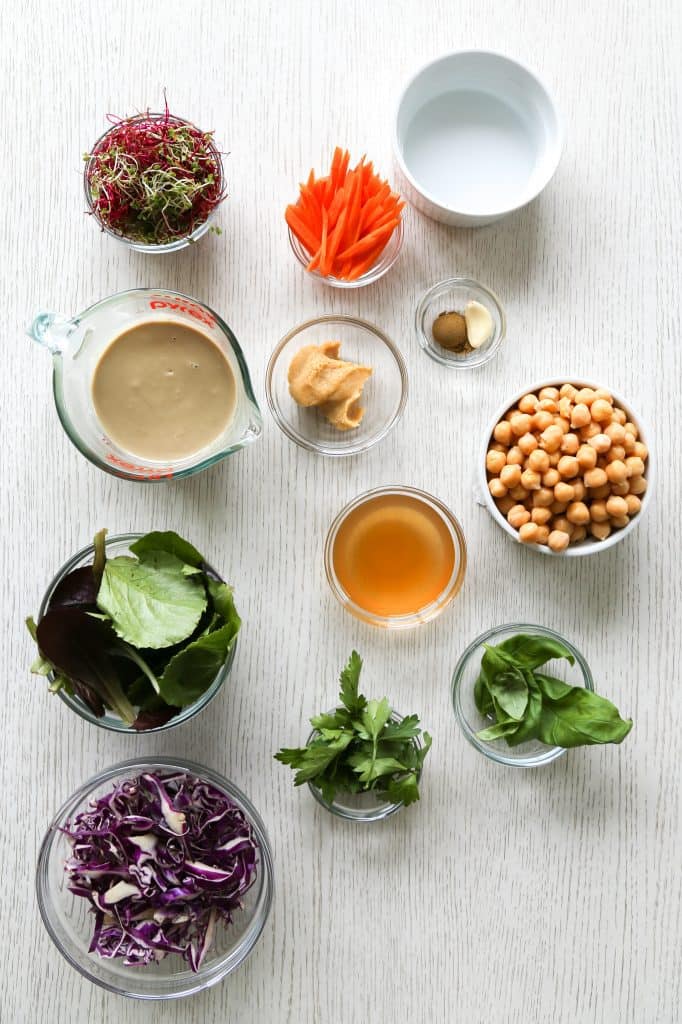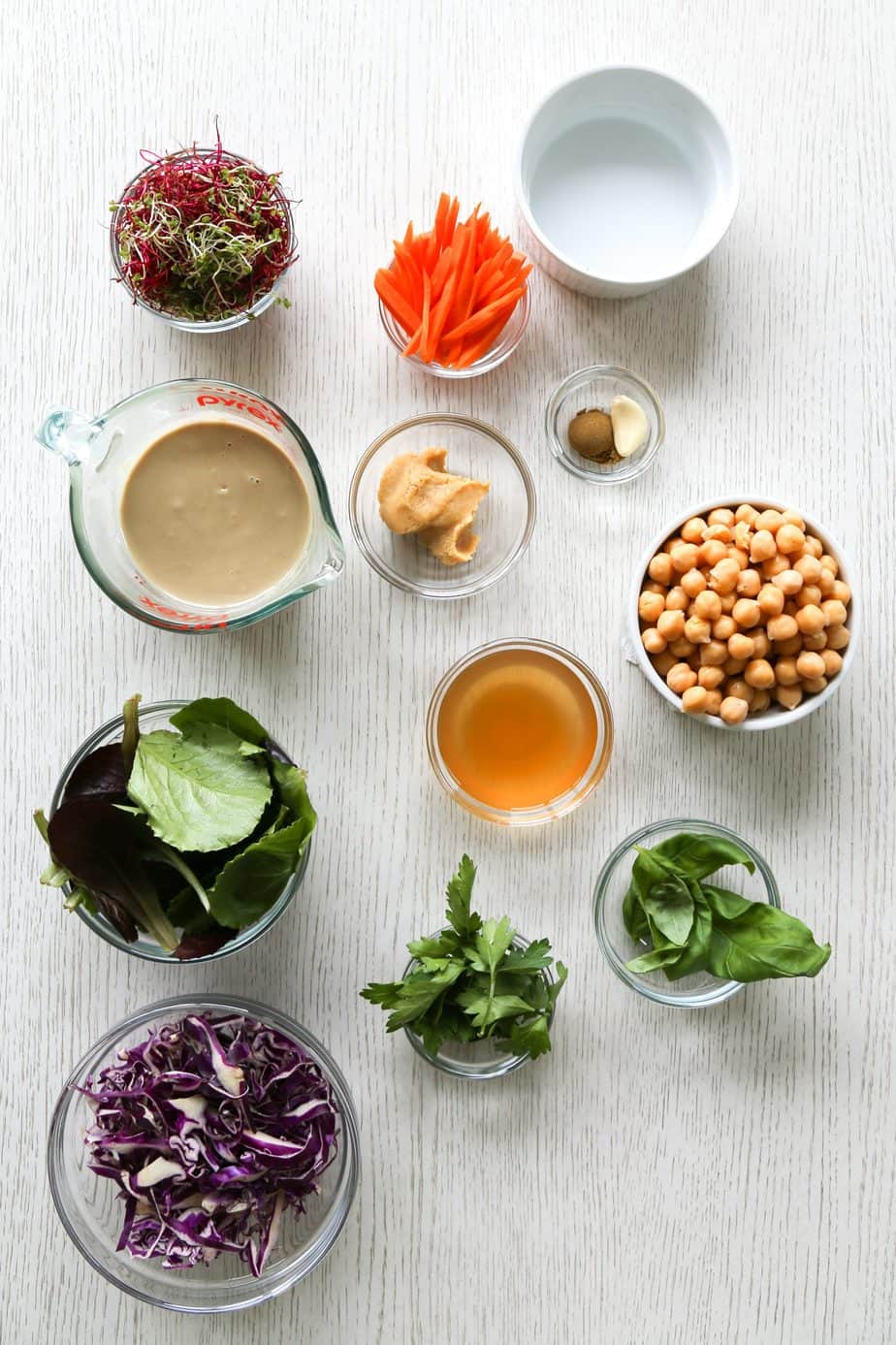 Baby Romaine Lettuce
Mircogreen Mix
Carrots
Red Cabbage
Chickpeas
Pepper
How to Make a Microgreen Salad
For the Dressing.

Combine the basil, parsley, garlic, apple cider vinegar, tahini and miso paste into a high speed blender and emulsify until the dressing is smooth.

Then transfer the dressing to a separate bowl.
2. Prepare the Chickpea Croutons: Preheat Oven to 400-F. In a large mixing bowl combine the garbanzo beans with cumin and salt. Next, transfer them to a baking sheet and spread them out evenly. It's important to roast them on top rack of the oven so they get nice and crispy. They should take 25 minutes. Then flip the chickpeas half way through cooking.
3. Make the microgreen salad: Slice carrots into matchstick pieces. Shred the cabbage. In a large bowl toss the carrots, microgreens, cabbage, romaine and chickpeas.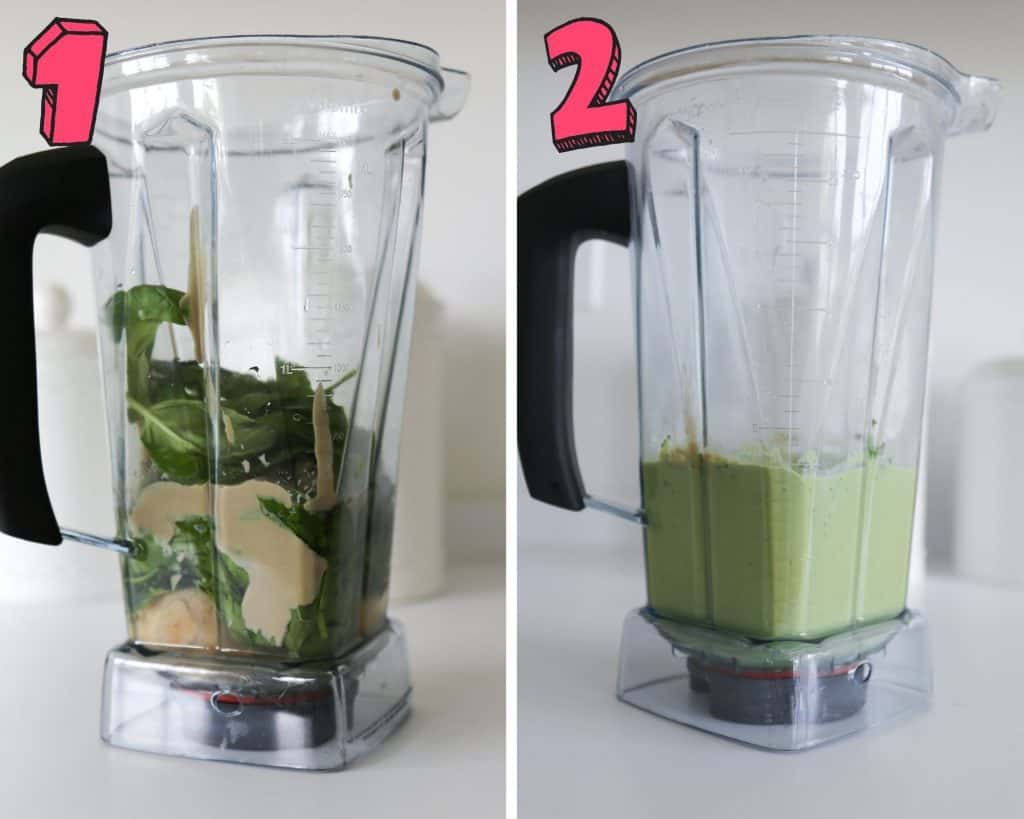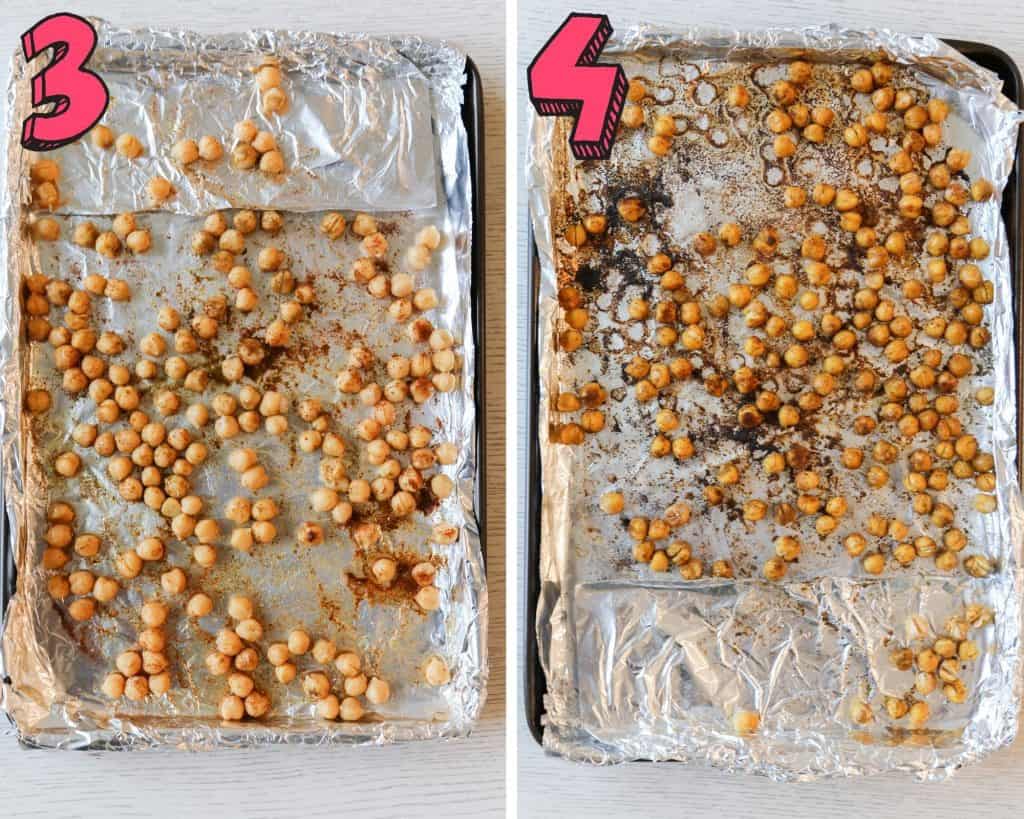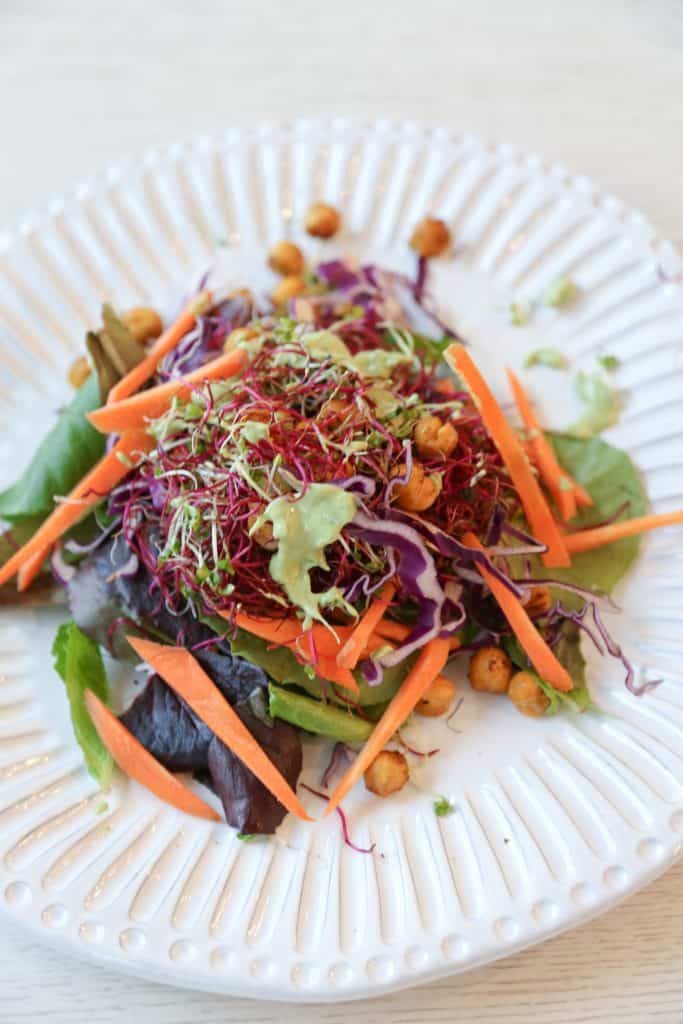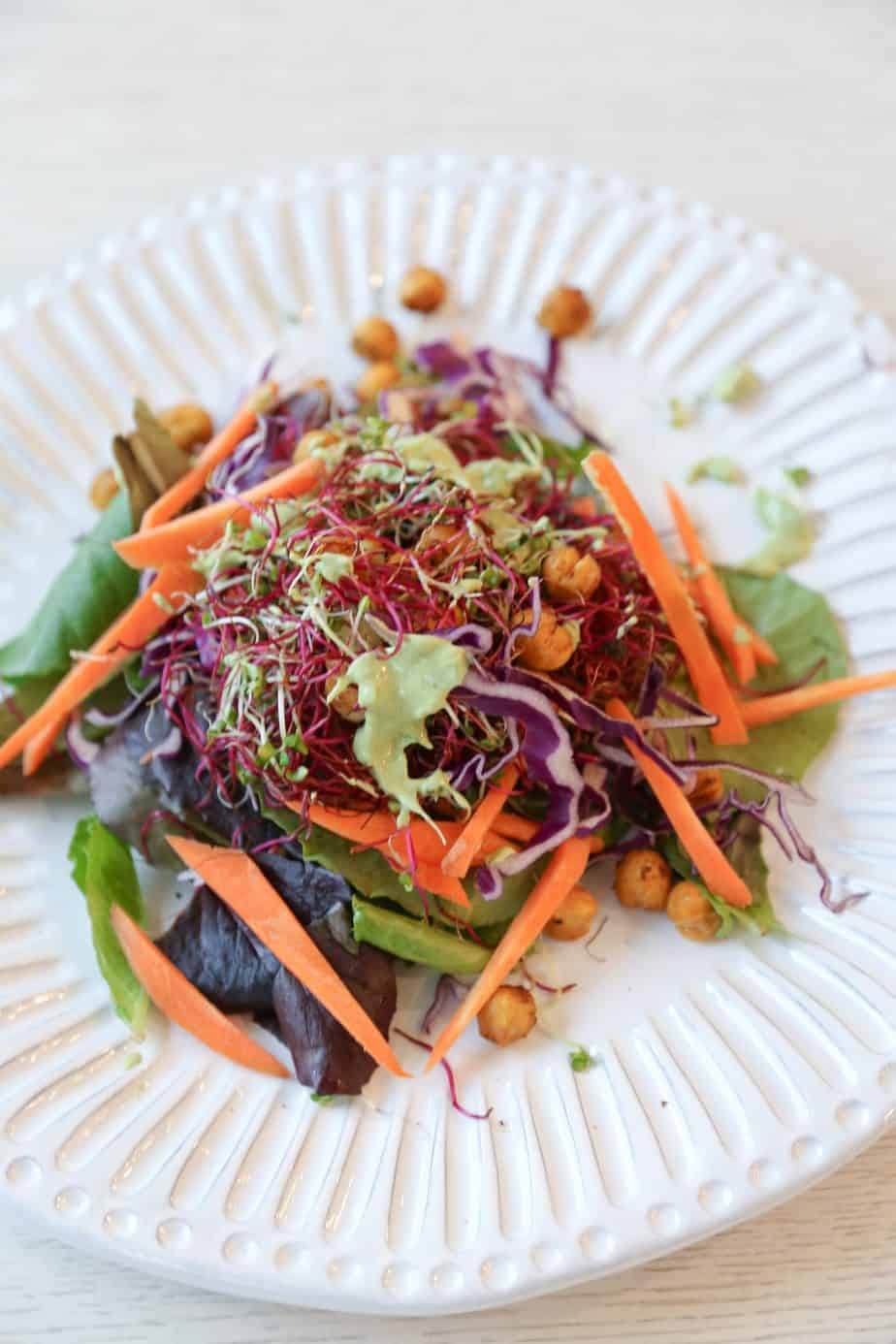 How to Store A Microgreen Salad
PRO TIP: While this salad has a lot of different components, it's easy to make. The Green Goddess Dressing will last up to 1 week in the fridge. So you can use it as a dip later on! This salad also holds up well in the fridge. To extend its shelf life, store the dressing and the salad separately from each other in airtight containers.
This mixed microgreen salad is the perfect starter. I love serving it with roasted carrot hummus. These two recipes are good to make together since they both use chickpeas. You can roast the chickpeas at the same time as the carrots. And prepare the dressing and salad while the chickpeas and carrots roast.
How to Make Microgreens Last Longer In The Fridge
Fresh microgreens can last for up to 10 days in the fridge. But if they have been in the supermarket for a while they could go bad within a few days of purchase. Unfortunately because microgreens need completely new soil every time they're grown they are expensive.
It's so disappointing to open the fridge and see rotten microgeens only a few days after you bring them home from the super market. I have been on the receiving end of many spoiled microgreen boxes before I've had the chance to use them.
It's a good idea to use microgreens as soon as you purchase them. This is not a great ingredient to buy in advance. However you can increase their shelf life by a few days by taking them out of their original packaging and placing them in an airtight container that is lined with paper towel.
The paper towel will absorb any moisture that will make the microgreens soggy.
Microgreen Salad Common Questions and Answers
Are microgreens good for you?
Yes, microgreens are good for you! These little dynamites are filled with nutrition. Microgreens are rich in vitamins, minerals and antioxidants like zinc, iron, live enzymes and potassium. According to healthline In studies microgreens have been shown to have up to 9 times the amount of nutrients as the mature version of the plant.

Since microgreens have such a concentrated amount of nutrients, they have been shown to effectively fight certain inflammatory diseases like heart disease, diabetes, certain types of cancer and Alzheimer's disease.


Can you eat microgreens in a salad?
In my opinion the best way to eat microgreens is in a raw salad. If you're wondering why here are the most important reasons.

1. Microgreens have the most vitality when they are raw. Cooking them reduces the potency of their vitamins and minerals. It also destroys their live enzymes.

2. Microgreens are very flavorful despite their small stature. Their flavors range from spicy, sweet, fresh and citrusy. These variations in flavor add character and dimension to salads.

3. The best part of microgreens are their crunch! My favorite are sunflower sprouts! Microgreens are so delicate that even the smallest amount of heat will wilt them. Since they're so tiny once wilted the microgreens fall apart. Raw microgreens add great flavor and crunch to a salad, especially when you pair it with a light vinaigrette.

Health Benefits of Microgreens
Microgreens are little dynamites filled with nutrition. They often have up to 40 times more vitamins, minerals, and antioxidants than the mature leaves. They also have more protein than their adult versions.
More Salad Recipes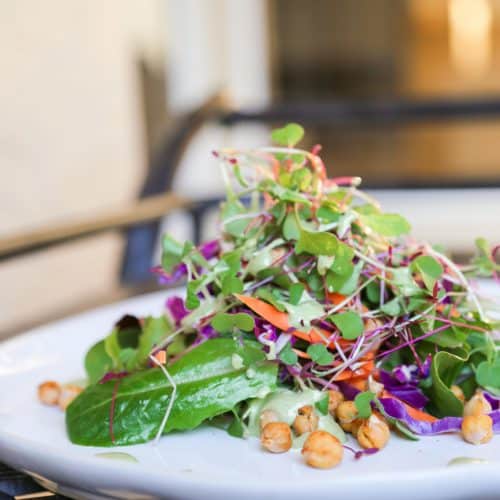 Microgreen Salad with Chickpea Croutons & Vegan Green Goddess Dressing
This microgreen salad is packed with tons of nutrition with a creamy zesty green dressing.
Print
Pin
Rate
Ingredients
Make the Salad
1

box

Baby Romaine Lettuce

1

C

Microgreens

1 container is fine

1

C

Red Cabbage

shredded

2

Carrots

thinly sliced
Make The Green Goddess Dressing
Instructions
Roast the Chickpeas
Preheat Oven to 400-F. Season Chickpeas with cumin and salt. Spread evenly on a baking sheet and roast on top rack of the oven until crispy (25 minutes). Flip the chickpeas half way through cooking.
Assemble the Salad
Combine romaine lettuce, microgreens, shredded cabbage and chopped carrots (match stick slice) in a bowl. Once the chickpeas are ready add them in as well.
Make the Green Goddess Dressing
Combine the basil, parsley, garlic, apple cider vinegar, tahini and miso paste into a high speed blender. Emuslify until smooth.
Nutrition
Serving:
128
grams
|
Calories:
399
kcal
|
Carbohydrates:
21
g
|
Protein:
13
g
|
Fat:
33
g
|
Saturated Fat:
5
g
|
Polyunsaturated Fat:
14
g
|
Monounsaturated Fat:
12
g
|
Sodium:
381
mg
|
Potassium:
511
mg
|
Fiber:
5
g
|
Sugar:
3
g
|
Vitamin A:
6219
IU
|
Vitamin C:
28
mg
|
Calcium:
132
mg
|
Iron:
4
mg