You'll absolutely love this roasted carrot hummus from your first dip. Let me show you how to make carrot hummus the easy way. Without sacrificing flavor or health!
Who doesn't love hummus? It is one of the most satisfying dips around. I've never met a plant based woman who didn't like it. I love finding new ways to lighten up hummus while making it more flavorful. That is why I came up with this carrot hummus recipe. The roasted carrots and make the recipe lighter and easier to digest without sacrificing flavor.
But Don't Legumes Cause Gas?
Chickpeas are some of the easiest legumes to digest, along with mung beans. Pureeing chickpeas into hummus is also a great predigested way to get these tasty lentils into your diet without the bloat. For the roasted carrot hummus recipe I use a one to one ratio of carrots to chickpeas. For an even lighter version you can reduce the ratio of chickpeas to carrots by using 1 cup of chickpeas and 2 cups of carrots.
What do I need to make Roasted Carrot Hummus?
The ingredients you'll need to make carrot hummus are not that different from the traditional recipe. Although I did throw in a few special ingredients like my Peruvian Spice Blend. You'll find the recipe below. If you don't wan't to make your own spice blend you can simply use cumin and paprika as a replacement. A Spanish blend from the market is also fine.
I've also included mellow white miso in this recipe. I use mellow white miso in my miso soup recipe. This miso paste is naturally fermented and full of probiotics. Which will also help your body break down the hummus easily! If you don't have miso paste you can substitute Nama Shoyu gluten free soy sauce or Tamari instead.
The Remaining Ingredients
Roasted Carrots
Chickpeas
Olive Oil – optional
Water
Lemon Juice – optional
Fresh Ground Black Pepper
Sound's simple enough?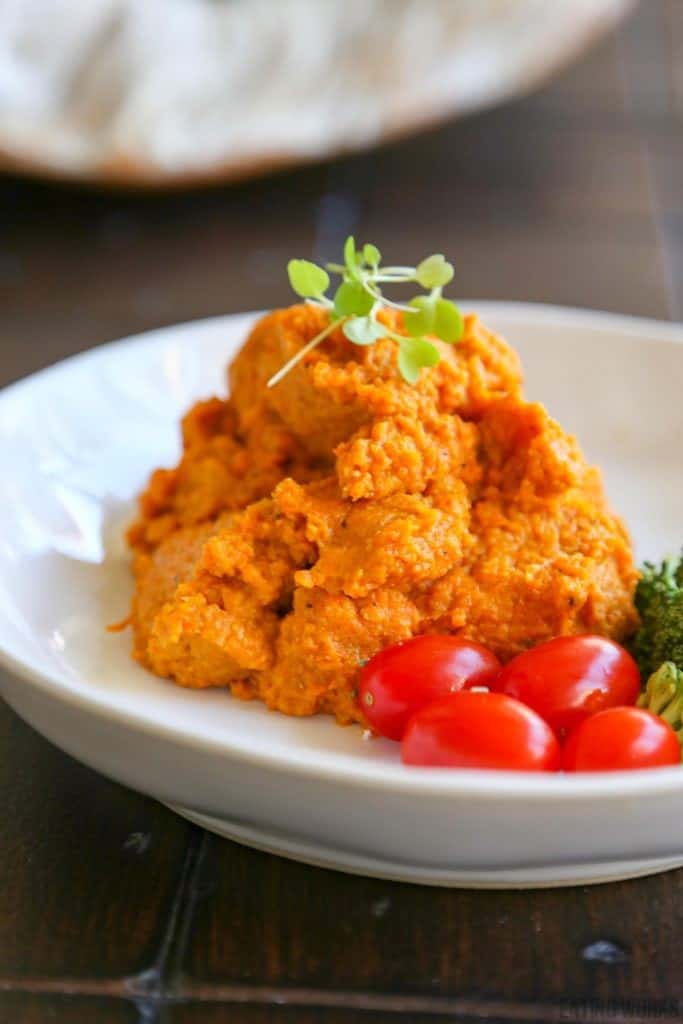 How to Make the Roasted Carrot Hummus Recipe
Step 1: Preheat your oven to 400 degrees. While the oven heats up peel the carrots and coat with oil and arrange them on a baking sheet. Season the carrots with salt and pepper. Roast them for about 40 minutes or until they are soft enough to be pierced with a knife and slightly golden brown.
Step 2: Remove the carrots from the oven and peel off any burnt parts. Mash them with a fork.
Step 3: Combine all of the ingredients in a food processor and emulsify until smooth. And you're done!
How to Serve the Roasted Carrot Hummus
Carrot hummus is perfect for parties. You can arrange the dip with chips or other assorted vegetables, goat or sheep cheese, and guacamole. It also goes well on top of a salad or loaded onto a baked potato. I would love to hear of different ways you would use serve it.
Other Great Dip Recipes To Try
I'd Love to Hear From You!
If you like or have made this recipe send me an email or let me know on instagram! Don't forget to Like Eating Works on Facebook and join our Community Group!
Watch My Full Cooking Class Here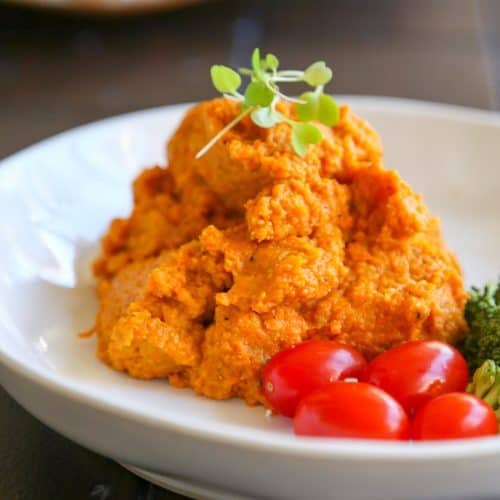 Peruvian Spice Blend
This spice blend can be used on vegetables, salmon, shrimp and meat. It tastes good on everything! I always make sure to have some on hand
Print
Pin
Instructions
Combine all ingridients in a spice grinder or a bowl and combine. Store in a container with an airtight lid.
Notes
This spice blend goes well with grilled vegetables, chicken and fish. I always keep it on hand.
Store in an air tight container in a cool and dry place.
This blend never expires.
Nutrition
Serving:
1
g
|
Sodium:
63
mg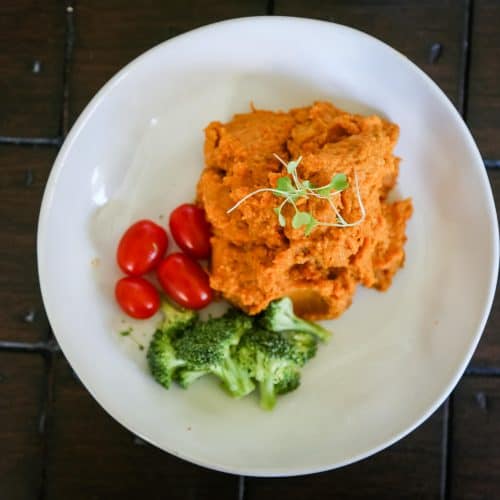 Vegan Roasted Carrot Hummus
You'll love this carrot hummus from the first dip! Flavored with roasted carrots and a spanish spice blend gives it a smokey savory flavor. Not to to mention the festive orange color!
Print
Pin
Ingredients
1 1/2

C

Roasted Carrots

1 pound peeled

1 1/2

C

Chickpeas

prepared and soaked or one 15 oz can

1/4

C

Olive Oil

cold pressed

1/2

C

Water

1/4

C

Mellow White Miso

chick pea miso if you are avoiding soy

1

Tablespoon

Lemon Juice

optional

1

T

Peruvian Spice Blend
Instructions
Preheat oven to 400-F. Arrange carrots on a baking sheet and coat with oil or butter. Season with salt and pepper and bake until soft and slightly golden (40 minutes).

Remove the carrots from the oven. Peel off any burnt parts and mash with a fork

In a food processor combine all ingredients. Combine until emulsified. Enjoy!
Notes
This recipe is easy to make and makes a lot! Three cups! So it will last you a while.
I like to serve it on top of salads or as an appetizer with sliced vegetables and olives.
You can also load the carrot hummus up onto a romaine lettuce leaf with some avocado and enjoy it like a raw taco.
This will stay fresh in the fridge for 8 days.
Nutrition
Serving:
8
oz
|
Calories:
129
kcal
|
Carbohydrates:
11.2
g
|
Protein:
1
g
|
Fat:
8
g
|
Saturated Fat:
1.2
g
|
Sodium:
412
mg
|
Potassium:
257
mg
|
Fiber:
6.1
g
|
Calcium:
27
mg