This Garlicky Vegan Aioli is perfect for spreading on sandwiches or for use as a dip. It's made with just 8 ingredients in less than 5 minutes. Most of the ingredients are probably already sitting in your fridge and pantry. You'll never believe how smooth and creamy this aioli is.
I love using it as a dipping sauce for these Easy Roasted Artichokes. I usually serve this as a starter at dinner parties. Both vegans and non-vegans alike ask for the recipe.
If you loved my Spicy Green Tahini Sauce then you'll absolutely adore this dip as well. Satisfy that craving for creamy and savory sauces that are traditionally made with real dairy.
Ingredients in Vegan Aioli
Garlic
Onion Powder
Nutritional Yeast
Water
How to Make It
This vegan aioli is perfect for beginner cooks because it's easy to make. There's only one step: Put everything in the blender and blend until smooth. Here are some more detailed steps and pro tips to help you make this recipe perfect every time!
Step 1: Place all of the ingredients in the blender. Make sure the lid is tightly sealed and start to blend. Turn the blender on the lowest setting and slowly increase the speed until its on high. Use a tamper to push the ingredients into the blade so that the aioli is fully emulsified.
Pro Tips
Use an offset spatula or tamper

Because the ingredients are thick, it can be hard to blend up at the start. Use a tamper or spatula to scrape down the sides and push the ingredients into the blade inbetween blending cycles.

Add Water

If you're still having trouble blending, you can add 2 more tablespoons of water.

Soak the Cashews

You don't need to soak your cashews overnight, but they do need to be soaked for at least one hour. The longer the cashews sit in water the easier they will be to blend.

The Benefit of Soaking Cashews

Soaking your cashews for at least 30 minutes before making the aioli will make it easier to blend and the end result will be creamy. If you don't soak the nuts it could be nearly impossible to blend them. You could also end up with a chunky finished product.
Soaking cashews makes them more digestible for two reasons:

The water absorbed by the cashews makes them softer and easier for your digestive system to break down.
It also washes off the digestive inhibitors that coat the outside of each nut.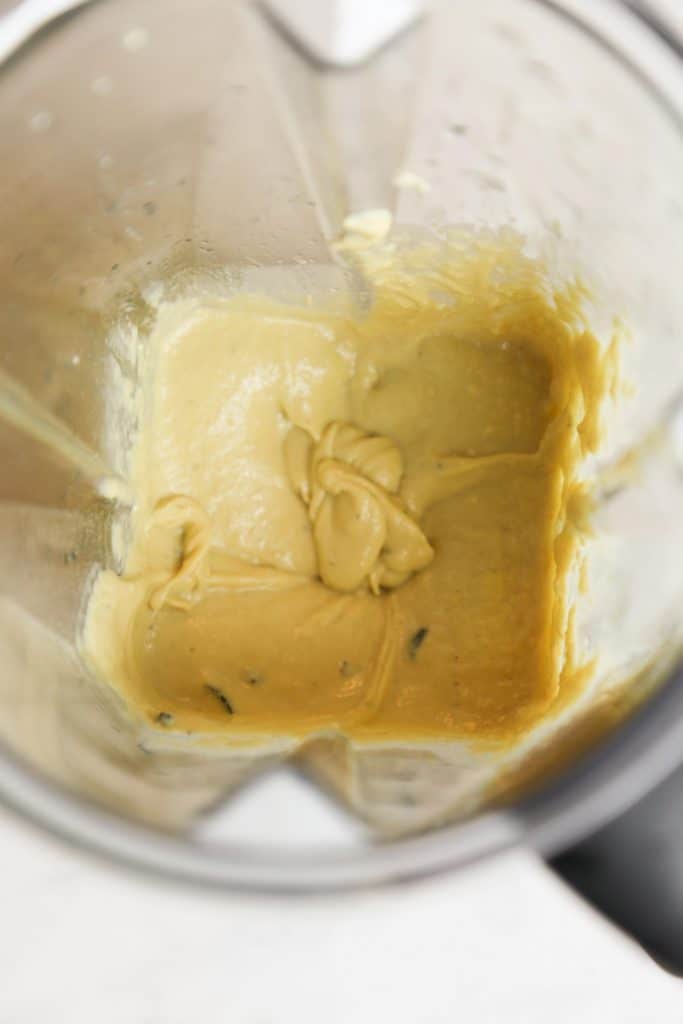 Ingredient Substitutions
Don't have all of the ingredients listed above? No problem! Here is a list of ingredients that I've successfully swapped or left out.
Cashews
Onion Powder
Fresh Garlic
Onion Powder
Recipe Variations to Try
Chipotle Aioli – Add 2 chipotle chilis in adobo sauce
Plain Aioli – Leave out the garlic and onion powder for a more neutral flavor.
Harissa Aioli – Add 1 tablespoon of harissa.
Ingredient Substitutions
If you want to make this recipe but don't have all of the ingredients, fear not. Here is a list of successful substitutions for many of these ingredients
Rice Vinegar can be swapped out for apple cider vinegar.
Cashews can be swapped for macadamia nuts or almonds.
Fresh garlic can be swapped out for 1/4 teaspoon of garlic powder or 1/4 teaspoon of jarred garlic.
Onion powder can be swapped out for 2 tablespoons of diced fresh onion.
Is Aioli Dairy Free?
Aioli is just a fancy word for mayonnaise. Traditional mayo is made with oil and eggs. Other flavorful ingredients are often added like harissa or Dijon Mustard. Technically, aioli is dairy free since it does not use any milk products. However, that doesn't make it vegan. If you are looking to avoid dairy then you can still use regular aioli.
I've swapped the eggs (in regular aioli) for cashews. Cashews provide the same creaminess as eggs!
Why Make it Vegan?
Casein is a protein that slows down digestion in your gut, but also acts as glue in the
intestines. This can trigger an immune response causing your body to produce excess
mucus. The mucus then gums up your respiratory and digestive systems. Since goat and sheep milks don't contain this protein they are much less mucus
forming.
If you can get your hands on raw sheep or goat cheese, that's even better because the raw dairy still contains its live enzymes that aid in digestion. Therefore, raw
goat and sheep dairy are the best possible sources of dairy for humans after infancy.
So in light of dairy's immunosuppressant qualities, I bring you a delicious substitute
to use over the holidays: Raw Vegan Cashew Garlic Aioli completely vegan and
dairy free.
More Creamy Vegan Dips
Dips are the literal "secret sauce" that makes a meal delicious. How many times have you taken a bite out of a sandwich and asked, "What's in this sauce?" Here are some more vegan dips to try that I'm positive will quickly become favorite family staples.
Garlicky Vegan Aioli
Equipment: Tinfoil, Vitamix, Oven, Measuring Spoons Notes: When soaking the Cashews be sure to throw out any that float to the top this is a sign that they are rancid. You'll know your dip is the right consistency if when you blend it you can see that the dip will form an "X" shape when you shut the blender off.
Print
Pin
Rate
Servings:
10
2 T Servings
Instructions
Preheat oven to 325 degrees. Slice garlic through the middle drizzle with olive oil salt and pepper, wrap in tinfoil and bake for 25 minutes or until garlic is soft. Pop out two cloves and save the rest.

In a Vitamix, blend all of the ingredients together until smooth. Add extra water, one tablespoon at a time if the Aoli is too thick to blend.
Notes
This recipe is Keto friendly and low carb
Nutrition
Serving:
2
T
|
Calories:
138
kcal
|
Carbohydrates:
4
g
|
Protein:
3
g
|
Fat:
13
g
|
Saturated Fat:
2
g
|
Polyunsaturated Fat:
2
g
|
Monounsaturated Fat:
8
g
|
Sodium:
177
mg
|
Potassium:
104
mg
|
Fiber:
1
g
|
Sugar:
1
g
|
Vitamin A:
1
IU
|
Vitamin C:
1
mg
|
Calcium:
7
mg
|
Iron:
1
mg