Healthy Guacamole with Lemon and Cilantro: Dip into deliciousness with 6 ingredient guacamole. This vegan dip is simple to make. You won't find anything unhealthy here, no mayonnaise or sour cream.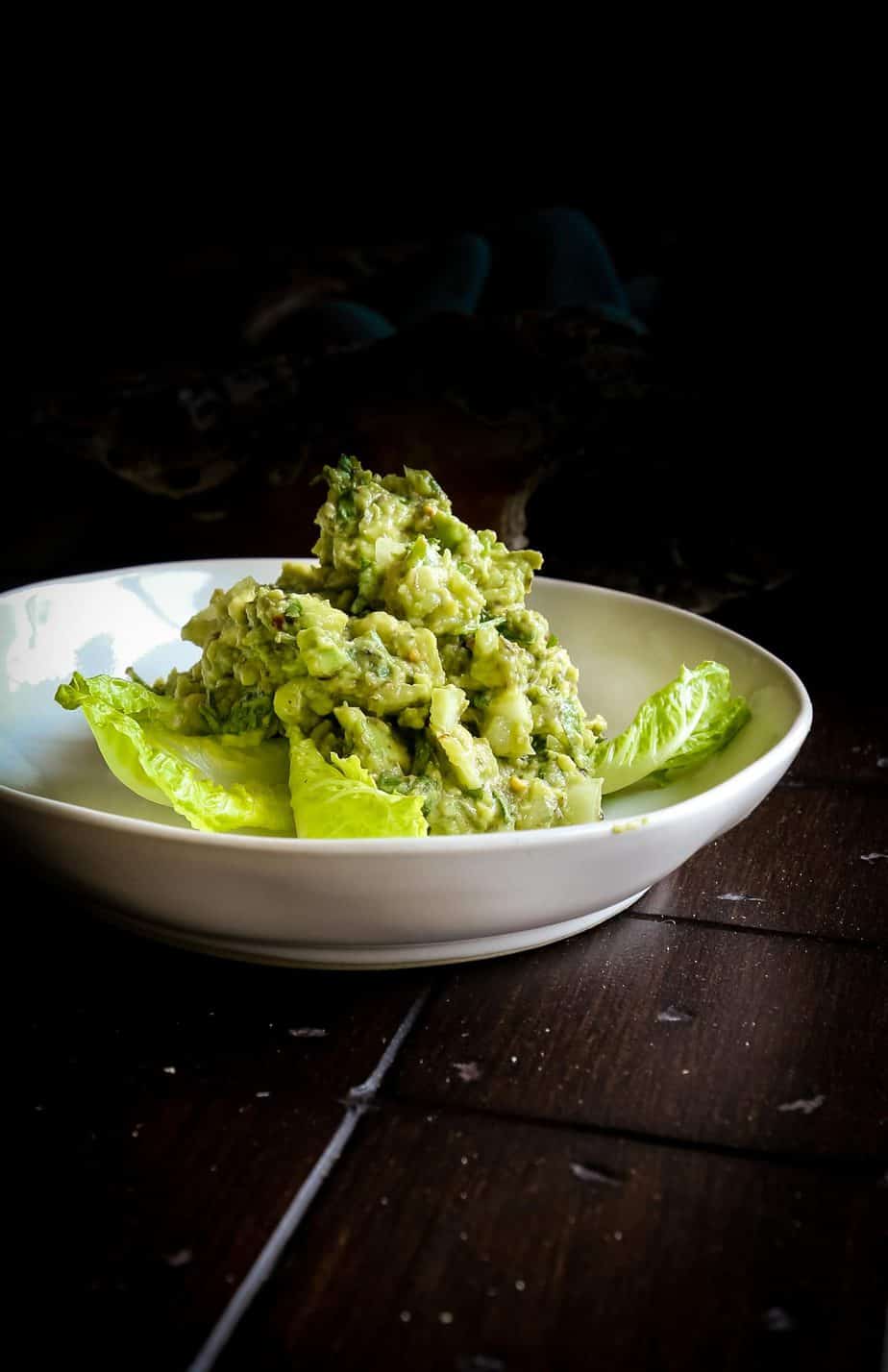 This post may contain affiliate links. As an Amazon Associate I earn from qualifying purchases at no cost to you. See my Affiliate Disclosure to read my policy and more about affiliate links.
Why You'll Love Healthy Guacamole with Lemon and Cilantro
Just pure vegan guacamole-y goodness. I love the intense lemony flavor of this guacamole and the slight heat it has from the roasted red pepper chili flakes. But don't worry, its not too spicy. My friends and family have been asking for this healthy guacamole recipe for years. So I finally had to share it!
Load this guacamole onto tacos, serve it as a party dip. My favorite way to eat guacamole is on lettuce tacos. For a guide on how to make great lettuce wraps check out this Fresh Garden Salad Use individual whole leaves from romaine hearts. The leaves have a perfect "V" shape for holding guacamole. These leaves are also sturdy enough to hold guacamole and other toppings without falling apart.
Guacamole is one of the healthiest foods you can eat! Most of the health benefits can be credited to "healthy" guacamole's main ingredient, avocados! Avocados are high in monounsaturated fats, which are easy to digest. Monounsaturated fats are great for our brain, nervous system and skin. The fact that they are easy to digest means that our bodies will be able to easily absorb nutrients from the avocados and secrete the waste. Including lemon with avocado boosts it's digestibility even more. The acids in the lemon juice help your body break down the fat in avocados.
The fats in avocados help us maintain healthy cholesterol levels and keep us full after meals! So eating avocados could help prevent you from over eating or getting hungry in between lunch and dinner. Having guacamole for dinner is also a great idea if you have trouble sleeping. The fats from the avocado will help your body feel full (but not heavy). This will help you avoid getting hungry in the in the middle of the night and stumbling into the kitchen for a snack. Eating in the middle of the night is not good for you because it messes with your natural Circadian rhythms.

How to Make Lemony Guacamole
Along with dozens of guacamole recipes on the internet, you'll find just as many ways to make it! I make guacamole a few different ways depending on the consistency I want (creamy or chunky), and the tools I have available. My favorite way to make guacamole is with a mortar and pestle. But it's just as easy to make healthy guacamole by mashing the avocado with a fork in a bowl.
The most important part of this healthy guacamole recipe is its ingredients. With just a few household ingredients you'll have beyond amazing guacamole.. in minutes! Here's what you'll need…
Ripe Avocados
Lemon Juice – without the pits!
Fine Grain Sea Salt
Cilantro
Dried Oregano

How to Tell if an Avocado is Ripe
Making healthy guacamole that tastes great starts with ripe avocados. If the avocado is under ripe (too hard), then you won't be able to mash it into a tasty guacamole. If it's too soft or mushy the guacamole will have a slight bacon flavor. The perfectly ripe avocado will be hard with a slight give when you press on its flesh, like a hard memory foam mattress.
Pro Tip for Picking Perfect Avocados: When an avocado is picked, the stem is trimmed, leaving a small nub that looks like a tiny brown button. The best way to know when an avocado is perfect for making guacamole is when the nub on the top of the avocado pops off easily. When the avocados are under ripe the nub will not come off. But as soon as it's ripe and ready to go, the nub will fall off with the flick of a finger. The nub is just another word for the stem of the avocado.
How to Store Guacamole
If you've ever had leftover guacamole – before you know it, it turns brown. This is due to a process called Oxidation. When an avocado is cut open and exposed to open air, the oxygen reacts with compounds called polyphenols. This damages the avocado's green flesh and turns it brown. Even though brown guacamole looks unappetizing it doesn't mean that it's spoiled.
Three ways to keep your guacamole green and fresh… for days in the fridge.
Use the Pits: Don't throw out the pits from the avocados, and place them back into the guacamole when its done.
Use Plenty of Acid: The natural acids present in citrus fruits like lemons inhibit polyphenols from reacting with oxygen, slowing down the rate of oxidization. using lime will help guacamole last up to 3 days in the fridge. This Healthy Guacamole with Lemon and Cilantro uses plenty of lemon juice so it stays fresh longer than other guacamole recipes.
Water Lock: This method sounds weird and gross but it works. Put water on top of your guacamole when storing it in an airtight container and in the fridge. The water acts as a barrier between the air and avocado. This watery blockade prevents oxygen from reaching the guacamole. Simply dump off the water before serving your guacamole. I've done this in the past, but I prefer combining method one and two. I can usually get about 4 days out of my guacamole this way.
No matter what method you use to store your guacamole, ALWAYS store it in an airtight container. Glass is best!
Easy Guacamole Variations
There are thousands of ways to make guacamole. Of course, I prefer the healthy versions. Only whole food plant based or vegan guacamole recipes for me! Here are a few other tasty guacamole recipes.
Who doesn't love guacamole? This beloved Mexican condiment is in such high demand at restaurants and fast-food chains, that it's usually "extra" and in my opinion, well worth a few more cents—because one scoop is just never enough, From classic and chunky guacamole to healthy, spicy and tropical fruit guac, you'll find so many new variations in this collection of 24 gluten free guacamole recipes. Enjoy!
What to Serve with Lemon Guacamole with Cilantro
This tasty guacamole goes well with almost any Mexican dish like these…
Healthy Guacamole With Lemon and Cilantro Google Web Story!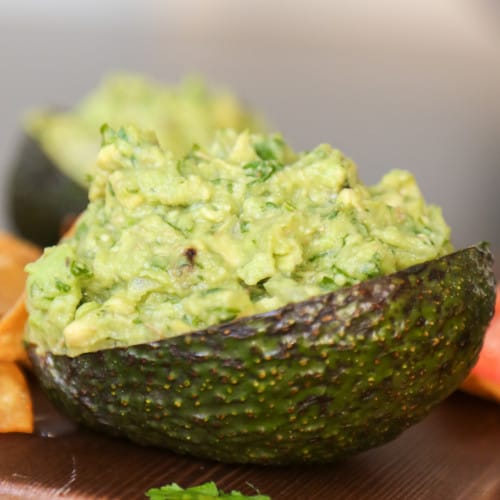 Tasty Guacamole Recipe Without Tomatoes
This guacamole is so simple, healthy and tomato free!
Print
Pin
Rate
Instructions
Make the Guacamole
In a bowl mash avocados with a fork until slightly chunky.

Combine lemon juice, onions, cilantro, oregano, chili pepper flakes, and salt. Mix to combine evenly. Adjust seasonings according to your tastes. Enjoy!
Nutrition
Serving:
75
grams
|
Calories:
171
kcal
|
Carbohydrates:
12
g
|
Protein:
2
g
|
Fat:
15
g
|
Saturated Fat:
2
g
|
Polyunsaturated Fat:
2
g
|
Monounsaturated Fat:
10
g
|
Sodium:
203
mg
|
Potassium:
538
mg
|
Fiber:
8
g
|
Sugar:
1
g
|
Vitamin A:
235
IU
|
Vitamin C:
20
mg
|
Calcium:
32
mg
|
Iron:
1
mg