Fall is my favorite season of the year, and there's nothing quite like the flavors and aromas of pumpkin spice to usher in the season. These no bake pumpkin cookies are perfect for satisfying your pumpkin spice cravings without turning on your oven.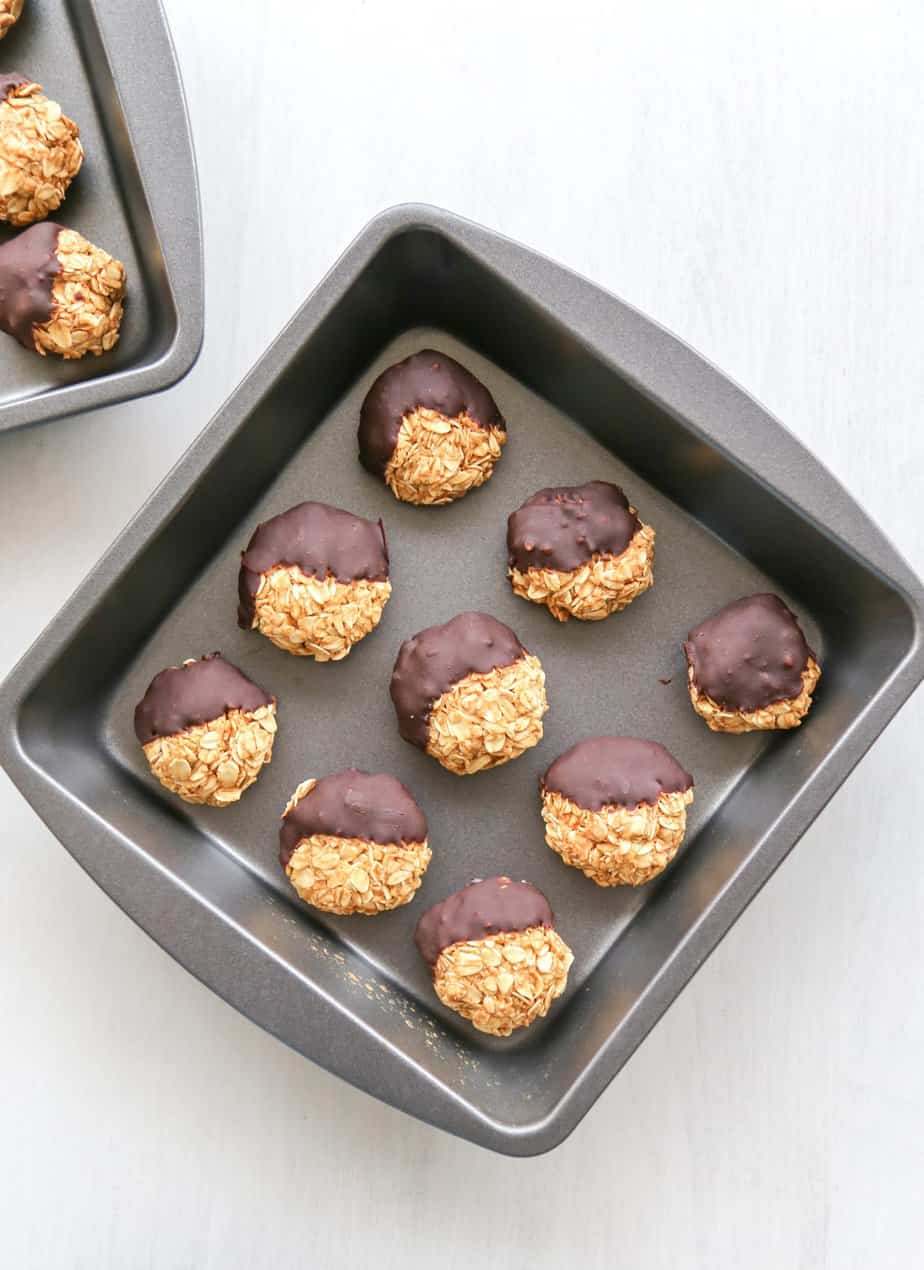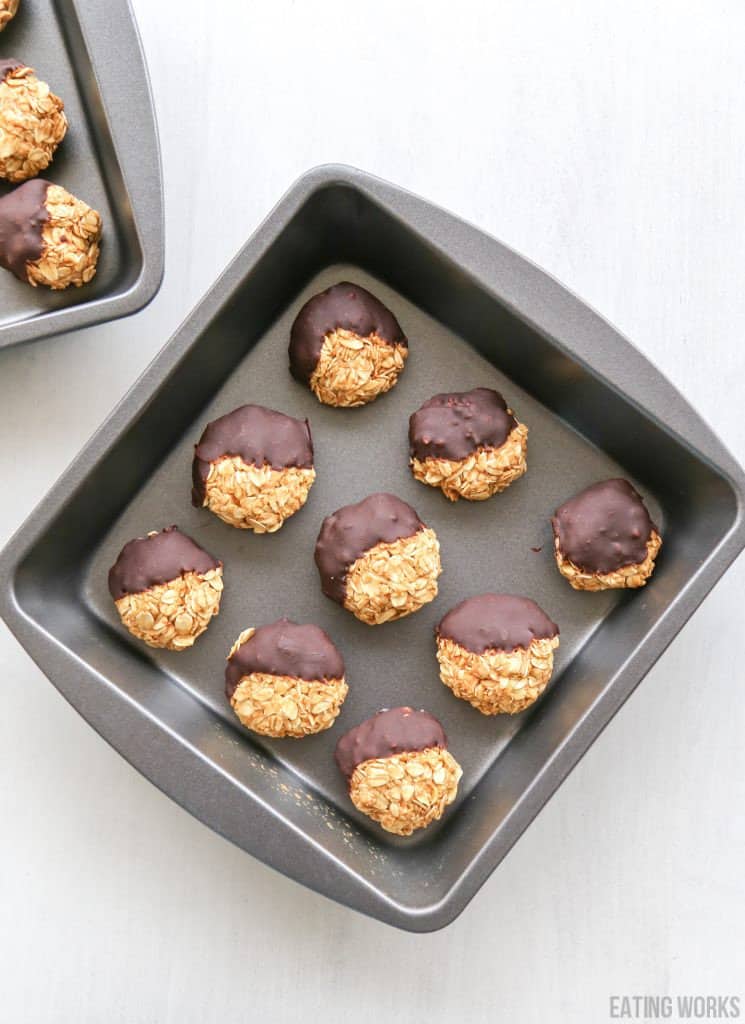 They're easy to make, require minimal prep time, and are the perfect treat for any occasion.
One of the best things about these cookies is their versatility. You can add in your favorite ingredients to make them your own. Whether you prefer raisins, walnuts, or chocolate chips, these cookies can be customized to suit your tastes.
This post may contain affiliate links. As an Amazon Associate I earnfrom qualifying purchases at no cost to you. See my Affiliate Disclosure to read my policy and more about affiliate links.
Why You'll Love These No Bake Pumpkin Cookies
Only 10 minutes of work!
Easy and affordable ingredients
Gluten Free
Nut Free
Paleo Friendly
Vegetarian Friendly
Soy Free
Kid Friendly
26 no bake pumpkin cookies in just one batch!
No oven required! Perfect for hot summer days when you don't want to heat up your kitchen.
Fun safe and easy recipe to make with your kids.
Are No Bake Pumpkin Cookies Gluten Free?
Yes, these no bake pumpkin cookies are gluten free! This is great news for anyone with a gluten allergy or intolerance. The recipe calls for gluten-free oats, which are a safe and healthy alternative to traditional oats.
Additionally, the recipe does not call for any wheat-based flours, so you can enjoy these cookies without worrying about gluten.
Something you need to keep in mind is that oats are often cross contaminated with gluten since they are processed in facilities that also process wheat. When selecting oats for this recipe make sure to pick oats that are labeled "certified gluten free."
Ingredients for No Bake Pumpkin Cookies
For the No Bake Pumpkin Cookies
For the Chocolate Dip
For the full ingredient amounts check the recipe card at the bottom of this blog post. If you want to jump right to the recipe scroll to the top of the post and hit the button that says "jump to recipe" located right below the title, "Chocolate Dipped No Bake Pumpkin Cookies"
Ingredient Substitutions for No Bake Pumpkin Cookie Recipe
Here are some Ingredient substitutions for the no bake pumpkin cookies
Don't have everything you need for the chocolate dip? Here are some subs:
Recommended Tools to Make No Bake Pumpkin Oatmeal Cookies
You don't need anything fancy to make these no bake pumpkin cookies at home but here's what you do need!
How to Make Homemade No Bake Pumpkin Cookies
Make the No Bake Pumpkin Cookies
Make the Chocolate Dip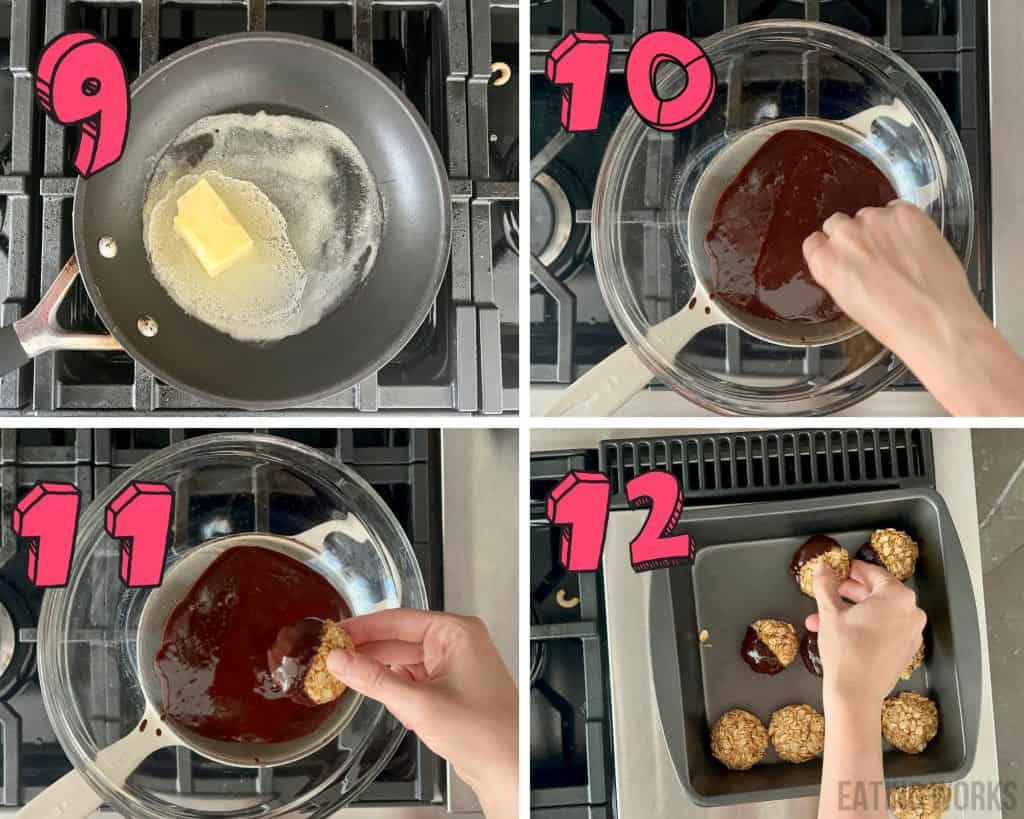 How to Store No Bake Pumpkin Cookies
Once you have made your delicious chocolate dipped no bake pumpkin cookies, it's important to store them properly to keep them fresh and tasty. The best way to store these cookies is in an airtight container in the refrigerator or the freezer.
Make sure to place a layer of paper towel between each layer of cookies to prevent the chocolate coating from getting messed up.
Don't forget to pack the cookies lightly so that they don't get squished when you close the lid of your storage container.
How Long Do No Bake Pumpkin Cookies Last?
When stored properly in the refrigerator, no bake pumpkin cookies can last for up to a week. And they'll last for up to 3 months in the freezer. If you leave the cookies out of the fridge they can last for up to a week at room temperature if you store them in an air tight container.
Can You Freeze These No Bake Pumpkin Cookies?
Yes, you can freeze these no bake pumpkin cookies! Freezing them is a great way to extend their shelf life and ensure that you always have a batch of delicious cookies on hand. To freeze them, place the cookies in an airtight container or freezer bag and store them in the freezer for up to 3 months.
When you're ready to enjoy them, simply remove the cookies from the freezer and let them warm up for an hour on he counter before serving. If you want to enjoy warm and chewy no bake pumpkin cookies right away you can also reheat them in the microwave for 15 seconds.
I'm personally pretty impatient so I just eat the cookie right out of the freezer. They're a little hard but still edible!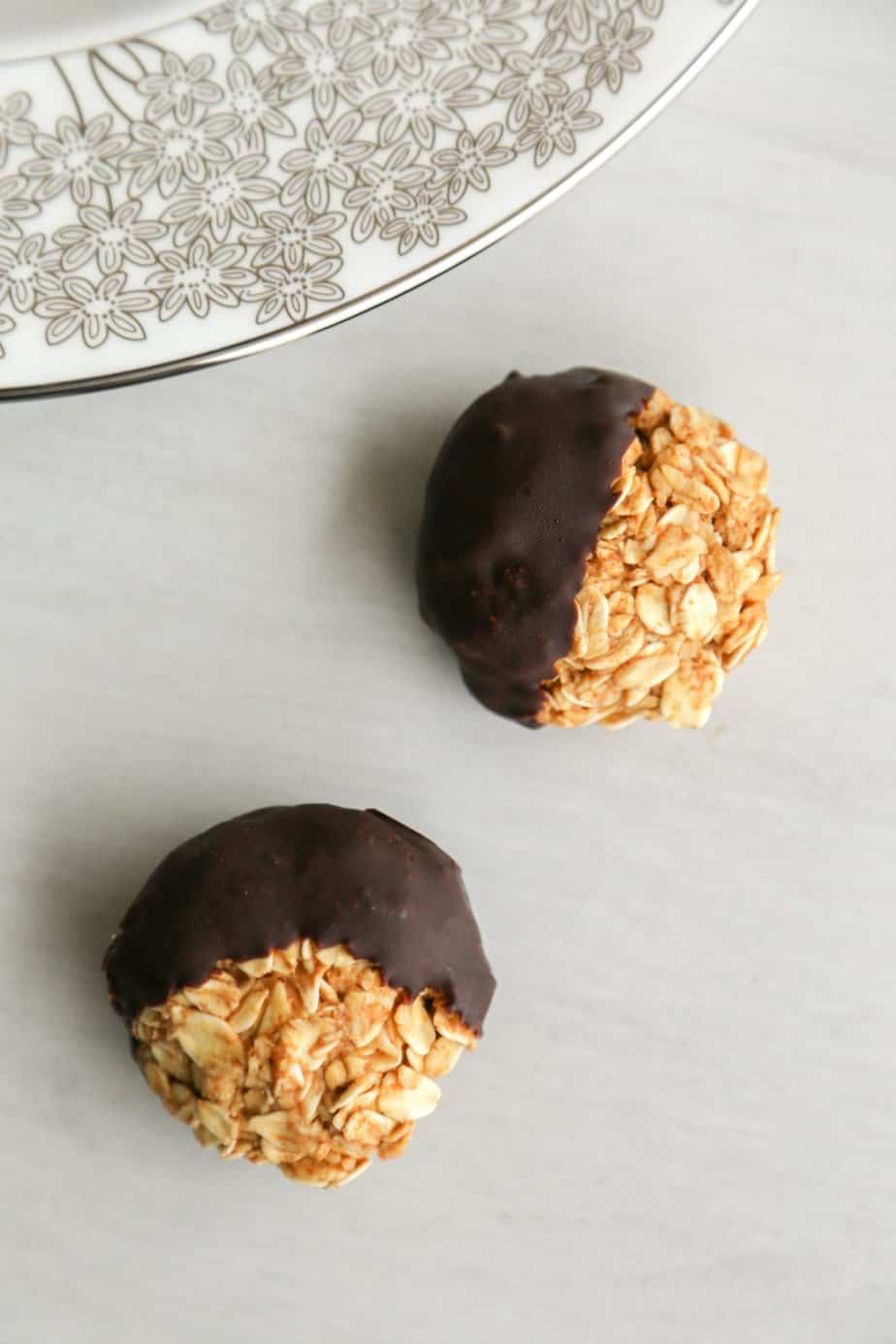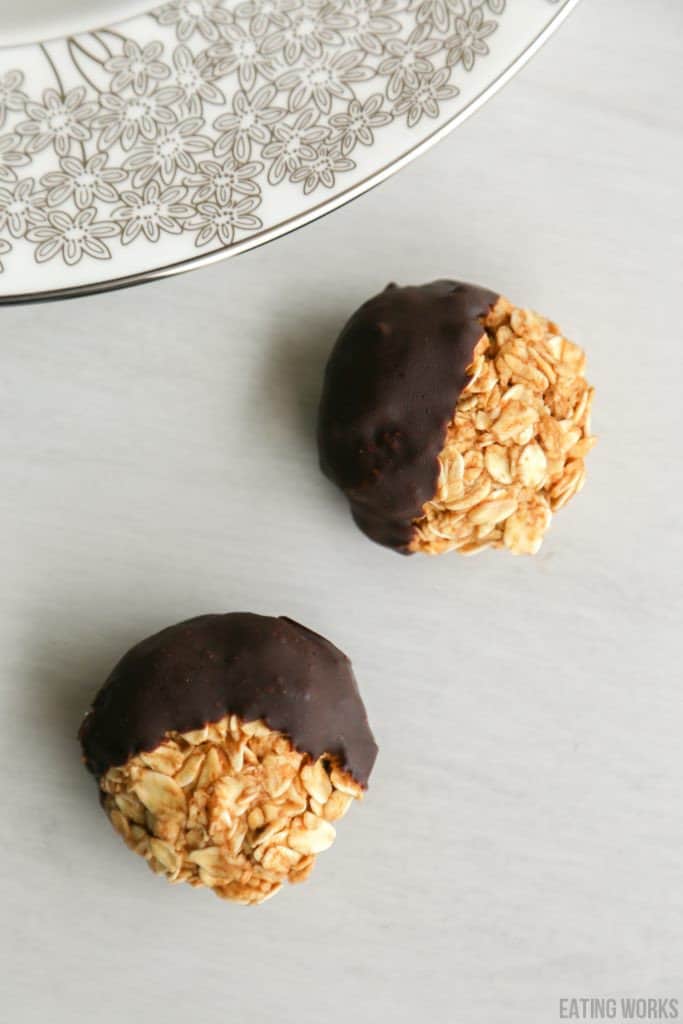 Recipe Tips For the Best Pumpkin Flavored No Bake Cookies
If you want to make the best pumpkin flavored no bake cookies possible, here are a few recipe tips to keep in mind:
Why do my no bake cookies fall apart?
If you're no bake cookies are falling apart chances are you've used too little or too much moisture.
If the cookies are very dry they will be crumbly. You need enough wet ingredients to make the cookies stick together. These include melted butter, pumpkin purée, almond milk and liquid sweetener like honey.
You can fix dry cookie batter by adding more almond milk. Add one tablespoon of almond milk at a time until the cookies can easily be rolled into a ball without falling apart.
If the cookies are falling apart because they're too soft then it's because your batter is too wet. You can dry out the batter by adding more oats. Keep adding oats in 1/4th cup increments until the batter is not too dry.
What makes no bake cookies too soft?
When no bake cookies are too soft it's because there is too much moisture in the batter. Or the cookies are still warm and haven't set yet. Add more rolled oats to the batter to dry the cookies out and they won't be as soft!
What makes no bake cookies too dry?
If your no bake cookies are too dry it's because you didn't use enough wet ingredients. Add more pumpkin purée and or almond milk until the batter is wet enough for the oats to stick together.
Do no bake cookies go in the fridge or freezer?
You can store no bake cookies in the fridge or the freezer depending on how long you want them to last. No bake cookies will last in the fridge for up to a week while they will stay fresh in the freezer for three months.
What can I put under no bake cookies so they don't stick?
You can put a piece of parchment paper or a non stick silicone baking mat under the cookies to prevent them from sticking.
Should I use rolled oats or instant oats?
You can use any type of oats you want for this recipe. Instant oats will absorb the wet ingredients faster and firm up a bit quicker. But I prefer to use rolled oats or steel cut oats instead of instant oats because they're less processed. I also prefer the texture of rolled oats over instant.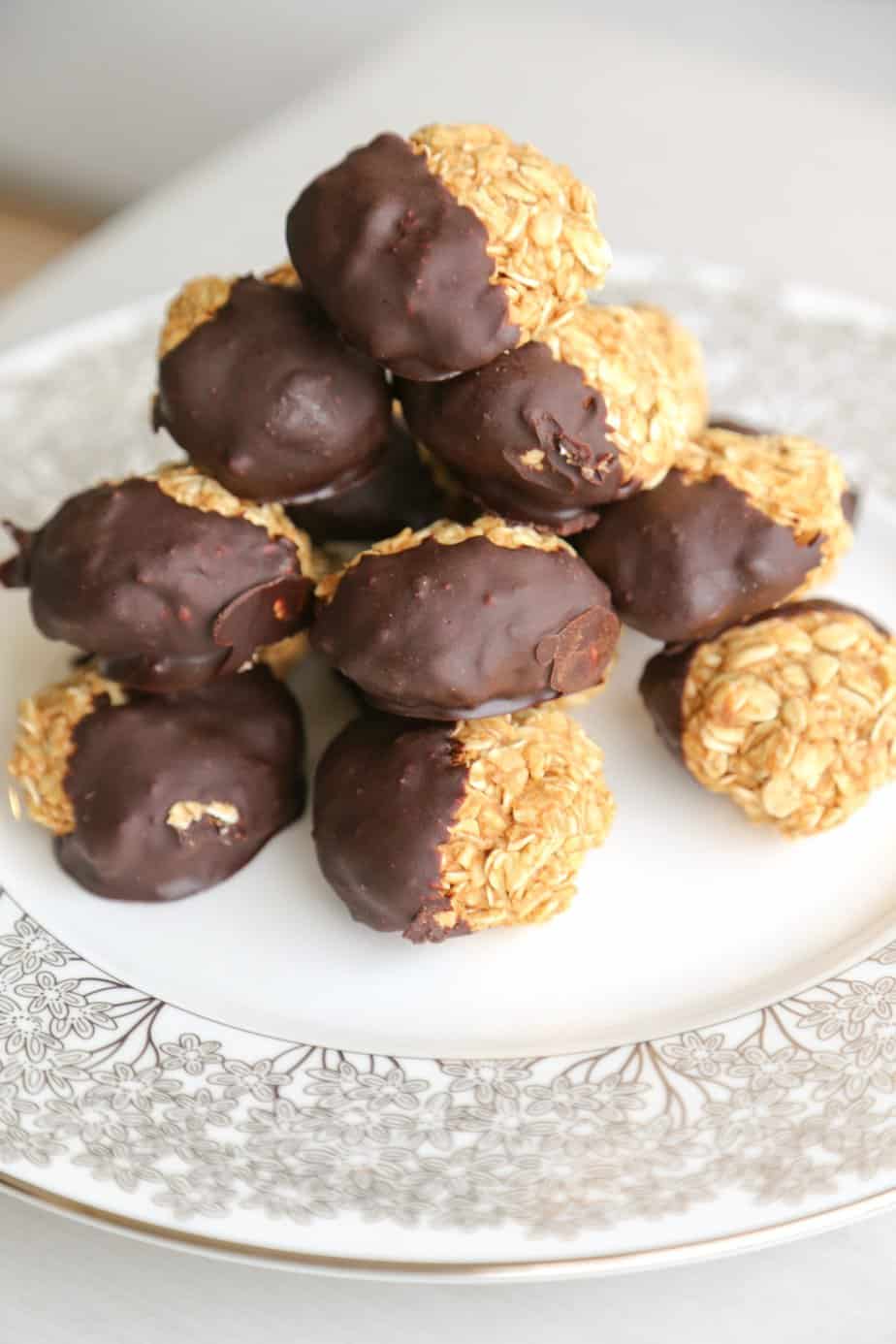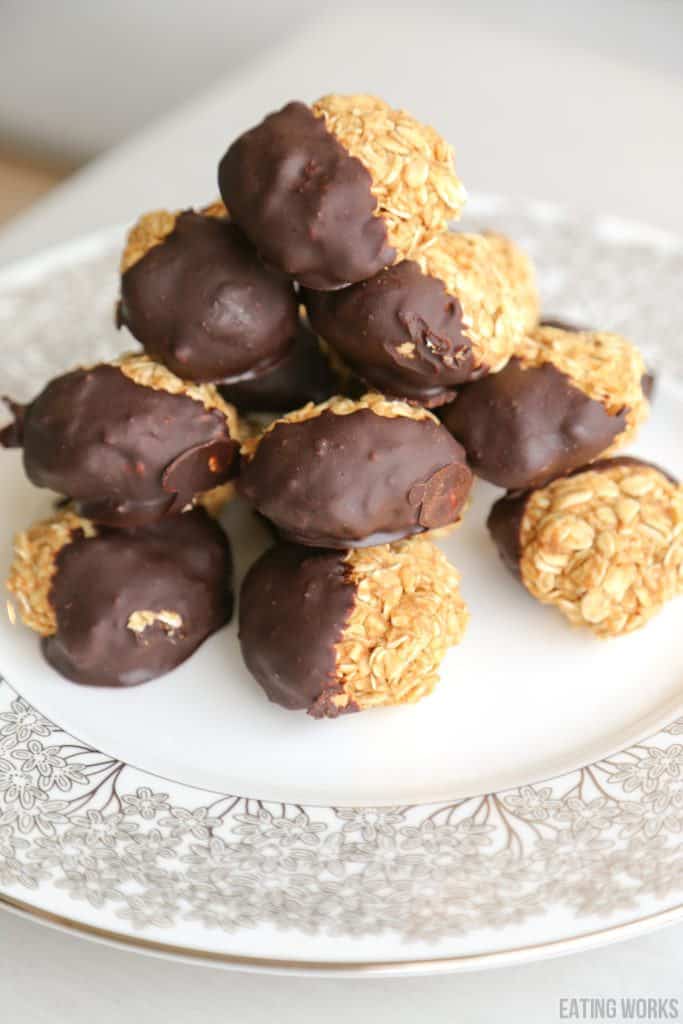 To Wrap Things Up…
In conclusion, no bake pumpkin cookies are a delicious and easy-to-make treat that are perfect for fall. Whether you're serving them at a party, snacking on them throughout the day, or giving them as a gift, these cookies are sure to be a hit with everyone who tries them.
By storing them properly, freezing them when necessary, and following a few recipe tips, you can ensure that your cookies always taste fresh and delicious.
So go ahead and give this recipe a try – your taste buds will thank you!
More No Bake Gluten Free Dessert Recipes!
Vegan Tahini Cookies
These little cookies are keto, gluten free, and no baking required!
Check out this recipe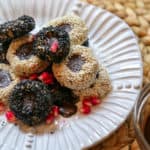 Chocolate Bon Bon Recipe
These 3 Ingredient Raw Vegan Chocolate Bon Bons are as easy to make as they are healthy. Impress your friends with these fancy chocolates that take only 20 minutes to make! Anyone can make these chocolate bon bons.
Check out this recipe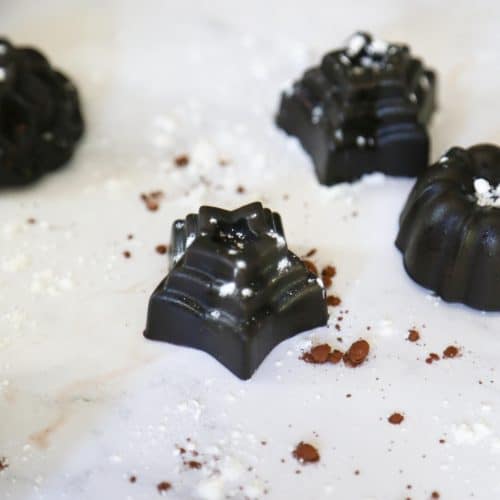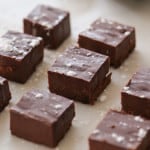 Keto Italian Lemon Sorbet Recipe
This 3 ingredient Italian Lemon Sorbet Recipe is keto friendly, gluten free, vegan, dairy free and easy to make!
Check out this recipe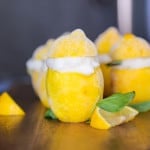 Chocolatey Keto Haystack Cookies
Sugar cravings on a keto diet? These dark chocolate keto haystack cookies will hit the spot. Whip them up in five minutes!
Check out this recipe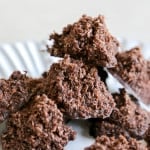 Vegan Chocolate Truffles with Cashew Butter Filling
These truffles are chocolatly on the outside and rich and creamy on the inside. The cashew butter and oats give this truffle the perfect chewy and creamy texture. Low on sugar and raw vegan. This desert is as healthy as they come!
Check out this recipe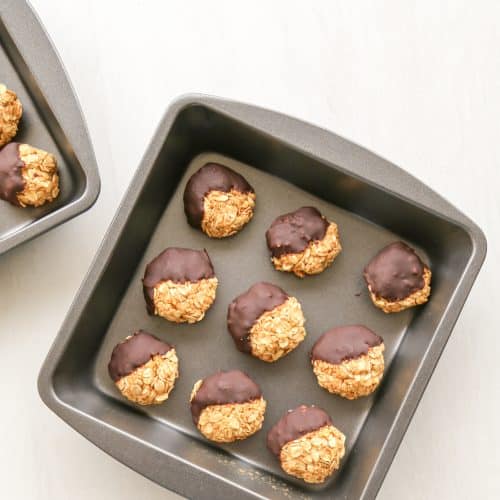 Chocolate Dipped No Bake Pumpkin Cookies
These gluten free no bake pumpkin cookies are perfect for satisfying your pumpkin spice cravings without turning on your oven.
Print
Pin
Rate
Equipment
Measuring Spoon

spatula

small sauce pot
Ingredients
For the No Bake Pumpkin Cookies
Instructions
Make the No Bake Pumpkin Cookies
In a small pot melt butter and pumpkin purée. Stir to combine. Once combined remove the mixture from the heat and stir in the vanilla extract, cinnamon, almond milk and honey.

Pour the pumpkin purée mixture over the oats and stir until all of the oats are wet.

Scoop out 2 tablespoons of the oat batter and roll it into a ball and press it flat to form a cookie. Place the cookie on a baking sheet. Repeat until no batter is left and place the cookies in the freezer to harden.
Make the Chocolate Dip
While the cookies harden in the freezer, combine butter, powdered sugar and cocoa powder in a small skillet or double boiler. Stir over low heat until a chocolate syrup is formed. Lower the heat and dip half of each cookie into the chocolate. Place the cookie back on the freezer to harden.
Notes
Note: These cookies will last in the fridge for up to 7 days and in the freezer for 3 months.
Nutrition
Serving:
1
cookie
|
Calories:
90
kcal
|
Carbohydrates:
12
g
|
Protein:
1
g
|
Fat:
5
g
|
Saturated Fat:
3
g
|
Polyunsaturated Fat:
0.3
g
|
Monounsaturated Fat:
1
g
|
Trans Fat:
0.2
g
|
Cholesterol:
12
mg
|
Sodium:
40
mg
|
Potassium:
64
mg
|
Fiber:
2
g
|
Sugar:
6
g
|
Vitamin A:
869
IU
|
Vitamin C:
0.2
mg
|
Calcium:
15
mg
|
Iron:
1
mg