Mango Corn Salsa is a delicious dish to have at any time of the year. The combination of sweet mango, crunchy corn, tangy lime, and spicy cayenne pepper makes it a perfect appetizer or side dish for your summer gatherings or any occasion.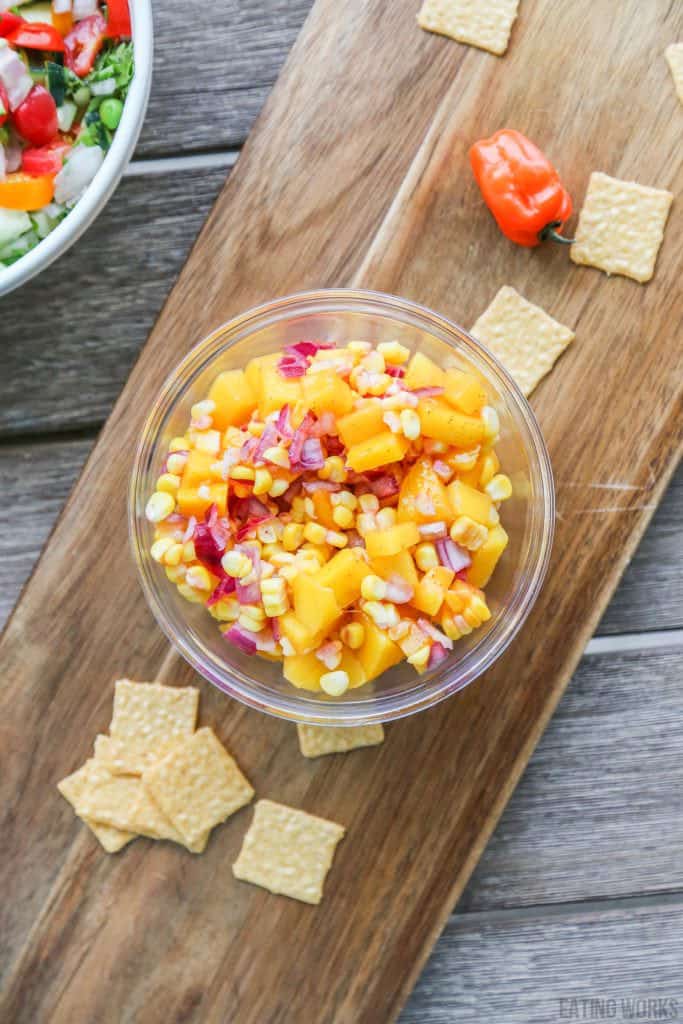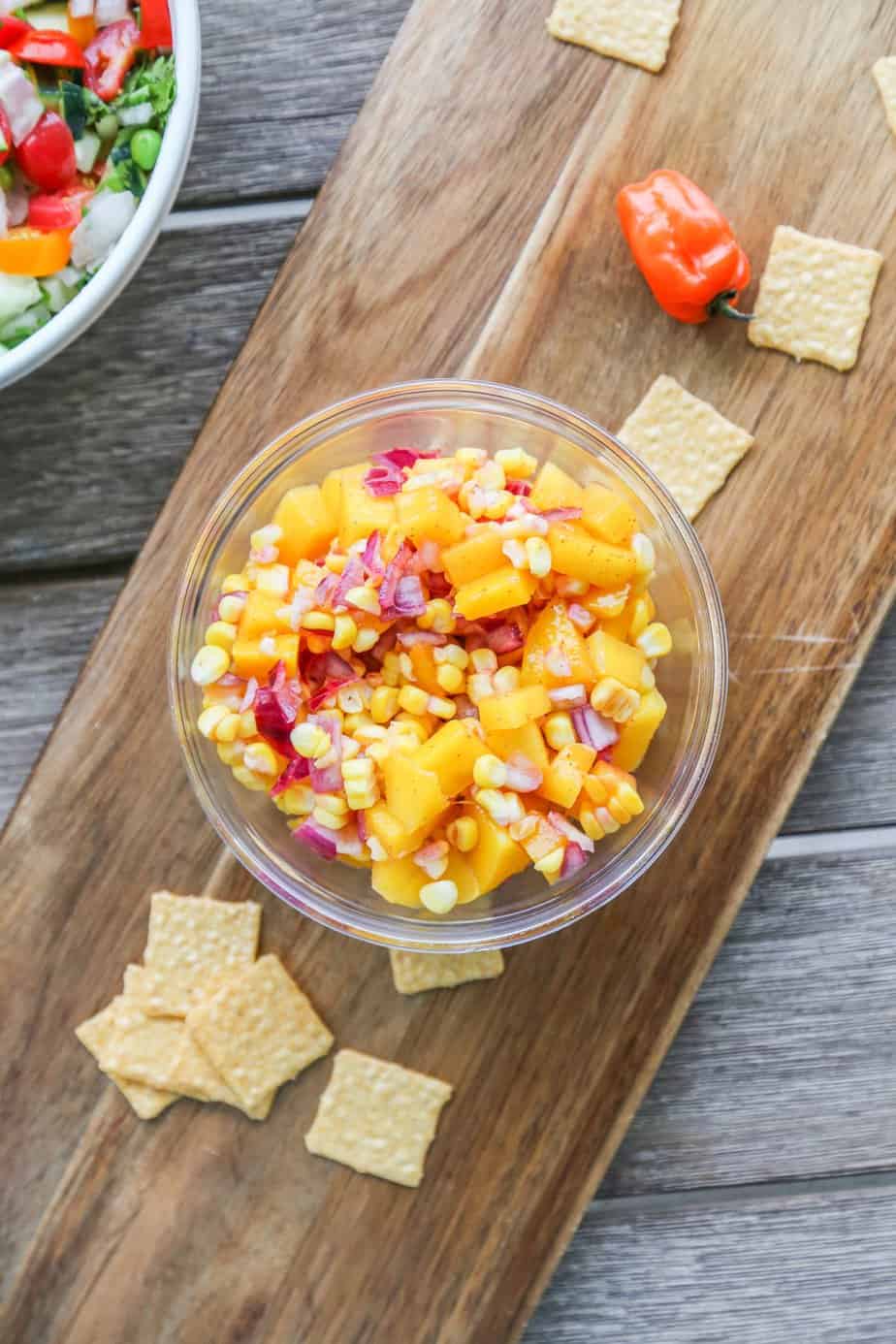 This post may contain affiliate links. As an Amazon Associate I earn from qualifying purchases at no cost to you. See my Affiliate Disclosure to read my policy and more about affiliate links.
Table of Contents
Why You'll Love this Mango Corn Salsa Recipe
Easy to make
Healthy
Gluten Free
Dairy Free
Paleo Friendly
Vegan Friendly
Raw
Refreshing and Bright Flavor
Only 6 Ingredients
What Is Mango Salsa Made Out Of?
Chopped Mango
Corn Kernels
Red Onion
Cayenne Pepper
Salt
Apple Cider Vinegar
Ingredients Substitutions for Mango Corn Salsa
Mango – You can use frozen or canned mango if you don't have fresh mango. Instead of mango you could use pineapple.
Fresh Corn – If you don't have fresh corn you could use canned corn or frozen corn. If you use canned corn make sure to rinse it well and strain it. You don't want all of that corn juice diluting the flavor of your salsa.
Red Onion – No red onion? No problem! You can use Spanish or white onions instead.
Lime – Instead of lime juice you can juice up a couple of lemons.
Cayenne Pepper – Use some black pepper or red pepper chili flakes instead.
How to Make Mango Corn Salsa
Wash and chop the mango. Place the mango in a small bowl with the corn and red onion.
Add the lime juice, cayenne pepper and salt. Allow the salsa to marinate for an hour before serving.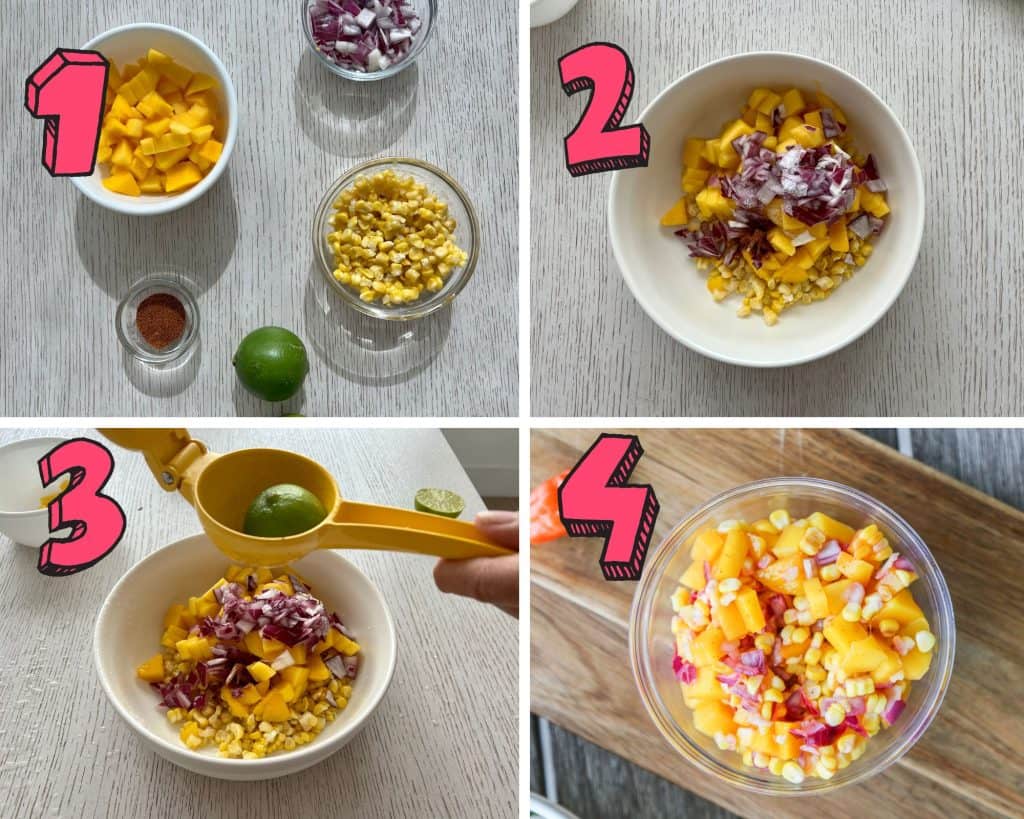 Is Mango Corn Salsa Spicy?
I would consider this salsa recipe to be mild. I'm not going to lie, it has a little kick to it because of the cayenne pepper. But that fiery kick is quickly put out by the sweetness of the mango. If you don't want any kick you can use black pepper instead of cayenne pepper.
Is Mango Corn Salsa Healthy?
Mango Salsa is a healthy option as it's low in calories, high in fiber, and rich in vitamins A and C. It's also a vegan and gluten-free dish.
What Pairs Well with Mango Salsa?
Mango salsa with corn pairs well with tortilla chips, tacos, grilled chicken, fish, or shrimp. You can also serve it as a side dish with any Mexican-inspired meal. Here are a few recipes from Eating Works that taste amazing with this spicy and sweet mango corn salsa recipe!
Chickpea Tacos with Cauliflower, Avocado Crema and Simple Carrot Slaw
These Chickpea Tacos have it all, savory veggies, crunch and creaminess. The Chickpea & Cauliflower filling is flavored with Mexican Spices. And each taco is garnished with crunchy cabbage and carrot slaw and finished with a dollop of Vegan Avocado Crema.
Check out this recipe
Healthy Taco Recipe with Sweet Potatoes Black Beans and Pickled Green Onions
these vegan tacos are sweet, spicy and so filling and allergy free.
Check out this recipe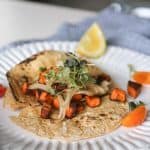 Tasty Guacamole Recipe Without Tomatoes
This guacamole is so simple, healthy and tomato free!
Check out this recipe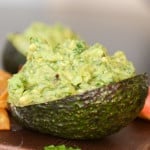 Healthy Guacamole with Roasted Red Peppers
A refreshing twist on a healthy classic. This guacamole is filled with sweet and smokey notes from the roasted red peppers and cumin. Raw Vegan and Ultra healthy you can enjoy this guac without the guilt!
Check out this recipe
Vegan Stuffed Sweet Potato
This creamy sweet potato is stuffed with black bean and corn salsa and topped with yummy guacamole and cashew sour cream. Vegan, grain free, plant-based and gluten free
Check out this recipe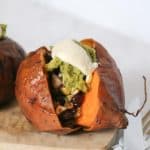 What is the Other Name For Mango Salsa?
Some common names for mango salsa include pico de gallo, salsa fresca, salsa cruda, or salsa bandera.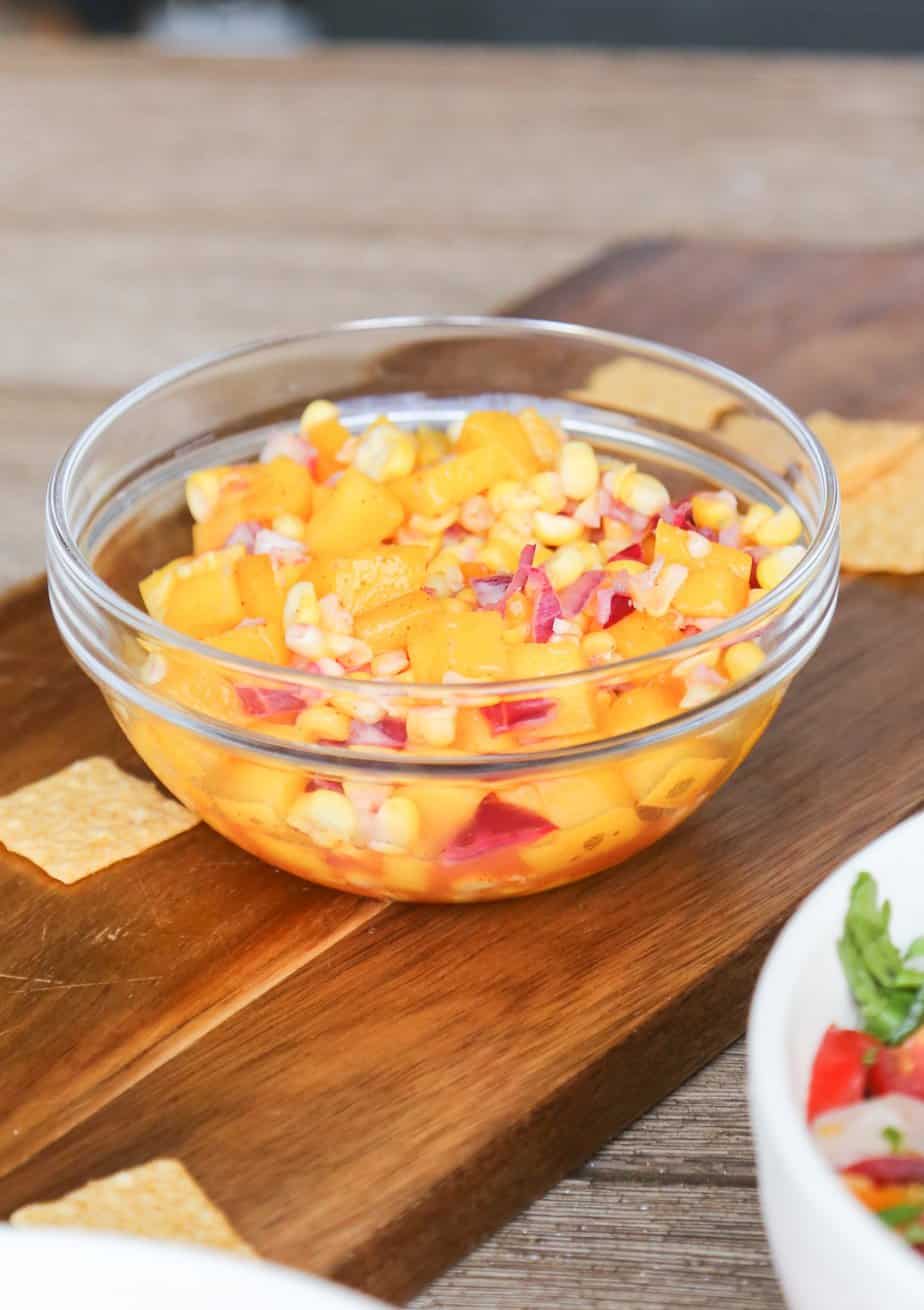 How to Cut A Mango
Cutting a mango can be a bit tricky, but with a few easy steps, you can easily slice a mango into perfect cubes. Here's how to cut a mango into cubes:
Step 1: Wash and dry the mango: Wash the mango with water to remove any dirt or debris on the skin. Dry it thoroughly with a clean towel.
Step 2: Cut off the stem: Hold the mango upright on a cutting board and cut off the stem at the top with a sharp knife.
Step 3: Cut the mango in half: You cannot cut the mango directly in half because of the big flat seed in the center. So cut the mango one inch to the right of the center on each side.
Step 4: Score the flesh: Take one of the halves and place it flesh side up on the cutting board. Score the flesh with a sharp knife in a crosshatch pattern, making sure not to cut through the skin.
Step 5: Invert and slice: Take the scored half of the mango and invert it, pushing the skin side out. Use a sharp knife to slice off the cubes of mango from the skin, cutting as close to the skin as possible.
Step 6: Repeat on the other half: Repeat the same process on the other half of the mango until all of the flesh is sliced into cubes.
Step 7: Trim off any remaining flesh: After all the cubes are removed, there may be some remaining flesh on the seed. Use a knife to carefully trim off any remaining flesh.
And that's it! You now have perfectly cubed mango, ready to use in your favorite recipe or snack on its own.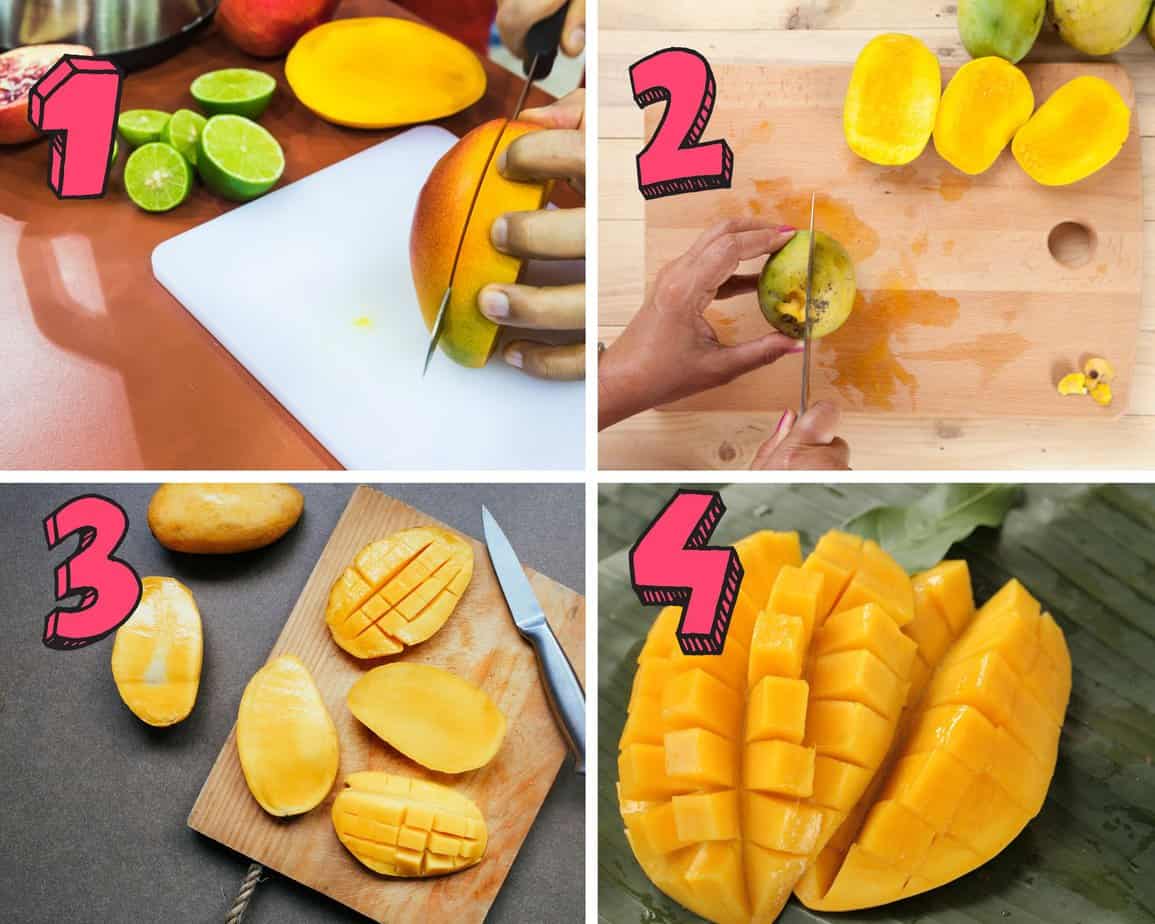 How to Pick A Good Mango
When picking a good mango, look for one that's soft to the touch. Your fingers should easily be able to press into the flesh of the mango. Similar to the commercials you see for mattresses It should have a sweet aroma.
Yes salsa is gluten free! However in some cases it isn't.
Why salsa with white vinegar may not be gluten free
The only bad news is that salsa made with white vinegar may have trace amounts of gluten since white vinegar is distilled from wheat. The good news is there are tons of different kinds of vinegars that go well with salsa and found in quality salsa brands, like apple cider vinegar. So don't forget to read the product labels to carefully check for white vinegar.
How Long Does Mango Corn Salsa Last?
Mango corn salsa will last in the fridge for up to 4 days if stored in an air tight container. I think that it's best to eat the mango corn salsa within a few hours of making it.
Most blog posts say to eat mango corn salsa when it is first prepared. I think it tastes best after the apple cider vinegar has time to infuse flavor into the other ingredients.
Can You Freeze Corn and Mango Salsa?
It's not recommended to freeze Mango Corn Salsa as the texture of the mango and corn will change.
Common Questions and Answers
What can I substitute for cilantro in mango corn salsa?
I didn't use cilantro in this mango corn salsa recipe. Although it is a nice additive. If you don't have fresh cilantro you could use dried cilantro instead. Fresh or dried oregano would work well as a substitute for cilantro!
Can I use frozen mango for this mango corn salsa recipe?
Yes, you can use frozen mango for this mango corn salsa recipe. Just keep in mind that your salsa will be sweeter than it would have been if you used fresh mango. The mango chunks will also be softer.
Can I use canned or frozen corn instead of fresh corn for mango salsa?
If you don't have fresh corn you can use frozen or canned corn for mango salsa. Just make sure to strain the canned corn and rinse it really well!
How to Speed Up and Slow Down Mango Ripening?
How to ripen a mango faster
If your mango isn't ripe yet you can put it in a paper bag and leave it on the counter. By placing the unripe mango inside of a paper bag you will trap the natural gas it gives off as it ripens, ethylene! When fruit ripens it gives off the natural gas called ethylene.
The ethylene touches the skin of the other fruit which tells it to start ripening! That's why fruit on a plant or in a bowl tends to ripen at the same rate of time.
By placing the mango in a bag it traps the ethylene and bounces it back to the mango. This tricks the mango into thinking that the other mangos around it are ripening and that it's time to hurry up!
How to slow down a mango that's already ripe
Once the mango is fully ripe the best way to slow it down is to place it in the fridge. Mangos ripen faster in warm temperatures. By dropping the temp down the mango won't produce as much ethylene.
Recipe Variations
Mango corn salsa is a versatile recipe that can be customized to suit your taste. Here are some recipe variations to try:
Mango Avocado Corn Salsa – Add diced avocado to the recipe for a creamy and refreshing twist.
Mango Pineapple Salsa – Substitute pineapple for the mango for a tropical twist.
Mango Tomato Corn Salsa – Add diced tomatoes for a juicy burst of flavor.
Spicy Mango Corn Salsa – Add more cayenne pepper or chopped jalapenos to make the salsa spicier.
Sweet Mango Corn Salsa – Add a tablespoon of honey or agave nectar to the recipe for a sweeter taste.
Mango Cucumber Corn Salsa – Add diced cucumbers for a refreshing crunch.
Mango Peach Corn Salsa – Substitute diced peaches for the mango for a sweeter flavor.
Mango Jalapeno Corn Salsa – Add diced jalapenos for a spicy kick.
Mango Basil Corn Salsa – Add chopped fresh basil for a fragrant and herbaceous twist.
Grill the corn to add a smokey grilled flavor to your already delicious mango corn salsa.
Try these recipe variations to discover your new favorite way to enjoy mango corn salsa.
More Healthy Salsa Recipes
Roasted Pepper Salsa
The Best Roasted Pepper Salsa! This restaurant style salsa is one of my favorite homemade chunky salsa recipes. With only four ingredients you can have this dip done in ten minutes. This salsa takes ten minutes to make and it's Vegan and Gluten Free.
Check out this recipe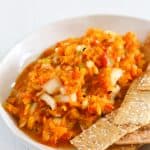 Spicy Tomatillo Salsa
This easy salsa recipe makes the perfect as a dip or a condiment
Check out this recipe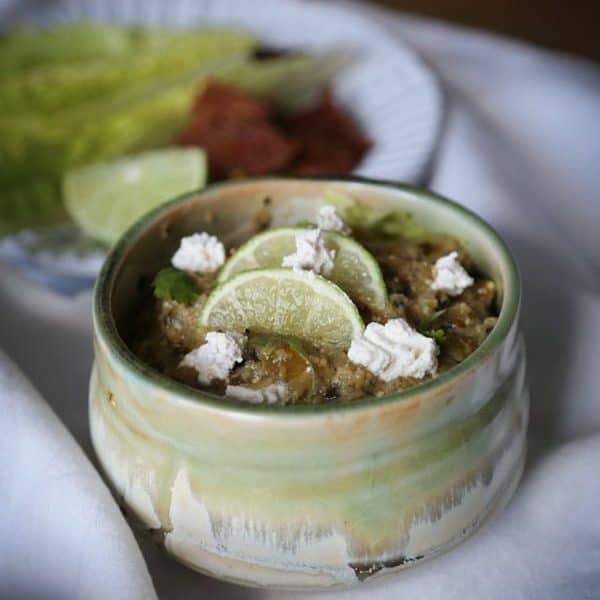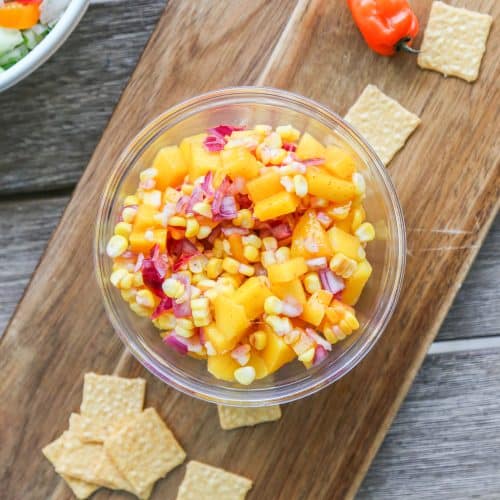 Mango Corn Salsa
This healthy mango corn salsa is the perfect combination of sweet and spicy. The sweetness of the mango is contrasted by the spiciness of the cayenne pepper. The lime juice and crunchy corn add even more depth of flavor to this simple dish.
Print
Pin
Rate
Servings:
8
1/4 Cup Servings
Equipment
Cutting Board

Measuring Spoons
Ingredients
1

C

Mango

chopped

3/4

C

Corn Kernels

raw or frozen

1/4

C

Red Onion

small dice

1

Lime

juiced

1/4

Tsp

Cayenne Pepper

1/4

tsp

Salt
Instructions
Wash and chop the mango. Place the mango in a small bowl with the corn and red onion.

Add the lime juice, cayenne pepper and salt. Allow the salsa to marinate for an hour before serving.
Nutrition
Serving:
14
Cup
|
Calories:
34
kcal
|
Carbohydrates:
8
g
|
Protein:
1
g
|
Fat:
0.3
g
|
Saturated Fat:
0.1
g
|
Polyunsaturated Fat:
0.1
g
|
Monounsaturated Fat:
0.1
g
|
Sodium:
105
mg
|
Potassium:
91
mg
|
Fiber:
1
g
|
Sugar:
5
g
|
Vitamin A:
382
IU
|
Vitamin C:
15
mg
|
Calcium:
8
mg
|
Iron:
0.2
mg