Salsa fans rejoice! I'm happy to report that you can add salsa to your gluten-free list! Most salsa is naturally gluten-free. Some salsa brands can have minor ingredients that contain gluten and gluten cross contamination can occur by using flour tortilla chips.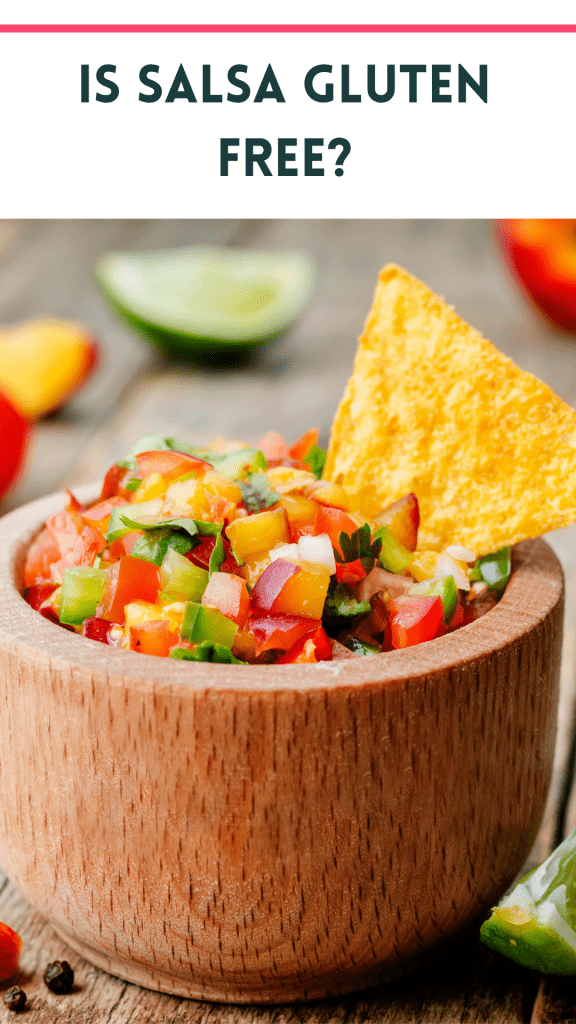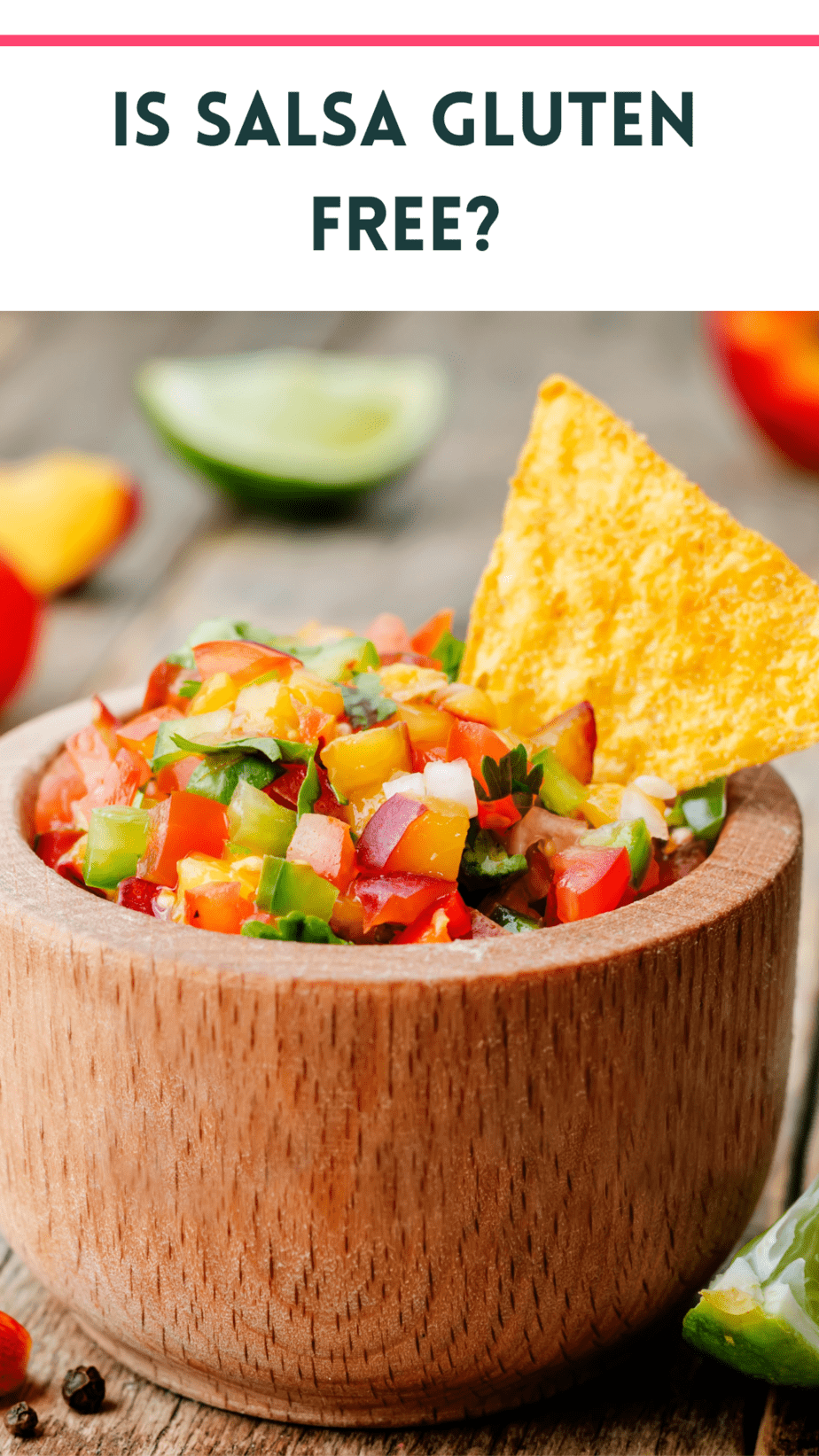 Is Salsa Gluten-Free?
Yes salsa is gluten free! However in some cases it isn't.
Why salsa with white vinegar may not be gluten free
The only bad news is that salsa made with white vinegar may have trace amounts of gluten since white vinegar is distilled from wheat. The good news is there are tons of different kinds of vinegars that go well with salsa and found in quality salsa brands, like apple cider vinegar. So don't forget to read the product labels to carefully check for white vinegar.
Salsa risk of cross contamination
Salsa is considered by most to be naturally gluten free. So unless the salsa was made with white vinegar or has been cross contaminated it's safe to eat. The most common type of gluten cross contamination associated with salsa is from flour tortillas chips!
Tortilla chips and salsa are best friends (and guacamole is the third wheel)! You know what they say, "Where there's salsa there's chips." You need to Be aware that there are two types of tortilla chips, corn and flour based. Make sure you use 100% corn tortillas or else gluten will get into the salsa when you dip a chip. If the package says whole grains, don't buy it! I have tons of information in my guide to gluten free tortillas. All of the information in the article also pertains to tortilla chips.
What Kind of Tortilla Chips Should I Pair With Gluten Free Salsa?
You should use 100% corn tortilla chips with salsa. Avoid flour tortilla chips since they likely have gluten. If you're avoiding corn you can buy chips made from vegetables like these from Siete foods.
Common Gluten Free Salsa Ingredients
I love salsa because it has so much natural flavor from plant based ingredients. Some of the most common ingredients in salsa are:
tomatoes
jalapeno peppers
Worcestershire sauce
tomato puree
onions
peppers
tomatillos
salt
pepper
tomato juice
black beans
corn
tomato paste
garlic powder
spice blends
cilantro
lime
splash of soy sauce
lemon
vinegar
Gluten Free Salsa Brands
In the United States we are lucky to have access to so many gluten free salsa brands. You don't have to visit a Mexican restaurant to get your fix! Here is a list of common salsas without gluten. Note that not all of these are the healthiest. But I wanted to include common salsa brands so that everyone will find an option in the supermarket.
Taco Bell Salsa
Frito Lay Salsa
Thrive Market Salsa
Organicville
Herdez
Pace
When you go shopping keep in mind that the FDA requirements are that retail products need to have less than 20 ppm of gluten content in order to be eligible for gluten-free labeling. Although gluten free labeling is voluntary and not regulated by the FDA. There are so many other gluten free salsa brands that I haven't mentioned so just check the product labels. An even healthier alternative would be to make homemade salsa.
Who Should Eat Gluten Free Salsa
I think everyone should eat gluten free salsa because it's easy to do. Not to mention that it will help you avoid gastrointestinal distress associated with gluten consumption. Although if there is a tiny bit of gluten because it was cross contaminated with flour tortilla chips you'll be O.K.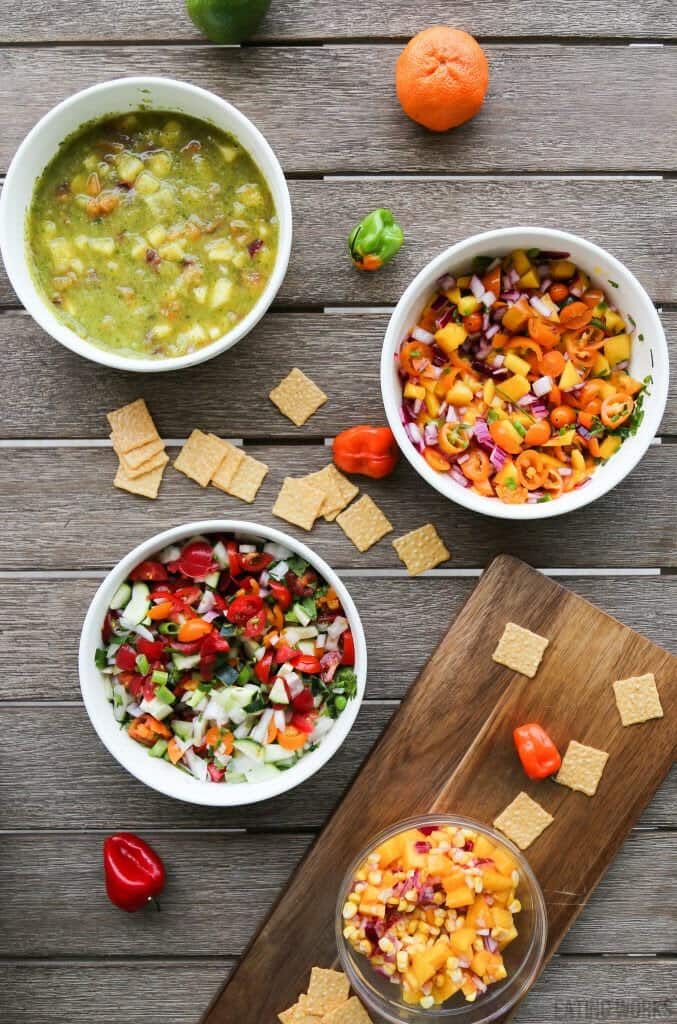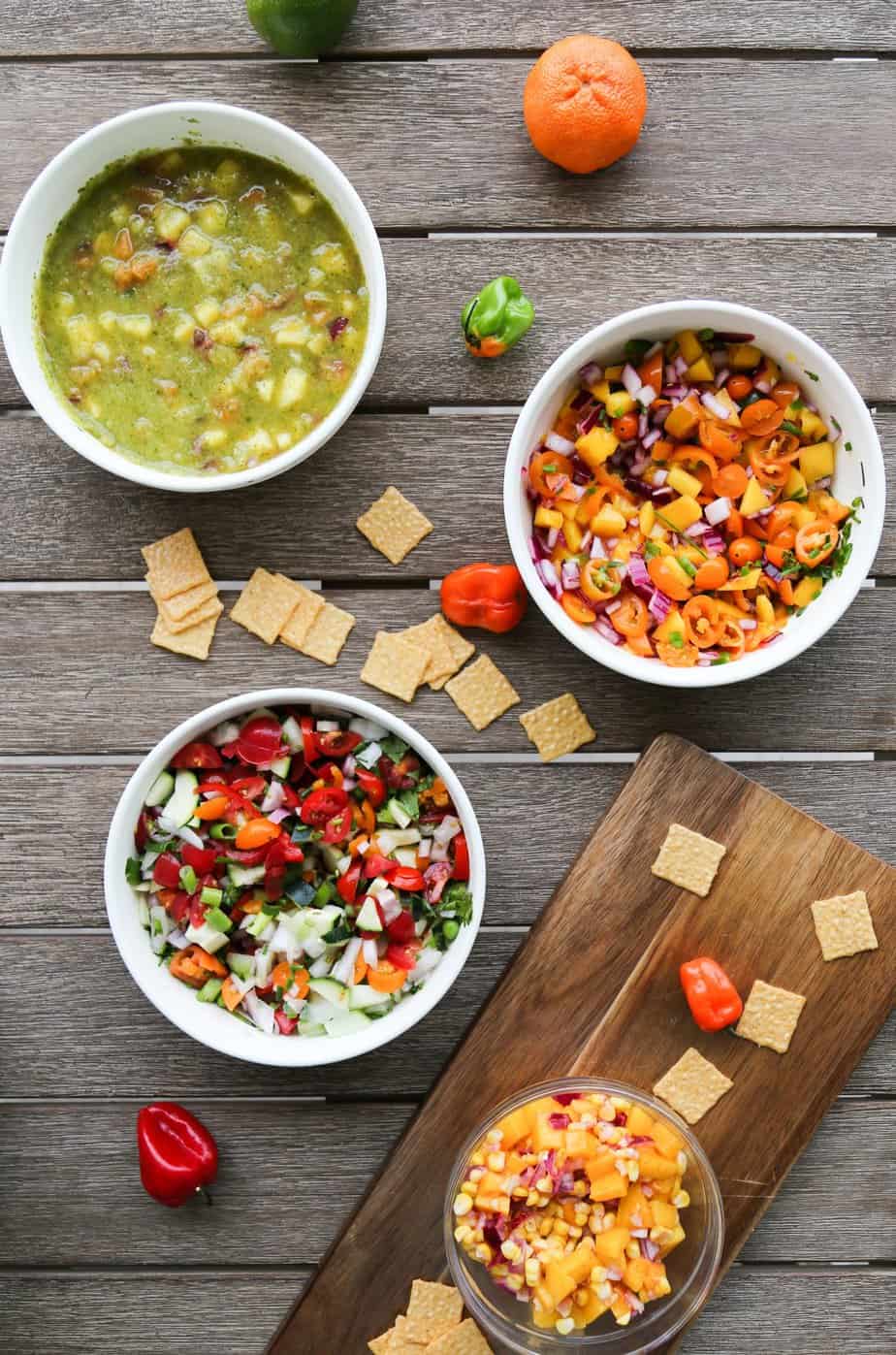 That is unless you have to follow a gluten-free diet because you have celiac disease, a gluten intolerance or chronic inflammation. For best results eat corn or vegetable tortillas and gluten free salsa if you're on a gluten-free diet.
Is Salsa Healthy?
Yes, salsa is healthy! You don't have to exercise portion control when eating it! All of the ingredients commonly used to make salsa are naturally good for you. However, not all salsa is created equally. Homemade fresh salsa is much better for you then a low quality one that was bought at the store. Try to avoid salsas with artificial flavors sometimes labeled as "natural flavors", preservatives, artificial colors and xanthan gum.
You've probably never heard of xanthan gum. It's a common additive used to thicken food and is made from fermented sugar. Unfortunately, xanthan gum has been linked with respiratory disorders and digestive disorders.
Truthfully you don't need xanthan gum or preservatives in packaged salsa because vinegar is a natural preservative. I put vinegar in my Guatemalan hot sauce recipe and it stays fresh in the fridge for 1 month!
According to Healthline, salsa has tons of health benefits like protection from the sun, vitamin C, is low in calories and fat and good for heart health.
Gluten Free Salsa Recipes to Try

There are salsas for every taste bud whether you prefer tomato salsa, chunky salsa, medium salsa or mild salsa! The absolute best salsa recipe is my tomatillo salsa otherwise referred to as salsa verde. It's seriously amazing. I make it as a garnish for these sweet potato tacos. If you would like a more mild salsa try this roasted pepper salsa recipe!