If you love fresh, healthy, and delicious appetizers or condiments, then this garden fresh salsa recipe is perfect for you. This salsa recipe is made with fresh vegetables, including tomatoes, scallions, zucchini, cucumber, and more, and is bursting with flavor.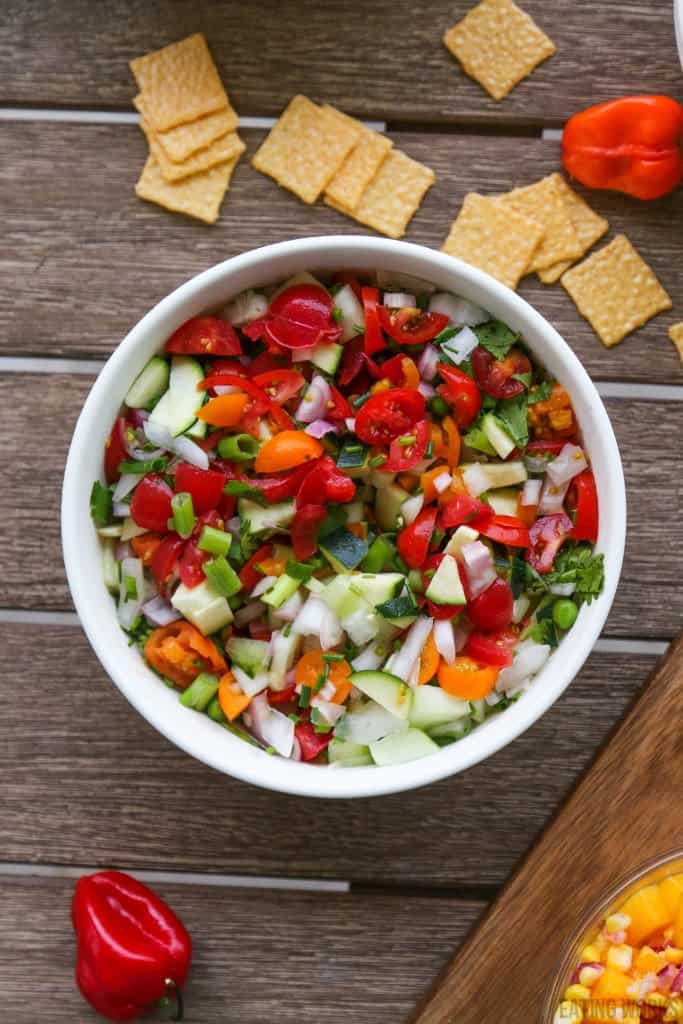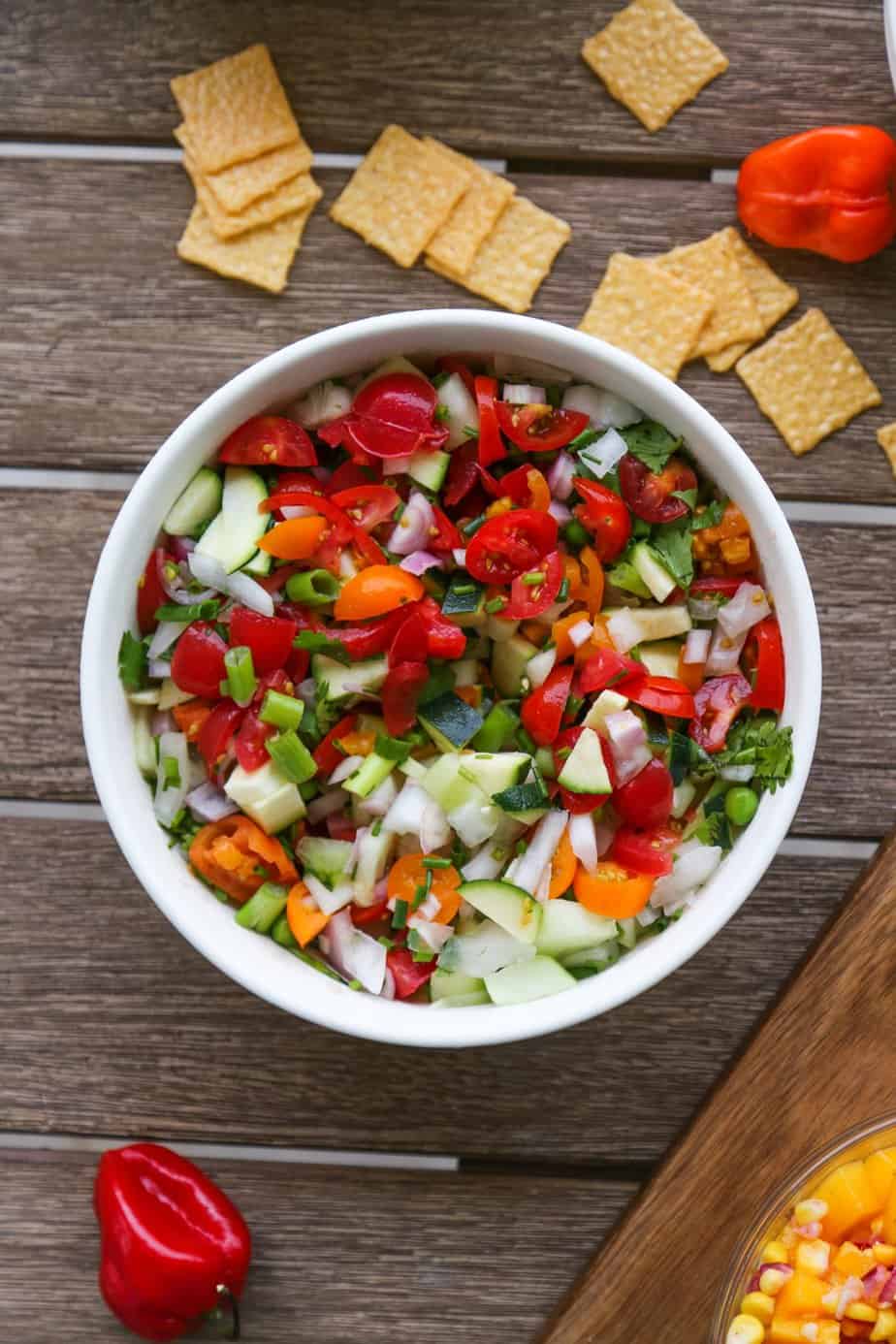 In this post, I will be sharing with you everything you need to know about making this Garden Fresh Salsa, from the ingredients you'll need to the recommended equipment and expert tips and tricks.
Additionally, I'll be answering some of the most common questions related to Garden Fresh Salsa, including how long it lasts, how to serve it, and much more. So, let's get started!
This post may contain affiliate links. As an Amazon Associate I earn from qualifying purchases at no cost to you. See my Affiliate Disclosure to read my policy and more about affiliate links.
Table of Contents
Garden Fresh Salsa Ingredients
Tomato
Green Onion (Scallion)
Apple Cider Vinegar
Fresh Spring Peas
Zucchini
Shallot
Lemon
Cucumber
Cilantro
Recommended Equipment
Serrated Knife
Cutting Board
Food Processor or Blender (optional). If you want to make smooth salsa or save yourself the work of cutting up all the vegetables you can use a blender or food processor to do the chopping for you!
Salsa isn't particularly hard on the blades of your food processor or blender. So almost any brand should do the job. If you're looking for the best food processor for salsa my favorite is the Cuisinart Custom 14-Cup Food Processor.
This food processor by Cuisinart is a best seller, and for good reason! It has a huge work bowl and is heavy-duty enough for professional kitchens. Some of the most notable features include:
"Powerful 720-watt motor makes quick work of food processing.
Large 14-cup work bowl with handle.
Simple paddle controls for on, off and pulse.
Razor-sharp stainless-steel blade and discs.
Includes standard 4mm slicing disc, medium shredding disc and chopping/mixing blade.
Extra-large feed tube accepts whole ingredients with no pre-cutting.
Inner feed tube and pusher for incorporating liquids and smaller ingredients."
How to Make Garden Fresh Salsa
How to Make Garden Fresh Salsa:
Begin by washing all of the vegetables thoroughly. Then, chop the tomatoes, scallions, zucchini, and cucumber into small, equal-sized pieces. To save time and cut down on the work you can use a food processor to chop up the vegetables. Put all of your rough chopped veggies in the food processor and pulse the food processor until the veggies are the size of small dice.
Mince the shallot and finely chop the cilantro.
In a bowl, combine the chopped vegetables with the minced shallot and chopped cilantro.
Add a drizzle of olive oil and a splash of apple cider vinegar to the bowl.
Squeeze the juice of one lemon over the mixture and stir well.
Finally, add a handful of fresh spring peas and stir again.
How to Cut Tomatoes for Salsa
The best way to cut tomatoes for salsa is to:
First remove the core using a paring knife. Then, cut the tomatoes in half lengthwise, and scoop out the seeds and juice using a spoon.
After that, place the tomato halves cut-side down on the cutting board, and slice them lengthwise into thin strips. Finally, turn the strips and chop them crosswise into small pieces. This technique helps to remove excess water and seeds from the tomatoes, which can make the salsa too watery.
Keep in mind that this technique only works well if you use a serrated knife. A serrated knife can easily cut through tomato skin and flesh.
A knife with a flat cutting blade will get caught on the skin and you'll have to saw your knife back and forth a lot. The constant back and forth with the knife will shred the tomato flesh instead of cutting it neatly.
Expert Tips and Tricks To Make Fresh Salsa
Seed tomatoes: Remove the seeds from the tomatoes. Leaving the seeds in your salsa will make it watery and dilute the flavor.
Wear gloves and wash hands handling jalapeno: Jalapeño has oil on it that can burn or irritate your skin. By wearing gloves you will ensure that you don't burn yourself. Especially because the oils will burn more sensitive areas of your body like your eyes. If you rub your eyes or touch your lips after cutting jalapeno chances are they will burn for quite a while.
Slice ingredients into equal small pieces: The smaller you cut the pieces of your salsa the more the flavors will combine. Smaller pieces equals a more cohesive flavor.
Fresh Garden Salsa Recipe Variations
Here are some unique recipe variations for Garden Fresh Salsa:
Make it Smokey: Add some grilled corn kernels to the salsa to give it a grilled flavor.
Make it Creamy: An avocado goes a long way in making salsa creamier and more filling.
Add a Fruity Twist: Add a cup of mango or fresh pineapple to the salsa to give it a sweeter and brighter flavor.
Add Fresh Herbs: Add some dried or fresh oregano and cilantro to add a Spanish flair.
Who Owns Garden Fresh Salsa?
Store bought garden fresh salsa is owned by a company named Garden Fresh Gourmet. While Garden Fresh Gourmet was started by Jack and Annette Aronson it was eventually purchased by the Campbell Soup Co. In 2019 Campbell Soup sold the company to Fountain of Health. According to the Detroit News.
How Long is Garden Fresh Salsa Good For?
This homemade garden fresh salsa is good for about 5 days in the fridge. The popular brand of Garden Fresh Salsa sold by Garden Fresh Gourmet will stay fresh for 5-7 days in the fridge after opening. Unopened salsa by Garden Fresh Gourmet will last for up to 14 days.
Where is Garden Fresh Salsa Made?
When it was owned by Campbell Soup the garden fresh salsa was made in Camden, New Jersey. Home of Campbell's Soup Co.'s headquarters. Now that the company has been sold Garden Fresh Salsa is made in Ferndale Michigan in the United States.
What is Garden Salsa Called?
Garden salsa is also known as "Salsa Fresca" in Spanish.
What are the Six Types of Salsa?
There are so many varieties of salsa but the main six types of traditional salsa recipes include:
Pico De Gallo
Salsa Roja (red salsa)
Salsa Verde (green salsa)
Salsa De Aguacate (avocado salsa)
Salsa Criollo (red onion salsa)
Common Questions and Answers for Garden Fresh Salsa
Do you have to peel tomatoes for fresh garden salsa?
No you don't have to peel the tomatoes for fresh garden salsa. In fact, I don't remcommend peeling tomatoes. The skin helps keep the tomatoes together.
If you peel the tomatoes the salsa will be mushy. Instead make sure to deseed the tomatoes. The tomato seeds are watery and will dilute the flavor of your salsa.
How to serve fresh garden salsa?
Fresh Garden Salsa is so versatile. There are endless possibilities when it comes to uses and serving options. Here are a few of my favorite ways to serve garden fresh salsa.
As an appetizer with tortilla chips.
To flavor salads: Adding salsa to a simple salad is a great way to add tons of color and flavor.
Garnish tacos: Tacos usually have a savory meaty flavor that is always improved with a brightly flavored salsa.
In Wraps: Salsa is chopped up nice and small so it fits nicely in a wrap for extra healthy flavor.
Burritos: Just like in wraps salsa is something you can easily add to improve the flavor of all types of burritos. Including chicken, veggie, salmon, turkey and black bean burritos.
Can I use canned tomatoes instead of fresh?
Yes, you can use canned tomatoes instead of fresh. Using canned tomatoes is a great way to get a smoother salsa. If it isn't tomato season you should definitely use canned tomatoes, here's why. Canned tomatoes have more concentrated flavor since they have been cooked down prior to being canned.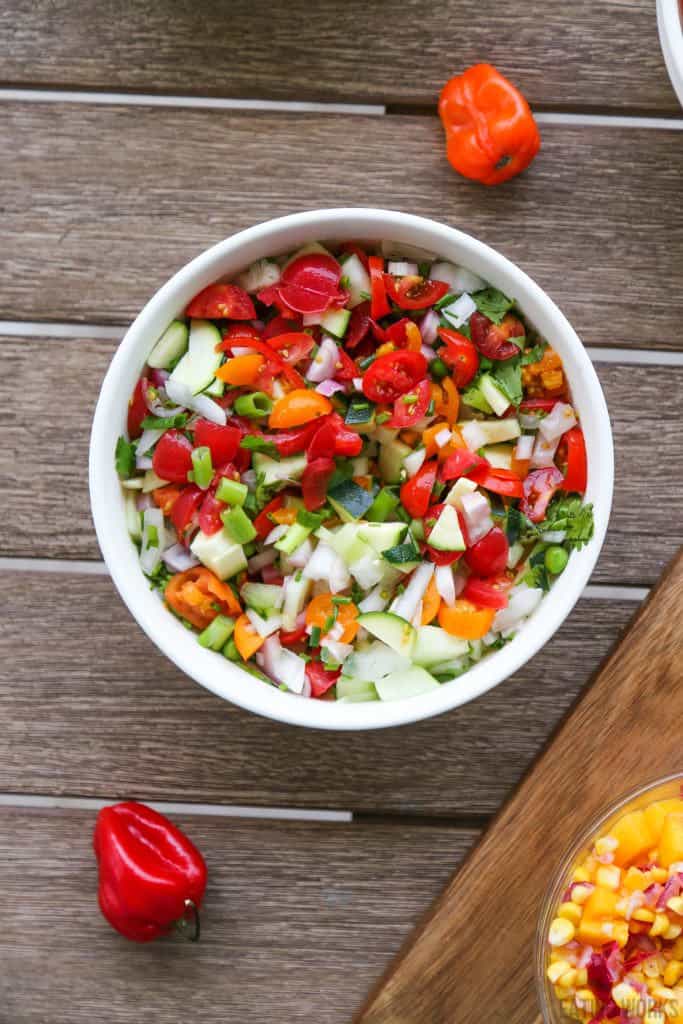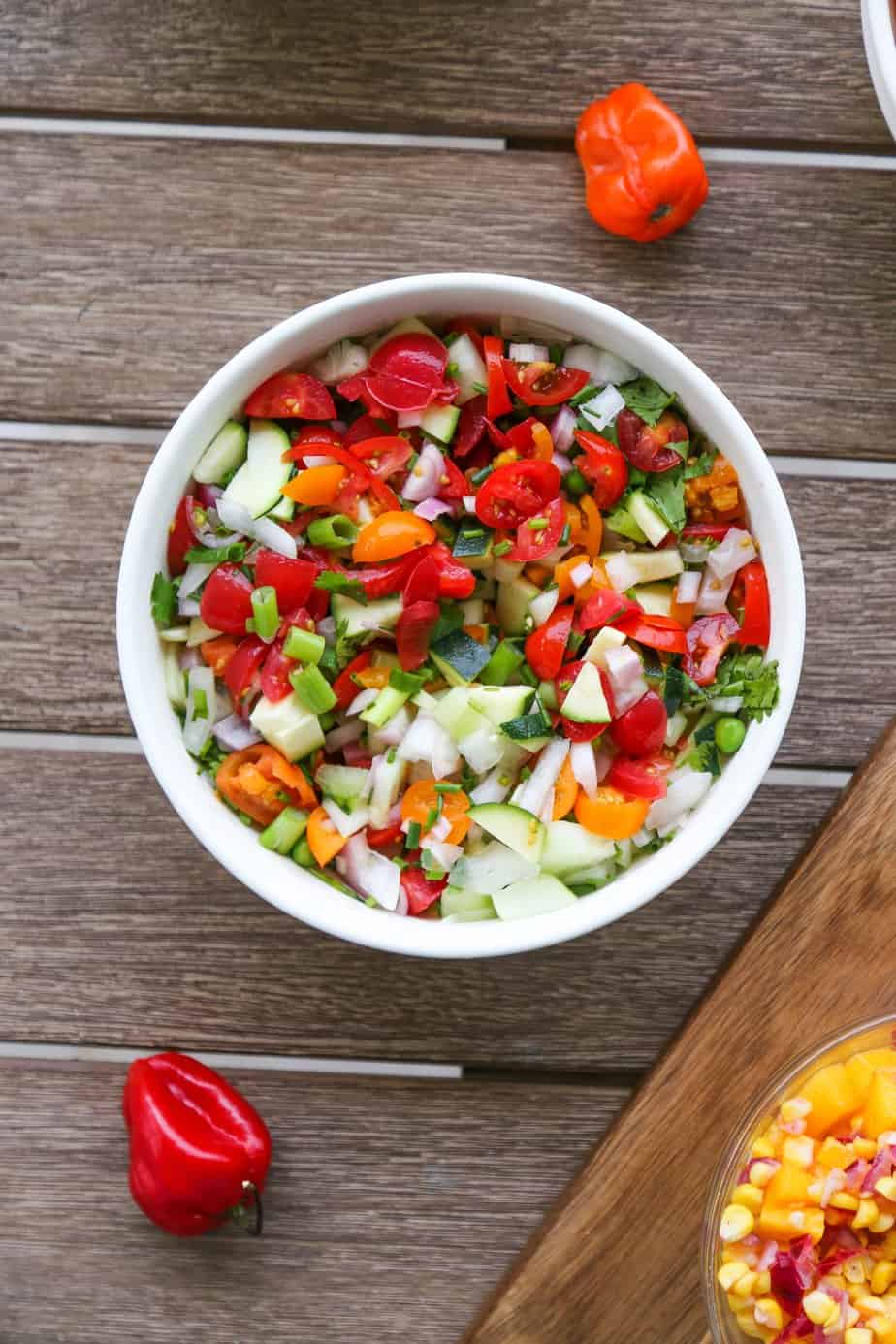 How do I make smooth salsa?
To make a smoother salsa, use a food processor or blender to puree the vegetables after you've added the lemon juice. The lemon juice will help blend the vegetables blend more easily.
Another great way to make a smooth salsa is to use canned tomatoes. Canned tomatoes are softer and blend easily to produce a very smooth almost soup-like texture.
Purée all of the vegetables for a perfectly smooth salsa.
Or only blend up half of the salsa and then add the chopped ingredients to the blended portion. This produces a smooth salsa with some texture from the chopped vegetables.
How spicy is this garden salsa?
This garden salsa is pretty mild. Make it more spicy by adding more jalapeño, cayenne pepper or adding some of the seeds from the jalapeño. Most of the heat in jalapeños comes from the seeds.
What is the best type of tomato to use for salsa?
The best type of tomato to use for salsa is the kind with the most flavor. This means that you should use these tips to pick the juiciest most flavorful tomatoes:
Smaller tomatoes have more flavor
Slightly soft tomatoes are sweeter since they are slightly over ripe
Varieties of tomato with lots of flavor include vine ripe tomatoes, cherry tomatoes, heirloom and Roma tomatoes.
Use tomatoes that are in season. Tomatoes in season have so much more flavor than the tomatoes you buy in the winter.
If you can't access in season tomatoes you can use canned tomatoes. Canned tomatoes have more concentrated flavor since they have been cooked down prior to being canned.
Many people prefer roma tomatoes to make salsa because they have meatier flesh and less seeds than other tomato varieties.
Can you can salsa?
Yes, I know that you can can salsa. Although I've never personally tried it. I do know that it's important to follow proper canning procedures to ensure the salsa is safe to eat.
How to Store Garden Fresh Salsa
Store garden fresh salsa in a glass container or mason jar. Plastic containers are not good for salsa because the lime or lemon juice will break down the plastic. Leaching toxic chemicals into your leftover salsa!
More Salsa Recipes
Here are a few more recipes for you to try! With all of this variety there is something for every palate.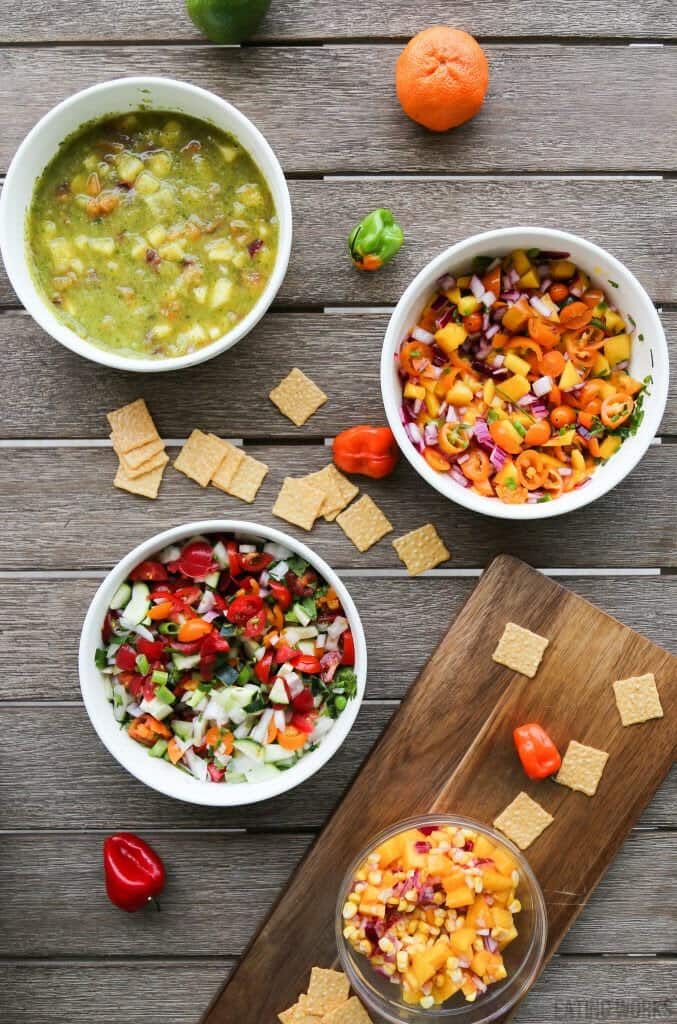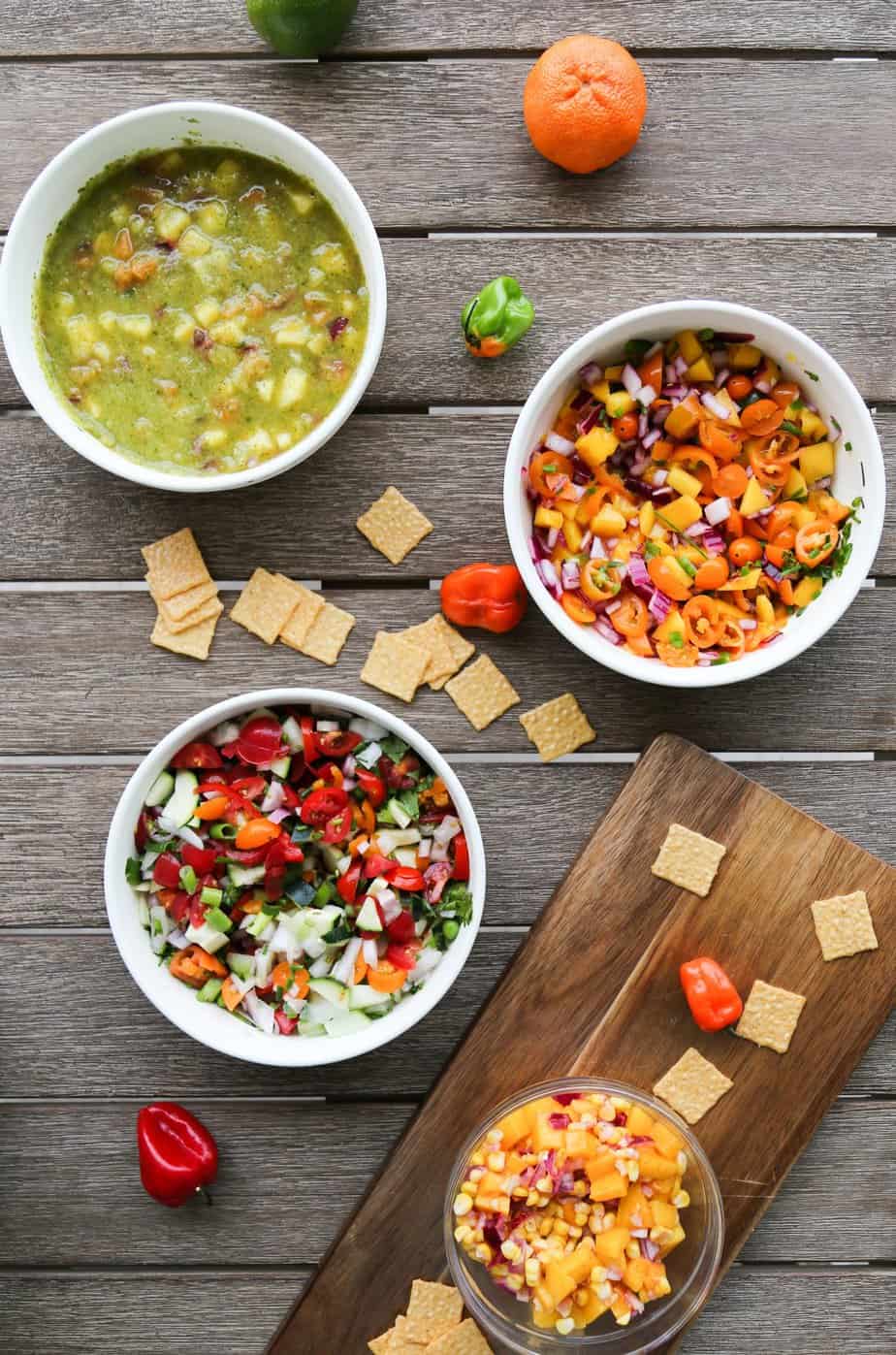 Roasted Pepper Salsa
The Best Roasted Pepper Salsa! This restaurant style salsa is one of my favorite homemade chunky salsa recipes. With only four ingredients you can have this dip done in ten minutes. This salsa takes ten minutes to make and it's Vegan and Gluten Free.
Check out this recipe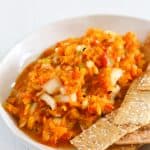 Spicy Tomatillo Salsa
This easy salsa recipe makes the perfect as a dip or a condiment
Check out this recipe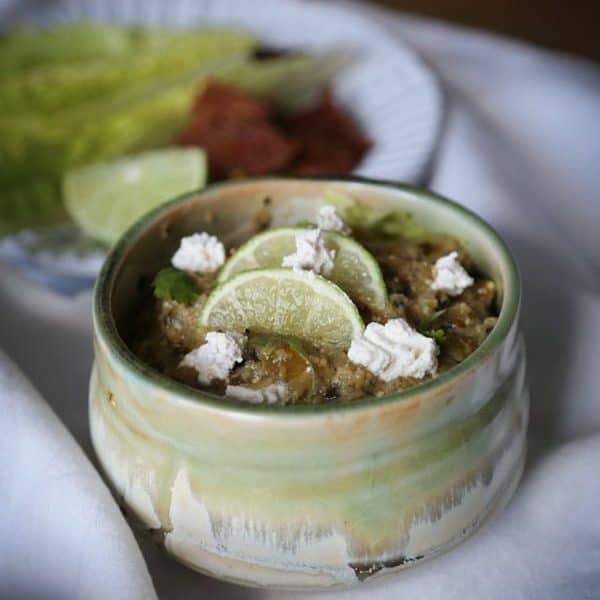 Mango Corn Salsa
This healthy mango corn salsa is the perfect combination of sweet and spicy. The sweetness of the mango is contrasted by the spiciness of the cayenne pepper. The lime juice and crunchy corn add even more depth of flavor to this simple dish.
Check out this recipe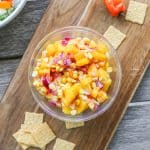 Refreshing Pineapple Pico de Gallo Recipe
Pineapple pico de gallo combines fresh ingredients, such as tomatoes, onions, cilantro, jalapeños, and, of course, pineapple, to create a refreshing pico de gallo. Pineapple pico de gallo is the perfect combination of sweet and spicy. Use it as a dip or a topping for your favorite dishes.
Check out this recipe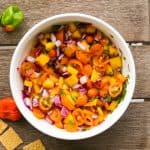 Garden Fresh Salsa Recipe
This salsa recipe is made with fresh vegetables, including tomatoes, scallions, zucchini, cucumber, and more, and is bursting with flavor.
Print
Pin
Rate
Servings:
12
1/4 Cup Servings
Equipment
Cutting Board

Measuring Spoon
Instructions
In a medium sized mixing bowl combine the tomatoes, chines, corn, scallions, peas, zucchini and shallots. Mix to combine.

Add the olive oil, apple cider vinegar and lemon juice. Season with salt and pepper to taste. Allow the salsa to marinate for a few hours to maximize flavor.
Nutrition
Calories:
37
kcal
|
Carbohydrates:
4
g
|
Protein:
1
g
|
Fat:
3
g
|
Saturated Fat:
0.4
g
|
Polyunsaturated Fat:
0.3
g
|
Monounsaturated Fat:
2
g
|
Sodium:
17
mg
|
Potassium:
107
mg
|
Fiber:
1
g
|
Sugar:
2
g
|
Vitamin A:
254
IU
|
Vitamin C:
11
mg
|
Calcium:
9
mg
|
Iron:
0.3
mg