This intensely flavored creamy balsamic dressing recipe takes only 5 minutes to throw together in a blender. It's made with olive oil, balsamic vinegar, spices, garlic, agave and mustard.
And is the perfect balsamic dressing for drizzling over salads, pasta, seafood and more! You'll never believe that you can make such a thick dressing with vegan and gluten free ingredients! That's right, you don't need any dairy for this recipe. So hold the mayo!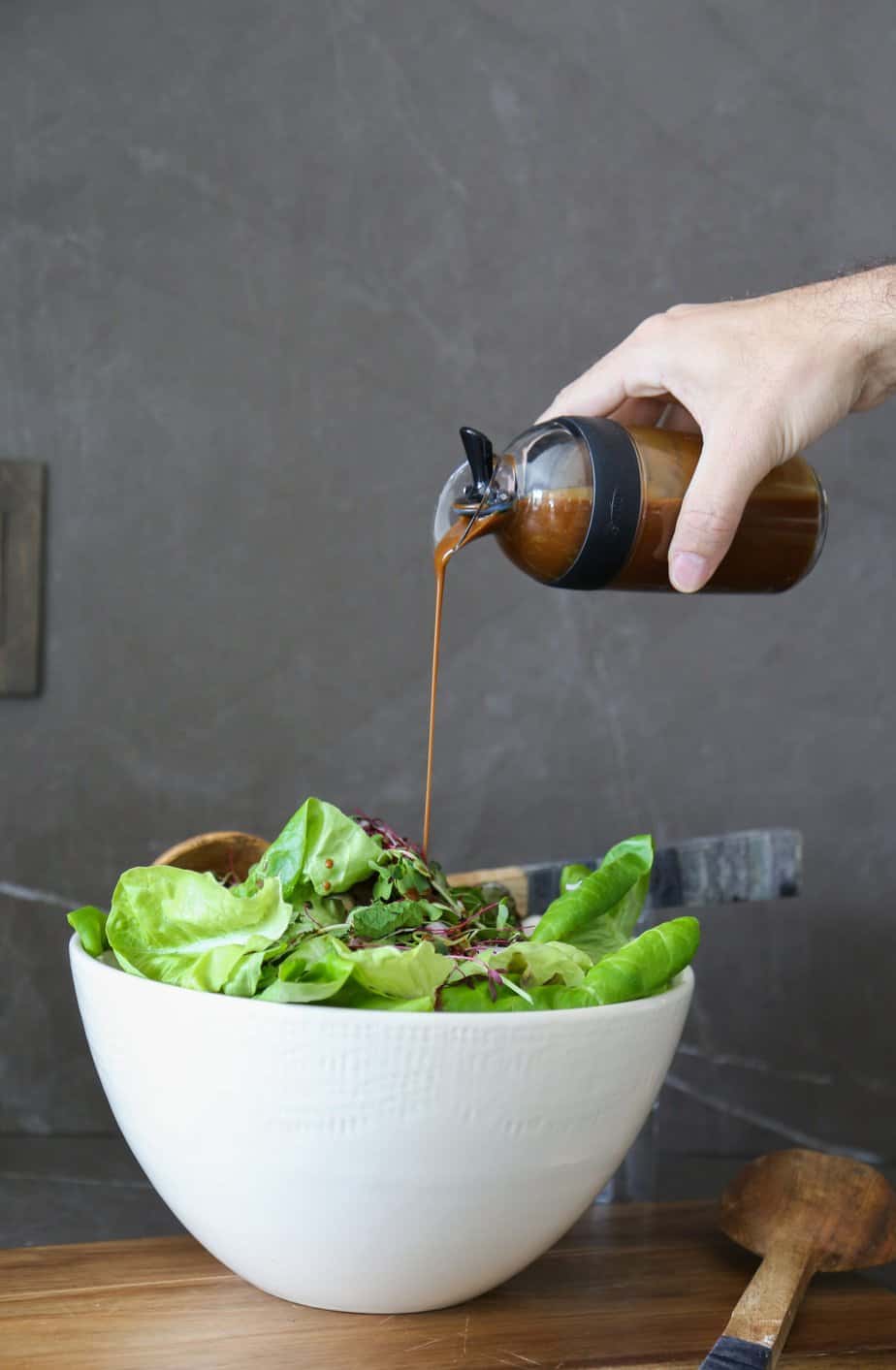 This dressing when emulsified in a blender gets super thick and rich almost like Ranch. With the consistency of chocolate syrup, it irresistibly clings to each lettuce leaf, making sure that even a plain bowl of greens is a full flavored palatable experience.
This post may contain affiliate links. As an Amazon Associate I earn from qualifying purchases at no cost to you. See my Affiliate Disclosure to read my policy and more about affiliate links.
Table of Contents
Why You'll Love This Creamy Balsamic Dressing Recipe!
Vegan
Gluten Free
5 Ingredients
5 Minutes to Make
Long Shelf Life (2 weeks)
Nut Free
Soy Free
Dairy Free
Keto Friendly
Low Carb
Dairy Free
Paleo Friendly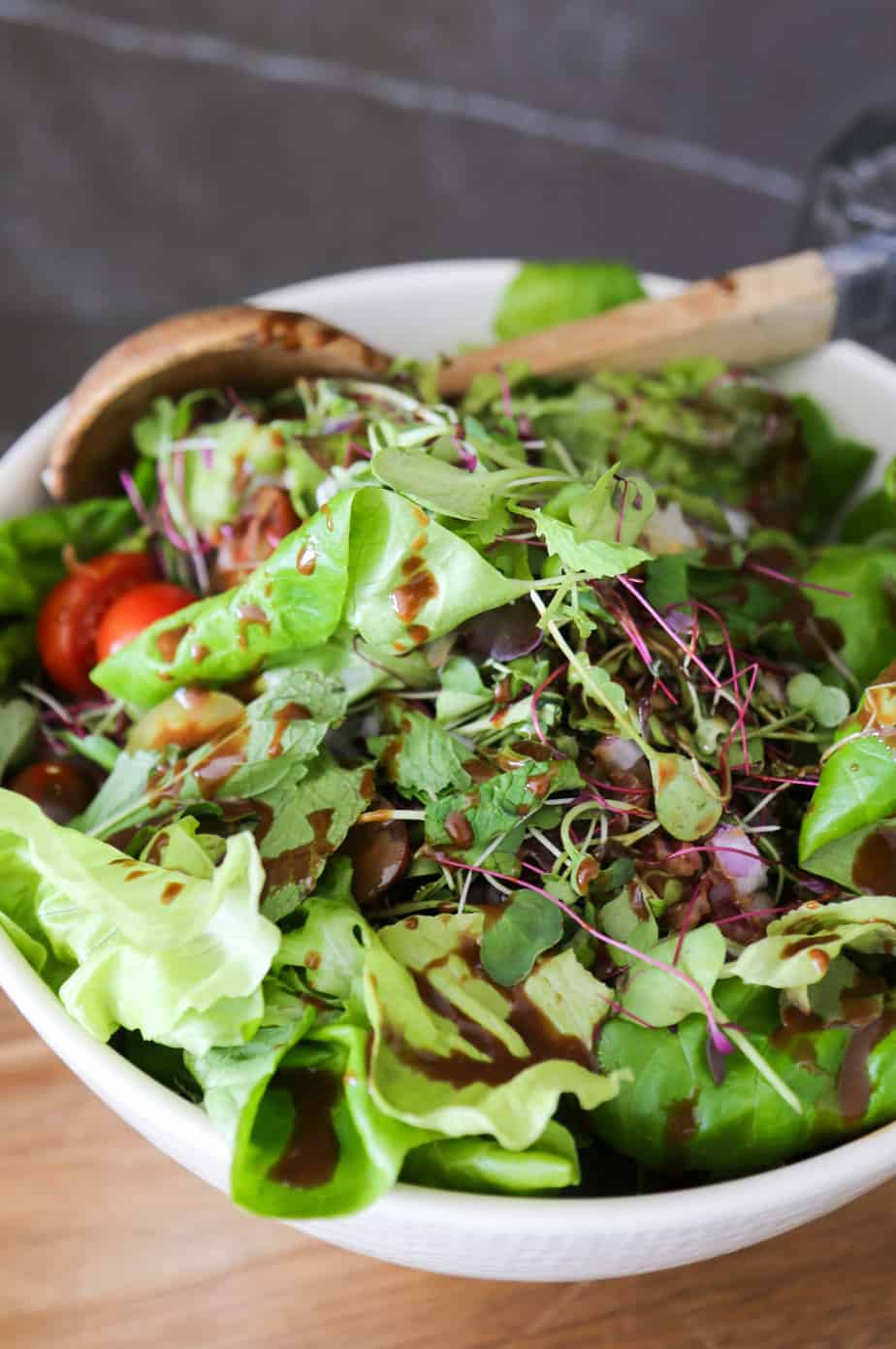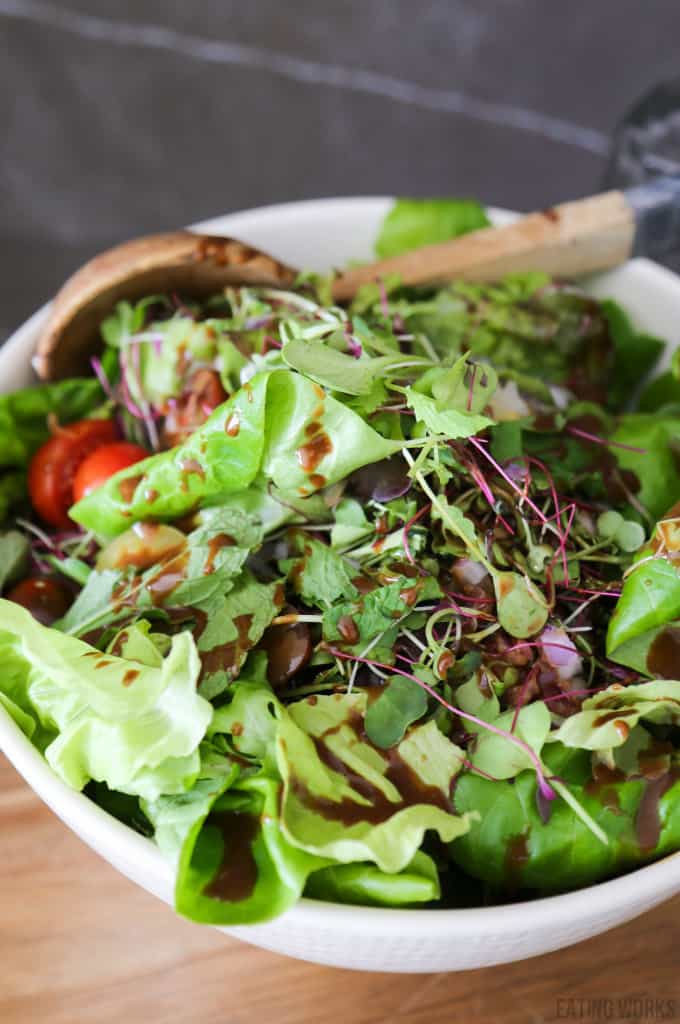 Ingredients to Make This Creamy Balsamic Dressing Recipe
How to Make the Creamiest Balsamic Dressing at Home
Step 1: Emulsify all ingredients in a high speed blender until the dressing is perfectly creamy.
Ingredient Substitutions for Creamy Balsamic Vinaigrette
Dijon Mustard: Any kind of mustard will work for this recipe. My least favorite choice would be spicy mustard. Use a plain or yellow mustard instead of Dijon.
Maple Syrup: Another type of liquid sweetener would work, including honey or agave!
Garlic Cloves: Instead of garlic cloves you could use 1 tsp of jarred garlic or 1 tsp of garlic powder.
Olive Oil: Instead of olive oil you can use avocado oil or safflower oil.
Is this Creamy Balsamic Dressing Recipe Vegan?
Yes, this creamy balsamic dressing recipe is vegan! All of the ingredients, including olive oil, maple syrup, garlic, sea salt, pepper, mustard and balsamic vinegar are plant based and not derived from animals or animal byproducts.
Is Balsamic Dressing Gluten Free?
Generally speaking, balsamic dressing is gluten free. Most balsamic dressing recipes are a combination of oil, vinegar, spices and sugar. All of these ingredients are gluten free naturally.
However, if you are buying store bought balsamic dressing you should look out for certain ingredients that contain gluten. Some common gluten containing ingredients in store bought salad dressings include malt flavoring or soy sauce made from wheat and malt vinegar.
How to Store This Creamy Balsamic Dressing Recipe
My favorite way to store leftover dressing is in a reusable salad dressing container. Reusable salad dressing containers are Tupperware that are deigned with a spout to pour dressing directly onto salads.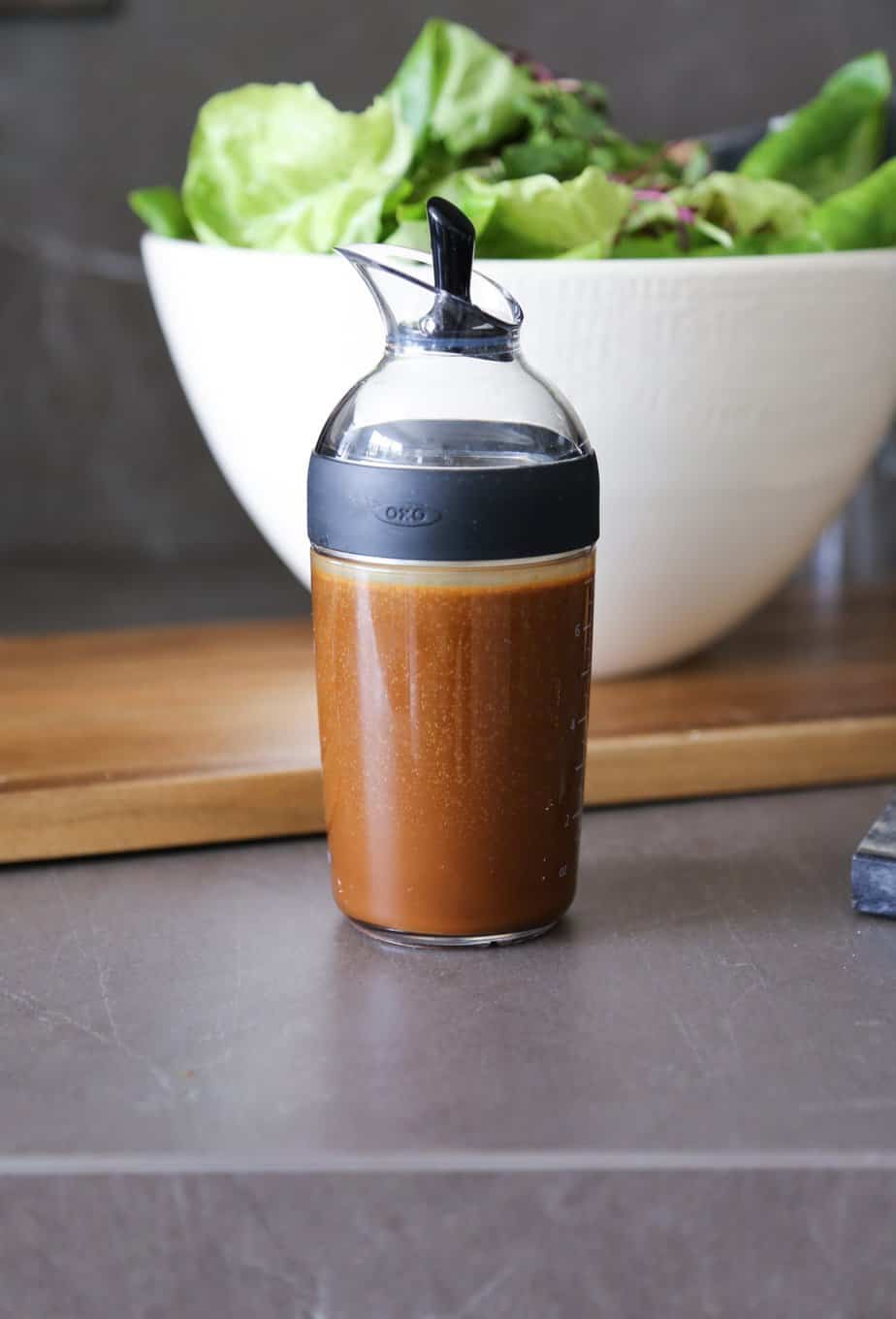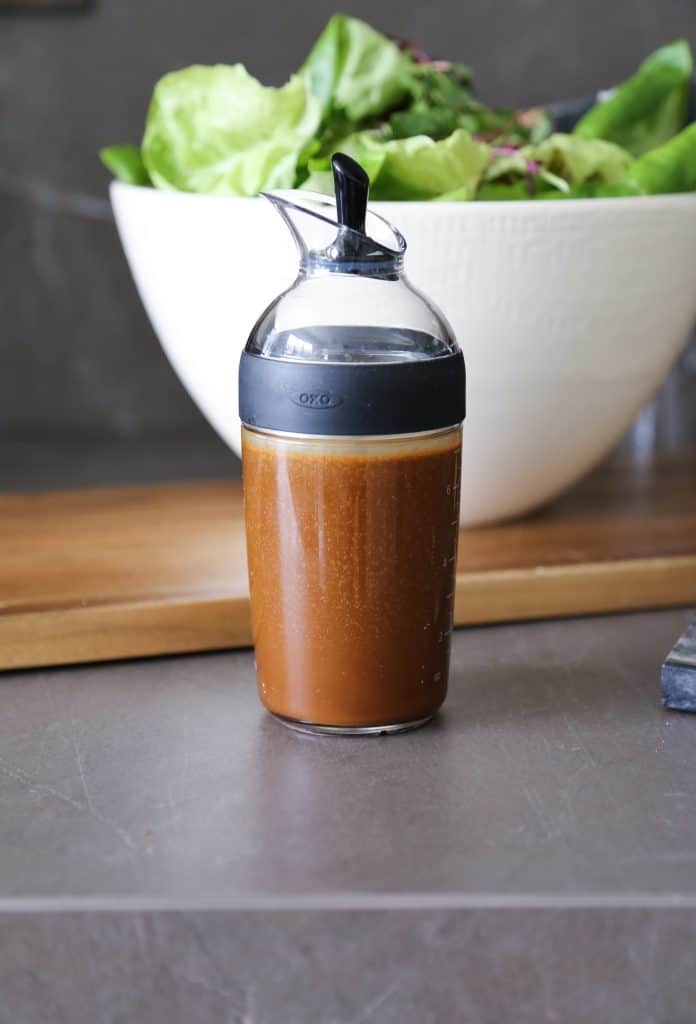 My favorite reusable salad dressing container is the OXO Good Grips Salad Dressing Shaker. It stores up to one cup of dressing and has a resealable spout that allows you to pour out the perfect amount of dressing with ultimate control.
How Long Does Homemade Balsamic Vinaigrette Last?
This balsamic dressing will last for up to two weeks in the fridge! The balsamic dressing is naturally preserved by the vinegar. Vinegar is a natural preservative.
How Do You Thicken Balsamic Vinegar?
Usually the only thick balsamic vinegar you can get is upwards of 40 dollars a bottle! Some balsamic vinegars can cost 200 dollars for one tiny bottle. Most of us can't afford to blow that kind of money on balsamic vinegar.
But that's O.K. because you can make any balsamic vinegar thicker and more flavorful by using my creamy balsamic dressing recipe. Or you can use the following tips to make any balsamic vinegar thicker.
Use mustard to thicken the vinegar: Mustard is a natural thickener and emulsifier that works well to stand up the molecules in any balsamic vinegar.
Make a glaze: You can turn any bottle of cheap balsamic vinegar into a decadent vinegar by placing the vinegar in a sauce pan and reducing it on medium heat for 5 minutes. Remove the vinegar when it's thick enough to coat the back of a spoon. This technique is called making a balsamic glaze.
Use Dairy: If you are not avoiding dairy or are lactose intolerant you can use 1 tablespoon of Greek yogurt to thicken the dressing.
Eggs: If you don't mind eating egg yolk you can whisk an egg yolk into your vinegar or use a teaspoon of mayo to thicken it. Mayo is made from eggs.
Is Balsamic Glaze The Same as Balsamic Salad Dressing?
No, balsamic glaze and balsamic salad dressing are two different types of sauces.
What is the Difference Between Balsamic Vinegar and Balsamic Dressing?
In short, balsamic vinegar is a singular dressing made from aging fermented grape juice. Balsamic dressing is a combination of other ingredients with balsamic vinegar to make a flavorful sauce used to coat salads, pasta, chicken and fish.
How Is Balsamic Vinegar Made?
Traditional balsamic vinegar is a vinegar made from fermented grape juice that dates back to the Italian middle ages. This special vinegar is traditionally made by boiling down fresh grape juice until it's concentrated, then it's fermented and aged in wooden barrels for 12 to 25 plus years.
Commercially produced vinegar is a combination of balsamic vinegar and wine vinegar. Companies cut balsamic with wine vinegar to reduce the production time and to keep manufacturing costs down.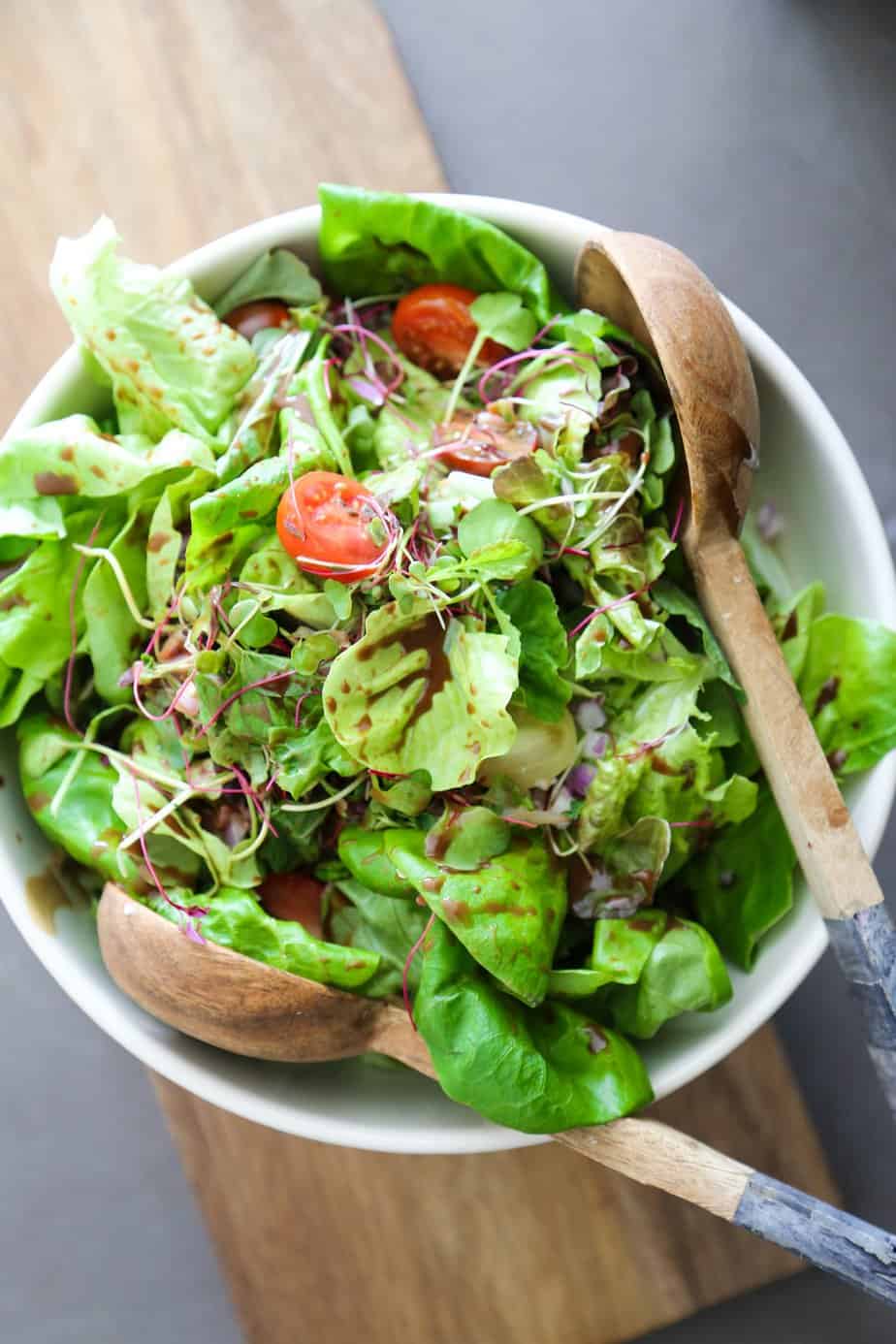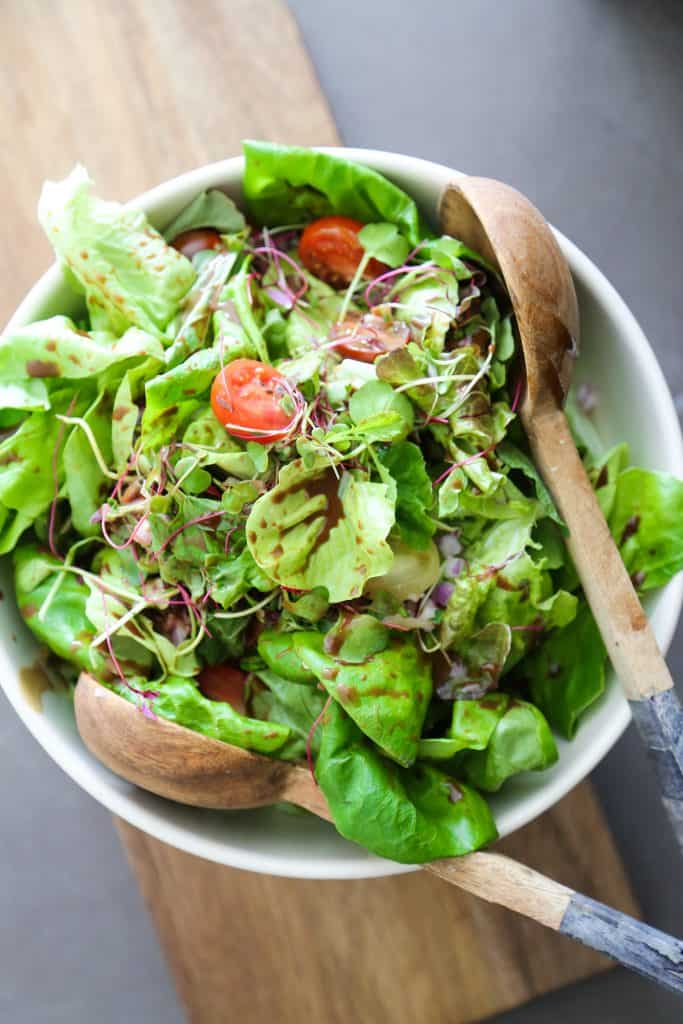 Balsamic vinegar is the only kind of vinegar that has carbs and sugar in it. Of all the vinegars out there, it is the least keto friendly. However, eating 1-2 tablespoons of balsamic vinegar will only provide you with 4 grams of carbs.
In moderation, balsamic vinegar is good for a keto diet. In fact, a little vinegar will satisfy your sweet tooth which can prevent you from binging on carbs and blowing yourself out of ketosis.
Can You Can Balsamic Dressing At Home?
Technically, you can can this creamy balsamic dressing recipe because it does not have dairy or eggs in it and it is made with a permanent emulsion that won't separate.
Any kind of dressing that is made with oil and vinegar can be canned. But a dressing made with a dairy base cannot be canned. If you can this dressing at home, you should use the Blue Book guidelines for meat in a pressure canner for the altitude of where you live.
This dressing recipe will also work well for canning because it doesn't have egg in it. Oil and eggs in a canning environment are known to separate. Dressings that can be canned should have a permanent emulsion which this creamy balsamic dressing recipe does.
A non emulsified blend could separate, giving the dressing a curdled look and negatively effect the flavor. Once this happens the dressing is ruined.
The canning process can alter the dressing in other ways because of the high heat used in the canning process. Olive oil is only raw when it is below 118 degrees and the canning process will kick that oil all the way up to 240 degrees.
While it can be done, in my opinion, canning balsamic dressing simply is not worth it.
Common Questions and Answers
My dressing came out thinner and lighter than yours, how do I thicken and darken mine?
You can make the dressing thicker by adding more mustard or a little bit of dairy. If you followed the recipe exactly your end result should be the same thickness. If your dressing is lighter that is likely because we used different brands of balsamic vinegar. Some brands of balsamic vinegar are darker than others. The higher quality balsamic vinegars tend to be darker in color and have a thicker consistency.
Can you make this creamy balsamic dressing recipe in larger batches?

Absolutely, yes! You can make this creamy balsamic dressing recipe in larger batches by doubling the recipe. The proportions work exactly the same for bigger batches.
How do you make the dressing sweeter?
I think this creamy balsamic dressing recipe has the perfect balance of sweetness and acidity. But if you want to make it even sweeter you can add 1 more tablespoon of maple syrup, honey, or agave to it.
Can you make a creamy balsamic dressing recipe without mayo?
Yes, you can make a creamy balsamic dressing recipe without mayo by blending mustard and the other dressing ingredients in a blender to form a permanent emulsion. You could also use greek yogurt instead of mayo.
Creamy Balsamic Dressing Recipe
This creamy balsamic dressing recipe is sweet, tangy, and incredibly rich It can be whipped up in 5 minutes with zero effort! You throw the ingredients in a blender and its done in a second.
Print
Pin
Rate
Instructions
Place all ingredients in Vitamix or high speed blender and blend until a thick light brown cream forms. Enjoy!
Notes
If the dressing blends up to thick for your liking, thin it with one part olive oil and one part Balsamic until your desired consistency is reached. Stays good in the fridge for 1 week.
Nutrition
Serving:
2
tbsp
|
Calories:
118
kcal
|
Carbohydrates:
5
g
|
Protein:
1
g
|
Fat:
11
g
|
Saturated Fat:
1
g
|
Polyunsaturated Fat:
1
g
|
Monounsaturated Fat:
8
g
|
Sodium:
18
mg
|
Potassium:
19
mg
|
Fiber:
1
g
|
Sugar:
4
g
|
Vitamin A:
2
IU
|
Vitamin C:
3
mg
|
Calcium:
6
mg
|
Iron:
1
mg