These Beet Raviolis with Vegan Ricotta cheese make eating your vegetables fun! They're easy to make and only a handful of ingredients. If you miss classic raviolis than this is the recipe for you to try!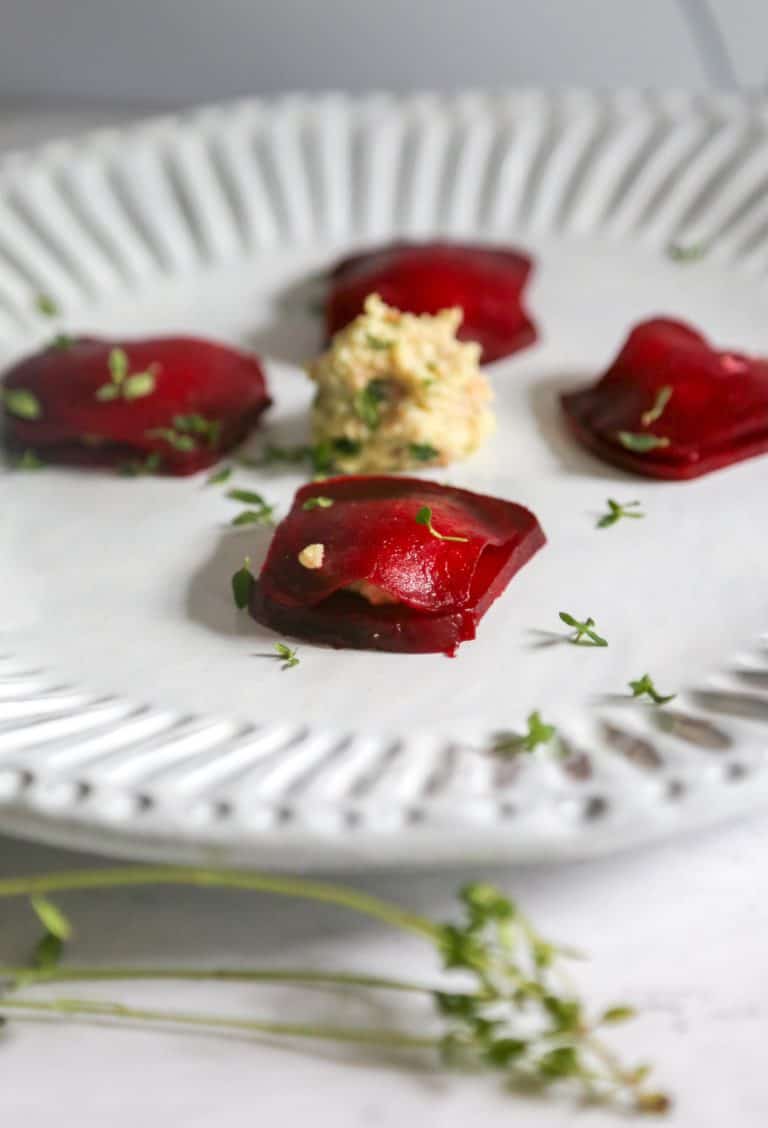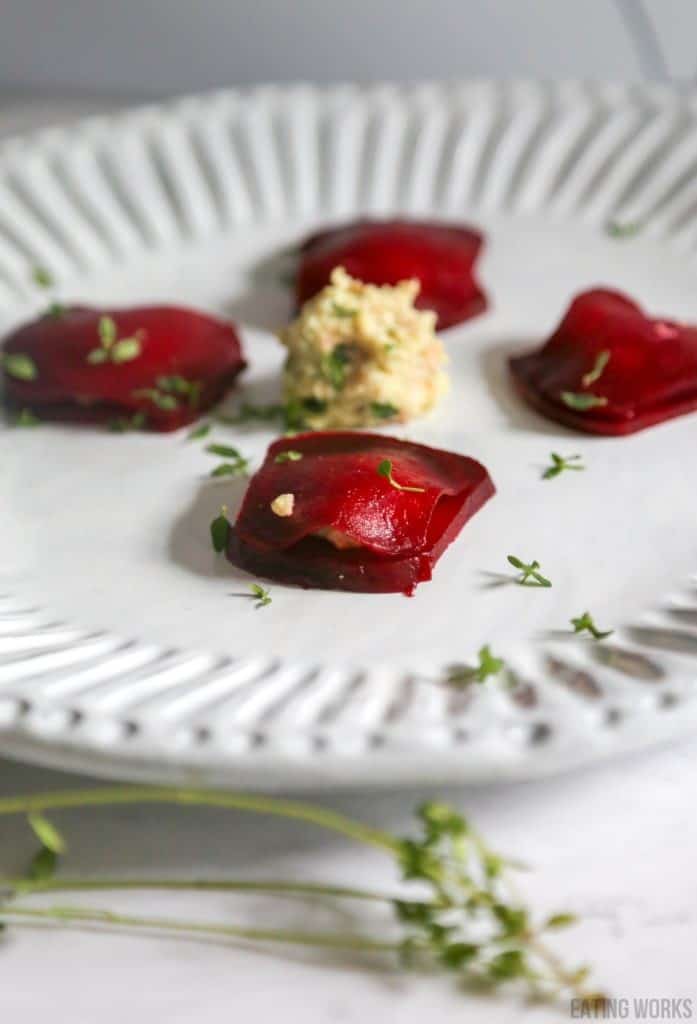 This post may contain affiliate links. As an Amazon Associate I earn from qualifying purchases at no cost to you. See my Affiliate Disclosure to read my policy and more about affiliate links.
The cheesy ricotta is made from clean ingredients like pine nuts and the raviolis are made from sliced roasted beets. Just take two beet slices and make a sandwich out of them with the cheese in the middle and you're done!
These beet ravioli's are easy to assemble. Making beet ravioli's is a fun way to pass the time in the kitchen with little ones. It's almost like a mini art project! My toddler loves sitting on the kitchen counter and assembling the raviolis.
Why You'll Love Beet Raviolis with Vegan Ricotta Cheese
To make them all you have to do is place a dollop of vegan pine nut ricotta between two thin slices of beets, next press the edges of the beets together… That's it! Making Beet Raviolis with your kids is a great way to get them to eat their vegetables. They're fun to make and taste sweet. Most kids want to eat the food that they had a hand in preparing.
Swap Out the Ricotta for Any Filling Your Kids Like
While pine nut ricotta is my favorite filling for these beets, you can substitute it out for any filling you or your children like. Instead of vegan ricotta you could use any of the following fillings…
Goats Cheese
Cow's Milk Ricotta
Kite Hill Ricotta – My favorite vegan Ricotta Cheese
Veggie Filling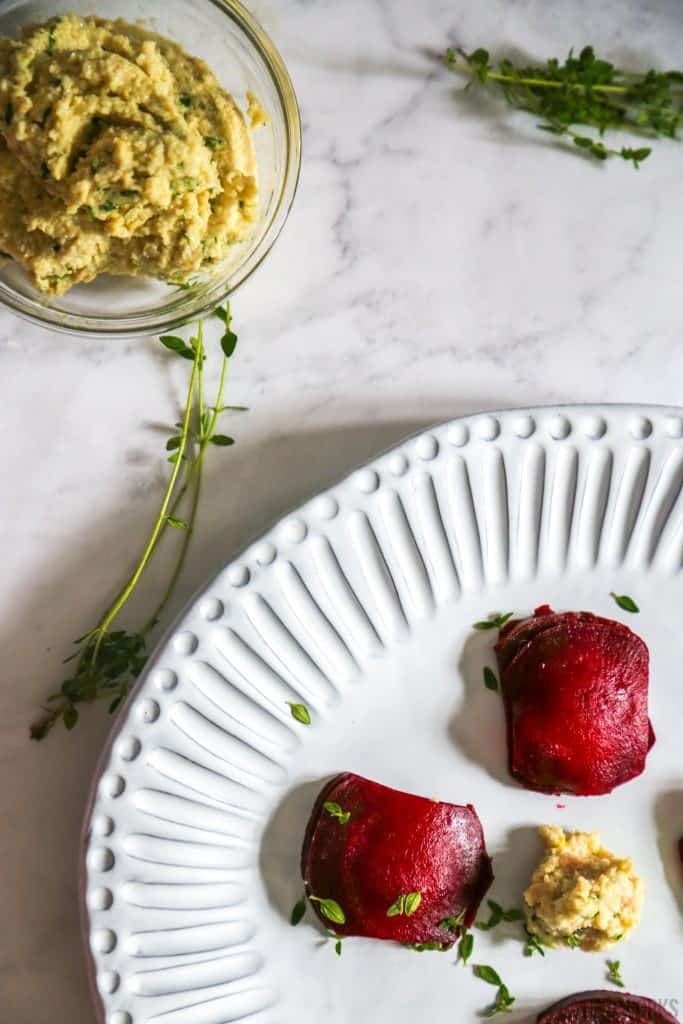 What You'll Need…
For the ravioli's themselves you only need one ingredient… Beets! The vegan ricotta's primary ingredient is pine nuts. But there are a few other ingredients in there to make the pine nuts taste like actual ricotta cheese!
Beets
Pinenuts
Whole Garlic Head
Lemon Juice
Miso Paste
Umeboshi Paste (optional or use salt instead)
Lemon
Parsley – Optional
How to Make the Ravioli's
Roasted beets are delicious but they're a pain in the butt to prepare. Once you learn how to roast beets the easy way you'll never cringe at the idea of preparing beets again.
Equipment for Beet Ravioli: Mandolin, knife, foil and a Food Processor.
How to Roast Beets Without Peeling or Washing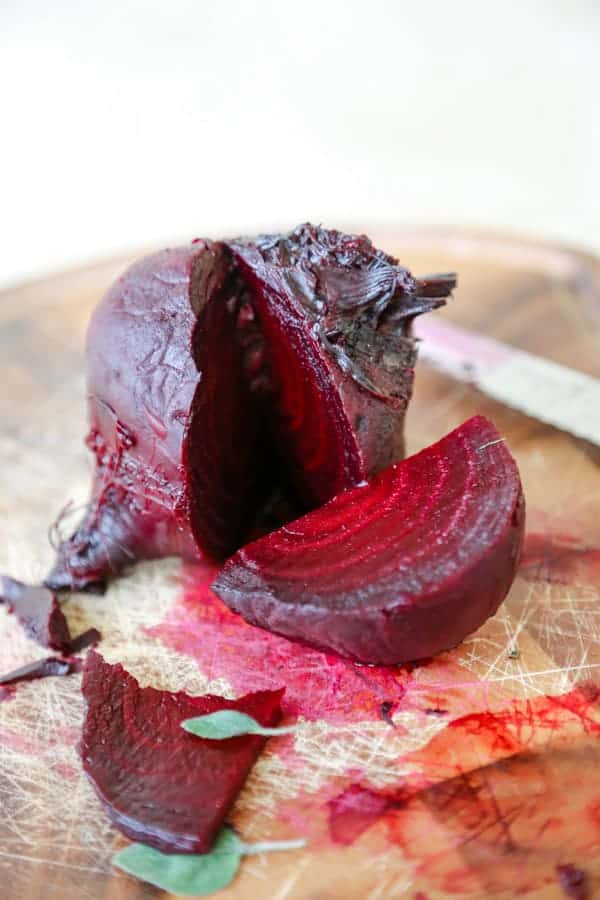 The traditional way of preparing beets entails washing, peeling and boil them. This process leaves dirt in your sink and red dye everywhere! You'll have red dye all over your hands, kitchen and clothing. The stains from the dye is hard to get out of clothing. So let me teach you how to roast beets without sacrificing your sweater.
Roasting Beets in foil is the best because there is…
No Washing
No Peeling
No Mess
Step 1: Preheat the oven to 400 degrees Fahrenheit. Rip squares of tin foil large enough to cover an entire beet. Next wet each beet, season with S&P and wrap each beet in foil. Place them in the oven for 45 minutes to 1 hour. You'll know they're done when you can easily pierce them with a knife or fork.
Step 2: Remove the beets from the oven. Once they have cooled, unwrap them. Using paper towel, rub the outside of the beets and the dirt and skin will slide off! Leaving you with perfect, juicy, clean, peeled beets!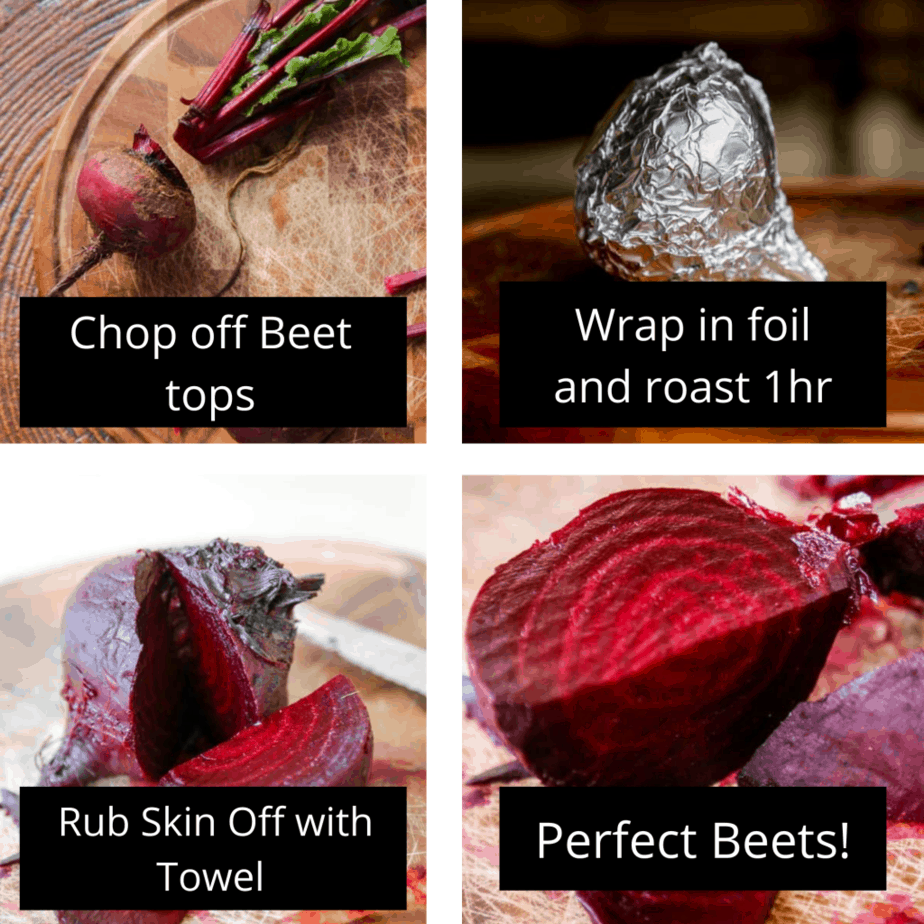 Make the Pine Nut Ricotta
Step 1: Soak the pine nuts in 1 cup of water. Slice a head of garlic in half horizontally. Drizzle it with olive oil, season with salt and pepper. Next wrap the garlic into tinfoil. Place it in the oven for 25 minutes. Make sure the garlic roasts, but doesn't burn. You'll know it's burnt if it is brown in color. When the garlic is perfectly roasted it just looks wet.
Step 2: In a food processor combine the pine nuts, lemon juice, umaboshi paste, parsley, garlic and miso paste. Pulse the food processor on high, until the mixture is perfectly smooth.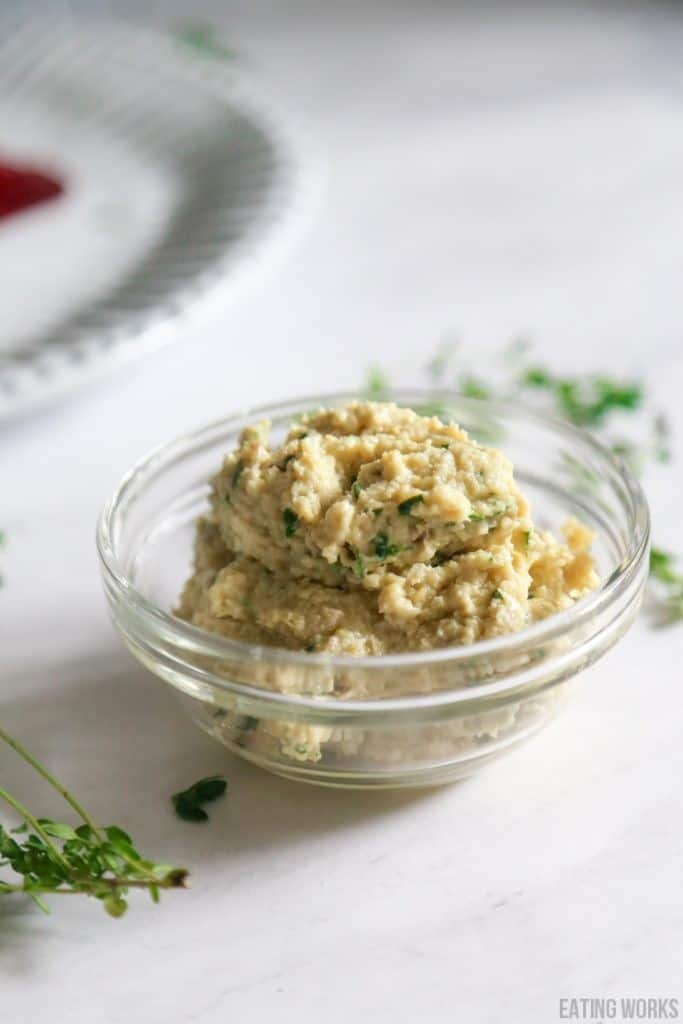 Assemble the Raviolis
Step 1: Slice the beets as thinly as possible. For easy uniform cuts I recommend using a mandolin. Or you can just use a knife. If you want your beets to be symmetrical slice off the sides so that they are square.
Step 2: Lay out individual slices of beet on a platter. Spoon 1 tablespoon of ricotta into the middle of each slice. Cover the ricotta with a second slice and pinch the sides closed.
More Gluten-Free Vegetable Entrees
Beet Raviolis with Vegan Pine Nut Ricotta Google Web Story!
Beet Raviolis with Vegan Pine Nut Ricotta
Thinly sliced beets filled with yummy pine nut ricotta is a fun way to eat your beets! The pine nut ricotta is made with simple ingredients blended in a food processor. These raviolis are gluten free, vegan and soy free
Print
Pin
Rate
Instructions
Prepare the Beets
Preheat oven to 400 degrees. Trim the tops of the beets. Rinse with water and season with salt and pepper. Wrap the beets in tinfoil and roast for 45 minutes to 1 hour. The beets are done when you can easily pierce them with a knife.
Vegan Ricotta
Lower oven to 325. Season the garlic with salt and pepper. Coat with olive oil and wrap them in tinfoil. Roast for 25 minutes or until the garlic becomes fragrent. Make sure not to burn it. The garlic will be done when it looks wet. Pop the cloves out and discard the skin.

Combine pine nuts, parsely, miso paste, umaboshi paste, lemon juice and roasted garlic into a food processor. Combine until smooth
Assemble the Beets
Unwrap the beets and rub the skins off using paper towels. Trim the sides of the beets into even squares. Slice them as thinly as possible using a knife or mandolin.

Assemble the beets onto a platter. Place 1/2 tsp of vegan ricotta cheese in the center of each slice. Top with a second slice and pinch the sides. Enjoy!
Nutrition
Serving:
1
Ravioli
|
Calories:
57
kcal
|
Carbohydrates:
3.4
g
|
Protein:
1.4
g
|
Fat:
4.8
g
|
Sodium:
48
mg
|
Potassium:
107
mg
|
Fiber:
0.8
g
|
Sugar:
2
g
|
Calcium:
6
mg
|
Iron:
1
mg