Flank Steak Tacos with Brussels Sprouts Tacos Jalapeño Avocado Humus (GF)
These Flank Steak Tacos with Brussels sprouts and Jalapeño Avocado Hummus are amazing. With Optional steak, hummus and Brussels sprouts, this summer time taco is sure to please everyone from vegans to carnivores! Let's dive into how to make Flank Steak Tacos!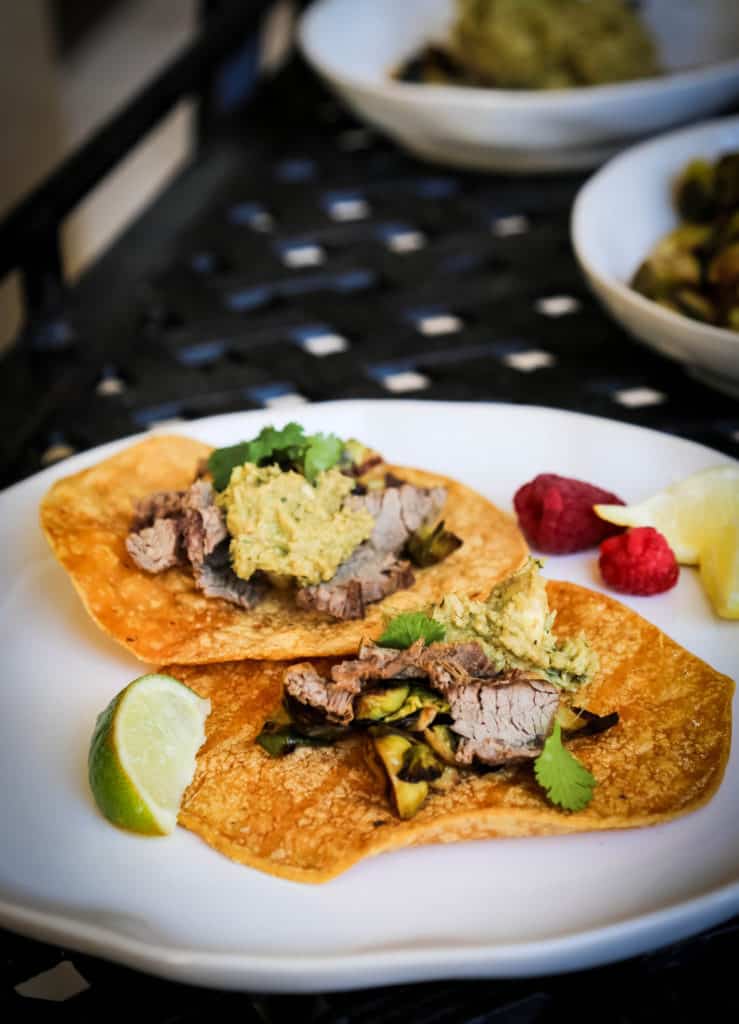 This post may contain affiliate links. As an Amazon Associate I earn from qualifying purchases at no cost to you. See my Affiliate Disclosure to read my policy and more about affiliate links.
Table of Contents
Flank Steak Tacos with Brussels sprouts and Avocado Hummus
These flank steak tacos are a great meal for families since they can be adjusted for all types of eaters. I made them for my New Years Eve party. The Tacos were a hit, and my guests and I all toasted to what (we hoped) would be a prosperous new year.
Little did we know what was going to happen. The COVID-19 pandemic makes me wish I could push the reset button on 2020.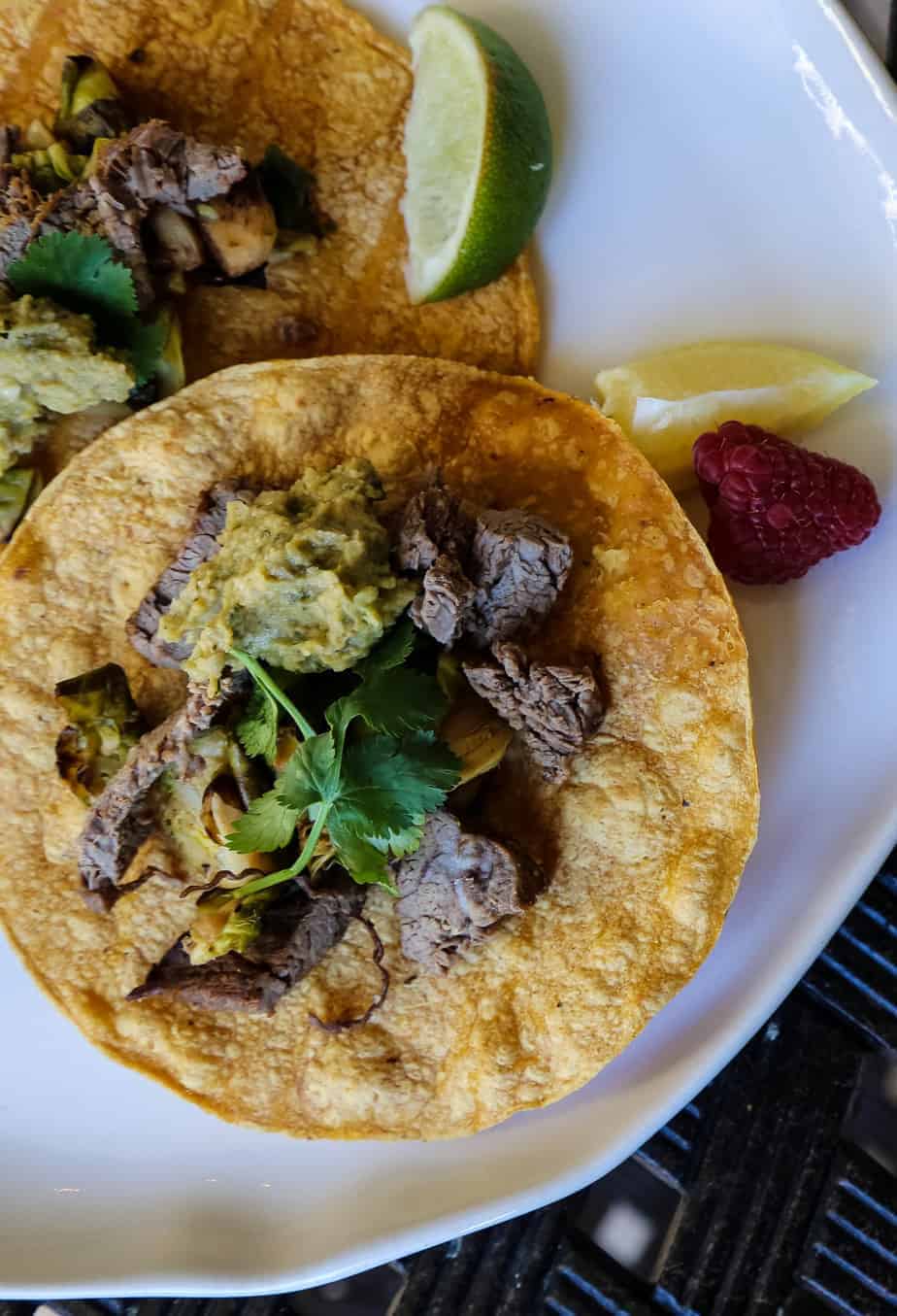 I've been home with my mother, daughter and husband. While I cannot give colonics, I'm thankful for the nutrition clients I have. And of ofcourse, for my family's health. I am also grateful to teachers who have helped me improve my writing and blogging. Melissa of Vegan Huggs has been helping me with my blog.
More About These Tacos…
These steak taco recipe has three components. You have the Brussels Sprouts- smokey and tangy with a bit of crunch. They work well on their own as a side dish, or on top of a salad. The Avocado Hummus is Devine. I picked this recipe up from Bobby Flay Fit.
I normally don't post recipes that contain animal protein. Though I put animal protein recipes on my client's meal plans to help them transition to a plant based diet. Animal protein, when used intelligently can be beneficial to help people feel satisfied, and get the protein they need to detox successfully.
How to Serve Flank Steak Tacos
When I serve these tacos I create stations for the Hummus, Brussels sprouts and Steak. That way vegans, vegetarians and carnivores can pick and choose what they want to put on their taco.
For those avoiding corn or you can use a lettuce leaf to replace the Corn Tortilla or Taco Shell. I like to use collard greens or banana lettuce From Gotham Greens.
How to Make Flank Steak Tacos
This recipe 3 components. If you cook them all at the same time you can get them done in about 20-40 minutes. Start by prepping the Brussels sprouts. Trim off the outer leaves and quarter them. If you want to save time you can buy the pre-washed and chopped ones. Check out this post to see exactly how I make crispy and lemony Brussels sprouts
Once the Brussels sprouts are done I preheat my oven, take out the steak and season it with salt and pepper. Then I load up a big cast iron skillet with oil or butter and let it get hot. Once the pan is hot enough so that you can hear the Brussels sprouts sizzling I add them all in. Leave them for about 3-4 minutes before flipping. Repeat this process until they are soft and a bit charred. Towards the end of the cooking process season with salt, pepper and lemon juice.
Once the Brussels are out of the pan you can sear your steak on it. Both sides for about 5 minutes. Then pop the steak into the oven.
While the steak is cooking combine all of your ingredients to make the hummus. Take the steak out to let it rest. While the steak is resting you can toast your corn tortillas.
I hope you enjoy these Flank Steak Tacos. For More Healthy Tacos check out these yummy Vegan and Gluten Free Sweet Potato Tacos with Black Beans and Pickled Onions
Here are Some Great Sauces for Tacos
Don't forget to join my facebook group. Please follow my new page on Instagram and Like my facebook page!
Flake Steak Tacos
Flavorful tacos everyone will love. Even the meat eaters!
Print
Pin
Ingredients
For The Avocado Jalapeno Hummus
1

Jalapeno

chopped, seeds removed

1

clove

Garlic

crushed

1

tbsp

Cumin

ground

1

tbsp

Corriander

ground

1 15oz

Can

Garbanzo Beans

2

Avocados

1/2

C

Cilantro

fresh

1/4

C

Red Onion

finely chopped
For The Brussels Sprouts
1

pound

Brussels Sprouts

quartered stemed removed

1

Lemon

juiced
For the Steak
1.5

lb

Strip Steak

To taste

salt and pepper
To Assemble Tacos
8

Corn Tortillas

toasted

8

Large Lettuce Leaves

optional
Instructions
Preheat oven to 400•F. Season steak with S/P.

For humus. In a skillet sauté jalapeño, garlic, cumin and coriander until tender. Transfer to food processor with avocados, onion and cilantro. Pulse until smooth. Set aside.

Heat butter in a cast iron skillet over medium high heat. When meat sizzles when it touches the pan the pan is hot enough. Brown steak on both sides for 5 minutes each. Then transfer to oven for 10 minutes.

Meanwhile mash garbanzo beans with a fork and combine with mixture from food processor. Set finished hummus aside.

While steak is cooking heat butter over medium heat in a large skillet. Add Brussels sprouts. Only turn them over every few minutes, allowing them to char and soften. Once soft remove from the flame. Add Lemon Juice.

Remove steak from the oven and let rest for 15 minutes. Then shred the meat with a knife and fork

Assemble Tacos. Toast corn tortillas on each side until slightly blackened. Load tortilla or lettuce cup with humus, steak, Brussels sprouts. Garnish with cilantro and enjoy!
Notes
To create this recipe quickly and efficiently you should prep and cook everything at the same time. I will write out the instructions to do this. Keep in mind you can prep each of these items individually and or use them individually.
Nutrition
Serving:
1
taco
|
Calories:
419
kcal
|
Carbohydrates:
31
g
|
Protein:
27.7
g
|
Fat:
15.1
g
|
Saturated Fat:
7.9
g
|
Cholesterol:
55
mg
|
Sodium:
264
mg
|
Potassium:
824
mg
|
Fiber:
9
g
|
Sugar:
1.9
g
|
Calcium:
74
mg
|
Iron:
3
mg
Flank Steak Tacos with Brussels Sprouts Tacos Jalapeño Avocado Humus Google Web Story!