This Dairy Free Caesar Dressing is my all time favorite salad dressing. Enjoy all the creamy richness of traditional Caesar, without guilt or unhealthy ingredients. You'll never believe this Caesar dressing is nut free, vegan, gluten free and low calorie to boot because the base is made with celery and very little olive oil.
This post may contain affiliate links. As an Amazon Associate I earn from qualifying purchases at no cost to you. See my Affiliate Disclosure to read my policy and more about affiliate links.
I've been making this dressing weekly for 10 years. Ever since I first found it in Natalia Rose's book "The Raw Food Detox Diet." Not only is it a favorite amongst my friends and family but my clients as well. I put it on almost ever meal plan I create! My best friend Molly asks me to make her a quart of Dairy Free Caesar Dressing salad dressing every time I visit.
While I have nothing against anchovies, I really don't like the fishy after taste they give to Caesar. So I'm really happy to have a Caesar Dressing Without Anchovies in it. When I was a kid, I ordered Caesar salad at a diner and it came topped with anchovies. I had no idea that anchovies were used in the dressing recipe and wanted to gag. That ruined Caesar salad for me for many years. Until I found this anchovies free recipe!

🥗 Does Caesar Have Gluten In It?
One of the main ingredients of traditional Caesar Dressing is Worcestershire sauce. Worcestershire sauce is usually not gluten free since it is derived from barley or wheat. This can be confusing to most people with celiac or who are avoiding gluten to help with IBS. You would never associate dressing with wheat unless you are very careful. So keep in mind that traditional Caesar Dressing isn't gluten free. With so many people going gluten-free these days I thought a gluten free Caesar dressing recipe would be much appreciated.
Instead of Worcestershire sauce I used Nama Shoyu Soy Sauce, my favorite wheat and gluten free alternative to regular soy sauce. I highly recommend keeping this product on hand at all times. It comes in handy for many of my recipes, like this Miso Soup with Shiitake Mushrooms.
🧂What's In Vegan Caesar Dressing Anyway?
You're never going to believe that the main ingredient in this dressing is Celery. That's why its so low calorie and low fat. It's the unique combination of other ingredients that give it the umami flavor that usually comes from anchovies. Here's how to get great caesar dressing without anchovies. The ingredients are:
Celery
Garlic
Water
Mellow White Miso
Dates
Black Pepper
Lemon Juice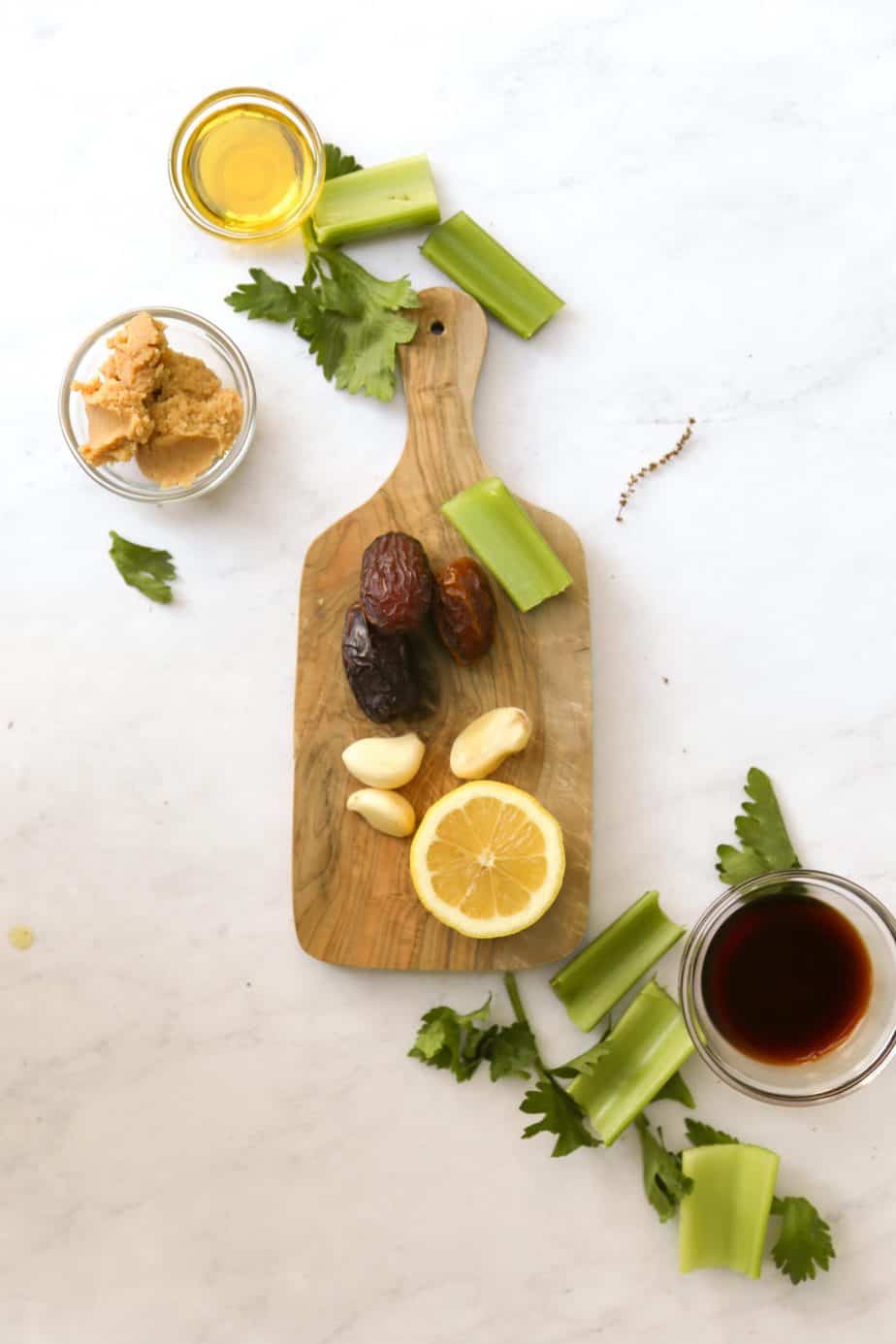 🥣 How to Make Caesar Dressing (Without Anchovies)
This vegan caesar dressing is so simple to make! Just load all of the ingredients into your blender and emulsify! All you need is a blender. I love the Vitamix. It's pricy but worth every penny. This one is priced really low. I bought mine 8 years ago and have used it almost every day since.
🥘 What You'll Need to Make this Recipe
Step 1: Chop celery into big pieces. Juice the 🍋 lemon. Roughly chop your garlic. Measure out the rest of the ingredients and load them into your blender.
Step 2: Emulsify the mixture until it's perfectly smooth and creamy. Use try some of the dressing on a piece of lettuce and adjust the seasoning as needed. I don't think this recipe needs anything changed but you can add a bit of black pepper or extra lemon 🥤 juice for extra zest.

🥬 How Long does Ceasar Dressing Last?
You can store this dressing in the refrigerator for up to ten days. Since the recipe make 1 quart, you should have enough to top your salads for a full week. You can also freeze the dressing.
Pro Chef Tip: For meal planning and making ahead you can freeze Ceasar dressing in ice trays so that you have the perfect amount to put on your salad 🥗.
What Should I Serve With this Dressing?
My favorite way to enjoy this salad dressing is over crunchy romaine lettuce 🥬. It would even be great over this Simple Israeli Salad. You can top the salad with buttery and crispy Pan-Roasted Brussels sprouts for crunch. If I'm using the Ceasar salad as a starter for a meal I like to serve protein after it since it combines well with protein for digestion. Like this Oven Bakes Salmon with Peruvian Spices.
Tried this Recipe?
I would love to hear about it! Please share your thoughts with me in the comments below and don't forget to give it a star rating! I would love to see your cooking! Show me your creations on Instagram with hashtag #healthyfoodforhappybodies.
Diary Free Caesar Dressing
This Dairy Free Caesar Dressing has all of the taste without any of the guilt! You'll never believe that this dressing is vegan and healthy! It's creamy, rich and full of umami and garlicky flavor.
Print
Pin
Rate
Servings:
24
2 Tablespoons
Instructions
Combine all of the ingredients into a high speed blender and emulsify until smooth. Transfer to an airtight container
Notes
This dressing will last for 10 days in the fridge
Freeze the dressing in ice cube trays for perfect portions for meal prep. You can freeze Ceasar dressing for 6 months
Nutrition
Serving:
2
Tablespoons
|
Calories:
29
kcal
|
Carbohydrates:
2
g
|
Protein:
1
g
|
Fat:
2
g
|
Saturated Fat:
1
g
|
Polyunsaturated Fat:
1
g
|
Monounsaturated Fat:
2
g
|
Sodium:
189
mg
|
Potassium:
21
mg
|
Fiber:
1
g
|
Sugar:
1
g
|
Vitamin A:
5
IU
|
Vitamin C:
1
mg
|
Calcium:
3
mg
|
Iron:
1
mg