Healthy Caesar Salad Dressing Recipe: Vegan + Gluten Free
If you're looking for a healthy Caesar salad dressing recipe then look no further. This Caesar salad dressing is vegan, gluten free and great for your digestion. Make Caesar salad dressing at home instead of store-bought Caesar to improve your health! You can pour this creamy vegan caesar over vegetables or use it as a dip. Throw the ingredients in the blender and it's done in a second.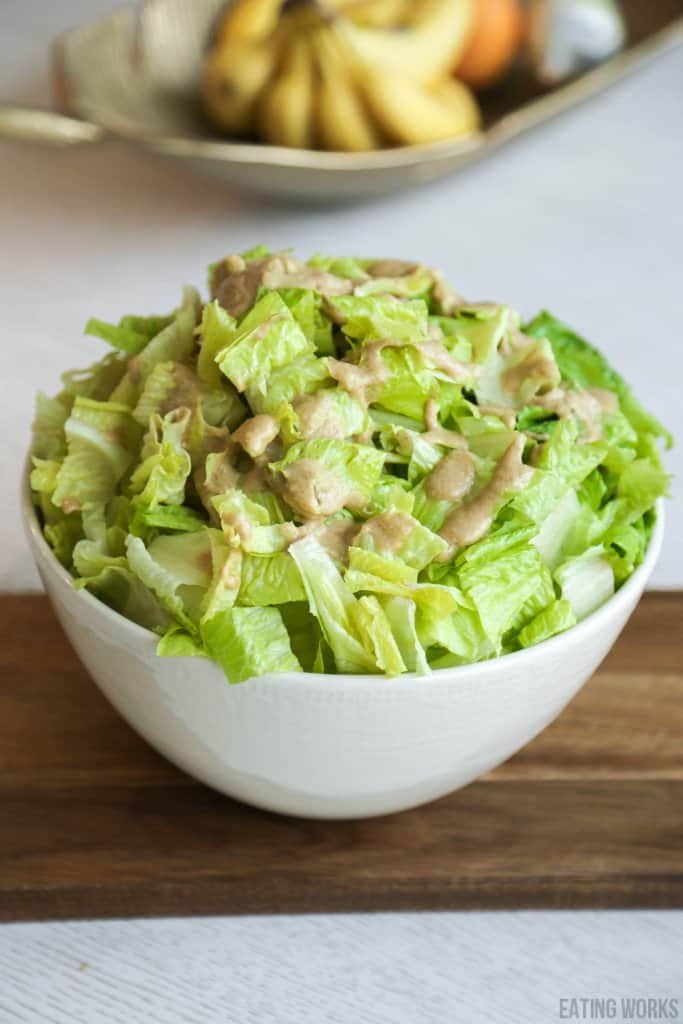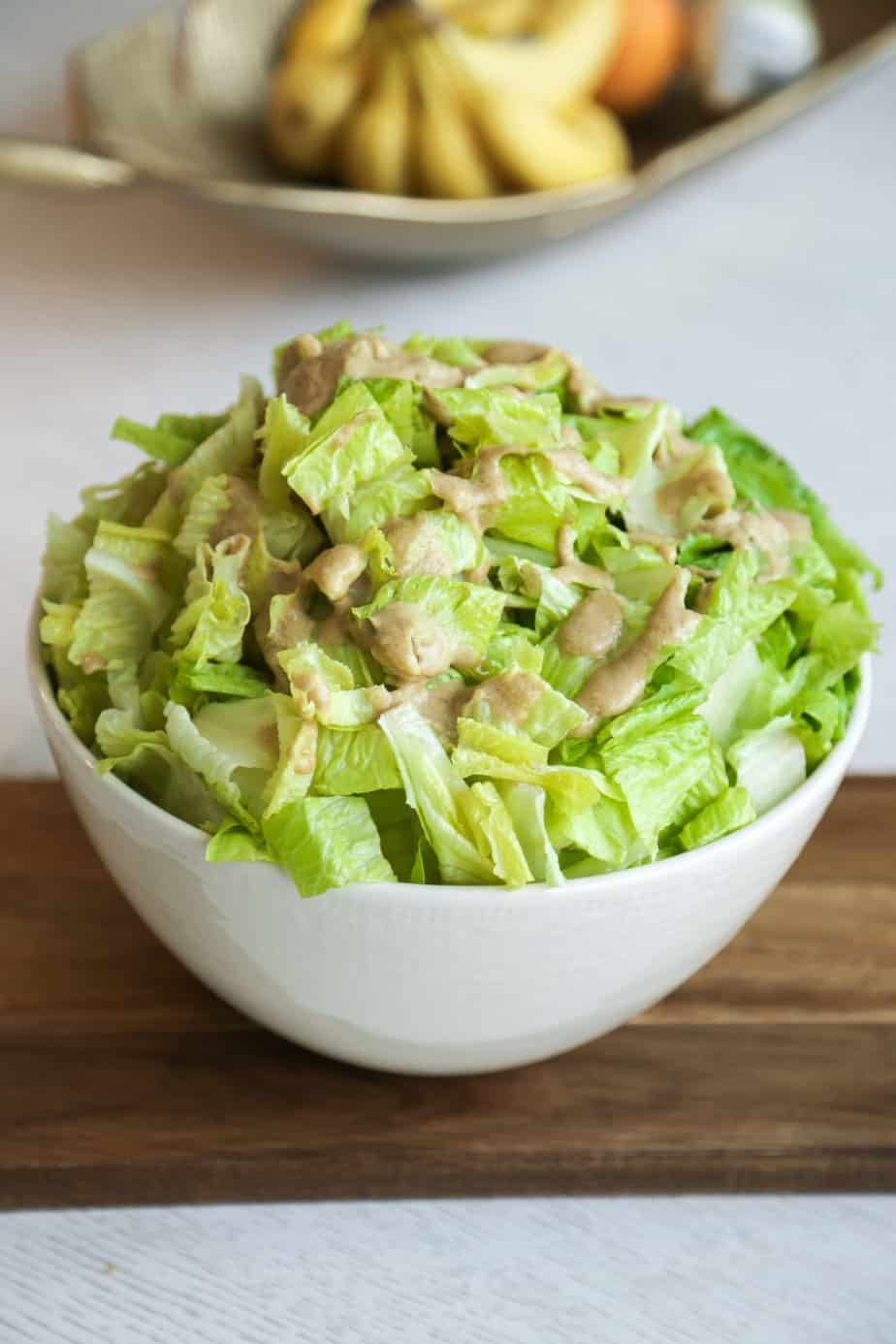 This post may contain affiliate links. As an Amazon Associate I earn from qualifying purchases at no cost to you. See my Affiliate Disclosure to read my policy and more about affiliate links.
Table of Contents
What Makes this Caesar Salad Dressing Recipe Healthy?
I've been making this dressing weekly for 10 years. Ever since I first found it in Natalia Rose's book "The Raw Food Detox Diet." Not only is it a favorite among my friends and family but my clients as well. I put it on almost ever meal plan I create! My best friend Molly asks me to make her a quart of this Caesar Dressing salad dressing every time I visit.
This Caesar salad dressing recipe is healthy because it's raw and vegan. It has tons of live enzymes and vitamins in it as well. The dressing is also made with a substantial amount of miso paste. Miso paste is a fermented soy product that has tons of probiotics. So this dressing is great for your gut health! If you struggle with gas and bloating when you eat salad this dressing will help!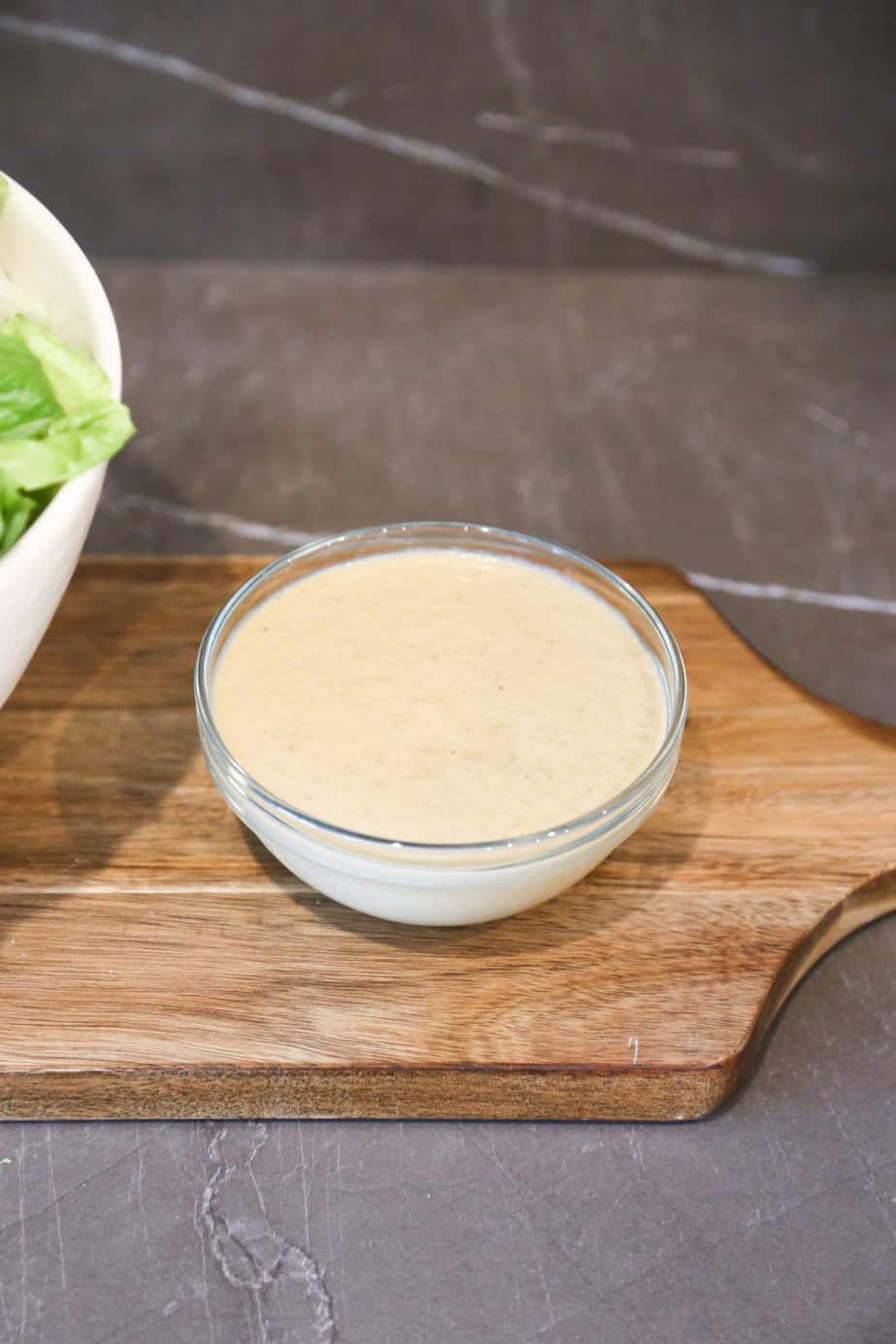 The main ingredient of this healthy caesar salad dressing recipe is celery. Celery has tons of health benefits.
Beware the Sodium Content of Caesar Dressing If You Have Renal or Heart Disease
The only aspect of this salad that is not healthy is that it uses gluten-free soy sauce and miso paste. While these ingredients are good for you on their own they are high in sodium. If you have renal disease, high blood pressure or heart disease make sure to check the levels of sodium in the dressing before you eat it.
4 Ways to Reduce Sodium Levels in This Healthy Caesar Salad Dressing Recipe
You can always cut the amount of sodium in the dressing by using half the amount of miso paste.
You can also use 1 tablespoon of soy sauce or leave it all out together instead of using 1/4th cup.
Add salt to the dressing after you blend it to achieve your desired saltiness without over doing the sodium.
Why You'll Love This Healthy Caesar Salad Dressing Recipe!
Zero Prep
Easy Recipe
Raw
Zero Cook
Vegan
Gluten Free
Dairy Free
Paleo
Nut Free
Kid Friendly
Keto Friendly
Low Carb
Gluten Free
What Can I Use Instead of Anchovies for Caesar Dressing?
Anchovies are what give traditional Caesar salad it's umami flavor. However, you can achieve a similar flavor profile without using anchovies or anchovies paste. Here are a few different alternatives you can use.
Miso Paste: Miso paste is the perfect vegan anchovy paste replacement that's why I use it to replace both anchovies and Worcestershire sauce in this healthy caesar salad dressing recipe. Miso paste is fermented and salty so it has a similar consistency and flavor to anchovies. You can use it as a replacement for anchovy paste in a 1:1 ratio.
Soy Sauce: Soy sauce will provide a similar salty flavor as anchovies.
Capers: Capers make another great vegan anchovy replacement option. In a pinch you can use capers to replace anchovies because they have a similar texture to anchovies and salty/umami taste.
Fish Sauce: If you don't mind eating anchovies you can use fish sauce since it's usually made from fermented anchovies. Fish sauce, anchovy paste and Worcestershire sauce all have a similar flavor.
Worcestershire Sauce: Worcestershire sauce is going to be your most authentic substitute to anchovy paste. The main ingredient in Worcestershire sauce is anchovies. Other ingredients like garlic, lemon essence, olive oil, salt and other spices in it are used to flavor the anchovies.
While I have nothing against anchovies, I really don't like the fishy after taste they give to Caesar. So I'm really happy to have a Caesar Dressing Without Anchovies in it.
When I was a kid, I ordered Caesar salad at a diner and it came topped with anchovies. I had no idea that anchovies were used in the dressing recipe and wanted to gag. That ruined Caesar salad for me for many years. Until I found this anchovies free recipe!

Does Caesar Salad Dressing Have Gluten In It?
One of the main ingredients of traditional Caesar Dressing is Worcestershire sauce. Worcestershire sauce is usually not gluten free since it is derived from barley or wheat. This can be confusing to most people with celiac or who are avoiding gluten to help with IBS.
You would never associate dressing with wheat unless you are very careful. So keep in mind that traditional Caesar Dressing isn't gluten free. With so many people going gluten-free these days I thought a gluten free Caesar dressing recipe would be much appreciated.
Best Gluten Free Alternative to Worcestershire Sauce
Instead of Worcestershire sauce I used Nama Shoyu Soy Sauce, my favorite wheat and gluten free alternative to regular soy sauce. I highly recommend keeping this product on hand at all times. It comes in handy for many of my recipes, like this Miso Soup with Shiitake Mushrooms.
Ingredients You'll Need For This Healthy Vegan Caesar Salad Dressing Recipe
You're never going to believe that the main ingredient in this dressing is celery. That's why its so low in calories and fat. It's the unique combination of other ingredients that give it the umami flavor that usually comes from anchovies. Here's how to get great caesar dressing without anchovies. The ingredients are:
Celery
Garlic
Water
Mellow White Miso
Dates
Black Pepper
Lemon Juice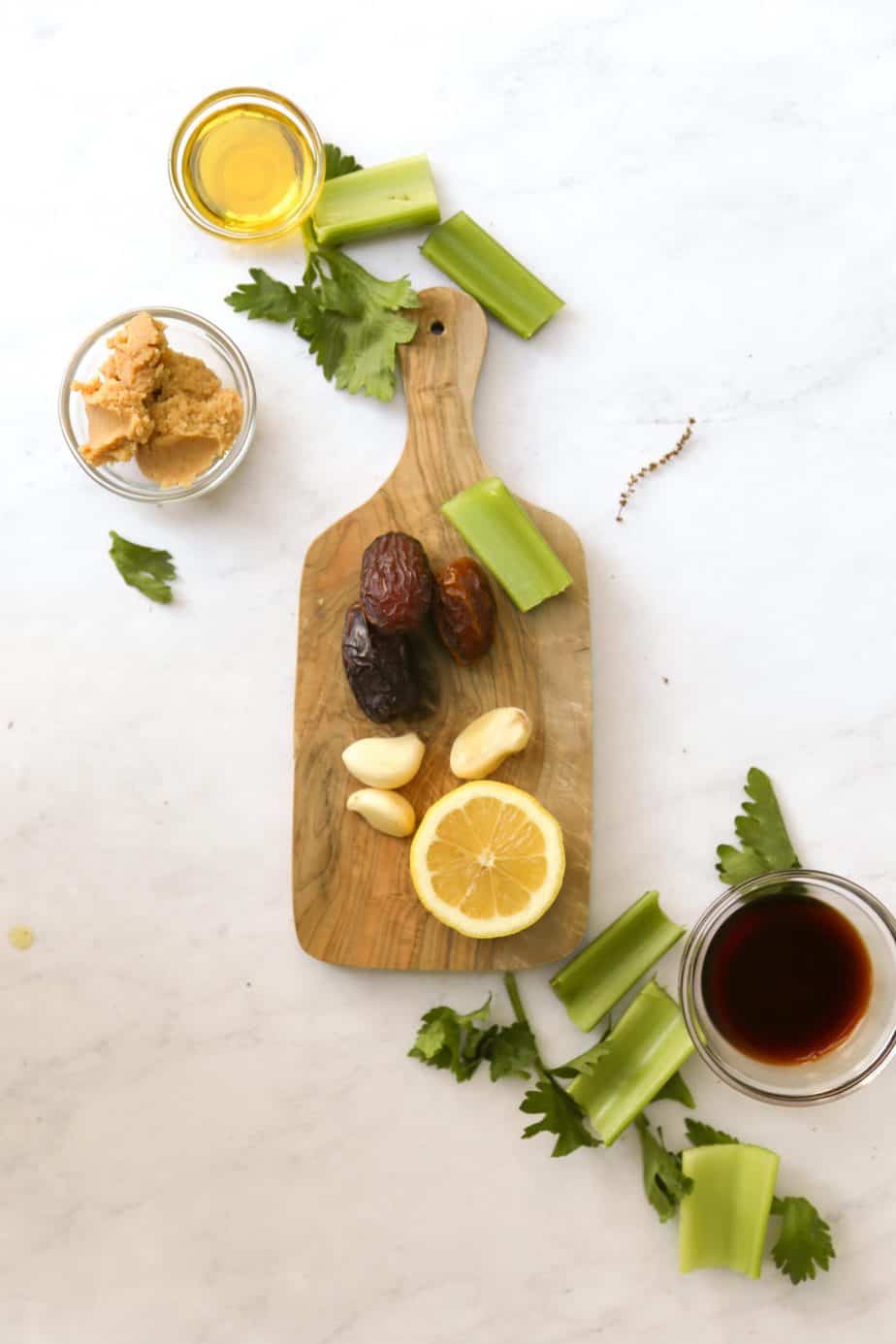 How to Make Healthy Caesar Dressing (Without Anchovies)
Step 1: Chop celery into big pieces. Juice the lemon. Roughly chop your garlic. Measure out the rest of the ingredients and load them into your blender.
Step 2: Emulsify the mixture until it's perfectly smooth and creamy. Use try some of the dressing on a piece of lettuce and adjust the seasoning as needed. I don't think this recipe needs anything changed but you can add a bit of black pepper or extra lemon ? juice for extra zest.
Recommended Equipment for Healthy Gluten Free Vegan Caesar Salad
The key to making this Caesar salad dressing recipe is a good blender. You'll need a high powered blender to chop through all of that celery and make the dressing smooth. I like the Vitamix and Ninja.
Ingredient Substitutions for This Gluten Free and Vegan Caesar Dressing
What Is a Good Substitute For Caesar Dressing?
Caesar dressing is a rich creamy dressing with a tangy flavor that traditionally comes from anchovies. Any other thick creamy dairy based dressing would be a good substitute for traditional Caesar salad dressing.
Ranch Dressing
Blue Cheese Dressing
Green Goddess Dressing
If you're looking for a healthier substitute for caesar dressing you could consider vegan versions of the dressings listed above. You can also consider healthy dressings like:
Cashew Based Vegan Ranch Dressing
Healthy Caesar Salad Recipe Variations
Add a pinch of black pepper for some spice!
Is Caesar Salad Healthy For Weight Loss?
Traditional Caesar salad is not healthy for weight loss because it has a lot of calories in it. However this healthy caesar salad dressing is made with very little oil and the main ingredient is celery. So it is good for weightloss.
Does Worcestershire Sauce Have Anchovies In It?
Traditional Worcestershire sauce does have anchovies in it. Not all brands of Worcestershire sauce have anchovies but you should always assume that this famous sauce has anchovies in it even it it isn't on the label.
Apparently, "If Worcestershire sauce that contains anchovies at a ratio of 1:60 may be labeled OU, without a fish designation. However, if the anchovies are more than one part in sixty of the sauce's components, the product must be labeled OU-Fish." According to the OU Kosher manufacturing regulators.
What Was In The Original Caesar Salad?
The original Caesar salad was made in a hotel called Hotel Caesar in Mexico in 1924. According to history there was a dinner rush coming in and his restaurant's ingredient inventory was depleted so he invented the caesar salad by mixing romaine lettuce with croutons dressed in olive oil, raw egg yolk, Worcestershire sauce, garlic, parmesan cheese, and black pepper.
Does Bottled Caesar Salad Dressing Have Anchovies In It?
Most bottled Caesar dressing does have anchovies in it. Read the label but keep in mind that if the anchovies take up less then 1:60th of the ingredient ratio the label does not have to say that it has fish in it. The dressing could even appear vegan or vegetarian. If you are allergic to anchovies or are a strict vegan or vegetarian don't
How Long does This Healthy Caesar Salad Dressing Last?
You can store this dressing in the refrigerator for up to ten days. Since the recipe make 1 quart, you should have enough to top your salads for a full week. You can also freeze the dressing.
Pro Chef Tip: For meal planning and making ahead you can freeze Caesar dressing in ice trays so that you have the perfect amount to put on your salad.
What Should I Serve With this Dressing?
My favorite way to enjoy this salad dressing is over crunchy romaine lettuce . It would even be great over this Simple Israeli Salad. You can top the salad with buttery and crispy Pan-Roasted Brussels sprouts for crunch. If I'm using the Caesar salad as a starter for a meal I like to serve protein after it since it combines well with protein for digestion. Like this Oven Bakes Salmon with Peruvian Spices.
Why does caesar salad taste so good?
The anchovy paste in caesar salad tastes good.
Is balsamic dressing healthy?
Yes balsamic dressing is healthy.
Is Caesar dressing vegan?
My caesar salad dressing recipe is vegan but traditional Caesar salad dressing is not vegan because it is made with anchovy paste. If the recipe does not use anchovies then it likely has Worcestershire sauce as one of the ingredients. The main ingredient of Worcestershire sauce are anchovies.
Is Caesar dressing gluten free?
Both this vegan and traditional Caesar salad dressing is naturally gluten free. If you are on a gluten free diet, have celiac or a gluten intolerance you should always check the label.
Healthy Caesar Salad Dressing Recipe
This healthy Caesar salad dressing recipe is made without anchovies so it's vegan and gluten free! You'll never believe how healthy it is.
Print
Pin
Rate
Servings:
24
2 Tablespoons
Instructions
Combine all of the ingredients into a high speed blender and emulsify until smooth. Transfer to an airtight container
Notes
This dressing will last for 10 days in the fridge
Freeze the dressing in ice cube trays for perfect portions for meal prep. You can freeze Ceasar dressing for 6 months
Nutrition
Serving:
2
Tablespoons
|
Calories:
29
kcal
|
Carbohydrates:
2
g
|
Protein:
1
g
|
Fat:
2
g
|
Saturated Fat:
1
g
|
Polyunsaturated Fat:
1
g
|
Monounsaturated Fat:
2
g
|
Sodium:
189
mg
|
Potassium:
21
mg
|
Fiber:
1
g
|
Sugar:
1
g
|
Vitamin A:
5
IU
|
Vitamin C:
1
mg
|
Calcium:
3
mg
|
Iron:
1
mg