In this menu guide, I'll be highlighting the best things you can order when you are eating keto at Chipotle Mexican Grill. From sides to the main courses, it's easy to eat low-carb at one of America's best fast food restaurants.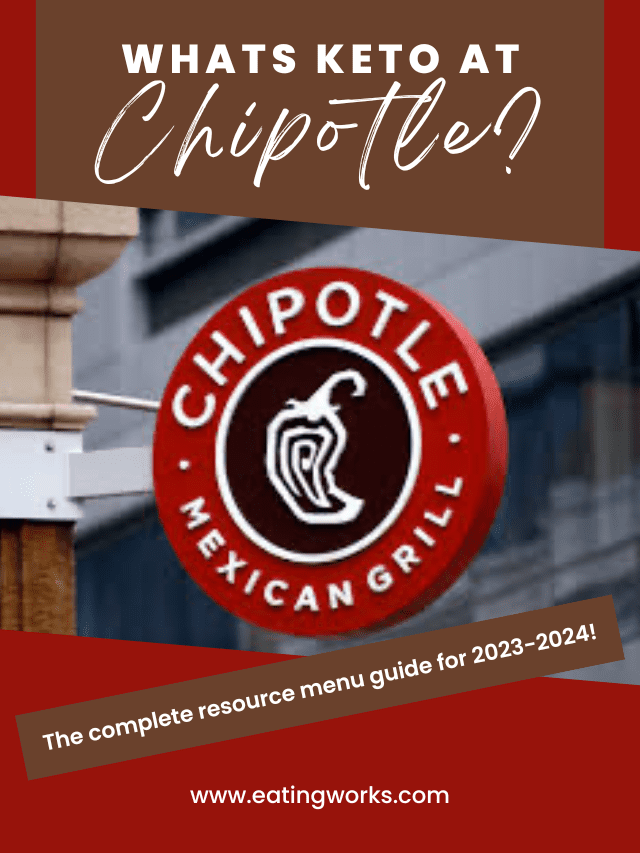 This post may contain affiliate links. As an Amazon Associate I earn from qualifying purchases at no cost to you. See my Affiliate Disclosure to read my policy and more about affiliate links.
Chipotle is very popular with people on the ketogenic diet because it is so easy to customize your order. As a customer, you control every single thing they put on your food.
Plus, they keep improving their food and offering even more low-carb options too. For example, in addition to white rice or brown rice, they offer cauliflower rice now as well! Everything is made fresh, and it's super-fast. Even though I always advocate for eating at home and cooking your own food, Chipotle is one of the better choices if you have to eat out.
Lunch and dinner options!
When you look at all the ways you can mix up the low carb ingredients at Chipotle, there are literally hundreds of different lunch and dinner keto-friendly options. I'm going to make choosing a lot easier by listing out the low-carb foods at Chipotle.
l'll split these options up by category to make it simple to build a meal.
Chipotle meat
Sofritas (6 grams of net carbs)
Barbacoa (1 grams of net carbs)
Chicken (0 grams of net carbs)
Carnitas (0 grams of net carbs)
Steak (0 grams of net carbs)
Salsa and sauces
Fresh Tomato Salsa (0g net carbs)
Tomatillo Green-Chili Salsa (4g net carbs)
Tomatillo Red Chili Salsa (3g net carbs)
Sour Cream (2g net carbs)
Rice
Cauliflower rice is the only option for keto dieters. One serving has 4 g net carbs!
Toppings
Fajita Veggies (4g net carbs)
Cheese (1g net carbs)
Guacamole (4g net carbs)
Romaine Lettuce (0g net carbs)
Drinks
A good option to drink will always be water. If you want something else, these are the low-carb drink options at Chipotle.
Diet Lemonade
Unsweetened Iced Tea
Coke Zero
Tips for ordering keto at Chipotle!
It is so easy to eat keto at Chipotle! The fact that you can customize everything puts you in complete control of your meal. When you know ahead of time how many total grams of carbs are in each of the fresh ingredients, you can make better choices.
Here are some really simple rules to follow to stay on track ordering Chipotle if you are on a keto journey:
Build a burrito bowl
Since any type of bread is not a good idea on keto, always opt to build a burrito bowl. It will still fill you up, especially when you pile it high with your favorite low-carb veggies.
Pay attention to serving sizes
Even though you fill up a burrito bowl with low-carb real ingredients, the carbs can still add up. This is because serving sizes matter! For example, sour cream has 5g net carbs, and guacamole has 2g net carbs. That alone – without the salsa and meat – is 7g net carbs.
Mix and match the meat
Fill up your bowl with low-carb protein option that fills you up! Ask for "half chicken breast and half steak." It's the same price as one type of meat. If you are feeling really hungry (and have the macros to spare), then ask for double the meat. You'll have yourself a double protein bowl!
Order the Keto Lifestyle Salad Bowl
Chipotle actually has a meal on their menu called the Keto Lifestyle Salad Bowl. It's on the menu, and it is easy to change and make your own, or just order it as-is.
There are only 6g total net carbs in the entire bowl. Here are the entire nutrition facts: 585 calories, 42 g fat, 31 g protein, 14 g carbs, and 8 g fiber. You can find all the nutrition information for the bowl here.
This is what you get in the keto salad bowl:
Carnitas
Romaine lettuce
Cheese
Guacamole
Tomatillo Red-Chile Salsa
You can also customize this bowl too. For example, the you can add extra low carb toppings or swap out the tomatillo salsa and the guacamole for the green salsa.
Examples of keto-friendly meals to order at Chipotle!
1. Chicken and salsa bowl
Order it like this-
Chicken
Romaine Lettuce
Monterey Jack Cheese
Fresh tomato Salsa
This bowl with salsa will come out to a total of 4 NET CARBS,
2. Carnitas bowl
Order it like this-
Carnitas
Romaine Lettuce
Monterey Jack Cheese
Sour Cream
This keto bowl will come to a total of 3 NET CARBS.
3. Chicken and carnitas bowl
Order it like this-
½ Chicken ½ Carnitas
Romaine Lettuce
Sour Cream
Guacamole
A bowl ordered like this will come out to a total of 4 NET CARBS.
4. Steak bowl
Order the bowl like this:
Steak
Romaine Lettuce
Monterey Jack Cheese
This basic keto bowl comes out to a total of 1 NET CARB.
5. Chicken and steak bowl
Order the bowl like this-
½ Chicken, ½ Steak
Romaine Lettuce
Guacamole
Switch the extra cheese for guac, and this order comes out to a total of 2 NET CARBS. And the super nice thing is if you include their fresh tomato salsa the total carb count would be 5 g still making it a perfect keto option for a meal.
Commonly asked questions when ordering keto at Chipotle!
Is Chipotle keto friendly?
Yes, Chipotle tries really hard to offer keto-friendly choices that will fill you up and give you a sufficient and complete meal. I love that they also have an online nutrition calculator. The chipotle nutrition calculator tells you exactly how many carbs you are eating when you put together your meal.
What is the difference between a lifestyle bowl and a burrito bowl at Chipotle?
The only difference between the two are Lifestyle bowls are tailored to dietaries like Whole 30, Keto, and Paleo whereas burrito bowls are basically a classic burrito in bowl form.
What are the different lifestyle bowls offered at chipotle?
The different lifestyle bowls include the vegetarian bowl, paleo salad bowl, whole30 salad bowl, high-protein bowl, vegan bowl, and the keto bowl.

Is the Chipotle burrito keto-friendly?
Chipotle may be known for its burritos, but if you're adhering to a keto low-carb diet, the best thing is to stick to ordering a salad. You could also order a burrito bowl; just make sure to ask for it without rice or beans.
Are fajita vegetables at Chipotle keto?
Is Chipotle salad dressing keto friendly?
The chipotle honey vinaigrette is not keto friendly because of the honey used in the recipe.
Final thoughts & where to get more Chipotle information!
If you are looking for up to date nutritional information or news on new menu items I encourage you to visit chipotle's website and follow them on social media.
To all of my readers who are on a keto diet, I hope you found this menu guide helpful and will use it as a resource the next time you dine at Chipotle Mexican grill!!
In this menu guide, I'll highlight all the gluten-free options at Chipotle Mexican Grill. I will also address any common questions asked when ordering gluten free at Chipotle. In addition I'll include copycat recipes you can make at home.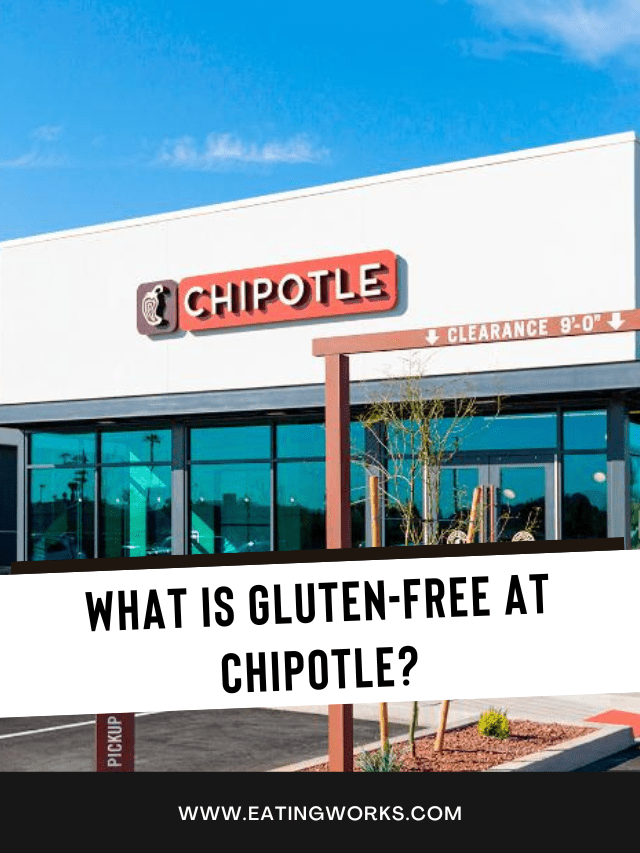 More Keto Menu Guides!
More Gluten Free Menu Guides!
Tasty low carb Chipotle options google web story!