41 of the tastiest gluten free pancakes recipes!
My love for gluten free pancakes at times can be out of control! So I put together the ultimate list of the best gluten free pancakes from all across the internet.
Whether you are looking for breakfast ideas, baby and kid food, decadent dessert stacks or a romantic meal, you'll find every gluten free pancake you could ever need right here.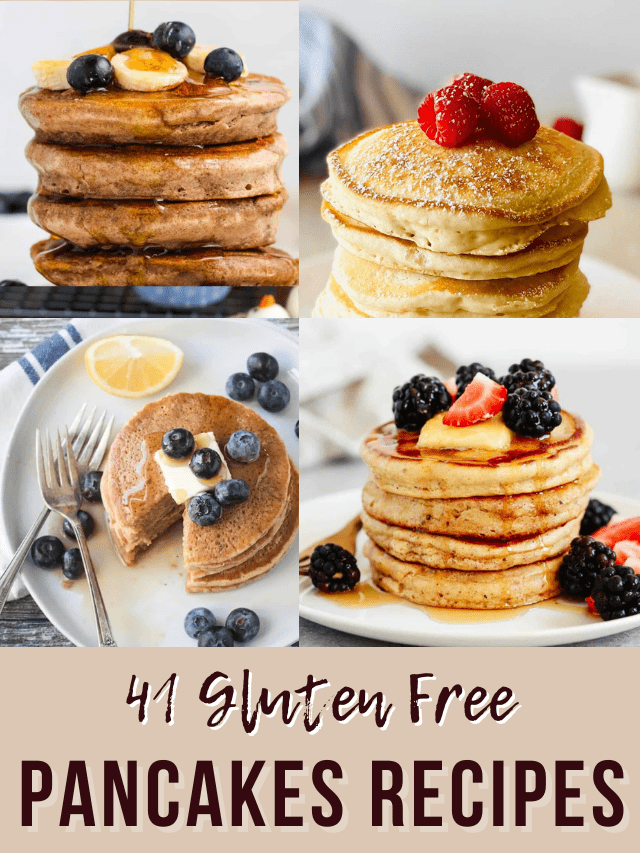 This post may contain affiliate links. As an Amazon Associate I earn from qualifying purchases at no cost to you. See my Affiliate Disclosure to read my policy and more about affiliate links.
What can I use instead of flour for pancakes?
A few good flour alternatives to try are arrowroot, tapioca flour, or potato starch. If you are looking for more flour alternatives click here.
Why are my gluten-free pancakes rubbery?
Over-mixing pancake batter develops the gluten that will make the pancakes rubbery and tough.
For the best results of light and fluffy pancakes, you want to mix just until the pancake batter comes together in the large bowl.
Should I use milk instead of water for gluten free pancakes?
Yes, you can replace water with milk when making pancakes. The milk will add more fat and calories to the pancakes, making them richer and more flavorful.
If you're watching your fat intake, you may want to use skim milk or dairy-free milk instead of whole milk.
Is baking soda or baking powder better for gluten free pancakes?
Baking soda is essential for gluten free baked goods, but baking powder is really what makes gluten free pancakes rise and become so super fluffy.
Double-acting baking powder, which is the kind that you'll find in the grocery store, produces bubbles in two ways: when it is mixed with wet ingredients and then when it gets heated.
Does maple syrup have gluten?
No. Pure maple syrup is a great natural and gluten-free product.
Best Gluten Free Pancakes Recipes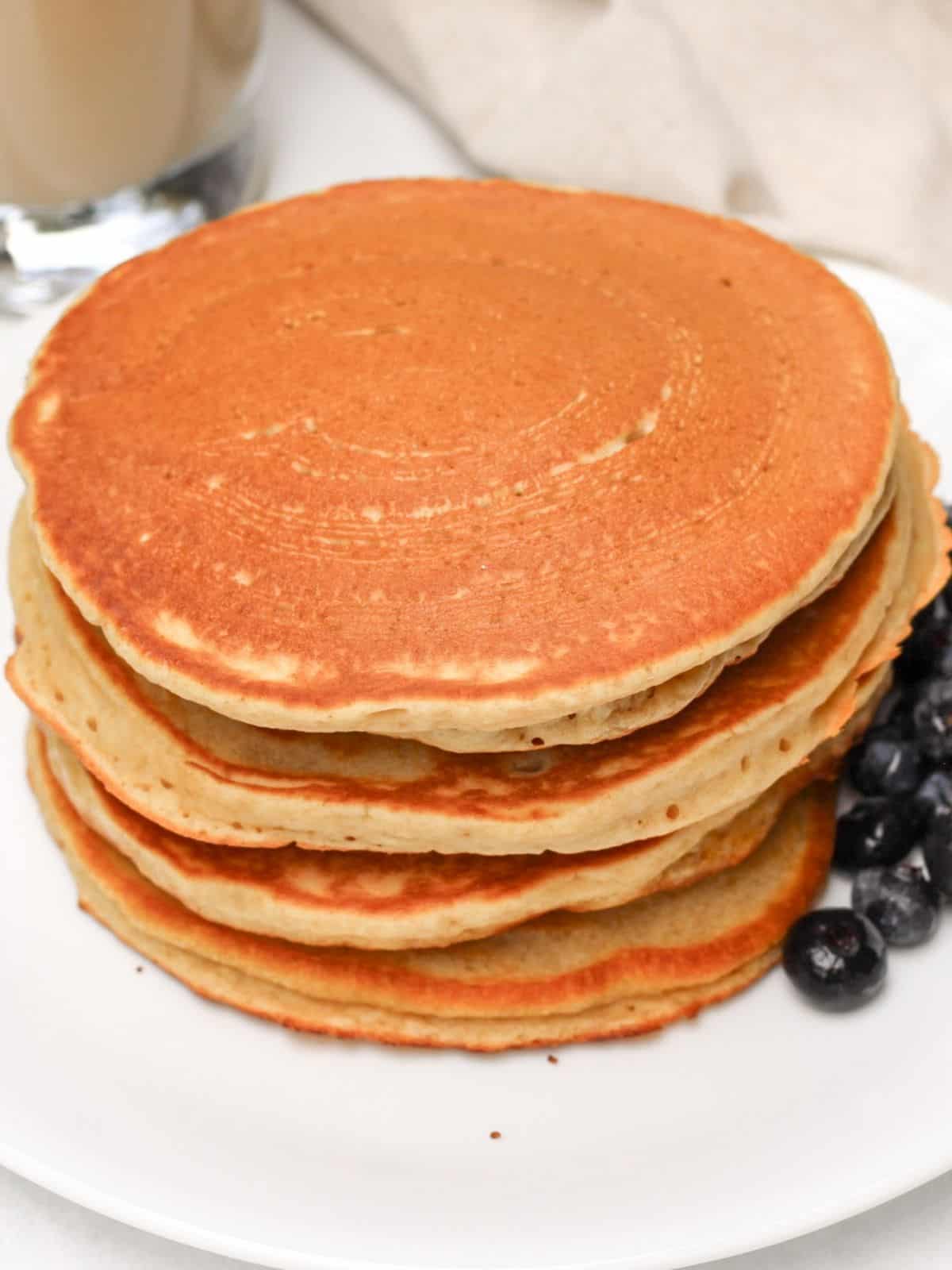 You never can go wrong with a batch of fluffy pancakes for breakfast. Today, I am offering you to make this delicious and light oat milk pancakes.
This pancake recipe is very easy to follow and requires only a few ingredients.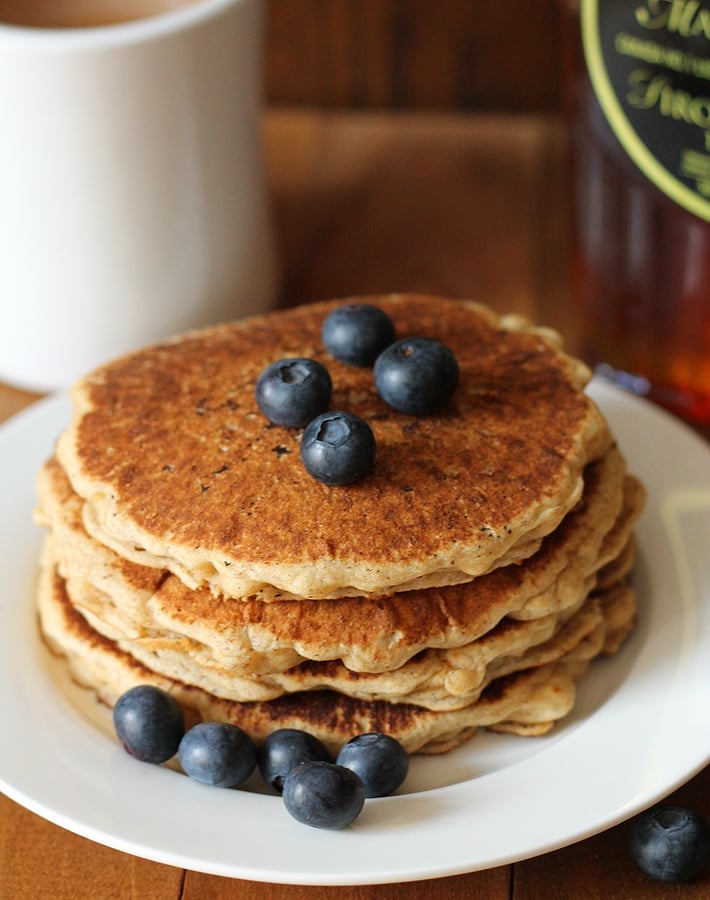 Your search for easy vegan gluten free pancakes has ended!
These pancakes are delicious, fluffy and will become your new go-to pancake favorite recipe!
An easy recipe for vegan gluten free buckwheat pancakes you're going to love.
They will make the perfect addition to add to your vegan breakfast or brunch table!
Looking for the best Gluten-Free Blueberry Pancakes? These quick & easy, healthy blueberry pancakes are vegan, allergy-free, oil-free, and bursting with fresh sweet blueberries!
These delicious fluffy pancakes are 7 ingredients, freezer-friendly, and a perfect weekend breakfast gluten-free pancakes recipe to make with the kids!
Soft, fluffy, and super easy, these Gluten-Free Chocolate Chip Pancakes are vegan and allergy-free!
This from-scratch great recipe is just 7 ingredients, packed with dairy-free chocolate chips. You can whip up a stack of these healthier chocolate chip fluffy gluten free pancakes in 10 minutes for a classic, cozy breakfast any day of the week!
Only 6 ingredients for the best classic Easy & Fluffy Gluten-Free Vegan Buttermilk Pancakes!
A top 8 allergy-free, kid and freezer-friendly recipe that you can customize with add-ins and have stocked for busy mornings breakfasts.
Birthday breakfast goals! These Easy Gluten-Free Funfetti Pancakes are vegan, allergy-free, light, fluffy, & all natural! Just 7 simple ingredients and quick to whip up for kicking off any sweet, celebratory day.
This perfect gluten free pancake recipe tastes just like cake batter and sprinkles (who says you can't have cake for breakfast and dessert!).
Simple and delicious pumpkin pancakes in a snap!
Gluten-free, vegan, and single-serve, these pancakes are healthy and are the best pancakes to make any day of the week.
Who says you can't have s'mores for breakfast? This vegan, soy-free, gluten free recipe for s'mores pancakes doesn't require the campfire and won't give you a sugar crash!
Young or old, everyone will love a stack of these healthy s'mores pancakes.
These almond milk pancakes are super soft, fluffy dairy-free, gluten-free and vegan!
Skip the regular pancakes and start your morning off right with the perfect delicious and healthy vegan and gluten free breakfast.
These are truly the best Easy Fluffy Almond Flour Pancakes!
They have a fluffy texture and made with no added sugar.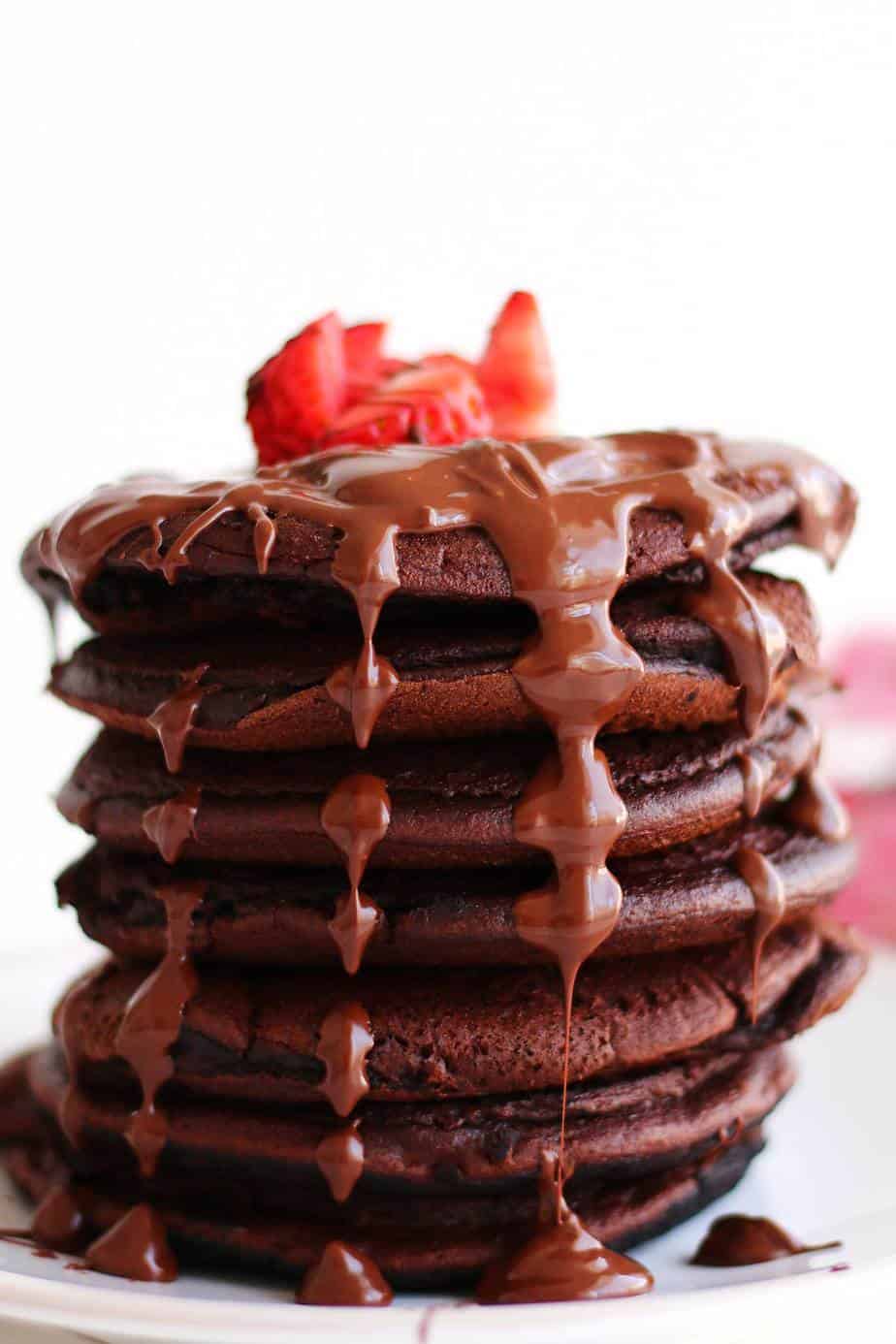 There's nothing like a hearty pancake breakfast to start your day!
These nutritious buckwheat pancakes are not just vegan, but also gluten-free and refined sugar-free too.
Start the day off with a nutritious and satisfying gluten-free breakfast by whipping up a batch of these vegan gluten free banana oat pancakes!
They are super easy to prepare and cook up in just minutes. They're also made with purpose gluten-free flour and refined sugar-free.
The most delicious vegan gluten-free pancakes!! These easy Oat Flour Pancakes are made in less than 30 minutes!
Top them with your favorite pancake toppings, like fresh fruit or chocolate chips and a drizzle of pure maple syrup. Breakfast is served.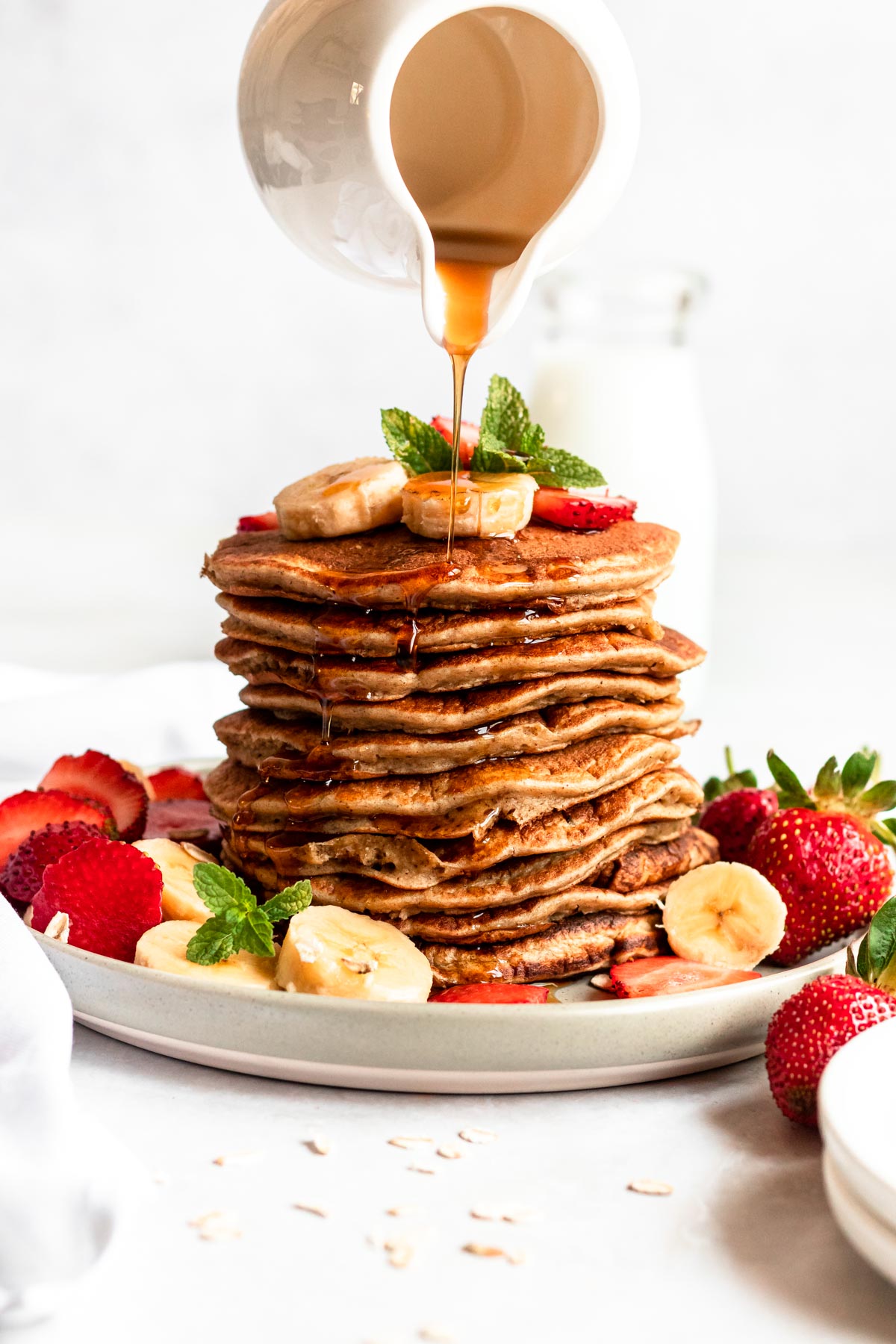 These protein pancakes is the best gluten-free pancake recipe.
Made in a blender, poured right into the pan, and topped with your favorite topping like fresh berries, these will keep you full for a while and taste so good!
Light, high protein yogurt pancakes perfect for a filling breakfast if you have celiac disease.
These Light and Fluffy Keto Coconut Protein Pancakes are an Easy Low Carb Gluten Free Breakfast that can be whipped up in under 20 minutes.
They're a Delicious Blender Pancake made with your Favourite Protein Powder, Eggs, Cream Cheese and Coconut Flour.
Enjoying this round up?
Be sure to check out my IHOP gluten free menu guide!