In this menu guide, I'll highlight all the gluten-free options at International House of Pancakes (also known as IHOP).
I will also address any common questions asked when ordering gluten free off the Ihop's menu.
In addition I'll include copycat gluten-free recipes you can make at home.
IHOP is an abbreviation for the International House of Pancakes It's an American based multinational pancake house that specializes in making breakfast dishes.
The restaurant chain is owned by DineEquity Incorporated, though 99% of their most popular restaurants are run by autonomous franchisees.
While the restaurant's main focus is on light foods such as buttermilk pancakes, they also make omelets, Belgian waffles, French toast, and a selection of eggs. There are sections on their menu for lunch and dinner items as well.
This post may contain affiliate links. As an Amazon Associate I earn from qualifying purchases at no cost to you. See my Affiliate Disclosure to read my policy and more about affiliate links.
IHOP Gluten Free Menu
These are all the gf options I could find at IHOP. Note all items listed below do not contain wheat or gluten, based on IHOP menu and the entire gluten-friendly menu.
These menu items still have the potential for cross contamination and other sources of gluten, so please keep that in mind if you have a severe gluten sensitivity, gluten allergies, or celiac disease.
Beverages
2% Chocolate Milk
2% Milk
Apple Juice
Cranberry Juice
Coffee
Decaf Coffee
International House Roast Coffee
International House Roast Decaf Coffee
Orange Juice
Lemonade
Sweeter Tea
Unsweetened Iced Tea
Tomato Juice
Kid's Hot Chocolate
Hot Chocolate
Hot Tea – Decaf
Hot Tea – English Breakfast
Hot Tea – Golden Chamomile
Hot Tea – Green
Iced Tea & Lemonade
Iced Tea
Dinner options
Soups
Rustic Cheesy Tomato Soup (Without Crackers)
Salads
Crispy Chicken Cobb Salad (w/Grilled Chicken)
Mixed Greens House Salad (Without Dressing)
Dressings
Blue Cheese Dressing
Buttermilk Ranch Dressing
Creamy Caesar Dressing
Creamy Italian Dressing
Fat-Free Raspberry Vinaigrette
French or Catalina Dressing
Honey Mustard Dressing
Light Done Right Reduced Fat Italian Dressing
Orange Vinaigrette
Raspberry Vinaigrette
Thousand Island Dressing
Gluten-Friendly Burgers
They have six great choices for ultimate steakburgers now available as gluten-friendly options:
The Classic Burger
The Classic with Bacon
Mega Monster
Loaded Philly
Jalapeno Kick
Cali Garlic Butter
All gluten-friendly ultimate steakburgers include a choice of gluten-friendly sides – French fries, fresh fruit, hash browns or a two-stack of original gluten-friendly pancakes.
Entrees
Bacon Crusted Chicken with Red Potato Hash
Savory Pork Chops
Sirloin Steak
Sirloin Steak Tips
Smoked Sausage
T-Bone Steak
Tilapia Florentine
Breakfast options
Syrups
Sugar-Free Syrup
Blueberry Syrup
Boysenberry Syrup
Butter Pecan Syrup
Old Fashioned Maple Syrup
Strawberry Syrup
55+ Entrees
55+ Pork Chop
55+ Smoked Sausage
55+ Tilapia Florentine
Combo Plates
Egg Combo Plate
Regular Combo Plate (w/bacon or sausage)
Sausage & Eggs Combo Plate
Bacon & Eggs Combo Plate
Ham & Eggs Combo Plate
Ultimate Bacon & Sausage Combo Plate
Gluten-Friendly Pancakes
The original gluten-friendly ihop pancakes contain rice flour fluffy gluten-friendly pancakes topped with real whipped butter.
Also available as a combo with a selection of eggs, bacon or sausage and hash browns.
Gluten-Friendly Waffles
The gluten-friendly Belgian waffle is golden-brown, topped with real whipped butter.
Also available as a combo, with a selection of eggs, bacon or sausage and hash browns.
Omelets
Simple & Fit Vegetable Omelette (not including sides)
Egg Specialties
Californian Scramble (not including sides)
Sides
Avocado
Bacon Strips
Baked Potato (Plain)
Corn Tortillas
Cottage Cheese
Egg (Cooked Your Way)
Grits
Ham
Hash Browns
Pork Sausage Link
Pork Sausage Patty
Red Potato Hash
Seasonal Mixed Fruit
Seasoned Fries
Smoked Pork Sausage Links
Spam
Steamed Fresh Broccoli
Turkey Bacon
Turkey Sausage Link
Turkey Sausage Patty
Whole Kernel Buttered Corn
Make sure you check out my "What is gluten free at IHOP in 2023!" google web story!
Common questions asked when ordering gluten free at IHOP!
What does gluten-friendly mean at IHOP?
IHOP defines gluten-friendly as menu items prepared without gluten-containing ingredients based on information from their approved suppliers.
Is gluten friendly same as gluten free?
Gluten Friendly is a term used to imply that food may not be gluten free, and is prepared in the same kitchen as foods that contain gluten ingredients.
It is a term created for use to protect restaurants (in this instance ihop restaurants) in situations that may lead to negative gluten contamination to diners.
Does IHOP have gluten free waffles?
The Gluten-Friendly Belgian Waffles are made with the same gluten-friendly batter as the pancakes and are also topped with whipped butter.
The waffles are available as a combo with a choice of eggs, bacon or sausage and hash browns.
Are IHOP's pancakes celiac safe?
IHOP's Gluten-Friendly Pancakes are not safe and the best choice for those with celiac due to cross-contact in their preparation and handling.
Gluten free pancake recipes
If you are on a gluten-free diet and can't eat the IHOP Pancakes try making one of these super tasty recipes!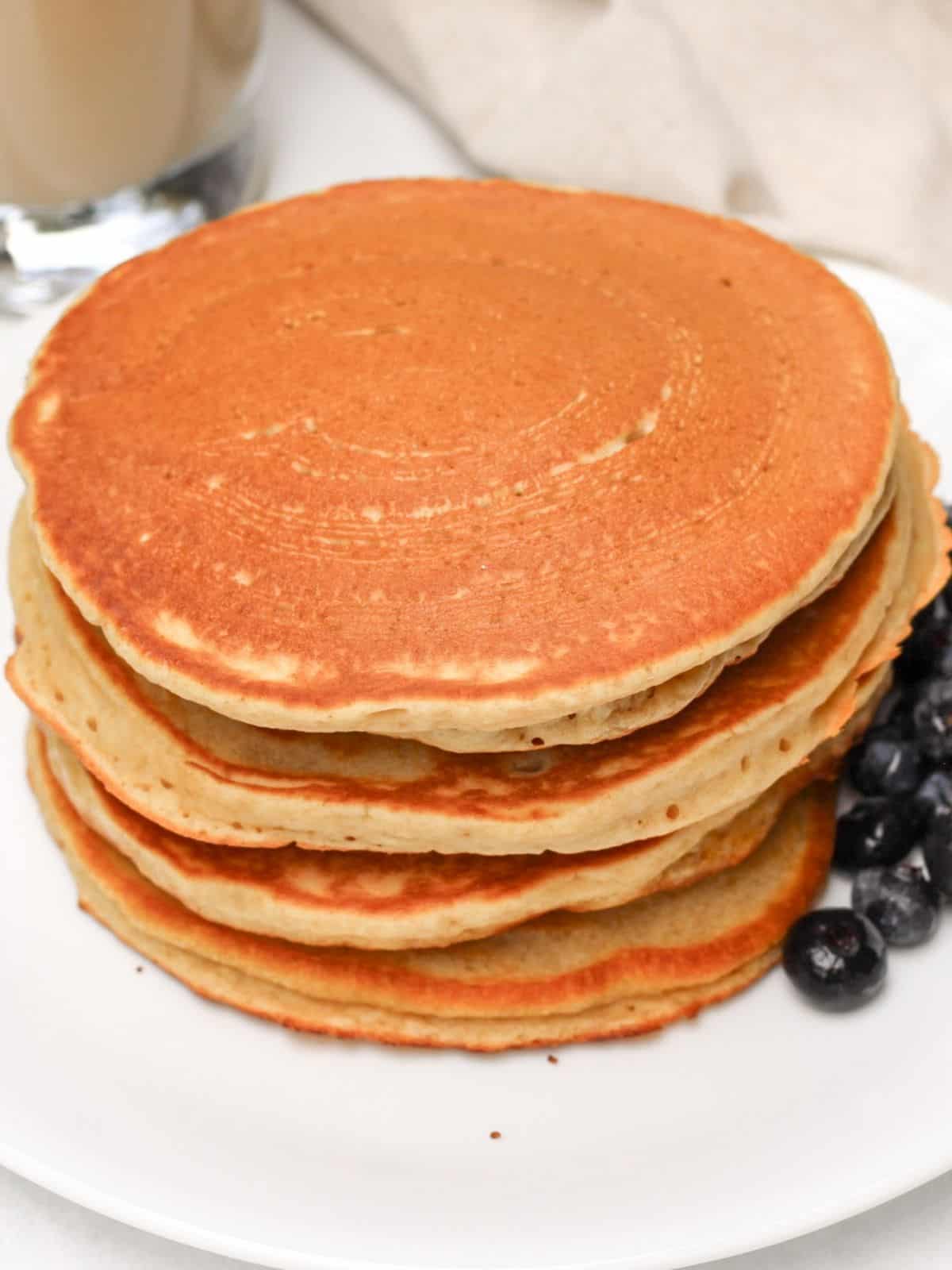 You never can go wrong with a batch of fluffy pancakes for breakfast.
This gluten free pancake recipe is very easy to follow and requires only a few ingredients.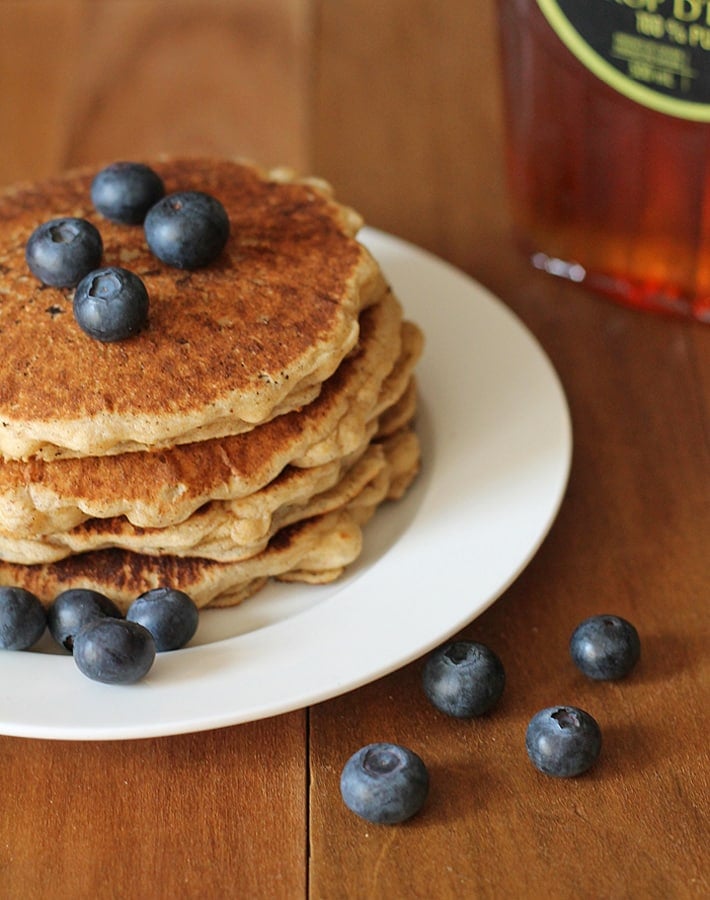 Your search for easy vegan gluten free pancakes has ended!
These pancakes are delicious, fluffy and will become your new perfect go-to pancake recipe!
Soft, fluffy, and super easy, these Gluten-Free Chocolate Chip Pancakes are vegan and allergy-free!
This from-scratch recipe is just 7 ingredients, packed with dairy-free chocolate chips, and you can whip up a stack of these healthier chocolate chip pancakes in 10 minutes for a classic, cozy breakfast any day of the week!
Fluffy, soft oatmeal pancakes without bananas are the perfect breakfast to start your day.
Add some fresh fruit like apples or blueberries to turn these healthy pancakes into a quick breakfast.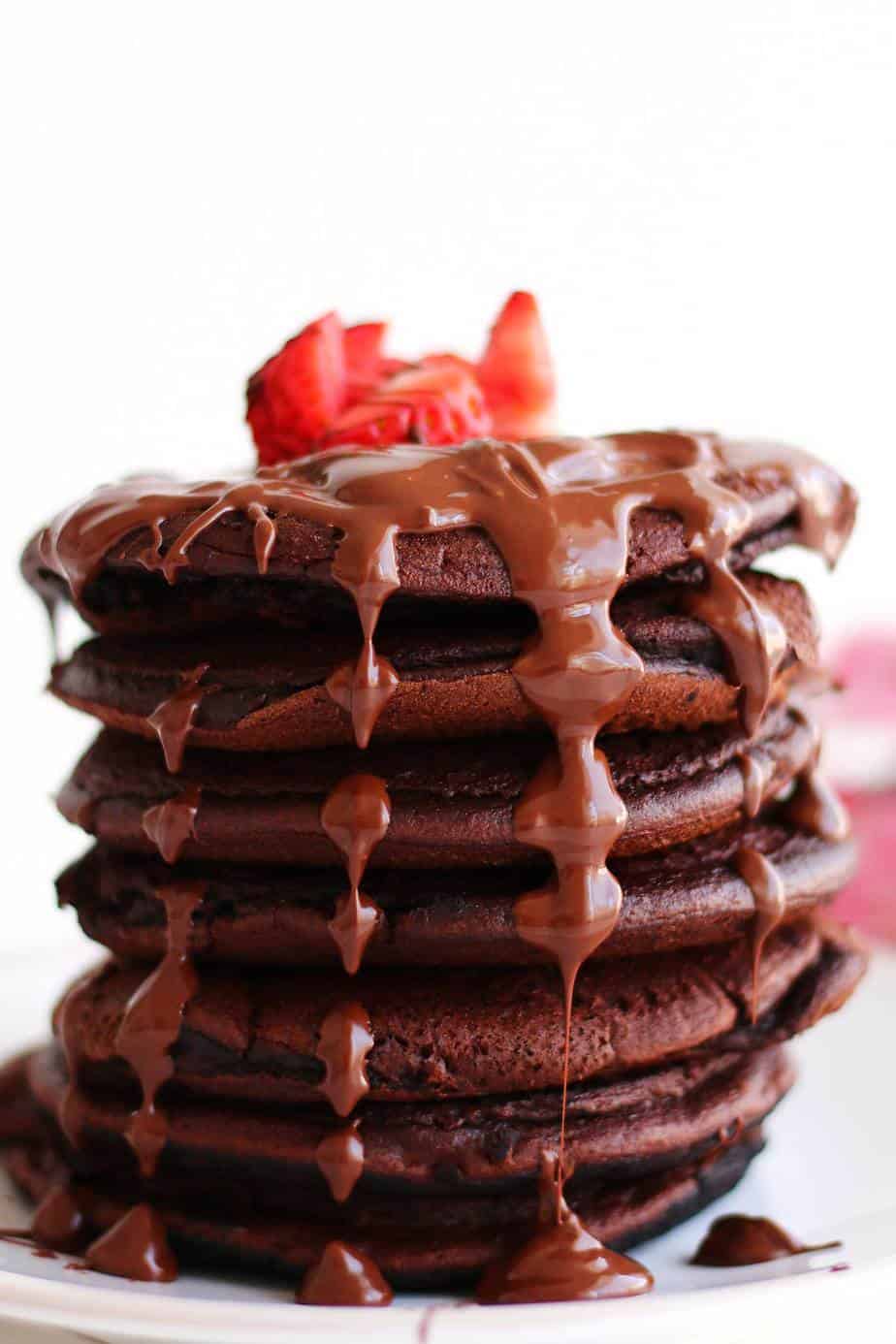 There is just something about digging into a stack of these sweet babies!
These Gluten-Free Vegan Chocolate Pancakes are quick and easy to make and oh so indulgent.
Summary of gluten free menu options at IHOP!
Pro tips and a quick summary of everything gluten free at IHOP:
IHOP has a decent sized gluten free menu, but the chance for cross contamination is extremely high so please keep that in mind.
When you order, tell them you have a gluten allergy or Celiac Disease so they take precautions with your meal. Even if it's delivery or pick up, make sure to include this in your order message.