What is Salad Oil? So many recipes call for salad oil but it doesn't seem like anyone really knows what it is, even though the definition should be pretty self explanatory. This particular oil is one that's suitable to dress salads. But there is a bit more to it than that. Read on to learn which types of salad oil you should use and which kinds to avoid, great recipes, storage tips and more.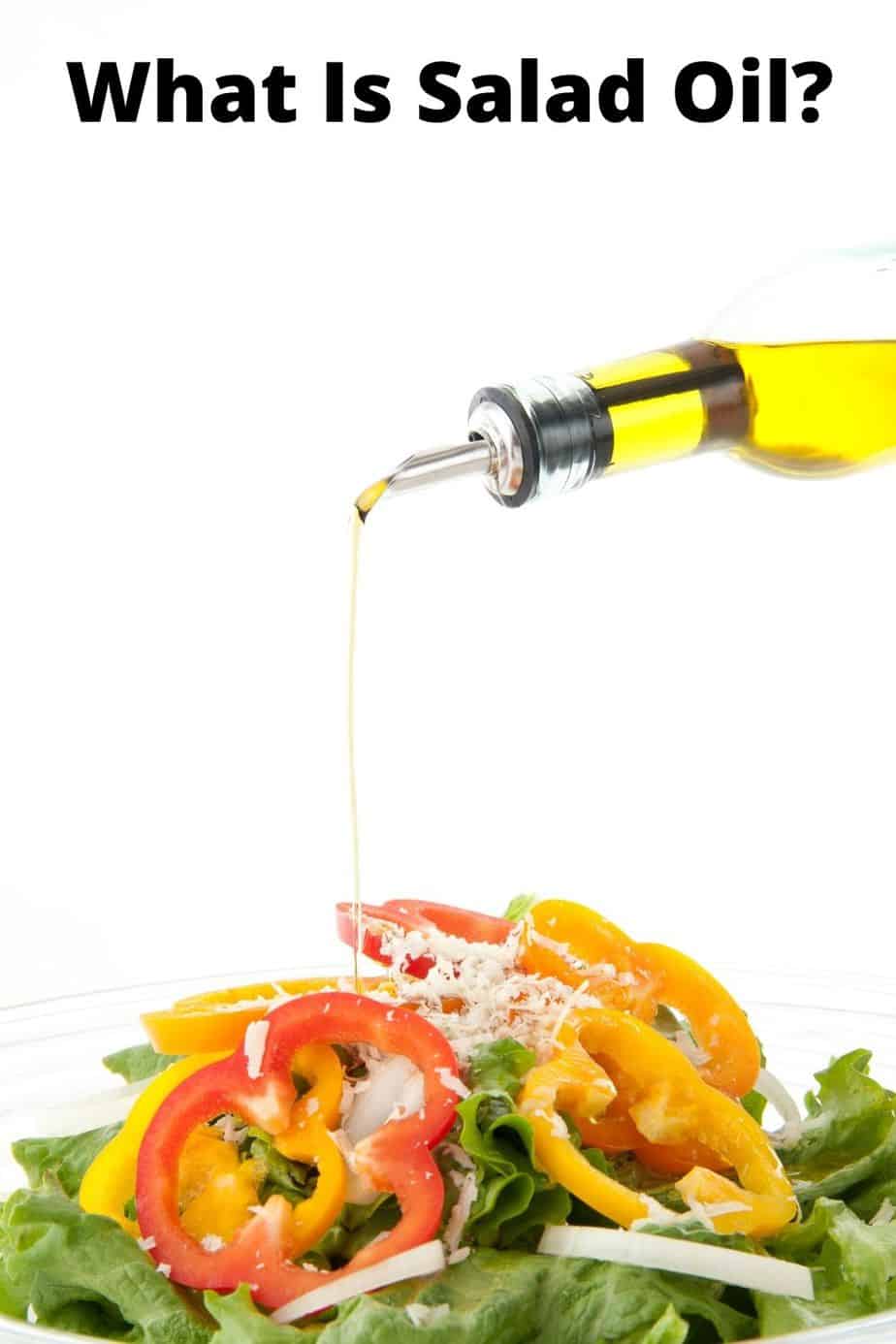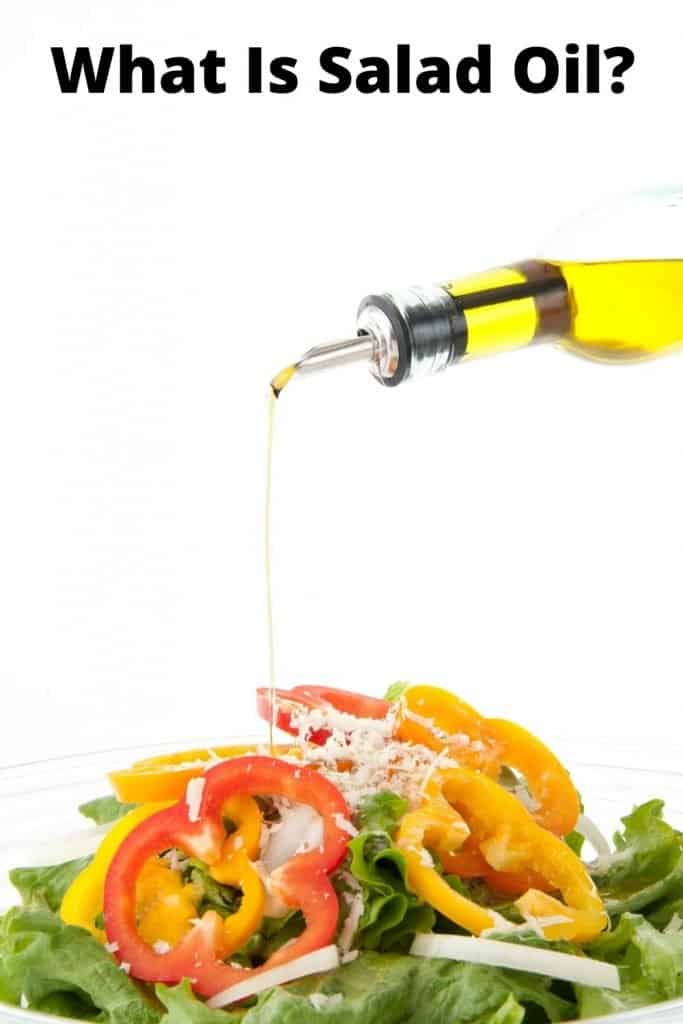 What is Salad Oil and Is it Gluten Free?
Technically speaking salad oil is any vegetable based oil that has a light flavor. These are suited for salads since they're flavor doesn't over power the vegetables. Ideally dressing should enhance the flavor of your salad, not overpower it.
Salad Oil is gluten free since it is processed from vegetables, fruit and nuts which are naturally wheat free. If you are on a gluten free diet, you can enjoy oil on your salad. Watch out for cross contamination though!
What Types Of Oil Are Best For Salads?
I went through this document from the USDA and was surprised to see what they considered suitable for use on salads. The USDA considers highly processed and bleached oils made from unhealthy sources to be suitable. I know the USDA is supposed to have our backs but, come on, we know better than that. And if you don't, fear not. Below I'm going to go through the best oils to use on salads.
If you're avoiding oils for any reason I'll also add in some good salad oil replacements that you can use, along with some recipes.
Below are my favorite salad oils that you must add to your pantry!
Walnut Oil
Macadamia Oil
Hazelnut Oil
Salad Oils to Avoid
Palm Oil – Palm oil is high in saturated fats which have been linked to chronic heart disease and other diseases.
Canola Oil – Canola oil is also high in omega-6's without omega-3's to balance it out which creates an inflammatory response when consumed. Canola oil also contains trans fats and it is highly processed.
Soybean Oil – According to Science Daily Soybean oil is high in omega-6 which causes inflammation. Soybean oil has been linked to diabetes, Alzheimer's, autism, anxiety, obesity and depression.
Corn Oil – Corn oil may have some health benefits but these benefits don't outweigh the negatives. Oil made from corn is highly processed and inflammatory due to the high amount of omega-6 it contains.
If you browse the internet you'll see that almost every salad recipe uses some kind of salad oil in the dressing. Unless it's specified as an oil free dressing recipe. Here are a few recipes I love that contain salad oil.
What is The Best Kind Of Salad Oil to Enjoy
The best kind of salad oil is one that has a mild flavor like olive oil. It also helps when the oil contains a similar flavor to the salad ingredients. For instance, if you have roasted hazelnuts in your salad you should use a hazelnut oil for that special touch.
My personal favorite oil for salads will always be olive oil.
Here are the flavor profiles of a few other good types of oil to enjoy:
Flax Oil – Flaxseed oil has a light nutty flavor that is reminiscent of flax. If the oil tastes bitter it has gone rancid.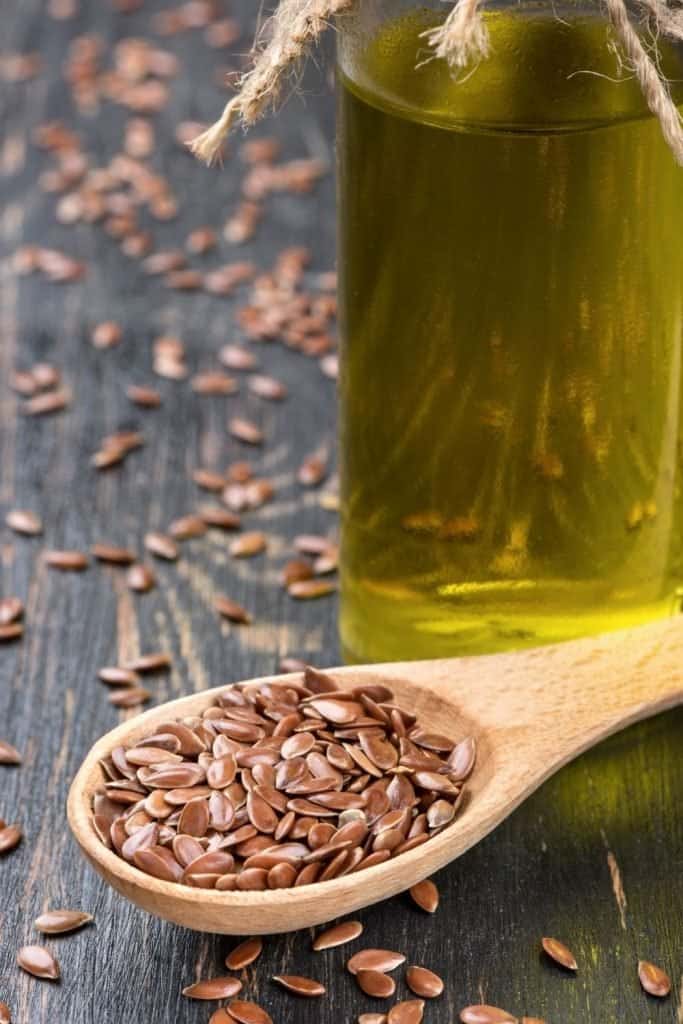 Olive Oil – Olive oil has a peppery and bitter taste that lends itself well to vinaigrettes making it perfect for almost any salad.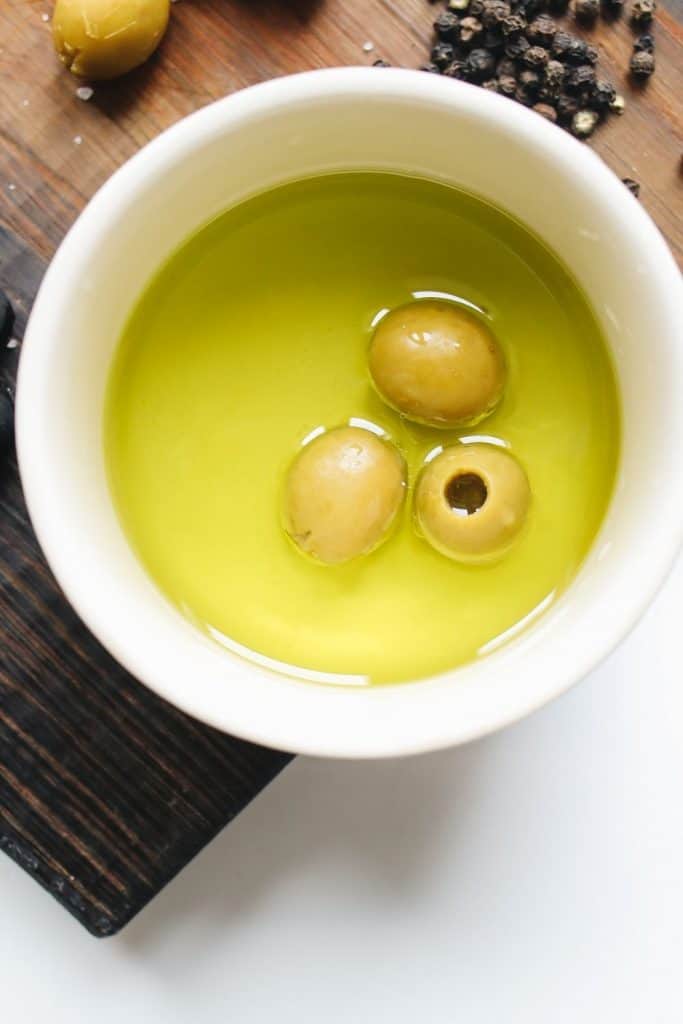 Walnut Oil – Walnut oils is a flavorful oil that works well with salad that have apples, walnuts, grapes, and cranberries in them. It's nutty and slightly sweet. But if it tastes burnt or bitter it has likely gone rancid.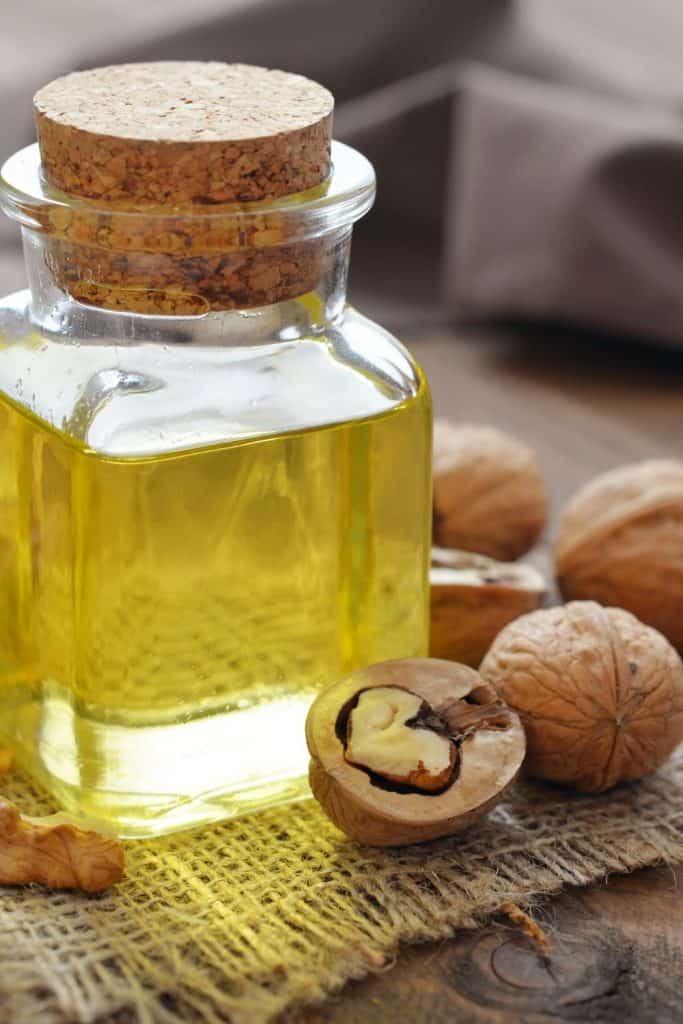 Recipes That Use Salad Oil
Tips on Using Salad Oil
Pour your oil into a container that has a narrow spout so that you can control how much you drizzle onto the salad.
When making salad dressings use 1 part oil to 1 part vinegar. This will cut down on the amount of fat in your salad while making it more flavorful. If the dressing is too sour you can always balance it with a sweetener like honey or maple syrup.
Dip a piece of lettuce into the dressing to taste test it. If you try the dressing straight it's going to taste too sour and you'll get a false read on the flavor.
When picking which oil to use pick one that compliments the ingredients of the food you're serving. For instance, if you're eating Mexican try avocado oil.
Salad Recipes that Use Salad Oil
The internet is brimming with salad recipes that use oil. In fact most salads use some kind of oil in the dressing but here are a few of my favorites.
Accompaniment Salad
Winter Harvest Salad
Cleansing Greek Salad
How to Store Salad Oils
The best way to store salad oils is to keep them at room temperature in a tinted glass container in a cool dark place. This is because you want to keep oil out of the sun to prevent it from oxidizing.
What is considered a salad oil?
Technically speaking salad oil is any vegetable based oil that has a light flavor. These are suited for salads since they're flavor doesn't over power the vegetables. Ideally dressing should enhance the flavor of your salad, not overpower it. Oils like olive, hazelnut, walnut, macadamia, avocado, palm, canola and soybean oil are all considered salad oils.
Is there a difference between salad oil and vegetable oil?
Technically there is no difference between salad oil and vegetable oil since the definition of a salad oil is one made from vegetables. However, a lot of recipes refer to oil that has added ingredients to it (to make it a dressing) as salad oil.
What is the difference between salad oil and cooking oil?
The difference between salad oil and cooking oils is that cooking oils generally have a higher smoke point so they can withstand the hot temperatures used to cook food. After a certain temperature an oil denatures and becomes unhealthy to eat. Vegetable oils have lower smoke points than most cooking oils. This is not universally true but it is generally.
What Are Some Substitutes for Salad Oil
Not everyone can eat oil. Oil is nutritionally very dense and hard to break down for those with compromised gut health. But we still need to put something on our salad. When I was cleansing I was told to avoid oils. So I got creative and found different condiments that worked well in salad dressing recipes that were oil free.
Nut Butters
Tahini
Gluten Free Soy Sauce
Brags Liquid Aminos
Avocado
Vinegar
How To Test The Quality Of Your Salad Oil
Not all oil is what it is labeled to be. A lot of the time olive oil is actually mixed with other types of oils and it isn't written on the label. Manufacturers add artificial flavor and aroma to the oil to make it taste and smell more authentic. You can tell if your olive oil is the real deal if you stick it in the fridge and it crystalizes. If the oil doesn't get hard then it's not pure olive oil.
I think this test works for other kinds of salad oils but I haven't tried them yet.
Is Salad Oil Good For You?
The short answer to this question is, some are and some aren't. As I discussed above, some salad oils are good for you and some are bad depending on.
How the oil is processed
What it's made from
Palm, soybean and canola oil are hazardous to your health and you should try to avoid them at all costs. I could go on about why for pages but the gist of it is that these oils are heavily processed and contain inflammatory causing omega-6 fatty acids.
Another offender found in a lot salad oils include oxidized polyunsaturated fats. While some polyunsaturated fat is good for you, high amounts of oxidized polyunsaturated fat is bad for you. This type of fat oxidizes inside and outside of the body. Since oil becomes apart of your cell membrane this means that your cell membranes become sensitive to oxidization.
Vegetable oils that are highly processed and have oxidized polyunsaturated fat include, soybean, canola, corn, soy, sunflower and safflower oil.
Watch out for processed vegetable oils that contain trans fats since they have been linked to heart disease. Read more about the hazards of certain vegetable oils here.
It's not all doom and gloom. Alternatively, cold pressed oils extracted from whole food ingredients do have health benefits including olive oil, seed oils and avocado oil. Walnut , canola and flax oil are high in omega-3 fatty acids.
So in the end, you don't have to cut oil out of your diet. Just limit the processed kind and enjoy small amounts of cold pressed oil from whole food sources.
How Much Salad Oil Should You Use In Dressing Recipes?
Generally speaking salad oil should make up 3/4ths of your salad recipe while the other 1/4th is made up of something acidic like vinegar. I personally recommend using olive oil to make up half of your dressing recipe. This will lower the amount of fat in your dressing and make it more flavorful in general!
The Best Salad Oil Recipe
My all time favorite recipe using oil is the one I make every week. Oregano vinaigrette with dijon mustard! Everyone is always impressed with how quickly I can whip up this dressing and how delicious it is. It's one of my most requested dressings because it's so simple. I hardly think of it as a recipe.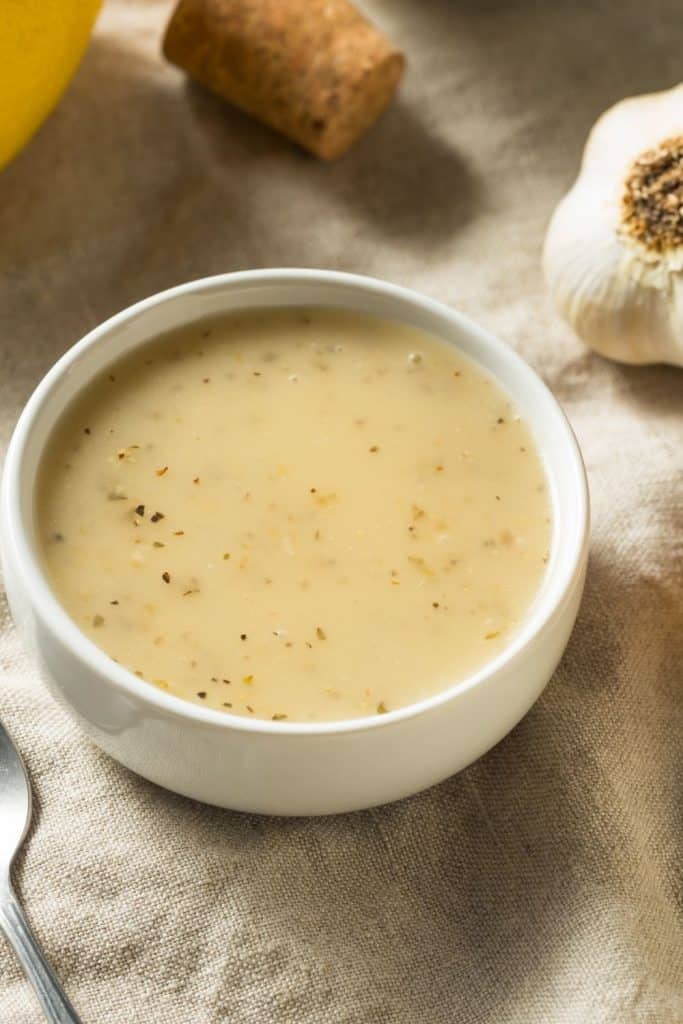 Ingredients For Oregano Vinaigrette
Red Wine vinegar
Dried Oregano
Sea Salt
Black Pepper
Shallot chopped
Garlic Cloves
How to Make Oregano Vinaigrette
Emulsify all ingredients in a high speed blender until the dressing is perfectly creamy. If you don't have a blender you can also whisk the ingredients together in a bowl. This will not create a creamy permanent emulsion like blended dressing but it's just as tasty.
Transfer to a glass container for storage in the refrigerator for up to 14 days.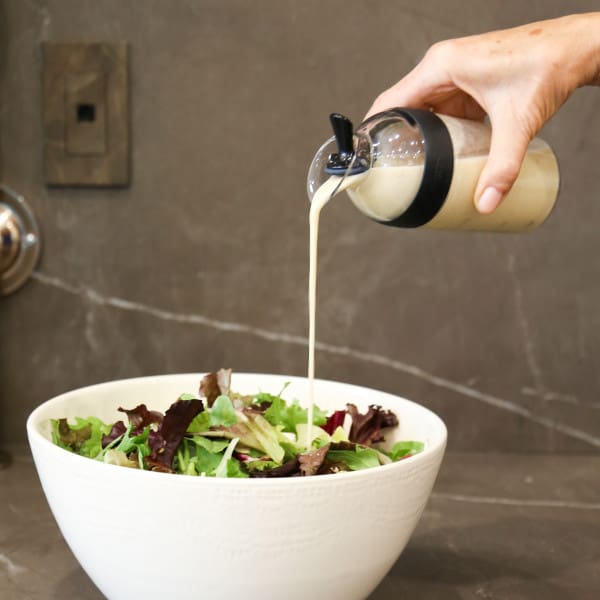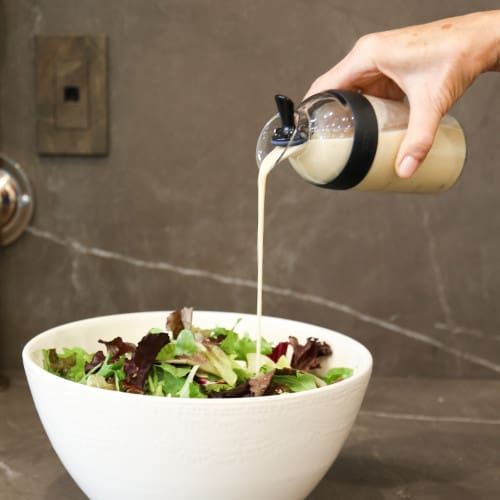 Creamy Vegan Italian Dressing Recipe
This vegan Italian salad dressing recipe is easy to make with simple ingredients. Packed with flavor, it's a great replacement for store-bought options. Free from dairy, gluten, soy and grains.
Print
Pin
Rate
Instructions
Emulsify all ingredients in a high speed blender until the dressing is perfectly creamy. Transfer to a glass container for storage in the refrigerator for up to 14 days.
Notes
Dressing with Last in the Refrigerator for up to 14 days.
Nutrition
Serving:
2
tbsp
|
Calories:
74
kcal
|
Carbohydrates:
3
g
|
Protein:
1
g
|
Fat:
7
g
|
Saturated Fat:
1
g
|
Polyunsaturated Fat:
1
g
|
Monounsaturated Fat:
5
g
|
Sodium:
22
mg
|
Potassium:
21
mg
|
Fiber:
1
g
|
Sugar:
2
g
|
Vitamin A:
2
IU
|
Vitamin C:
1
mg
|
Calcium:
4
mg
|
Iron:
1
mg