Roasted Eggplant Dip Recipe
This easy, healthy Roasted Eggplant Dip is simple and Delicious. While many eggplant dips use a ton of ingredients this one only has a few. Eggplants, lemons and seasonings. This roasted eggplant dip is vegan. You can serve this dip with pita wedges or with fresh vegetables.
Finally you can slough off your winter blanket and come out to enjoy some great weather and all of the beautiful food that comes along with it. I can't wait to start enjoying fugly heirloom tomatoes that happen to be the size of my head….
I wanted to share this simple, light, and healthy recipe with you that I've fallen back on countless times over the last few weeks: Roasted Eggplant Pate.
Why are Eggplants Healthy?
Eggplants are healthy! They are rich in B vitamins, magnesium, and Phytonutrients.Overall, they are great for brain health. Since this spread is low in fat, despite its creamy texture, its a great satisfying option for those of you avoiding fats for liver health. Furthermore, this recipe is cooked to a soft texture making it incredibly easy for you to digest. Furthermore, this recipe is cooked to a soft texture making it incredibly easy for you to digest.
Who Should Avoid Eating Eggplant?
Are Eggplants Nightshades? Yes they are. If you have severe kidney or gallbladder problems you may want to avoid them due to their oxalate count.
When eggplants cook they give off a lot of juice. In my recipe, I simply place the eggplants in a colander to let the excess drip off. You can also soak the eggplant in salt water before cooking. The salt water will help draw out a lot of the excess moisture.
Either way you definitely want to get rid of that extra liquid. It makes for a very runny and not so funny spread.
Enjoy!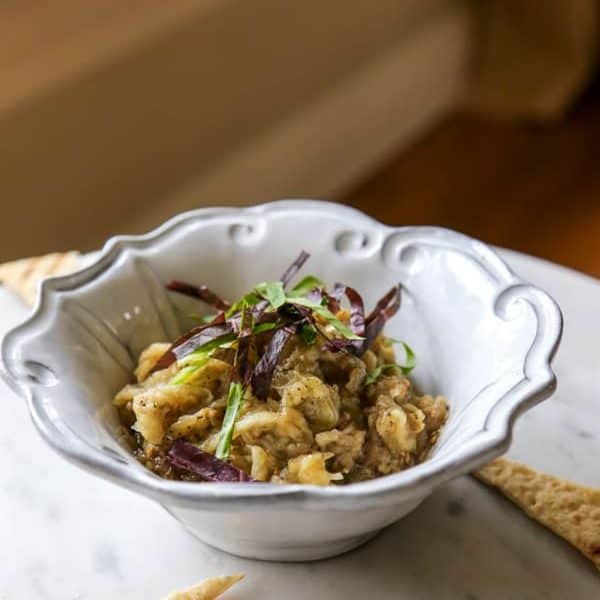 Roasted Eggplant Pate
This flavorful spread is light and zesty.
Print
Pin
Instructions
Preheat oven to 350 degrees. Coat the outside of the eggplant with oil and place on a baking sheet. Bake until you can pierce the eggplant easily with a knife. Cooking times vary based on the size of the eggplant. Anywhere from 25-50 minutes. Remove from the oven and allow to cool.

Once the eggplant is cool enough to handle cut it open and scoop out the flesh into a colander, set over a bowl. With a fork work through the flesh breaking it apart and squeeze the juice through the colander.

Once drained transfer the flesh to a serving dish and stir in salt, pepper, and lemon juice to taste.

Serve and enjoy.
Notes
Equipment – baking sheet, colander, bowl, and fork.
Nutrition
Calories:
97
kcal
|
Carbohydrates:
21
g
|
Protein:
3
g
|
Fat:
2
g
|
Saturated Fat:
1
g
|
Polyunsaturated Fat:
1
g
|
Monounsaturated Fat:
1
g
|
Sodium:
152
mg
|
Potassium:
798
mg
|
Fiber:
11
g
|
Sugar:
12
g
|
Vitamin A:
81
IU
|
Vitamin C:
11
mg
|
Calcium:
33
mg
|
Iron:
1
mg
This recipe was featured on I-Dental: Food to Eat with Braces