You'll love this vegan 3-ingredient mango and banana smoothie! The mango makes the smoothie sweet on its own. So you don't need to add sweetener. This is bound to become one of your favorites.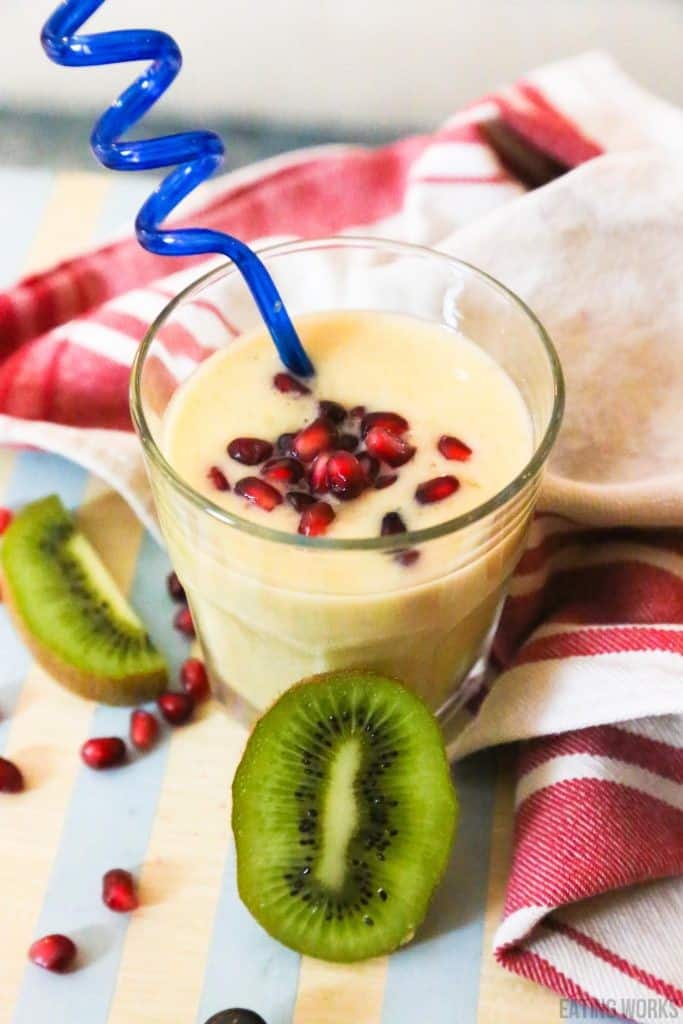 How to Make a Mango and Banana Smoothie
It couldn't be more simple to make this recipe because it only has three ingredients!
Frozen Mango
Fresh Banana
Almond Milk
There is only one step. Simply gather your banana, frozen mango, and almond milk. Place them in a high speed blender and emulsify until it's smooth. Don't worry if you don't have almond milk or are allergic to nuts. You can use any type of non-dairy milk to make this smoothie recipe.
Why Use a Non-Dairy Milk
Technically you could use regular milk, but I wanted to keep it vegan. Regular cow's milk is mucus forming and slows down our metabolism due to its casein content. If you want to learn more about why I recommend cutting cow's milk out of your diet. Check out this quick post on why dairy leads to calcium loss, weaker bones, and a slower metabolism. I use non dairy milk for my coffee drinks too like this iced coffee frap. Using a non-dairy milk for the mango smoothie makes it:
Detoxifying
Vegan
Good for your Gut Health.
What if the Smoothie is Too Thick or Thin?
To get the perfect drinking consistency you should use frozen mango and fresh banana. But you can use either frozen or fresh fruit.
If you use fresh fruit, it's going to be runny. Just add a handful of ice cube to make it thicker.
If you only have frozen fruit you can use it. But your smoothie is going to come out too thick to drink. To fix a smoothie that's too thick add more milk! You may have to play around with the ratios, but you will find the right balance of ingredients easily.
Do I Need to Add Sweetener
I love sweet recipes. Of course, less sugar is always healthier. I find that this mango and banana smoothie is sweet enough without adding sugar. Mangoes are very sweet. The natural sugars from the mangoes alone will make the smoothie sweet.
When Should I drink My Smoothie?
The best time to drink a smoothie is on an empty stomach or after a workout. Since fruit digests in only thirty minutes, drinking it with a meal will likely make you bloated. Fruit is full of healthy carbohydrates and digests quickly, making it the perfect post workout recovery snack.
Health Benefits
Mangoes are full of prebiotic fiber which feed the healthy bacteria in your gut. Also, mangoes contain pectin which act as a natural laxative, putting the "Go" in mango. Mangoes boost your immunity because they are high in vitamin C. Learn more about the benefits of mangoes here.
Bananas are filled with Potassium, Magnesium, Vitamin C and B6. The Potassium is good for your heart while the Magnesium is good for your muscles. It's hard to find good vegan sources of B vitamins. So eating bananas will help you get your daily recommended amount of B if you are vegan. They also contain starch which passes into the colon before it's digested. Helping you stay full longer without causing constipation.
These health benefits not only make this smoothie detoxifying, but nutritious as well.
More Detoxifying Drinks to Try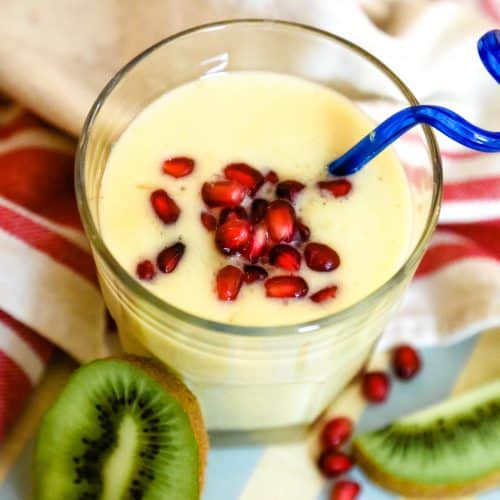 Mango and Banana Smoothie
You'll love this mango and banana smoothie! It's vegan, detoxifying and only has three ingredients!
Print
Pin
Instructions
Combine the mango, almond milk, and banana into a high speed blender.

Turn on the blender on a low setting, slowly increase the speed while simoultaniously using the tamper to push the ingridents down into the blade. Blend until smooth. Enjoy!
Notes
This mango smoothie is simple to make.
It will stay fresh in the fridge for up to 24 hours. So you can make it one day ahead.
You can use fresh or frozen bananas. If the banana is frozen you may need to add another quarter cup of almond milk.
Nutrition
Serving:
8
ounces
|
Calories:
113
kcal
|
Carbohydrates:
26
g
|
Protein:
1.1
g
|
Fat:
1.4
g
|
Saturated Fat:
0.1
g
|
Sodium:
163
mg
|
Potassium:
426
mg
|
Fiber:
1
g
|
Sugar:
1
g
|
Vitamin C:
70.4
mg
|
Calcium:
150
mg
|
Iron:
1
mg
Click here to check out my google web story for this recipe!