This harissa yogurt sauce is going to be your new favorite dip recipe! Made with only five ingredients this sauce is done in five minutes and works well with chicken, vegetables, salads, sandwiches and more.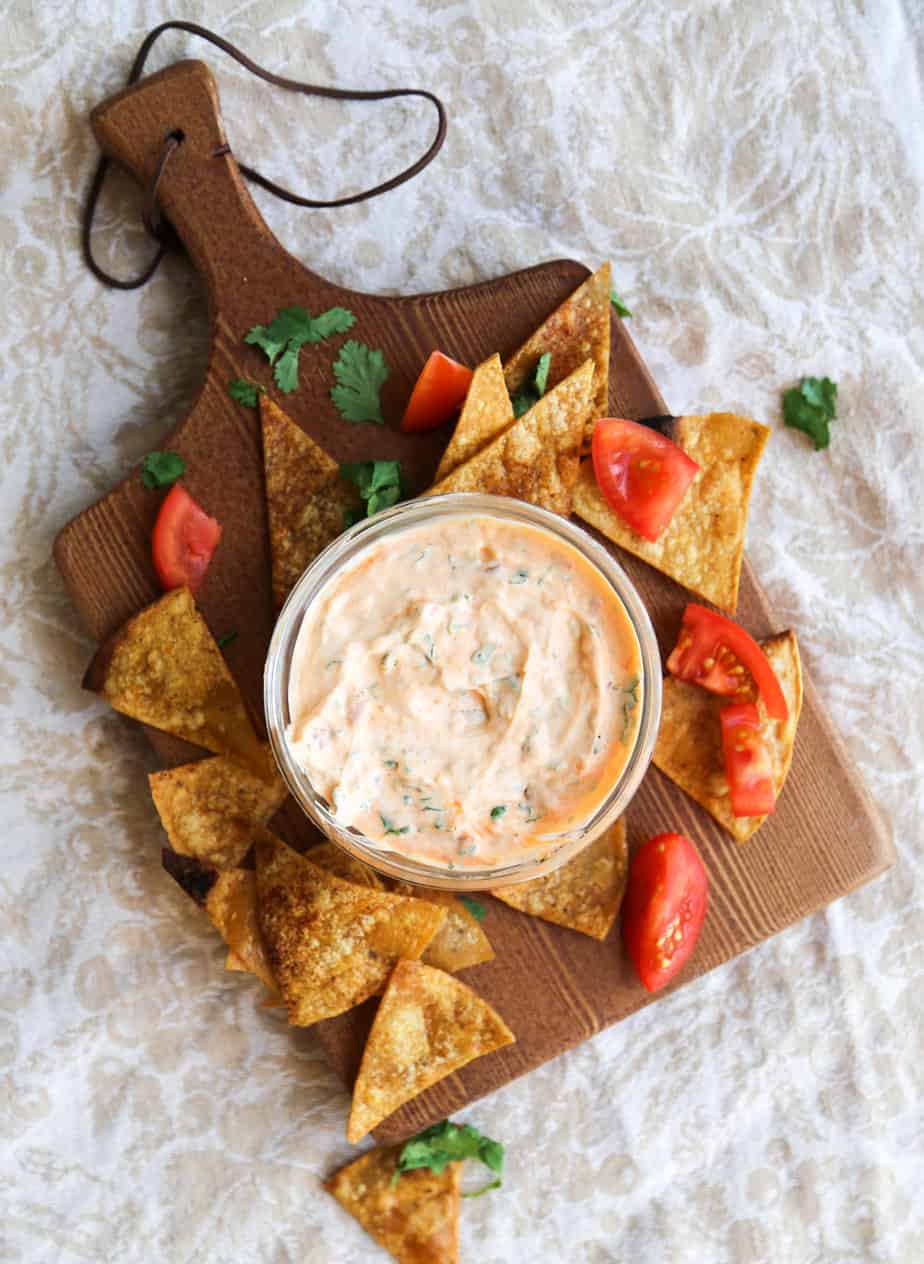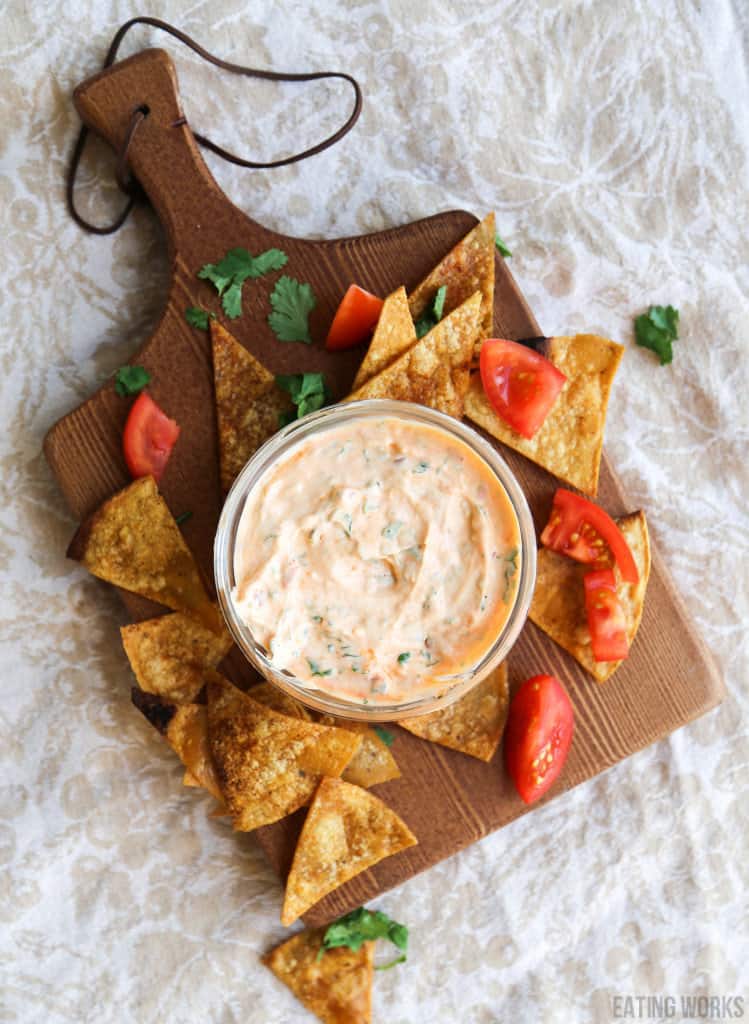 This post may contain affiliate links. As an Amazon Associate I earn from qualifying purchases at no cost to you. See my Affiliate Disclosure to read my policy and more about affiliate links.
Table of Contents
Why You'll Love Harissa Yogurt Sauce
Gluten Free
Nut Free
Soy Free
Paleo Friendly
Keto
Low Carb Friendly
What is Harissa Yogurt Made of?
Harissa yogurt is made from a combination of plain greek yogurt mixed with a combination of dried and fresh herbs including cilantro, harissa, parsley, cilantro and lemon zest.
Of course there are tons of ways you can make harissa yogurt sauce. Some people add lemon juice, vinegar or other types of aromatics like ginger and fresh garlic! The possibilities are endless. It's pretty hard to mess up this zesty and savory sauce, so feel free to experiment in the kitchen!
The truth is that you really don't even need to measure out the ingredients. You can eyeball them and adjust the seasoning to taste. But if you're unsure of yourself, follow the exact ingredient amounts for a perfect finished product.
Ingredients for Harissa Sauce
For full ingredient amounts check the recipe card at the bottom of this post.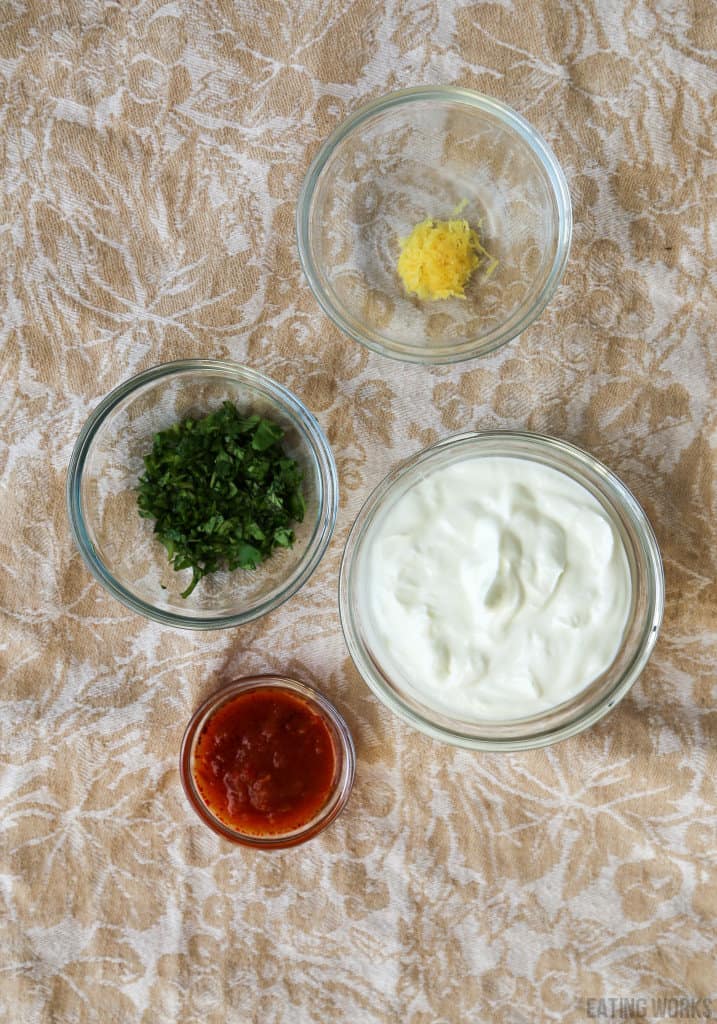 Ingredient Substitutions for Harissa Yogurt Sauce
Another great thing about this yogurt sauce is that there are so many ingredients you can substitute. No matter what you have in your pantry you can make this recipe without running to the supermarket.
Greek Yogurt: If you don't want to use sheep's milk yogurt you can use a vegan greek yogurt made from cashews, coconut or almonds! I especially like kite hill's greek yogurt.
Lemon: Instead of lemon zest you can use lime!
Parsley: If you don't have fresh parsley you can use 1 teaspoon of dried parsley.
Cilantro: f you don't have fresh parsley you can use 1 teaspoon of dried cilantro.
How to Make Harissa Yogurt Dip
Making harissa yogurt dip is as easy as stirring a spoon! It's especially easy if you already have my Peruvian Spice Blend. For those of you who don't know about this blend, its a custom spice blend I make myself out of organic spices. I use this blend on so many recipes that if you do cook a lot of my recipes you should definitely pick up a bottle.
Buying the blend is cheaper and more efficient than making it yourself. But you can totally make it at home! There are no secrets here. The recipe for the blend is in the recipe card below.
How to Make Peruvian Spice Blend
Simply combine the paprika, mustard, fennel, cumin and salt in a mason jar and shake.
How to Make Harissa Yogurt Dip with The Spice Blend
In a small mixing bowl combine yogurt, harissa paste, parsley, cilantro, lemon zest and 1-2 tablespoons of Peruvian Spice Blend. Using an offset spatula mix until all ingredients are fully incorporated and the sauce is pink.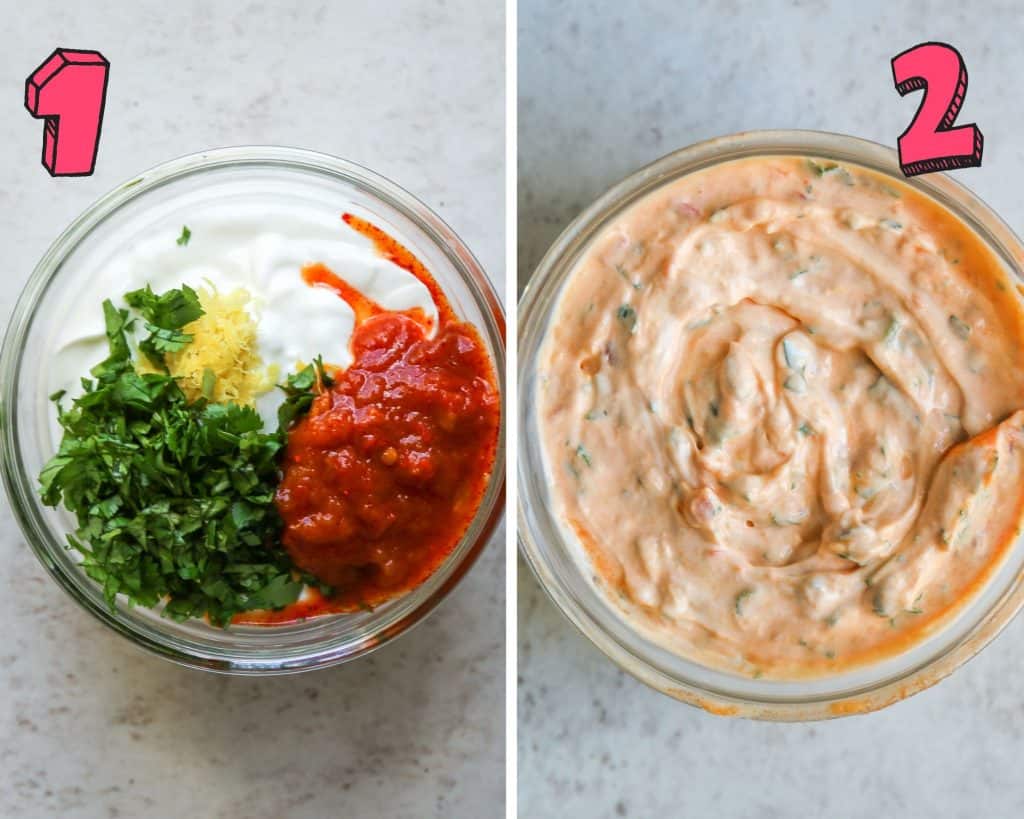 This South Western inspired spice blend is the secret weapon that brings simple food to life. Peruvian spice blend is perfect to use as a rub for chicken or fish but it's versatile enough to use on vegetables, dips, dressings and even in stews!
Is Eating Works' Peruvian Spice Blend Healthier than Other Brands?
Most commercial spice companies load their blends up with tons of sodium, sugar, anti-caking agents, preservatives and high fructose corn syrup.
Just take a look at McCormick's Peruvian Seasoning's Ingredients!
McCormick Culinary Peruvian Seasoning INGREDIENTS:
Salt, Spices (Including Chili Pepper, Paprika, Cumin, Black Pepper), Garlic, Cane Sugar, Tamari Soy Sauce (Soybean, Corn Maltodextrin, Salt), High Fructose Corn Syrup Solids, Lime Juice Powder, Silicon Dioxide (To Make Free Flowing) And Lime Oil.
All Natural: There are no man made ingredients in the spice blend. All of the herbs are Responsibly sourced from Whole Spice, an organic company based in the United States. The blend is also free of anti-caking agents and fillers which are commonly found in commercial spice blends like McCormick. You would never know they are there since they don't need to be listed on the bottle. But blends that don't cake or clump likely have fillers in them.
There is also substantially less sodium in my Peruvian spice blend than in other store bought blends like McCormick. Most brands load up their seasonings with sodium. If you have heart disease, are on dialysis or have kidney issues you can't enjoy spice blends because they have too much sodium. And the whole reason to use spice blends is to add flavor to food without a ton of salt!
Of course you can make Peruvian spice blend at home but it's way more expensive to buy all of the other ingredients to blend together then it is to just buy one bottle of done for you blended spices.
You can buy the Peruvian spice blend on Eating Works' shop website by clicking the link above.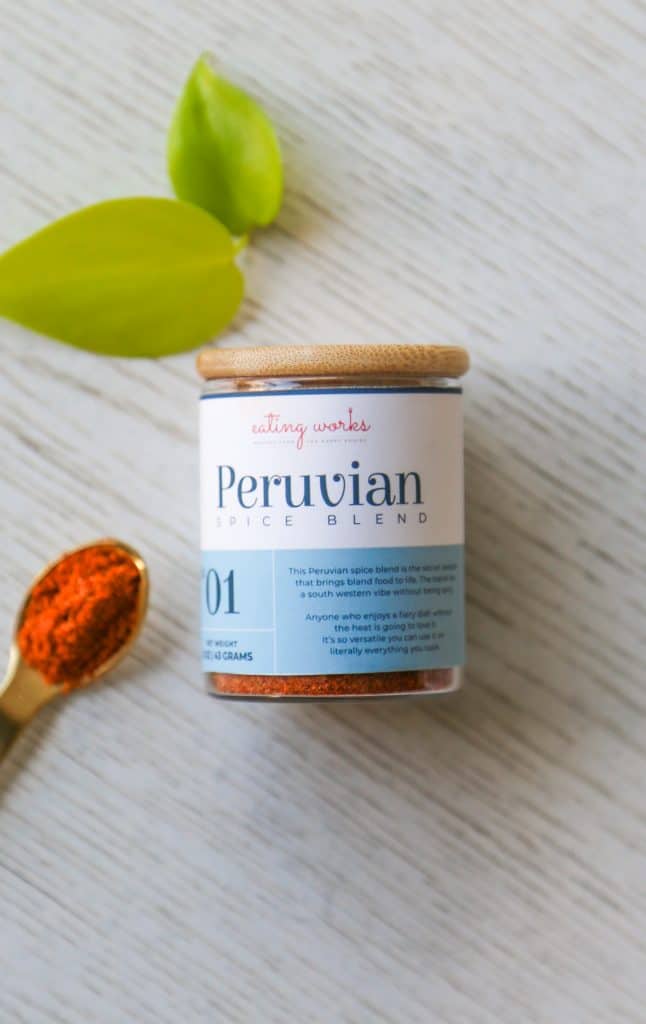 Equipment For Harissa Yogurt Dip
You don't need any fancy equipment for this harissa yogurt dip! Just grab a:
What if I don't have a microplane?
If you don't have a microplane don't worry. You can also use a regular vegetable peeler to zest your lemon. You'll just need to mince the zest with a knife so that it's small enough to eat.
How to Store This Harissa Yogurt Sauce
The best way to store harissa yogurt sauce is to place it in an air tight container in the refrigerator. You could also freeze the yogurt sauce in ice cube trays for individual servings.
Can You Freeze This Harissa Yogurt Sauce Recipe?
Fresh Greek yogurt freezes surprisingly well for the first two months. Keep in mind that when you thaw it out the consistency will change a bit. The sauce will be more liquified and be a bit more grainy. This is just the nature of what happens to dairy when you freeze it.
You can improve the texture by mixing the sauce vigorously for a few moments.
Can You Refreeze Harissa Yogurt Dip?
You could also freeze the yogurt sauce in ice cube trays for individual servings. This will help you conserve the sauce because once you freeze it you cannot refreeze it.
What is Harissa called in English?
Harissa is called the same thing in English as other languages: Harissa. Harissa is a thick paste made from olives and chilis making it spicy and salty. It's commonly used in North African cooking to flavor meats, seafood and sauces.
What is Harissa?
Harissa is a thick paste made from olives and chilis making it spicy and salty. It's commonly used in North African cooking to flavor meats, seafood and sauces.
What Do You Mix Harissa With?
What do You Serve with Harissa Sauce?
Lots of things go well with Harissa sauce like these roasted rainbow carrots!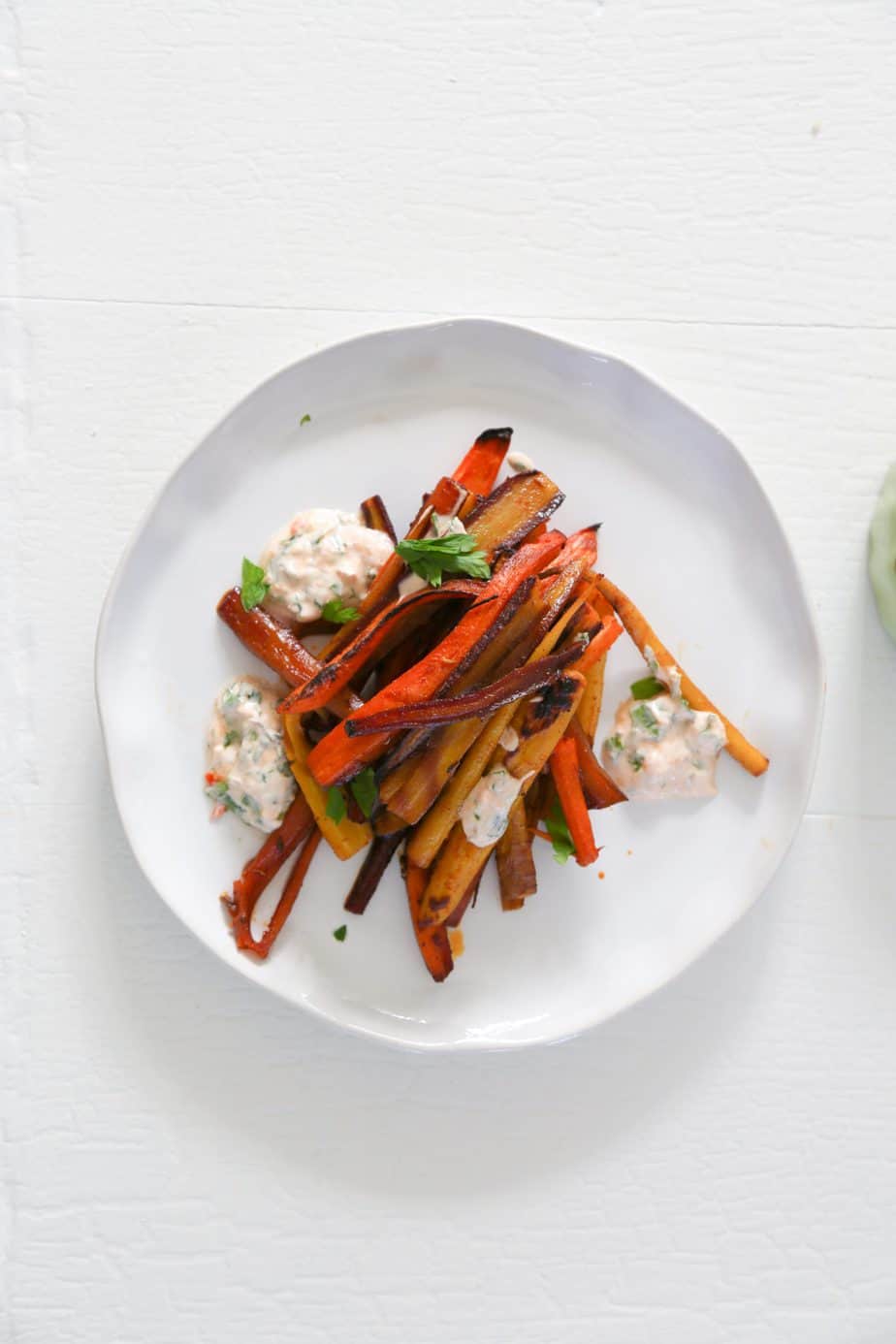 Is Harissa Sauce Healthy?
Harissa sauce is healthy because it's made from whole food ingredients. If you are lactose intolerant or avoid dairy to reduce inflammation and mucus production you may be in luck. I prefer to use sheep yogurt for this recipe because it's easier to digest. Many people who cannot tolerate cow dairy have no problem digesting fermented dairy products from goats including cheese and yogurt.
This is because from has a smaller casein molecule which is easier for the body to digest. The smaller casein molecule in goat and sheep milk is similar in size to breast milk. So it's naturally easier to digest.
Is Harissa Sauce Gluten Free?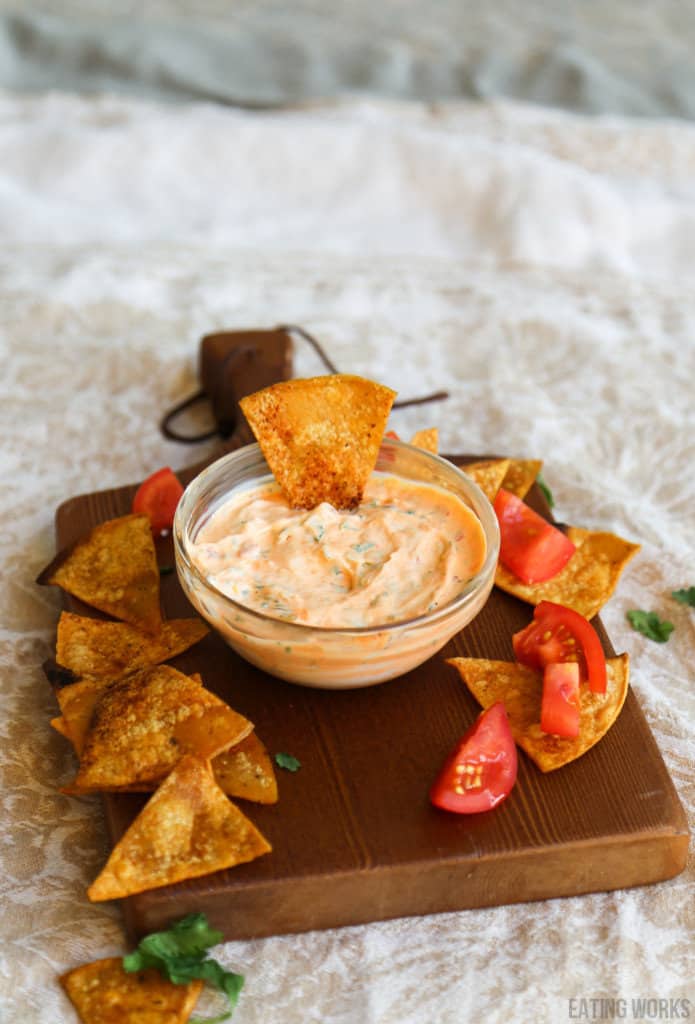 Yes, luckily harissa yogurt sauce is gluten free so if you have celiac disease or are on a gluten free diet you can enjoy this sauce! The main ingredient of harissa yogurt sauce is yogurt which is a source of dairy. Dairy is naturally gluten free because it doesn't come from wheat. All animal products are naturally gluten free.
The rest of the ingredients come from plants other than wheat. Since the wheat plant is the only one that has gluten it's safe to say that this recipe is 100% gluten free.
Is Harissa Sauce Keto and Low Carb Friendly?
If you're on a ketogenic diet then you're in luck! Not only is harissa yogurt dip low in carbs but it's also naturally keto! Since the main ingredient is dairy it is high in fat and protein while being low in carbs. If you use full fat greek yogurt like I recommend then this recipe is especially keto friendly.
On the other hand if you use low fat greek yogurt the end product will have way more calories from protein than fat. While this is still low carb and wont pull you out of ketosis. The macronutrient profile isn't the same as what is recommended on a ketogenic diet. Which is 70% calories from fat with the rest coming from protein and carbohydrates.
Can You Make Vegan Harissa Yogurt Dip?
Yes! You can absolutely veganize this dip recipe by swapping out the dairy based greek yogurt for a vegan greek yogurt. Vegan greek yogurt made from coconut, almond or cashews work really well! You could use a tofu based greek yogurt but I wouldn't recommend it. Soy is even more mucus forming then regular milk!
Common Questions and Answers about Harissa
Harissa is gaining popularity in the United States, but a lot of people don't actually know about it! When I first l started cooking with harissa I had tons of questions. Here are
Which is Hotter, Harissa or Sriracha?
Harissa and sriracha are both equally as spicy. The difference between sriracha and harissa is that sriracha is more of a sauce because it has some sugar and acid in it. So it has a more pungent and zesty flavor then sriracha.
Harissa works well when mixed with other ingredients to round out it's flavor while sriracha works well on it's own as a sauce that can be used to garnish meats, seafood, tacos and more.
What Spice is Similar to Harissa?
If you don't have harissa you could use a substitute. Some spices that are similar to harissa that would work well include:
Sriracha
Hot Sauce
Berbere
Chile Paste
Tabil – A Tunisian spice paste
Is Za'atar the Same as Harissa?
Za-atar and harissa are completely different even though they have some similarities. Both za'atar and harissa are a combination of spices and aromatics used in ethnic cooking to add flavor to savory dishes. However they both come from different origins, are made from different ingredients and differ in taste as well!
Harissa is a wet paste made from olives and peppers that originates from North Africa. Za'atar spice is a dry rub that contains thyme. It comes from the Mediterranean region and has a lemony, herby and zesty flavor.
Why is harissa so spicy?
Harissa is spicy because it's main ingredient is dried chili peppers that vary in heat that are reconstituted and mashed up with olives.
Other Gluten Free Dip Recipes to Try
Here are some more awesome gluten free dips you can try!