Is Almond Milk Gluten Free?
Is Almond Milk Gluten Free? Almond milk is a delicious plant based milk substitute that is used instead of regular milk by people on a dairy free diet. But so many people wonder, "Is almond milk free?" If you're on a gluten free diet, because you have Celiac or IBS you can be rest assured that you'll know if almond milk contains gluten or not after reading this quick article.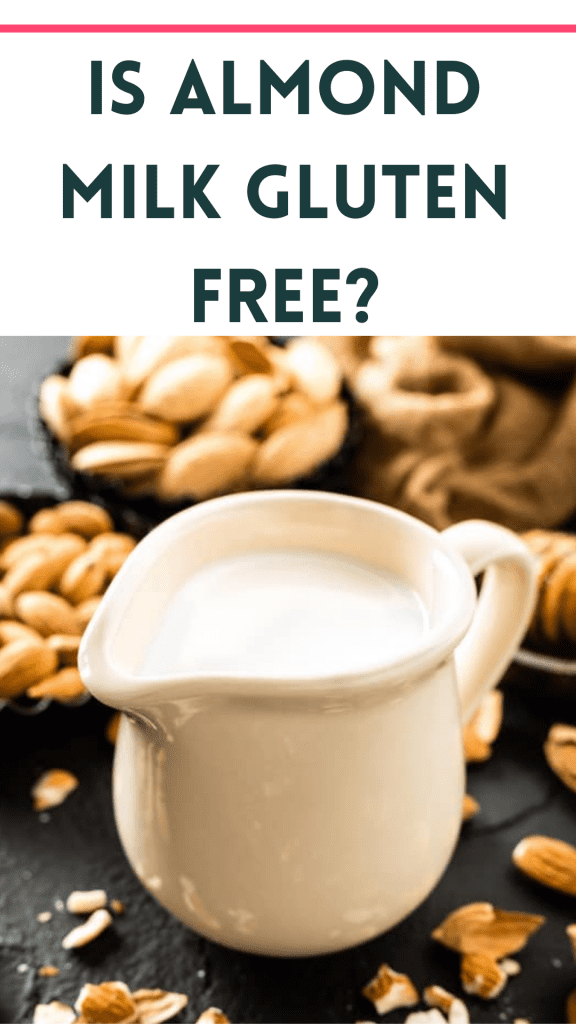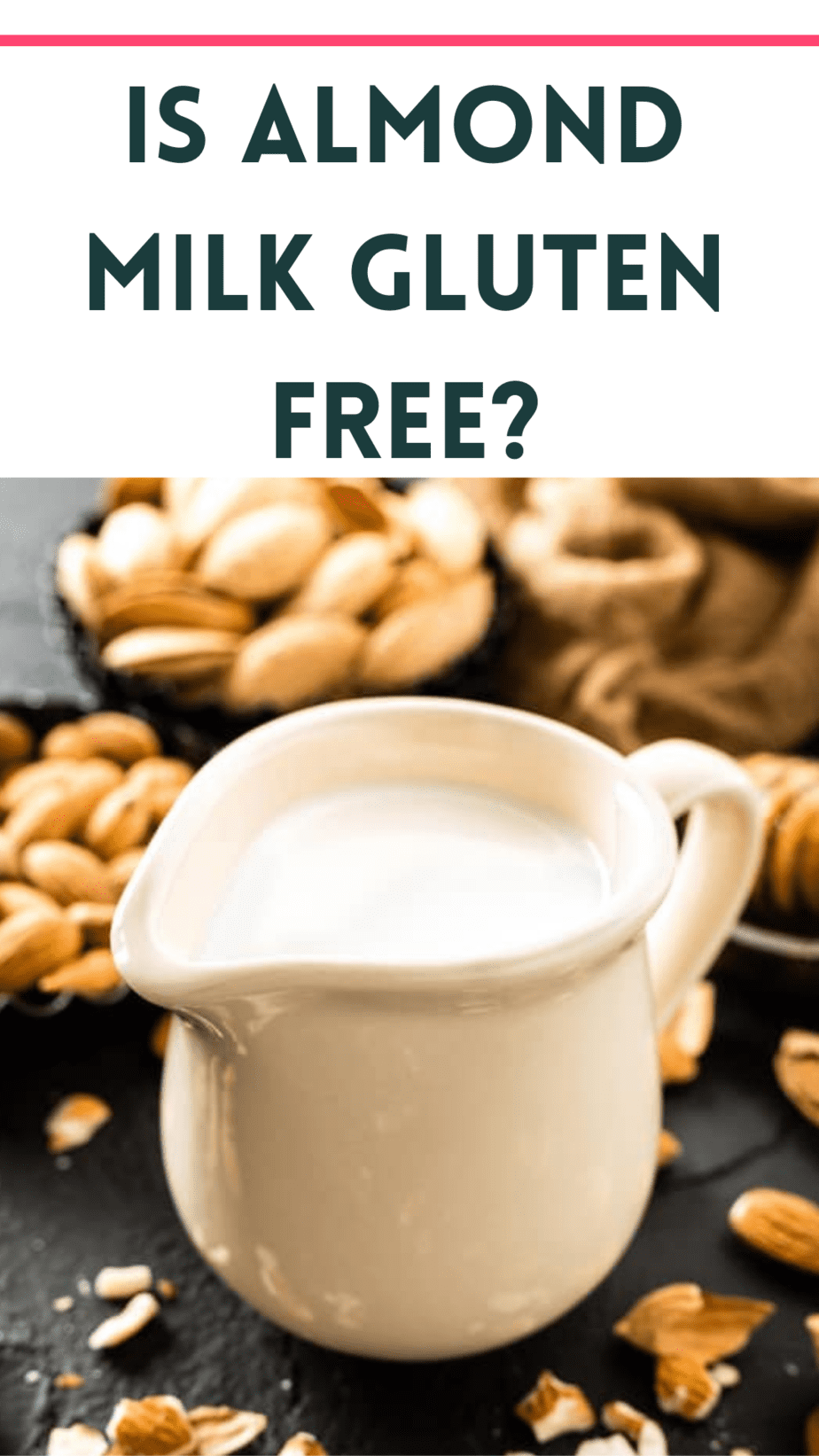 This post may contain affiliate links. As an Amazon Associate I earn from qualifying purchases at no cost to you. See my Affiliate Disclosure to read my policy and more about affiliate links.
Table of Contents
Is Almond Milk Gluten Free?
YES, Almond Milk is Gluten Free! Isn't that great news? We should shout it from the rooftops.
To understand why almond milk is gluten free we should look at what almond milk is and the ingredients it's made from. By definition almond milk is a plant milk with a creamy texture and nutty flavor manufactured from almonds, It does not contain cholesterol or lactose and is low in saturated fat.
In essence, almond milk is just water and almonds blended together to form a watery paste. And then the pulp from the almonds is strained out leaving nothing but the milky white liquid behind. The milky white liquid is almond milk! Various flavorings like sea salt and sugar are added to the milk to give it flavor.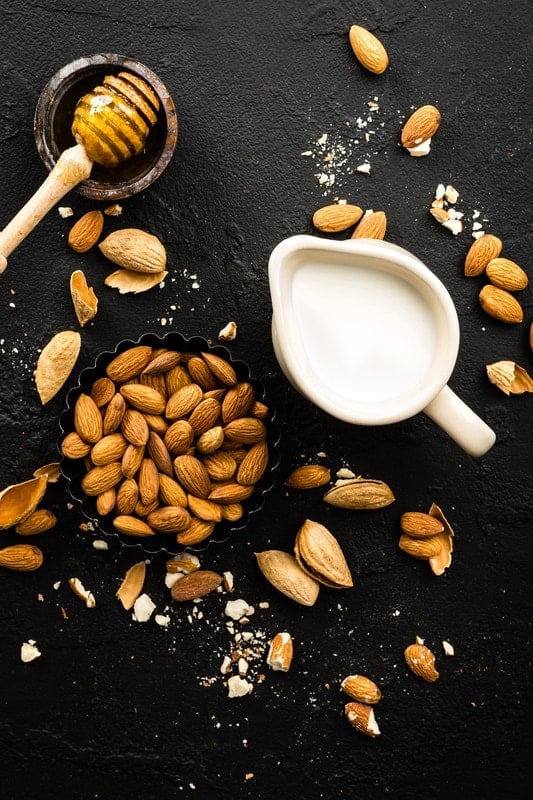 Since the ingredients used to make plain almond milk is almonds, and almonds are naturally gluten free, so is the "milk" made from almonds.
Now of course I'm talking about plain home made almond milk. I love homemade almond milk because it's creamier and tastes better than store bought. It also is free of any preservatives or gums which are present in most processed almond milk to keep it fresh.
For my home made almond milk scroll down to the recipe and see the section below on how to make homemade almond milk.
Is Store Bought Almond Milk Gluten Free?
But before you get excited about gluten free almond milk there are some things to consider when it comes to store bought almond milk. Even though almond milk is made from almonds, it isn't always gluten free when you buy it in the store.
This could be due to two factors.
Gluten could be added to the almond milk a thickener.
The factory where the almond milk is made could also be processing foods that contain gluten. In this instance cross contamination is a possibility and companies won't say that the almond milk is gluten free for liability reasons.
So when you buy almond milk it's important to CHECK THE LABEL. But to make your life easier I've compiled a list of brands that guarantee that their almond milk is truly gluten free.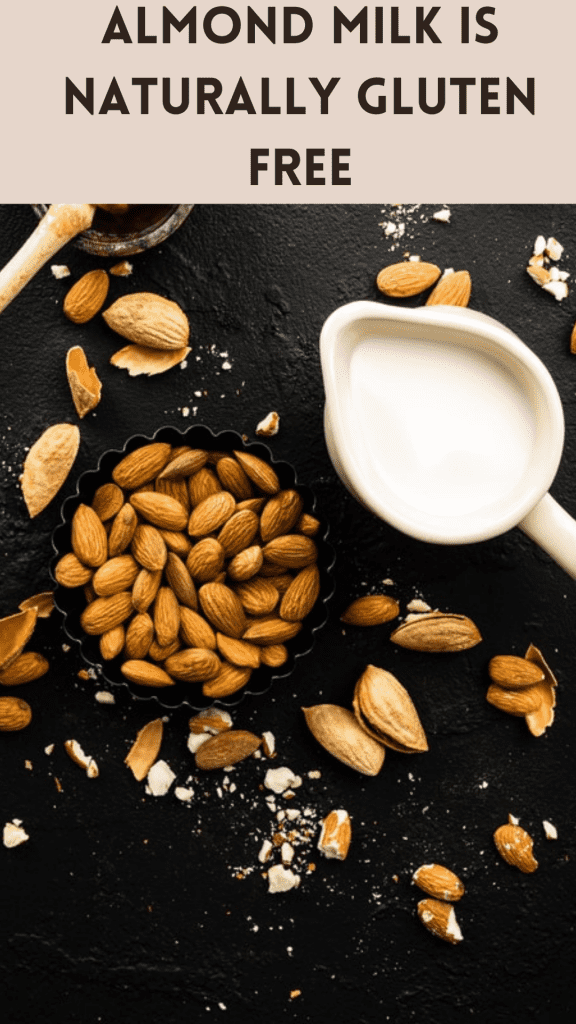 But don't get nervous. Most brands of almond milk are considered to be gluten free. All foods labeled gluten free MUST have less than 20 ppm of gluten, this is the lowest level that can be detected in prepackaged food using scientific analytic tools.
Hence, most brands of almond milk are gluten free.
Gluten Free Almond Milk Brands
Here is a comprehensive list of 21 gluten free almond milk brands for you to choose from!
Blue Diamond Makes a Wide Variety of Gluten Free Almond Milk Including:
Blue Diamond Hint of Honey Almond Milk
Blue Diamond Reduced Sugar Almond Milk
Almond Milk Nog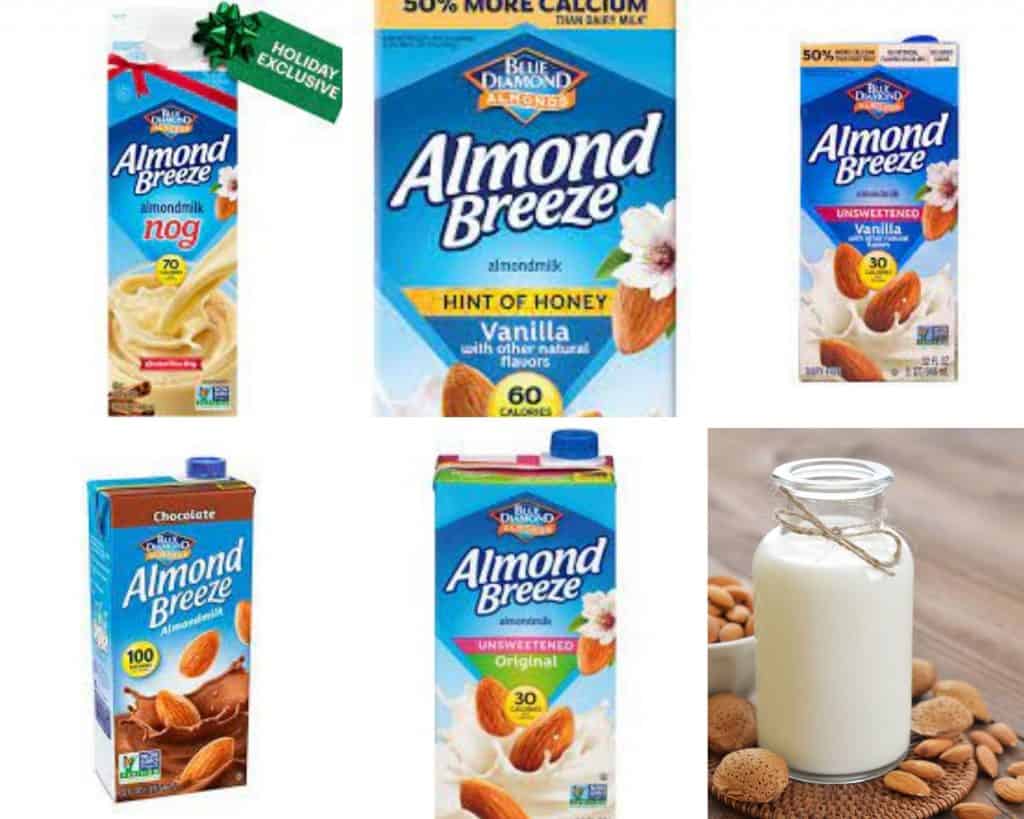 More GF Almond Milk Brands:
Thrive Market Almond Milk
365 Whole Foods Almond Milk
Simply Almond Original Almond Milk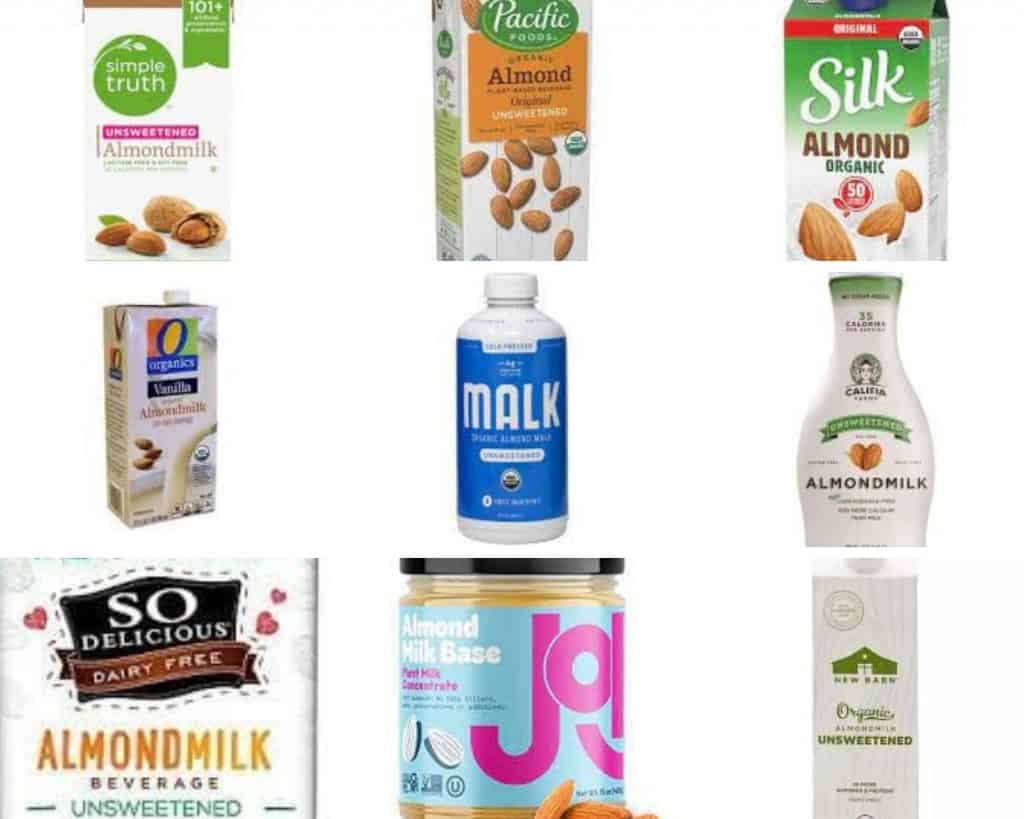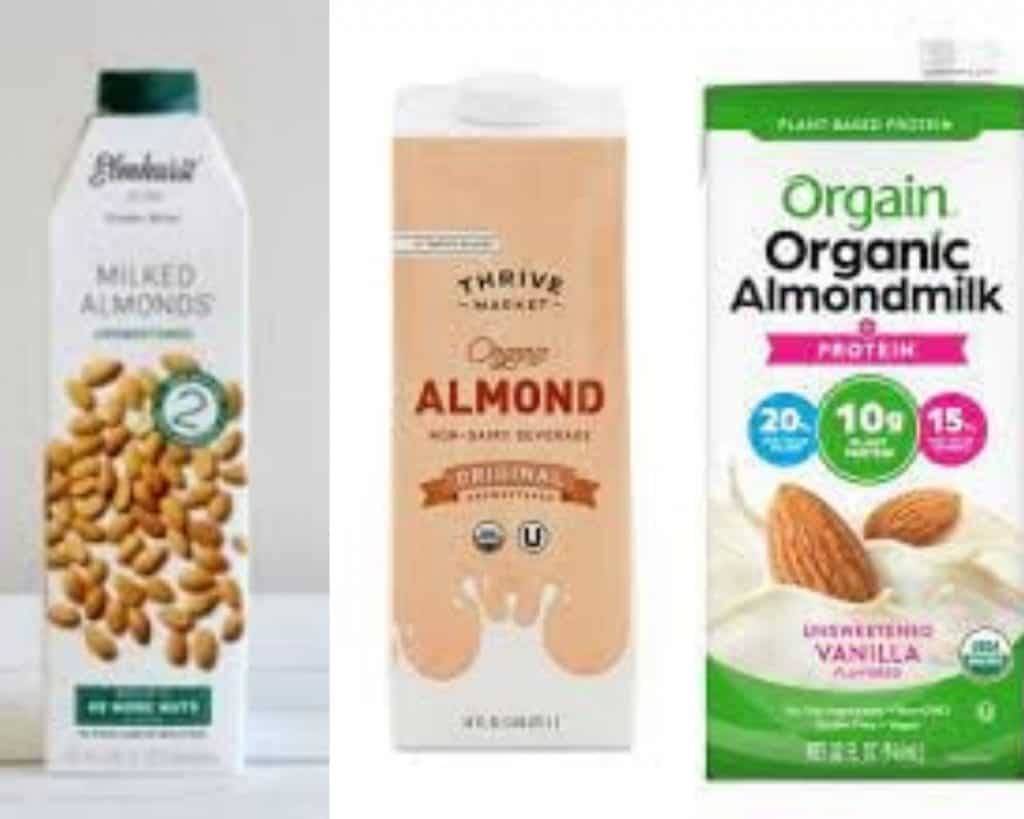 What About Almond Milk That Isn't Labeled Gluten Free?
If a brand of almond milk is not labeled gluten free and you would still like to try it here is what to do. Not necessarily all almond milk brands are labeled gluten free, but this doesn't mean that they aren't. Simply check the label for common ingredients that contain gluten. If you don't see any, you're likely good to go!
Here is a list of common food additives that contain gluten:
Wheat (bran, germ and starch)
Malt (since it's made from barley)
Cracker Meal
Soy Sauce
Kinkel
Vital Gluten
Wheatgerm
Sulfosccinate
Seitan
Rusk
Teriyaki Sauce
Durum
Semolina
Einkorn
Emmer
Farina triticale
Farro or faro (spelt)
Graham flour
Hydrolyzed wheat protein
Modified wheat starch
Seitan
Ingredients to Avoid in Gluten Free Almond Milk Brands
While all of the brands listed above are gluten free, if you want to buy the healthiest almond milk possible look for brands that don't have the following ingredients.
Added Sugar – It's best to limit the amount of sugar you consume from almond milk since companies tend to put a lot of sugar into the milk to make it taste better. Instead opt for brands of almond milk that are labeled (unsweetened) or (no sugar added). If you check the label you'll see what type of sugar is (added sugar). Types of sugar that are commonly added to almond milk include:

Cane Sugar
Cane Syrup
Cane Juice
Honey
Carrageenan – Carrageenan is frequently added to imitation and regular dairy products like nut milks, creamer, cottage cheese, ice cream and commonly Almond Milk. If you don't know what carrageenan is, it's a seaweed extract that is used to keep emulsions stable. Which is why it's commonly found in blended food products.
Carrageenan is considered unsafe to consume by many because it's correlated with stomach symptoms like IBS, inflammation, bloating, colon cancer, glucose intolerance and allergies. If you are on a gluten free diet because you have celiac disease you should definitely avoid carrageenan.
Other Emulsifiers – Carrageenan maybe the worst offender but it isn't the only one. Other emulsifiers used in almond milk include guar gum, locust bean gum, gellan gum and lecithin. These emulsifiers are associated with digestive issues and diseases like carrageenan.
Which Is The Healthiest Bought Almond Milk Brand?
My favorite brand of almond milk is Jhttps://amzn.to/3Ec2l2Goi because it's completely free of preservatives, emusifiers, added sugar and gum. You just take a teaspoon of it and mix it with water. It's also Non GMO, Vegan, Kosher and Organic, but if you rather not do any work in the kitchen, my other top choice is…
Malk Unsweetened Pure Almond Milk: Malk is a great brand because it only contains three ingredients, almonds, sea salt and water. Therefore, it's just as good as making it yourself!
What milks are gluten free?
All regular dairy milk is naturally gluten free unless it has been flavored with an ingredient containing gluten. A majority of plant based milks made from nuts are gluten free including almond, soy, rice, hemp, cashew, and macadamia nuts.

Alternatively oat milk can be gluten free but only drink it if it is labeled gluten free because oats are often cross contaminated with gluten. Unless the oats used to make the almond milk are certified gluten free.
Is almond milk ok for a gluten free diet?
Almond milk is a O.K for someone on a gluten free diet to drink. Almonds are naturally gluten free and so most store bought brands of almond milk are also gluten free. Always check the labels for common additives that have gluten including yeast extracts, natural flavors, rice syrup and ingredients made from rye, barley or wheat. Check the section on additives that have gluten for a full list below.
What milk is not gluten free?
Milks that are flavored are typically not gluten. While some of them are make sure to check the labels. More often than not, oat milk isn't gluten free because oats are often cross contaminated with gluten. So stay away unless they're labeled gluten free.
Can you drink almond milk with celiac disease?
Yes! Almond milk is an excellent milk to drink for people with celiac disease. Since almond milk is gluten free and naturally lactose free. Those on a celiac diet need to avoid gluten at all costs, even in trace amounts! On the other hand many people with celiac are also lactose intolerant. Which makes it hard for them to consume regular dairy products.

Essentially almond milk is perfect for those with celiac because it's gluten and lactose free. Just make sure to only drink almond milk that is labeled gluten free since labeled gluten free almond milk is guaranteed to have less then 20ppm of gluten present.
Is Simply Almond Milk Gluten Free?
Yes! Simply Almond Milk is labeled gluten free and can therefore be enjoyed by those on a gluten free diet.
is 365 Whole Foods Brand almond milk gluten free?
Yes! 365 Whole Foods brand almond milk is labeled gluten free.
Why Make Homemade Gluten Free Almond Milk?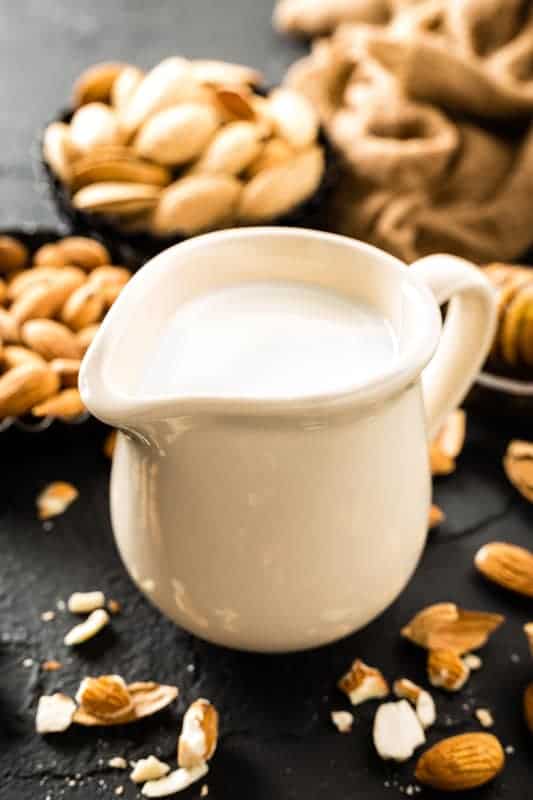 This milk is slightly sweet, thick and delicious with a velvety flavor. With the addition of a nut milk bag which is necessary for straining the almonds from the water, this recipe only takes 10 minutes! It produces a quart of milk (that's four cups). This should be enough to last you a week.
Ingredients For Gluten Free Almond Milk
How to Make Homemade Almond Milk
Place the almonds, dates, water and sea salt in a blender. Blend on high for 1-2 minutes or until almonds are broken apart and the milk appears white.
Pour mixture into a nut milk bag and squeeze nut milk out of pulp. Discard almond pulp or save it for another recipe. Put in your favorite milk jug and enjoy!
How to Serve Gluten Free Almond Milk
You can use almond milk as a replacement for regular milk in any recipe called for it. I've successfully used almond milk instead of regular milk in baking recipes. It has worked well for me in cupcakes, muffins, scones and cookies. But you can also use almond milk to bake cakes and other treats.
Almond milk is good in coffee but for the creamiest coffee use home made or get an almond milk creamer because almond milk can curdle in hot liquids.
Almond milk also works well in gluten free smoothies. The only time you should not replace almond milk with regular milk is if you're cooking for someone who is allergic to nuts. In that case you should use rice milk instead.
How to Store Homemade Almond Milk
Homemade almond milk will stay fresh in the fridge for up to 7 days. I like to keep a glass pitcher of milk in the fridge. My favorite containers look like old milk bottles with stoppers on the top. It reminds me of the old days when people used to get their milk delivered to them in glass jars.
I like these reusable glass milk bottles because they have a good rubber stopper on top and they aren't too tall so they will fit on the shelf of the fridge.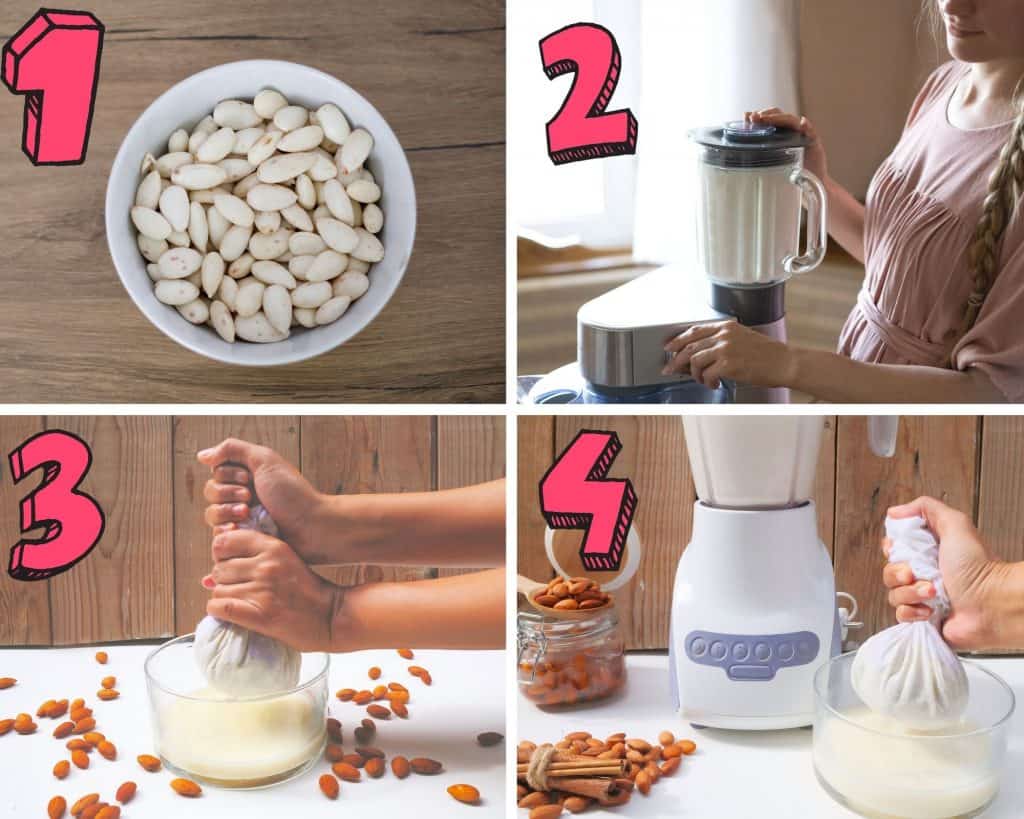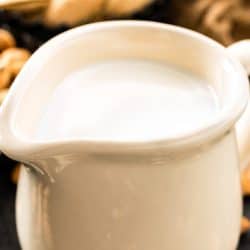 Gluten Free Homemade Almond Milk
Delicious and quick velvety homemade raw almond milk that is naturally gluten free.
Print
Pin
Rate
Instructions
Emulsify all ingredients in a blender.

Pour mixture into a nut milk bag and squeeze nut milk out of pulp. Discard almond pulp.

Put in your favorite milk jug and enjoy!
Notes
The recipe still works if you don't soak the nuts, but you get much more out of the recipe if you soak the almonds.
Nutrition
Calories:
164
kcal
|
Carbohydrates:
8
g
|
Protein:
6
g
|
Fat:
13
g
|
Saturated Fat:
1
g
|
Polyunsaturated Fat:
3
g
|
Monounsaturated Fat:
8
g
|
Trans Fat:
1
g
|
Sodium:
6
mg
|
Potassium:
212
mg
|
Fiber:
4
g
|
Sugar:
3
g
|
Vitamin A:
1
IU
|
Vitamin C:
1
mg
|
Calcium:
76
mg
|
Iron:
1
mg