Have you ever picked up a can of tomato soup and wondered, "Is tomato soup gluten free?" If you have celiac disease or are on a gluten free diet, chances are you have to ask yourself this question every time you go to the supermarket. After reading this quick article you'll know exactly which tomato soups are gluten free and which aren't.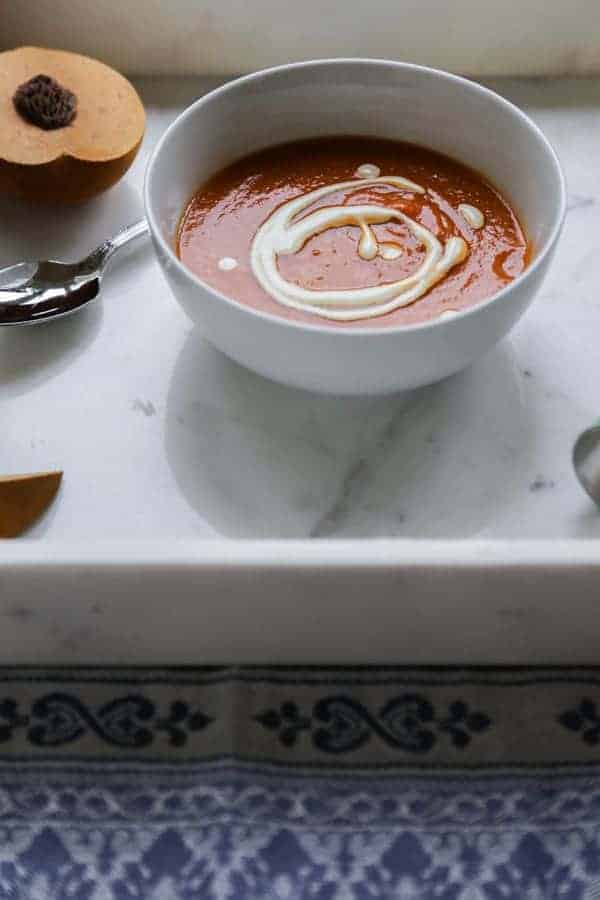 This post may contain affiliate links. As an Amazon Associate I earn from qualifying purchases at no cost to you. See my Affiliate Disclosure to read my policy and more about affiliate links.
Table of Contents
You will be able to identify gluten containing ingredients and know how to make the tastiest gluten free tomato soup at home! So weather you choose to eat canned, boxed or homemade gluten free tomato soup you can be rest assured that you'll know exactly how to make sure it's gluten free!
Let's face it, there is nothing more satisfying then a piping hot bowl of tomato soup and a grilled cheese sandwich on a blustery day. Since I was a kid I've enjoyed a bowl of pureed tomato soup and a good book on a snowy day.
There are enough foods to worry about on a gluten free diet already but unfortunately soup is one of those foods where gluten can easily be hiding in the ingredient list. So you still have to pay attention to labels and ingredient lists when buying all kinds of soups, including tomato soup!
How to Tell If Soup is Gluten Free Or Not
The best way to tell if soup is gluten free or not is to look at the label. If the soup is labeled gluten free then it's definitely safe for you to eat. If there is no gluten free label check the ingredient list for anything that says "wheat." If you see wheat mentioned then it is not gluten free.
Is Tomato Soup Gluten Free?
Canned tomato soup generally is not gluten free beacuse they usually have added wheat in them. However you can find plenty of brands of tomato soup that are gluten free. You just need to check the ingredient list for "wheat" or common wheat additives. You can also look for the "Certified Gluten-Free" label on the front.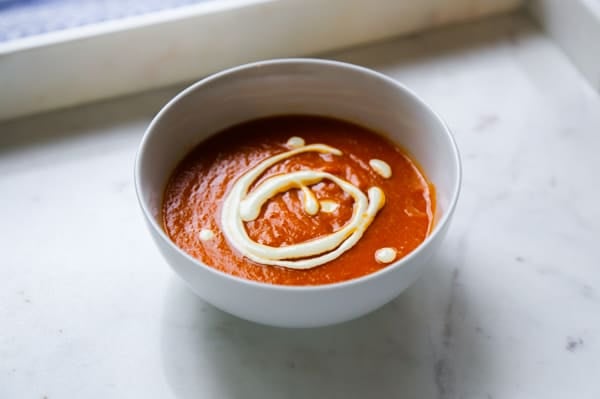 Looking for the FDA Approved certified gluten-free label which is always clearly marked on the front of the package is the easiest way to distinguish gluten free tomato soup from tomato soup that has gluten in it.
According to the Food and Drug Administration a food must contain less then 20 ppm (parts per million) of gluten to have a gluten free label on it. It is also illegal not to put, "wheat" on the nutrition label of any food that contains wheat.
With laws like this in the United States people on a gluten free diet can at least shop with the peace of mind that they won't be poisoned by unaccounted for gluten in their pre-packaged food items.
Easy Gluten Free Tomato Soup Recipe
There's nothing like homemade tomato soup. Since most pre-packaged tomato soups are not gluten free you might as well make your own! If you're a beginner cook when it comes to making homemade soups then tomato soup is a great recipe to start with. Tomato soup is easy to make and uses common ingredients that are inexpensive.
Tomato soup from scratch is also quick and can be made from both fresh or canned tomatoes. So you can make it any night of the week and at any time of the year! Even when tomatoes are out of season. If you're looking for a tasty and easy homemade gluten free tomato soup recipe then check out this version. I love my tomato soup recipe because it's gluten free, dairy free, easy to make and ultra flavorful because I use a secret ingredient. Check out the recipe here!
Here are the steps to making homemade tomato soup.
In a large soup pot over a medium low flame melt butter or oil. Then sweat the onions until they're translucent (5-7 minutes).
Bloom the spices by adding the garlic, cumin and chili pepper. Sauté until fragrant (1-3 min) over a medium flame.
Add the fresh tomatoes and canned fire roasted tomatoes, sauté until the tomatoes are soft (10 min) and season with salt.
Add the stock and allow the soup to simmer for (20-25 min) partially covered.
Once the soup is cool enough to handle, blend in the blender with the butter and then return to the pot.
Stir in Rice Wine Vinegar and finish with salt and pepper to taste.
For the full recipe check out the post here!
What's In Gluten Free Tomato Soup?
Gluten free tomato soup is predominantly made of the following ingredients:
Onions
Garlic
Canned Tomatoes
Fresh Tomatoes
Vegetable Stock or Chicken Stock
Heavy Cream
Other Spices
Of course, these are common ingredients used in tomato soup but each recipe will have it's own variations.
Which Brands of Tomato Soup Are Gluten Free?
Rao's Tomato Soup
Tomato and Basil Soup with Fresh Calabrian Basil by Zuppa Rustica
Are Canned Soups Gluten Free?
Some canned soups are gluten free and some are not. Always check the label to see if it says gluten free. If there is no gluten-free label on the front of the can, flip it over and check the ingredients. If you see wheat listed anywhere then you should assume that that canned soup is not gluten free.
How to Pick The Healthiest Tomato Soup Brands
If you have to eat a can of tomato soup instead of making your own homemade gluten free tomato soup. Then you should at least take a look at the label and make sure that you're not only a gluten free brand but also one that is healthy. Most tomato soup brands are loaded with sugar, sodium and processed ingredients that are harmful to your health.
When searching for your new favorite gluten-free soup, here are a couple things to keep in mind:
Sodium Content: Processed soups have a high sodium content. When looking at the sodium content don't forget to see how big the serving size is. Remember that the sodium content listed on the nutrition label is for one serving which is usually not the entire can. You need to multiply the sodium amount by the servings per container to determine exactly how much sodium is in the tomato soup. It's important to limit sodium intake for people with kidney disease, heart disease, edema and high blood pressure.
Added Sugar: Companies like to add sugar to food because children love sweet flavors. They know that if they make the food sweet then people will like it more and will buy it again. While I understand why they want to make their soups taste good. Companies with the well being of their clients in mind will opt to put less sugar in their gluten free tomato soup.
Dairy: Many of you who are on a gluten free diet are also on a dairy free diet as well. It's not uncommon for creamy tomato soup brands to include dairy in their soup. If they don't have dairy they usually have soy like soy lecithin which is used to thicken the soup and keep the emulsification in tact.
Does Heinz Tomato Soup Gluten Free?
Believe it or not Heinz Tomato Soup is gluten free. However it is not dairy free. If you're in a pinch and need to reach for a can of tomato soup then Heinz is a fine choice. Upon looking at the ingredient list for Heinz Tomato Soup I realize that it's much healthier then Campbell's tomato soup.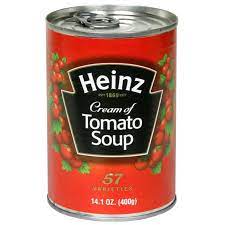 Ingredients for Heinz Tomato Soup: Tomatoes (89%), Water, Modified Cornflour, Sugar, Rapeseed Oil, Dried Skimmed Milk, Salt, Cream (Milk), Milk Proteins, Acidity Regulator – Citric Acid, Spice Extracts, Herb Extract.
Again remember that Heinz soup is gluten free but it is not dairy free. If you need dairy free tomato soup then make some at home or look for another option!
Yes, Campbells Tomato Soup has gluten in it! So if you are on a gluten free diet you cannot eat Campbells Tomato Soup. On their website they say, "We offer nearly 100 different products across our portfolio that are gluten free. These include Campbell's Tomato Juice and most of our Pace salsas, Prego Italian sauces, Swanson broths and stocks and V8 juices." The ingredients in Campbells tomato soup are generally unhealthy because they contain high fructose corn syrup and wheat flour.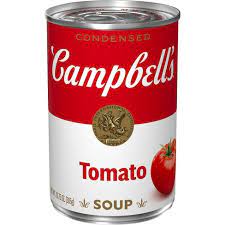 Is Panera Tomato Soup gluten free? Quick answer: Yes, the Panera Tomato Soup is a packaged soup that is gluten free and vegetarian.
Is Great Value Tomato Soup Gluten Free?
Great Value Condensed Tomato Soup has a big gluten-free label on it! Keep in mind that it it has soy lecicin in it so if you're on an inflamatory diet then you will want to
Is Progresso Tomato Soup Gluten Free?
Progresso Progresso Vegetable Classics Tomato Basil Soup is gluten free and easily found in supermarkets like Shoprite and Publix across the United States.
Ingredients in Progresso Progresso Vegetable Classics Tomato Basil Soup include: Vegetarian Ingredients: Tomato Puree (Water, Tomato Paste), Water, Contains Less Than 2% Of: Corn Syrup Solids, Corn Starch, Sugar, Soybean Oil, Modified Food Starch, Salt, Potassium Chloride, Garlic Powder, Dried Parsley, Basil, Natural Flavor, Citric Acid, Ascorbic Acid, Soy Lecithin.
More Gluten Free Soup Recipes