Are sweet potatoes gluten free? The quick answer is yes, unprocessed sweet potatoes in their natural state are 100% gluten free. All root vegetables are gluten free since the only type of plant that contains gluten like barley, wheat and rye.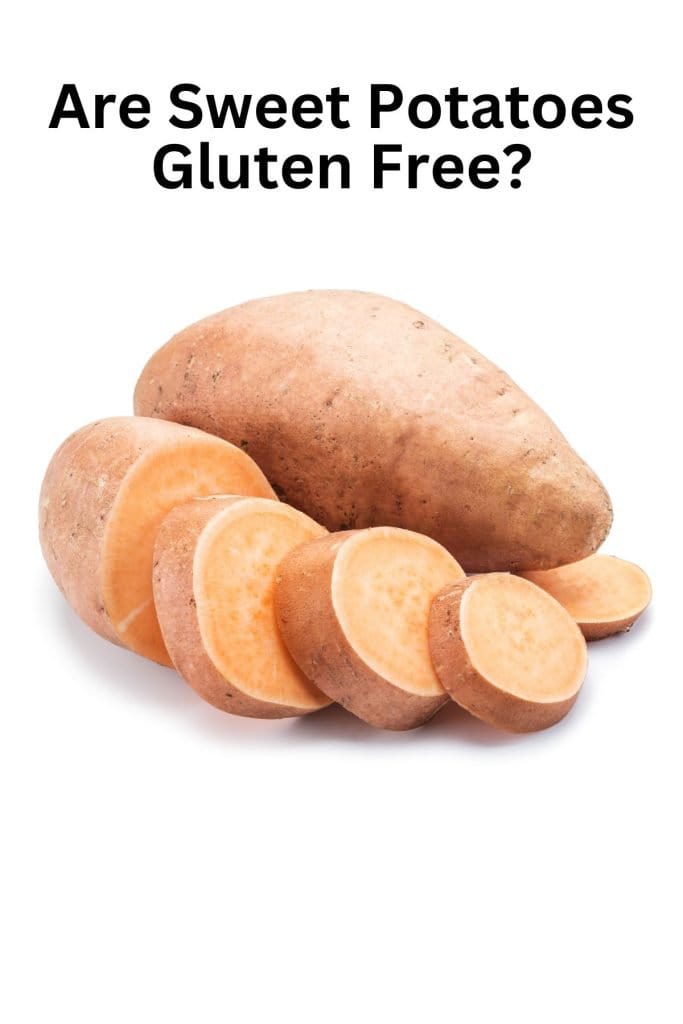 This post may contain affiliate links. As an Amazon Associate I earn from qualifying purchases at no cost to you. See my Affiliate Disclosure to read my policy and more about affiliate links.
Are Sweet Potatoes Gluten Free?
Sweet potatoes, with their vibrant flavors and undeniable nutritional benefits, are a favorite in many kitchens. But for those with gluten concerns, it's important to know: Are sweet potatoes gluten-free?
In this blog post, we'll give you a straightforward answer and explain why sweet potatoes are a safe and delicious choice for anyone avoiding gluten. No need for confusion—let's explore sweet potatoes' gluten-free status, dispel any doubts, and even share some mouthwatering gluten-free sweet potato recipes. Get ready to enjoy this gluten-free delight!
Why Are Sweet Potato Fries Not Gluten Free?
Well the truth is that some sweet potato fries are gluten free and others aren't. Of course, sweet potatoes are naturally gluten free so the only reason that sweet potato fries wouldn't be gluten free as well are:
That the fries were deep fried in a fryer that also fries breaded products. In order for sweet potato fries to be gluten free they would need to be deep fried in a gluten free designated deep fryer where bread products weren't fried.
The other reason is that the sweet potatoes may be covered in some sort of wheat coating before they're fried or roasted like panino bread crumbs or flour.
So sweet potato fries that are fried in their own gluten free fryer, baked or roasted made without wheat flour or panko are gluten free.
Are White Potatoes and Sweet Potatoes Gluten-Free?
Yes both white potatoes and sweet potatoes are both gluten-free. The truth is all varieties of potatoes are gluten free, white, red, yellow, purple sweet potatoes and yams too!
Can Celiacs Have Sweet Potato Fries?
Yes celiacs can have sweet potato fries as long as:
they were fried in a gluten free fryer that isn't being used to fry products with wheat.
No wheat flour or panko bread crumbs were used to coat them before frying.
They were roasted.
They are baked.
Sweet potatoes are one of the healthiest carbs you can eat!
Sweet potatoes are naturally fat free and high in healthy carbohydrates
Considered to be a high fiber food, sweet potatoes can help maintain healthy bowel movements and a good gut microbiome.
Sweet potatoes are high in vitamins A and C
Are Yams Gluten Free?
Yams are a type of starchy root vegetable and like sweet potatoes, they are gluten free. Be careful when buying processed yam products or ordering yams out at a restaurant. Ask the waiter if they are gluten free just in case they were cross contaminated with wheat products. Also always check the labels on the yam products you buy to look for the word wheat.
Legally in the United States any food product that contains gluten in it must say the word wheat somewhere in the ingredients.
What Can You Make With Sweet Potatoes?
Sweet potatoes are incredibly versatile and can be used in a wide variety of delicious dishes. Here are some popular options:
Mashed Sweet Potatoes: Cook and mash sweet potatoes with a bit of butter, cinnamon, and a touch of brown sugar for a sweet and creamy side dish.
Roasted Sweet Potatoes: Toss sweet potato chunks with olive oil, salt, pepper, and your favorite seasonings, then roast them in the oven until they're crispy and caramelized.
Sweet Potato Fries: Slice sweet potatoes into fries, season them, and bake or fry until they're crispy on the outside and tender on the inside.
Sweet Potato Casserole: A classic Thanksgiving dish, sweet potato casserole combines mashed sweet potatoes with a sweet and crunchy topping made from brown sugar, pecans, and marshmallows.
Sweet Potato Soup: Blend cooked sweet potatoes with broth and spices to create a hearty and comforting soup.
Sweet Potato Hash: Dice sweet potatoes and sauté them with onions, bell peppers, and your choice of protein (like bacon or sausage) for a flavorful breakfast or brunch dish.
Sweet Potato Pancakes: Grate sweet potatoes and mix them into your pancake batter for a twist on traditional pancakes.
Sweet Potato Salad: Cube and roast sweet potatoes, then use them in a salad with fresh greens, your favorite veggies, and a tasty vinaigrette.
Sweet Potato Tacos: Fill tortillas with roasted sweet potato slices, black beans, avocado, salsa, and your choice of protein for a satisfying and nutritious taco.
Sweet Potato Curry: Add sweet potato chunks to a fragrant curry sauce made with coconut milk and spices for a rich and flavorful meal.
Sweet Potato Gnocchi: Make a gluten-free gnocchi by using sweet potatoes as the base, then toss them in your favorite sauce.
Stuffed Sweet Potatoes: Hollow out baked sweet potatoes and fill them with a variety of fillings like black beans, cheese, avocado, or ground meat.
Sweet Potato Desserts: Use sweet potatoes in desserts like sweet potato pie, sweet potato brownies, or sweet potato pudding for a unique twist on classic sweets.
Are Roasted Sweet Potatoes Gluten Free?
Roasted and baked sweet potatoes are gluten free. Cooking potatoes doesn't change their gluten content at all. It only makes them softer. If the baked sweet potatoes are topped with special toppings like sour cream, cheese or butter they are still gluten free. But watch out for toppings that have gluten additives in them.
Are Mashed Sweet Potatoes Gluten Free?
Most mashed sweet potatoes are gluten free. Mashed potatoes are typically made with potatoes, butter and milk. No wheat flour is used to make mashed potatoes.
What About Sweet Potato Fries?
Sweet potato fries are only gluten free if they've been fried in a gluten free air fryer that isn't used to fry bread products and if no gluten containing ingredient was used to coat the fries prior to being fried.
Is Sweet Potato Gnocchi Gluten Free?
Sweet potato gnocchi is only gluten free if it's made with gluten free flour. Most traditional gnocchi is not gluten free because it's made with mashed potatoes and wheat flour. You should never assume that gnocchi is gluten free unless it's labeled gluten free. This means that the gnocchi was made with gluten free flour instead of traditional wheat flour.
Gluten Free Sweet Potato Recipes
If this article hasn't gotten you in the mood for sweet potatoes then I don't know what will! Check out some of my favorite gluten free sweet potato recipes from Eating Works Blog!
Air Fryer Sweet Potato Toast
As a fan of healthy and delicious breakfast options, I'm excited to share my favorite recipe for Air Fryer Sweet Potato Toast. This recipe is a great way to start your day, and it's easy to make, gluten-free, and full of flavor.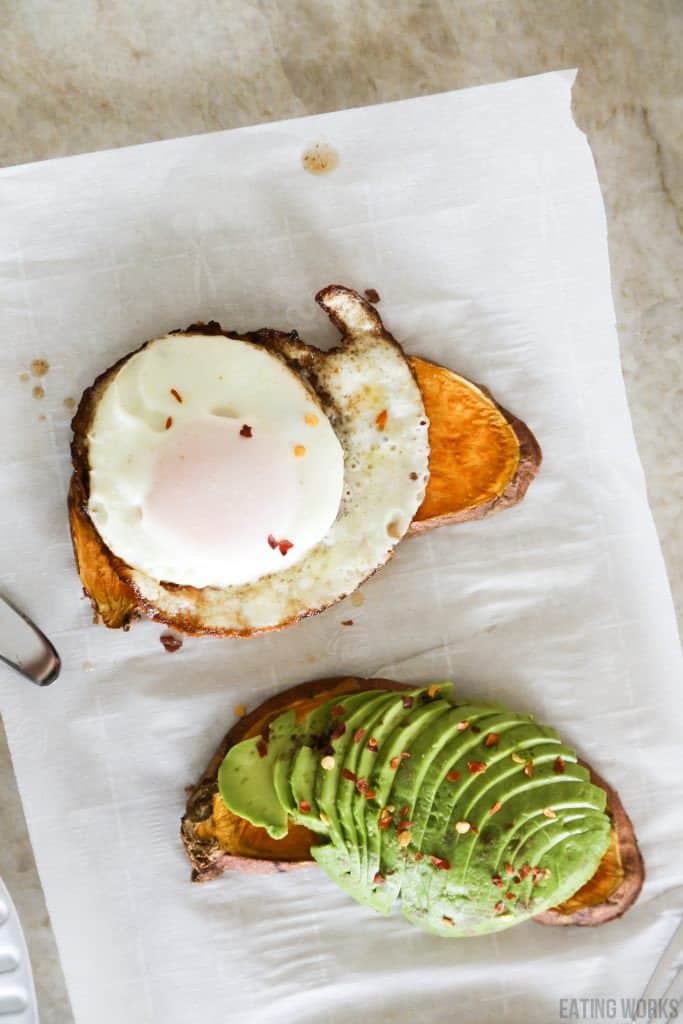 Gluten Free Sweet Potato and Pumpkin Soup
This Jamie Oliver inspired creamy pumpkin and sweet potato soup is bound to be your next favorite fall weather soup recipe.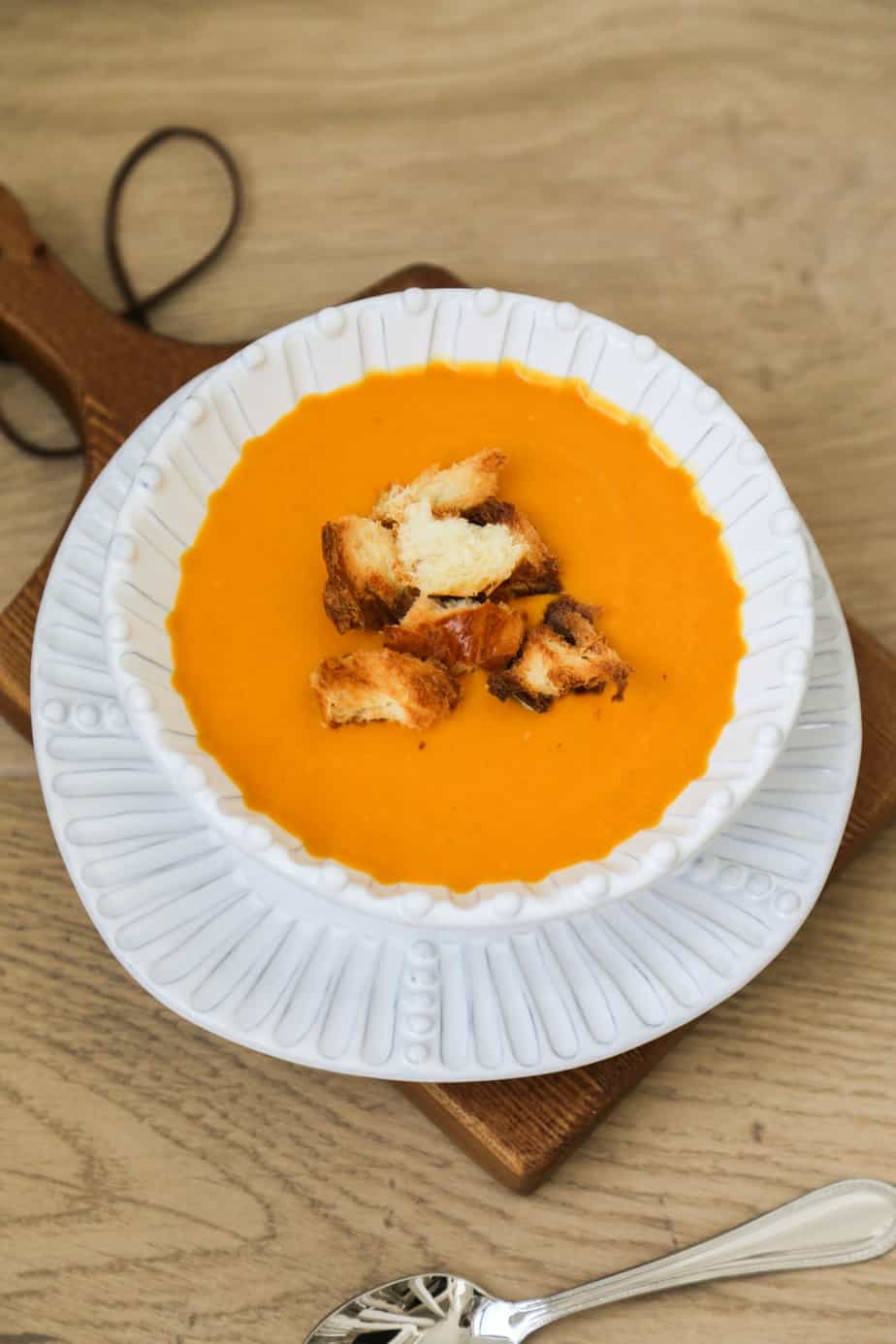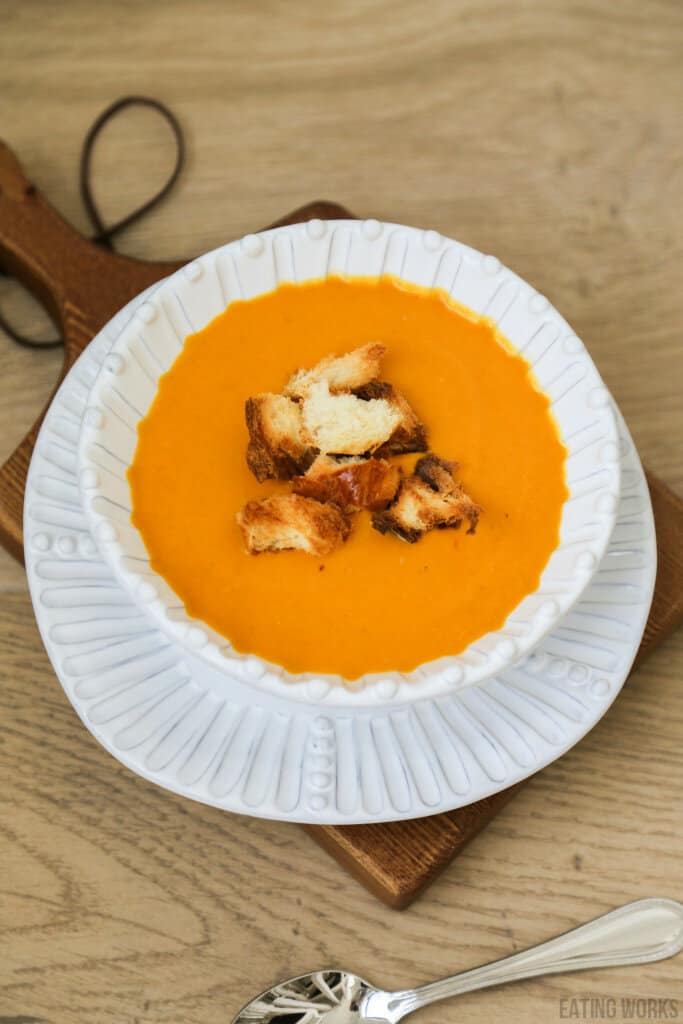 Gluten Free Sweet Potato Gnocchi
This is the easiest gluten free sweet potato gnocchi recipe you'll ever find because it has only 2 ingredients. It's also the cleanest gnocchi recipe on the internet because it has no eggs and its grain free! Best part is that it takes only a few minutes to prepare and its FUN to make. How is that even possible? Read on to find out!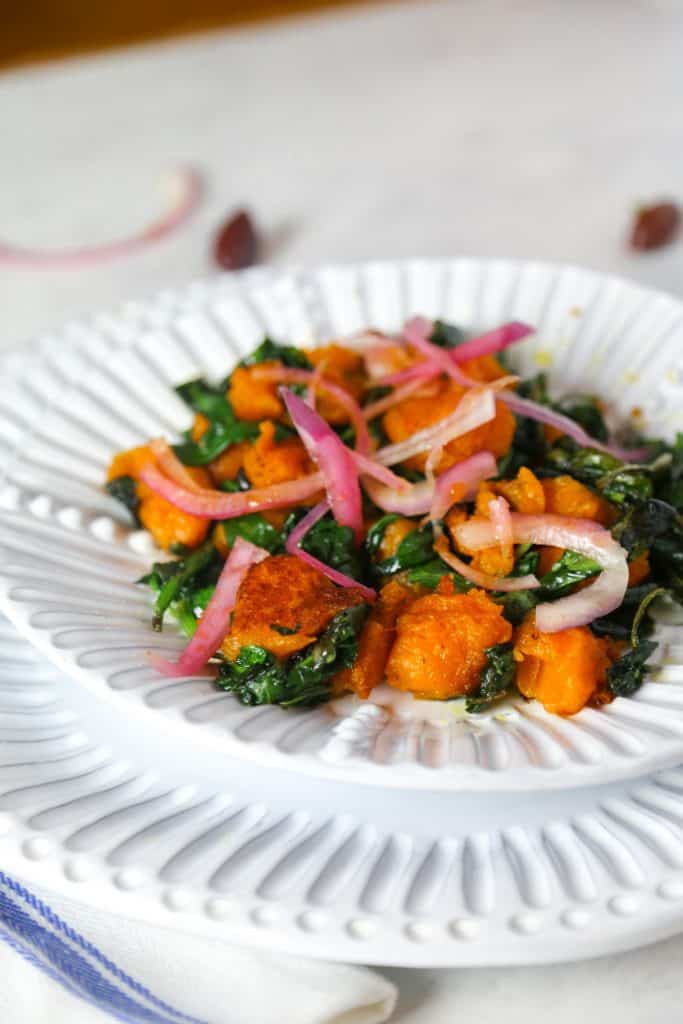 Healthy Sweet Potato and Black Bean Tacos
These sweet potato and black bean tacos are out of this world. THey're so filling and have tons of flavor from the pickled jalapeños! Best part is they're vegan and gluten free too.
Vegan Stuffed Sweet Potatoes
This recipe for Vegan Stuffed Sweet Potatoes is perfect for days when you're really hungry! I love that they're paleo friendly and grain free! Not to mention they taste great! The black bean salsa, guacamole and cashew sour cream will remind you of your favorite Mexican food!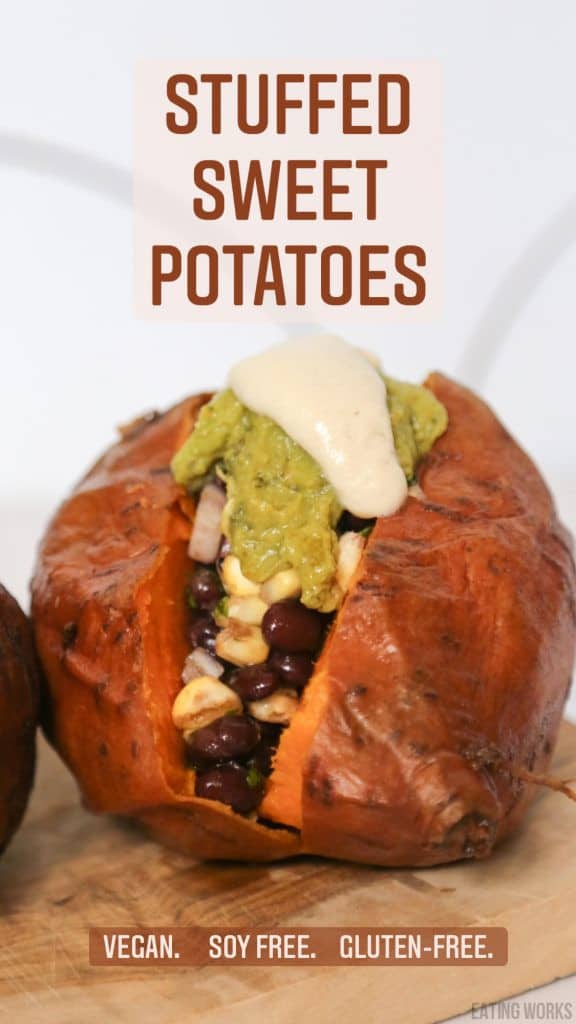 Are Sweet Potatoes Good for Diarrhea?
Yes sweet potatoes are a great food to eat if you have diarrhea. If you have diarrhea it's best to eat your sweet potatoes steamed or roasted without butter. Since sweet potatoes are so soft they are nourishing and easy to digest! Sweet potatoes are also naturally low in fat. High fat foods can irritate your stomach when you have diarrhea.