Now the question, "Are Popsicles Vegan?" can have a double meaning. This is because the word popsicle is actually a type of food and a brand name itself. The double meaning of the word popsicle is a great example of American marketing. Kind of how people used to call making a paper copy a Xerox. Even though Xerox was the name of a brand of copy machines and not what a copy was actually called?
Are Popsicles Vegan In General?
In terms of the type of food: Asking, "Are popsicles vegan?" is like asking if guacamole is spicy. While a popsicle is one specific type of food. AKA a popsicle is a piece of flavored ice or ice cream on a stick. It can be made with any type of ice or ice cream. So there can be as many different types of popsicles as there are ice cream. This means popsicles can be vegan or non-vegan depending on whether or not they were made with vegan ingredients or from foods that are derived from animals.
Are Popsicle Brand Popsicles Vegan?
In terms of the popsicle brand Popsicle according to the Popsicle website they are not vegan certified. While non of the ingredients in popsicles jump out to me as coming from animals, the facilities could also process animal products causing cross contamination.
The Popsicle Website States, "At this time, all Popsicle® products are not considered to be vegan-certified, but we're working hard on the process to earn this certification. In the meantime, we recommend always checking the nutrition facts, ingredient list, and any "may contain" statements on our boxes before consuming."
Which Popsicles Are Vegan?
Most fruit based popsicles are vegan because they are made with fruit, water and sugar. However you always need to check the labels. If you're talking about a homemade popsicle recipe always check the ingredients.
What Ingredients Are Commonly Found In Vegan Popsicles?
Vegan popsicles are usually made with variations of the following ingredients:
Sugar
Non-Dairy Milk like Oat, Cashew, Almond, Soy, Rice or Coconut milk.
Non-Dairy Ice Cream like avocado, coconut, cashew, almond or soy ice cream.
Fruit – Sweet fruits like Mangos, Cherries, Oranges, Watermelon and more.
Lemons
Limes
Water
Coconut Water
Stevia
Artificial Sweeteners
Artificial Colors
Preservatives
Which Ingredients Are Commonly Used In Non-Vegan Popsicles?
Dairy
Ice Cream
Milk
Cream
Yogurt
Cream Cheese
Which Brands of Popsicles Are Vegan
Annie's Organics is a company you're probably already familiar with. They carry tons of clean kids foods like Mac and Cheese, Bunny Grams and Gummy Bears. Not surprisingly, Annie's also has a line of Vegan Friendly ice pops that are fruit based.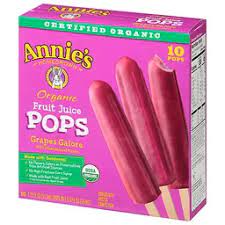 I love that Chloe's Fruit is a company founded by another mom from New York with the same last name as mine, Epstein! Another great reason to love Chloe's fruit is that all of their products are vegan and gluten-free.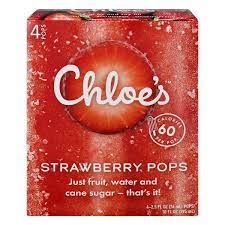 Edy's Fruit Bars
Edy's Fruit Bars are one of the most widely available vegan popsicle brands. You can find them in almost any pharmacy with a freezer section.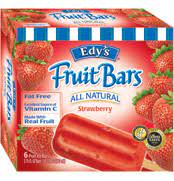 Good Pop popsicles are 100% plant based after they converted to a dairy-free company in 2020. Good Pop popsicles are also completely gluten-free.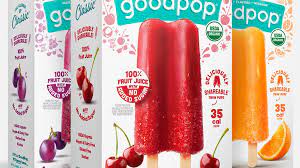 Jolly Llama is a smaller brand of popsicles that are all vegan and gluten-free. While many of their popsicles are soy free some of their products like the Sea Salt Caramel Jolly Llama® Cone has soy in it! Although their products are labeled vegan, the nutritional labels say that they are processed in a facility that processes wheat, soy and dairy.
Minute Maid Soft Frozen
Minute Maid Soft Frozen Ice pops taste just like the juice. My guess is that they took the same juice and froze it to sell ice pops, because the ingredients are exactly the same. I don't recommend buying Minute Maid pops or juice because they contain Maltodextrin which is harmful to your health. Maltodextrin is an artificial sweetener that raises your blood sugar even higher than regular sugar!
To learn more about why you should avoid Maltodextrin read the Maltodextrin section in this post I wrote on sugar free jello.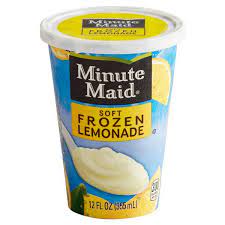 Modern Pop is a clean brand of popsicles made entirely from flash frozen fresh fruit. All of their popsicles are vegan and low calorie. They are one of the cleanest vegan popsicle brands on this list!
Mott's Freezer Bars are also a vegan friendly option. But just like the Minute Maid soft ice pops they have less than two percent of maltodextrin. If you are on a budget these pops are affordable. But again they have maltodextrin which is probably why they are so overly sweet. If you need to save money on groceries you can simply make homemade ice pops by freezing apple juice into a cup with a popsicle stick in it. Learn more about how to make homemade popsicles in this Vegan Mango Popsicle Post!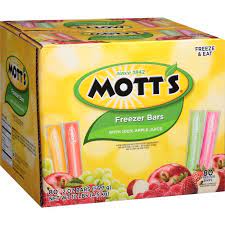 Outshine is a pretty big ice cream company that does offer some vegan fruit bar options. Some of their vegan options include tangerine and acai flavor.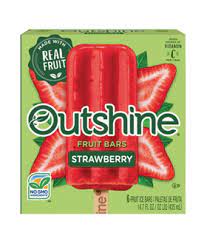 Ruby Rockets is a line of all gluten free popsicles made with real fruit. While not all of Ruby Rockets' ice pops are vegan their Frozen Pops and Dairy Free Yogurt Alternatives are vegan. The Coconut Milk Better Bars are not vegan.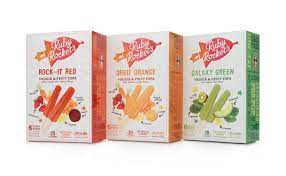 Whole Fruit Organic Frozen Juice Popsicles do offer vegan options. However, there are a lot of ingredients from concentrate along with artificial flavors and preservatives. I don't recommend buying this brand.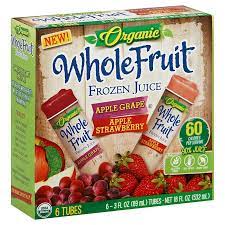 Which Popular Popsicle Brands Are Not Vegan?
Some of the brands I listed above are not entirely vegan! Outshine popsicles are not totally vegan.
What Are Some Homemade Vegan Popsicle Recipes?
If you want to make your own vegan popsicles check out this easy mango popsicle recipe. Homemade Mango Popsicles are the perfect gluten free summer snack to beat the heat and rehydrate this summer. You'll love them because this recipe has only 5 ingredients and takes just 5 minutes to prepare. Not to mention these mango pops are kid friendly and healthy!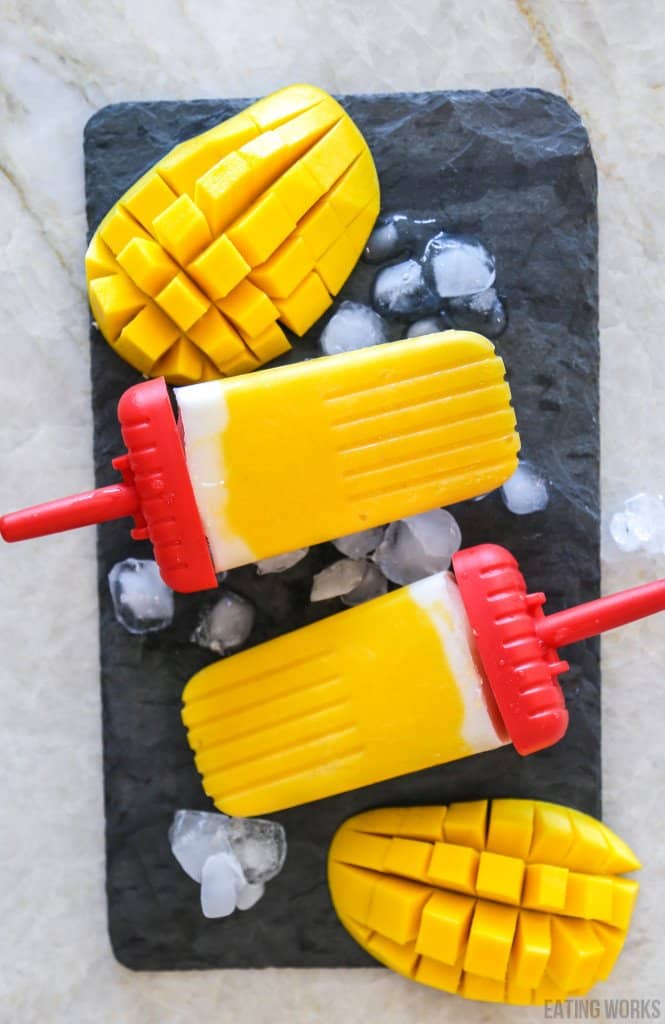 Can Dogs Eat Popsicles?
What ice pops are vegan?
The ice pops that are vegan are: Annie's, Chloe's Edy's, Outshine, Modern Pop, Jolly Llama, Minute Maid, Mott's, Whole Fruit Organic Frozen Juice and Good Pop.
Are outshine lime pops vegan?
Outshine Lime Pops are not labeled vegan, but after careful inspection of the ingredient label it's safe to say that they are vegan. These lime pops are made with water, sugar, lime juice concentrate, citric acid, natural flavors, lime pulp, guar gum, lemon peel, lime, carob bean gum, absorbic acid and lime oil.
Are all outshine brand popsicles vegan?
No not all outshine brand popsicles are vegan. Outshine is a pretty big ice cream company that does offer some vegan fruit bar options. Some of their vegan options include tangerine and acai flavor.
On a hot summer day, few things are more refreshing than eating a frozen treat like an healthy ice-cold popsicle, On the grass, the sand, the deck, or basically anywhere – no location is too unsuitable for healthy popsicles during the summer months. There's a difference between the types of popsicles that are just sugar, water, high fructose corn syrup and food coloring (store-bought popsicles) and those that will actually support our health (healthy homemade popsicles).
That's why I've curated the 20 Best Healthy Popsicle Recipes to help you beat the summer heat and nourish your best self. All of these healthy popsicles recipes are vegan and gluten free!
Check out this round up of 20 Best Healthy Popsicle Recipes.