You'll love this guilt free Vegan Sweet Potato Gnocchi, it has only 2 ingredients and absolutely no grains! Best part is that it takes only a few minutes to prepare and its FUN to make. How is that even possible you might ask? Read on to find out!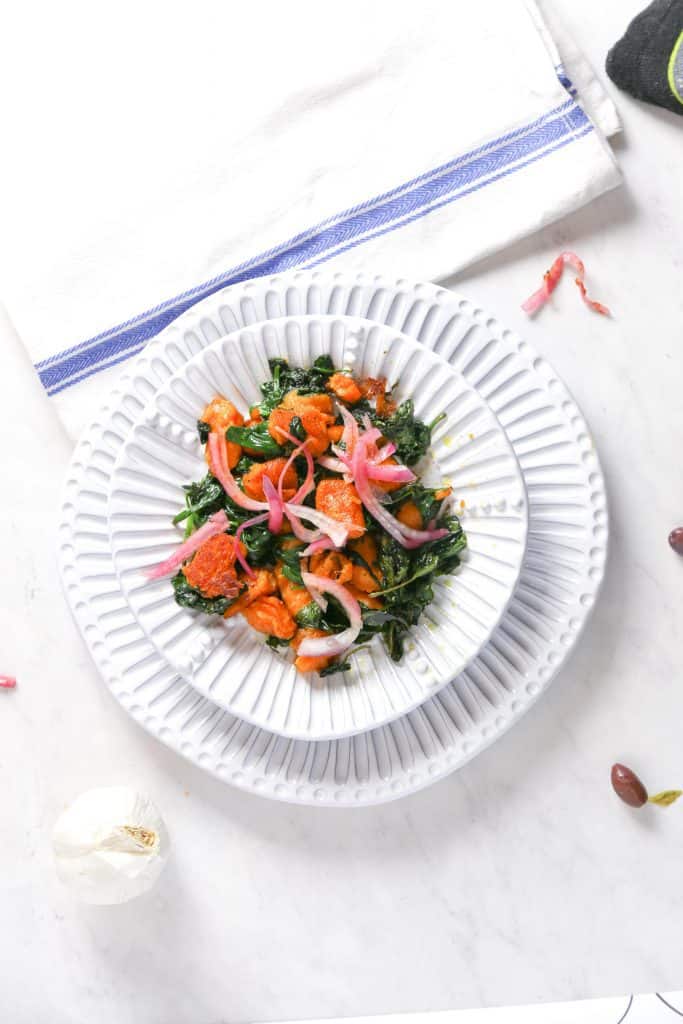 This post may contain affiliate links. As an Amazon Associate I earn from qualifying purchases at no cost to you. See my Affiliate Disclosure to read my policy and more about affiliate links.
There's nothing more comforting than a bowl of pasta 🍝 except perhaps a bowl of potato gnocchi. If there's anything I miss after going plant based its pizza and pasta. So this recipe is the perfect remedy. These little gnocchi balls are the ultimate comfort food. They're warm, pillowy and soft.
I love serving them in a brown butter sauce or vegan pesto. Sweet potato gnocchi also pairs well with green veggies like broccoli rabe, cauliflower, spinach and kale.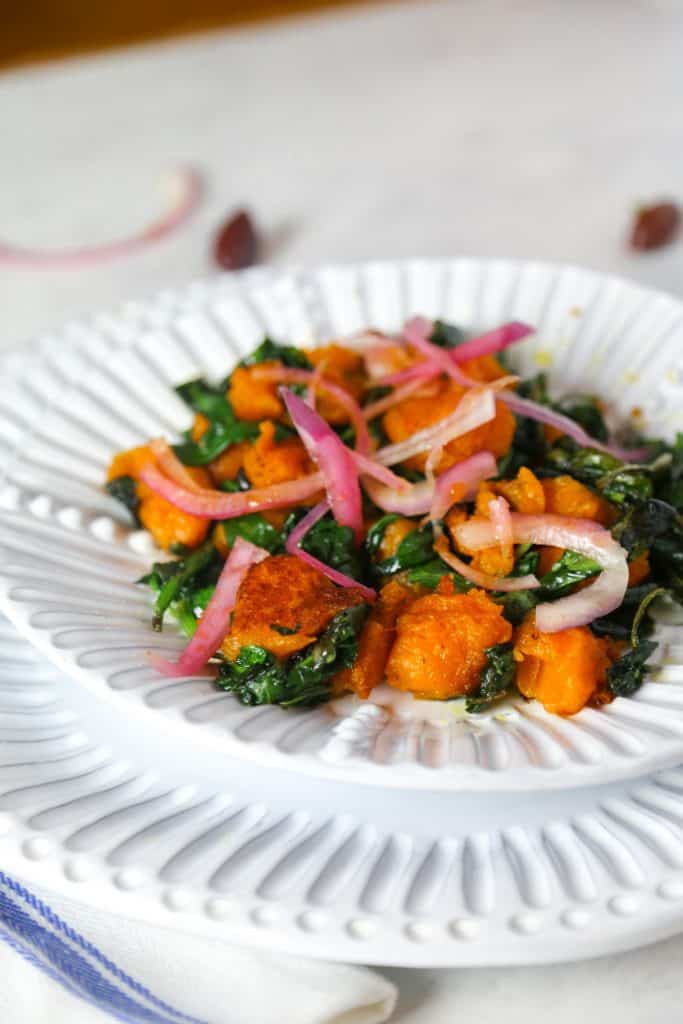 I love serving them in a brown butter sauce or vegan pesto. Sweet potato gnocchi also pairs well with green veggies like broccoli Rabb, cauliflower, spinach and kale.
If you've never made gnocchi before, fear not. I promise you it's easy. I first learned how to make gnocchi from my Italian culinary instructor Chef Richard LaMarita. At first, making gnocchi seemed complicated and intimidating. But Rich mashed the potatoes with ease and had rolled out the dough in a matter of minutes. They took only 3 minutes to boil and another 2 minutes to sauté with sauce.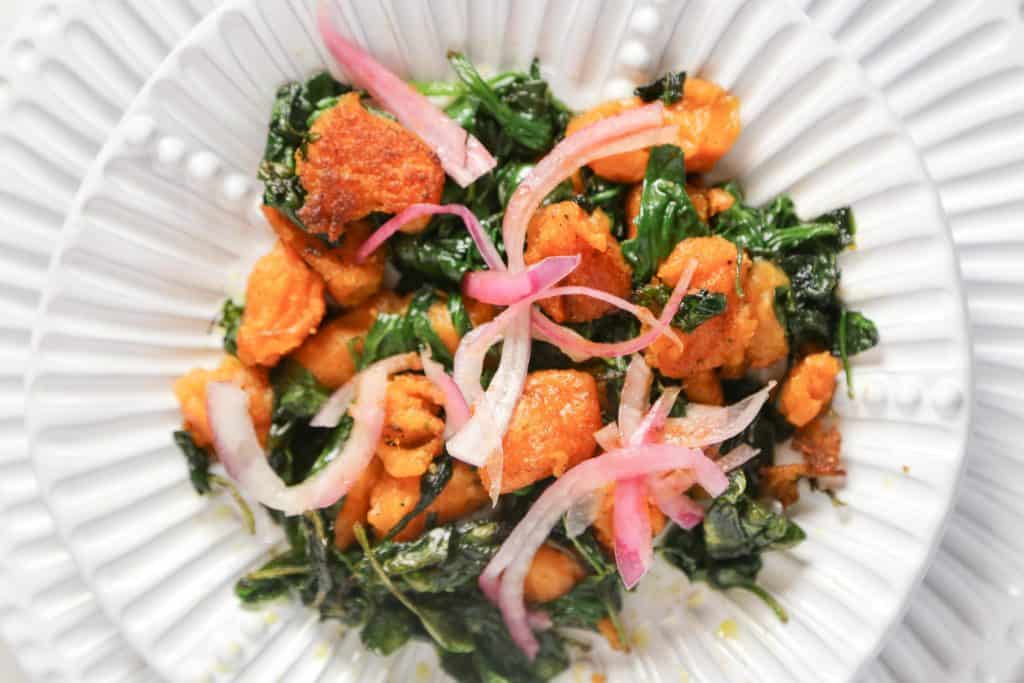 What an impressive easy meal! At that point I made a mental note to figure out how to make a grain free gnocchi. 5 years later I finally got to it. After much experimenting and consulting with other chefs, I've come up with the perfect combination for fluffy sweet potato gnocchi.
Whats in Grain Free Vegan Sweet Potato Gnocchi
The trick to making sweet potato gnocchi without any grains or gluten is to use cassava flour, Cassava flour is light and fluffy but still keeps the gnocchi together without any egg. Sure some of the dough will flake off while boiling, but that majority of the gnocchi stays intact. When sautéed with some sauce they're just as delicious and light as traditional gnocchi.
You only need two ingredients to make the gnocchi.
Sweet Potatoes
Cassava Flour
Equipment You'll Need
You don't need any fancy kitchen gadgets to make gnocchi. Sure you can spring for a traditional Gnocchi Board to etch grooves into each piece. But I find it easier to skip that process and simply slice the pasta with a knife.
Here's what you'll need…
Pasta Pot
Mixing Bowl
Strainer or Spider
Dough Cutter or Knife
I like using a spider because it makes it easier to scoop the gnocchi out of the boiling water without having to dump the pot into a strainer. This can potentially damage the delicate gnocchis. A slotted spoon will also do the trick!
How to Make It
If you've never made gnocchi before fear not! It's a lot easier than it seems.
Step 1: Cook the 🍠 Sweet Potato. The trick to making Gnocchi dough is to dry out the potatoes when you cook them. Simply place the sweet potatoes in a bowl, use a fork to punch holes in them and put them in the microwave for 15 minutes. Once they're done slice them down the middle to help them cool off faster.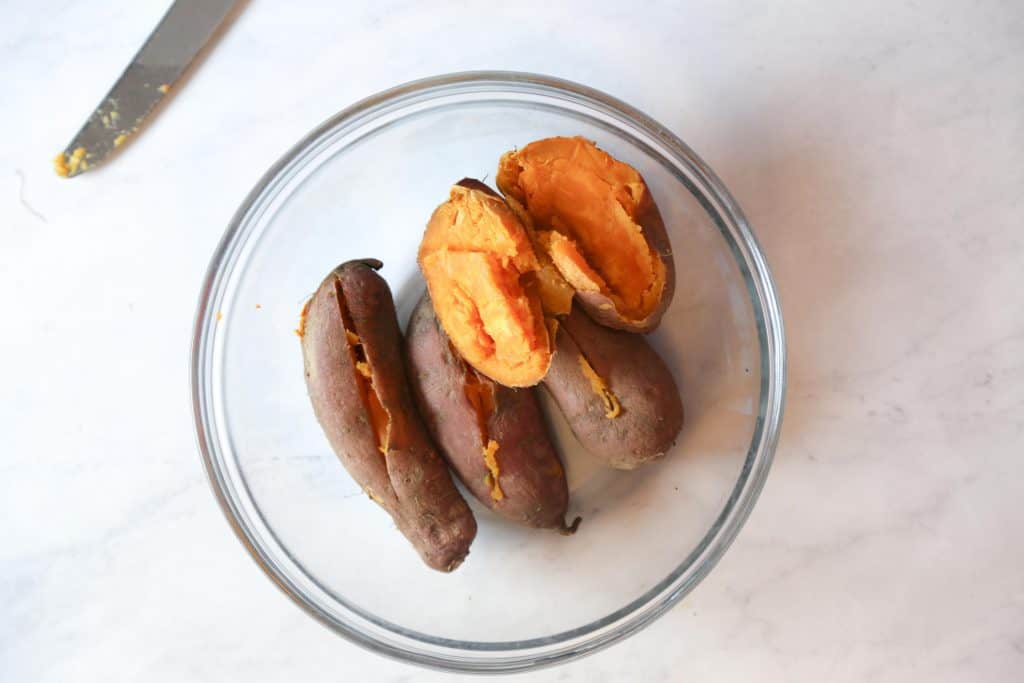 I usually don't like to use the microwave, but for this recipe it really does yield the best results.
The sweet potatoes are going to be really hot when they get out of the microwave so don't try to handle them right away. Allow them to cool off for 15 minutes.
Step 2: Peel the Potatoes. Once they've cooled off, peel the skin off of the sweet potatoes. Use a fork to mash the potato into a fine paste. Try to eliminate as many chunks as possible. I like to use a fork at first and then switch to a spoon once the potatoes are pretty smooth.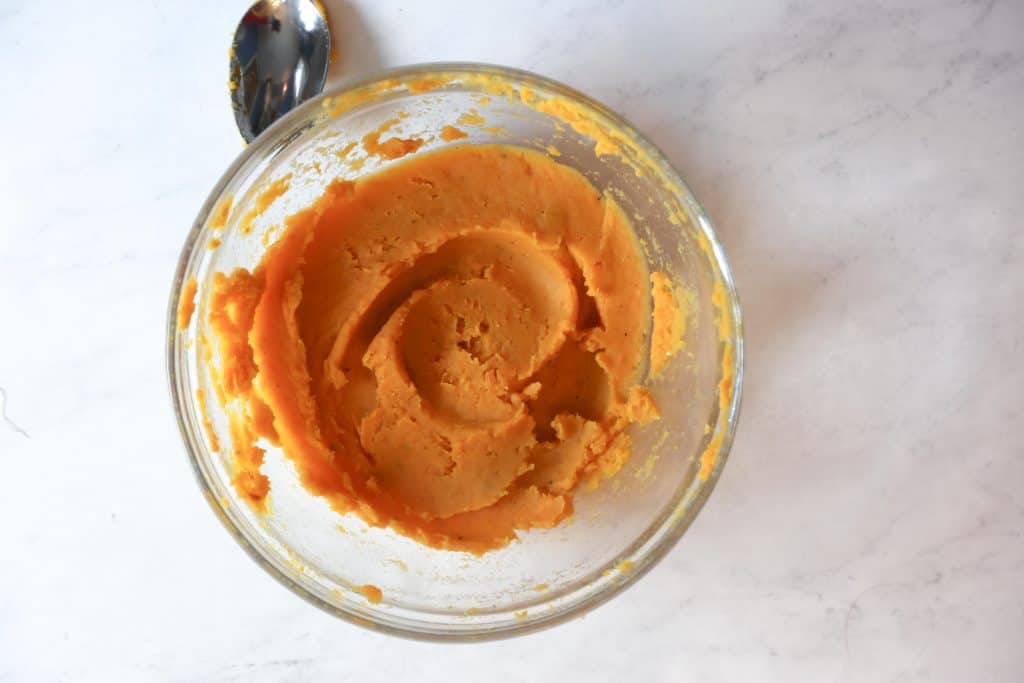 Step 3: Make the Dough. To make the dough you want to make sure that you add enough flour, but not too much. (Note the pictures below for reference). Measure out your cassava flour and add 1/4th of a cup to the potato. Mix the flour into the potato until it's fully absorbed. Repeat this process until the dough starts to form.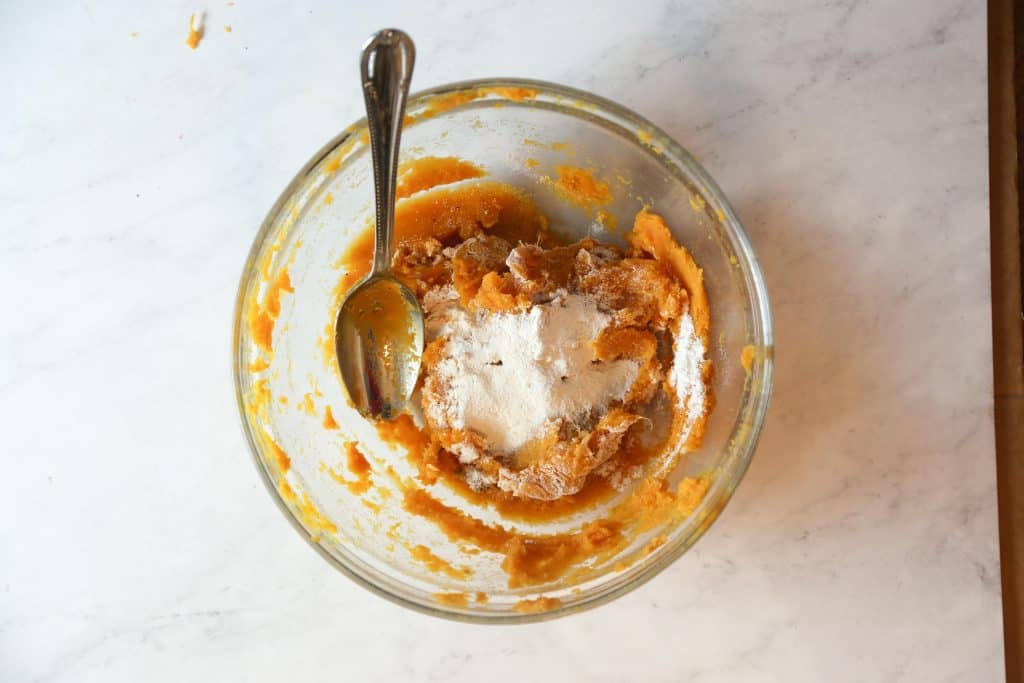 Next turn out the dough onto a floured surface. Add another few tablespoons of flour and start to kneed the dough. Work it until it's smooth and not sticky. Try not to over work the dough. The more you kneed it the more dense the gnocchi will be.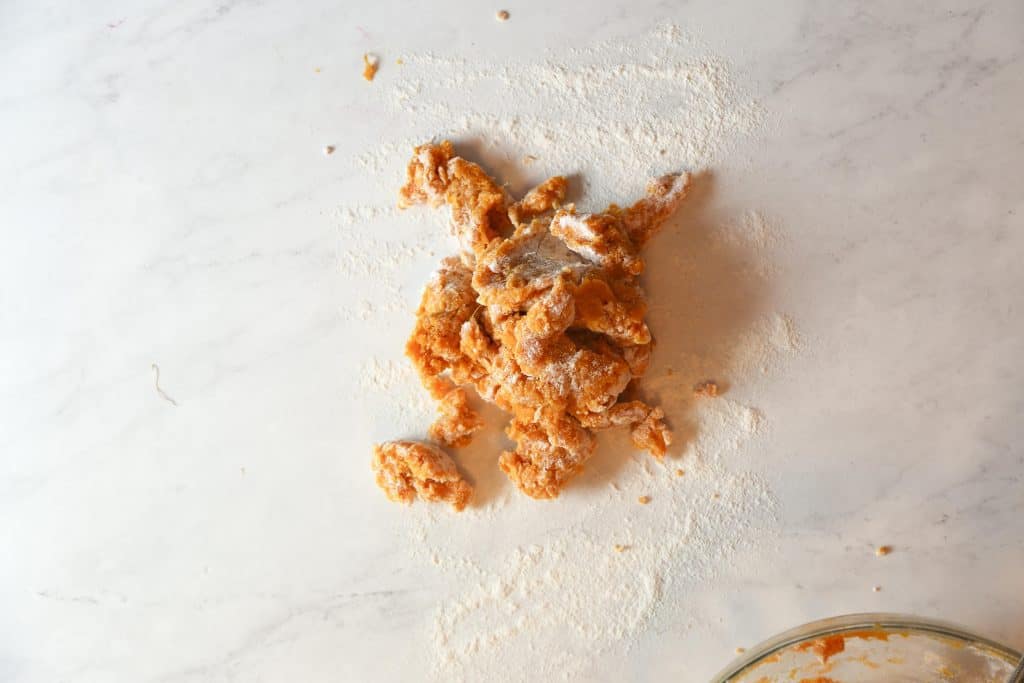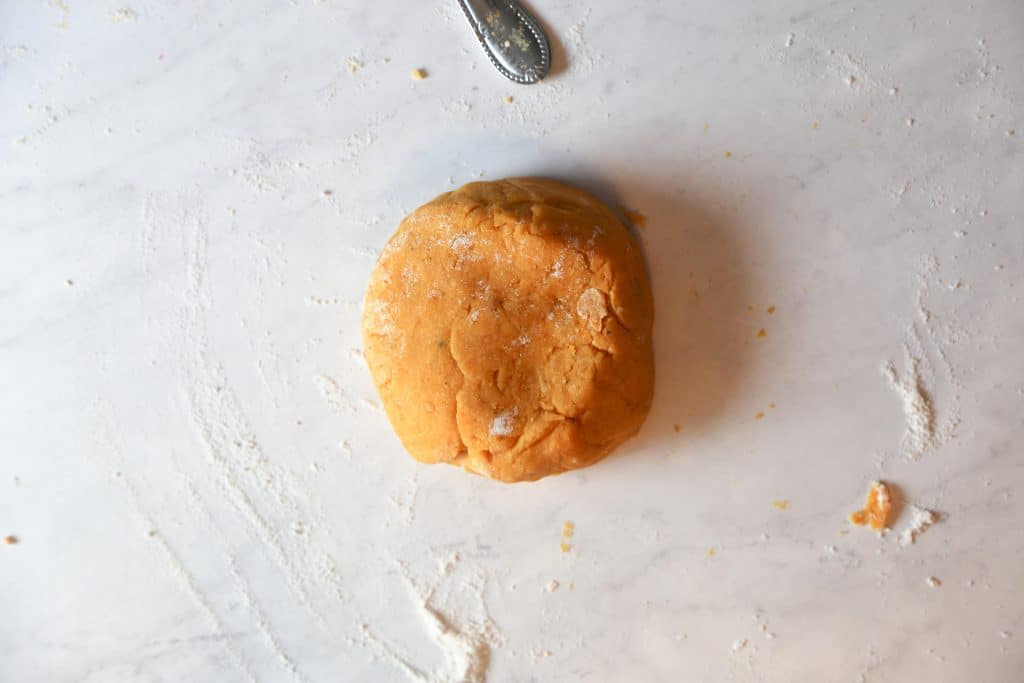 Step 4: Roll it out. Using a knife divide the dough into four equal pieces. Roll each piece into long tubes that are about 1 inch in diameter. Then use a knife to slice the rolls into 1 inch sections.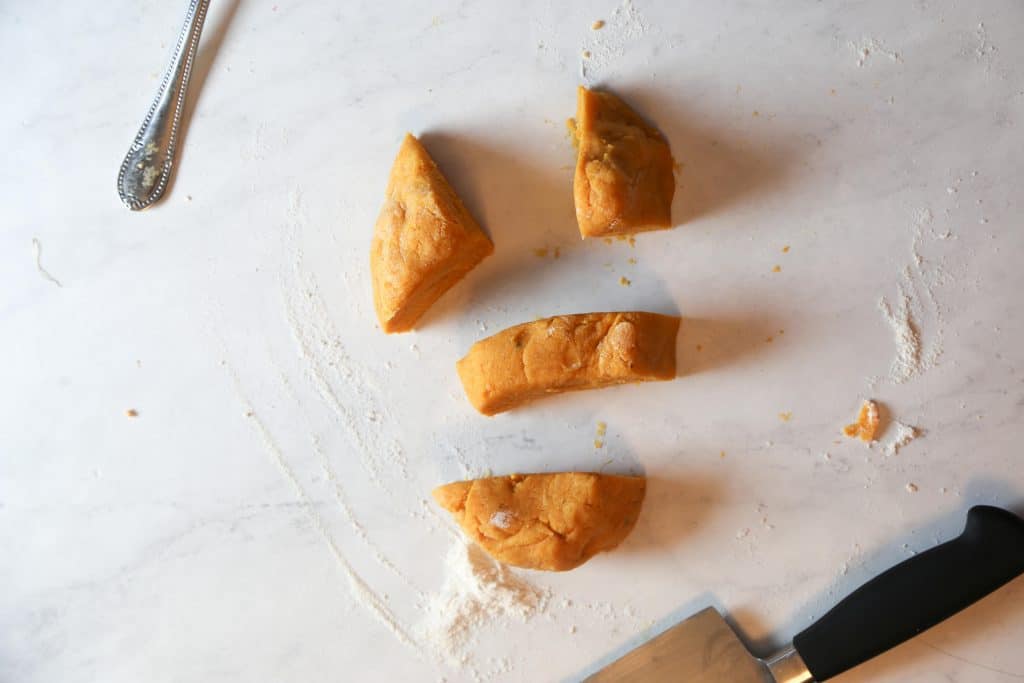 Step 5: Cook the Gnocchi. Bring a pot of salted water to a boil. Drop the gnocchi into the pot. They'll sink to the bottom. Once they're cooked they'll float to the surface. This process takes about 2 minutes. Scoop the gnocchi out of the water with a spider or slotted spoon.
Step 6: Coat with Sauce. Transfer the gnocchi from the slotted spoon into a skillet containing the spinach pesto or butter. Lightly sauté the gnocchi until they become slightly golden, but make sure they don't brown. Transfer to a bowl and enjoy!
Ingredients
Sweet Potato
Cassava Flour
Garlic Powder – optional
What to Serve with Gnocchi
Gnocchi has a mild flavor that lends itself to many different types of sauces. My favorite is a brown butter sauce, which is easy to make and mixes well with this fast roasted broccoli. But if you want to keep this recipe vegan you can also use a pesto or this Roasted Red Pepper Sauce. For the photos I decided to serve the gnocchi with sautéed spinach See recipe in the card below!
How to Store Leftovers or Uncooked Gnocchi
Uncooked Gnocchi will keep in the refrigerator for up to 1 week. Make sure to store them in an air tight container. Try not to pack them tightly together so that they don't loose their shape!
Cooked gnocchi will stay good for up to 3 days in the fridge.
You can also Freeze uncooked gnocchi for up to 6 months!
If you make this sweet potato gnocchi, please be sure to leave a comment and/or give this recipe a rating! Above all, I love to hear from you guys and always do my best to respond to each and every comment. And of course, if you do make this recipe, don't forget to also tag me on Instagram! Looking through the photos of recipes you all have made is my favorite!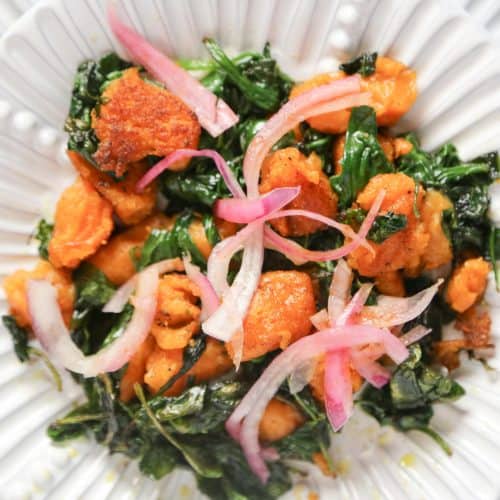 Vegan Sweet Potato Gnocchi
This 2 ingredient Vegan Sweet Potato Gnocchi is also completely grain free! It's easy and fun to make and tastes great with just about any pasta sauce.
Print
Pin
Rate
Equipment
Bowl

Dough Cutter or Knife

Spider or Slotted Spoon

Frying Pan

Tongs
Instructions
Microwave sweet potato for 15 minutes. Allow it to cool. Then Scoop out the flesh and mash with a fork until its completly smooth. Meanwhile boil a pot of salted water.

To make the dough add a tiny bit of flour at a time and work the dough. When it's no longer sticky, turn it out onto a floured surface. Work the dough until it's smooth. Try not to work it too much!

With a knife divide the dough into four quadrents. Roll out each quadrent into logs about 1 inch in diameter. Slice the log into little 1 by 1 inch pieces.

Drop the gnocchi into the boiling water. They will automatically sink to the bottom. When they rise up to the top they are ready. Remove them wiht a slotted spoon.
Saute the spinach
Melt butter in a large skillet over medium heat. Add spinach and lemon juice. Rotate with tongs until the spinach is wilted. Add the gnocchi and saute for 4 minutes and serve.
Nutrition
Calories:
122
kcal
|
Carbohydrates:
15
g
|
Protein:
1
g
|
Fat:
7
g
|
Saturated Fat:
1
g
|
Polyunsaturated Fat:
1
g
|
Monounsaturated Fat:
5
g
|
Sodium:
1
mg
|
Potassium:
40
mg
|
Fiber:
1
g
|
Sugar:
1
g
|
Vitamin A:
6
IU
|
Vitamin C:
15
mg
|
Calcium:
30
mg
|
Iron:
1
mg