These six ingredient Keto Cauliflower Wings pack a ton of flavor! They're crispy on the outside with a fiery kick. If you are on a vegan and gluten free diet these wings are perfect for you!
Wings are the ultimate finger food making them perfect for casual get togethers. Dunk them into your favorite BBQ sauce and you'll think you're eating real buffalo chicken wings.
This post may contain affiliate links. As an Amazon Associate I earn from qualifying purchases at no cost to you. See my Affiliate Disclosure to read my policy and more about affiliate links.
Table of Contents
Why You'll Love These Vegan Keto Cauliflower Wings
Vegan
Gluten Free
Paleo
Grain Free
Easy
Few Ingredients
Great For Entertaining
Vegetarian Friendly
Keto Friendly
Low Carb Friendly
Soy Free
Anti-Inflammatory Diet Friendly
I've always been intimidated by cauliflower buffalo wings. In retrospect, I'm not sure why. They're really easy to make with only a handful of ingredients and 10 minutes to prep… tops! After reading through the step by step instructions below or watching the video tutorial, you'll know exactly how to make amazing wings that will blow your mind!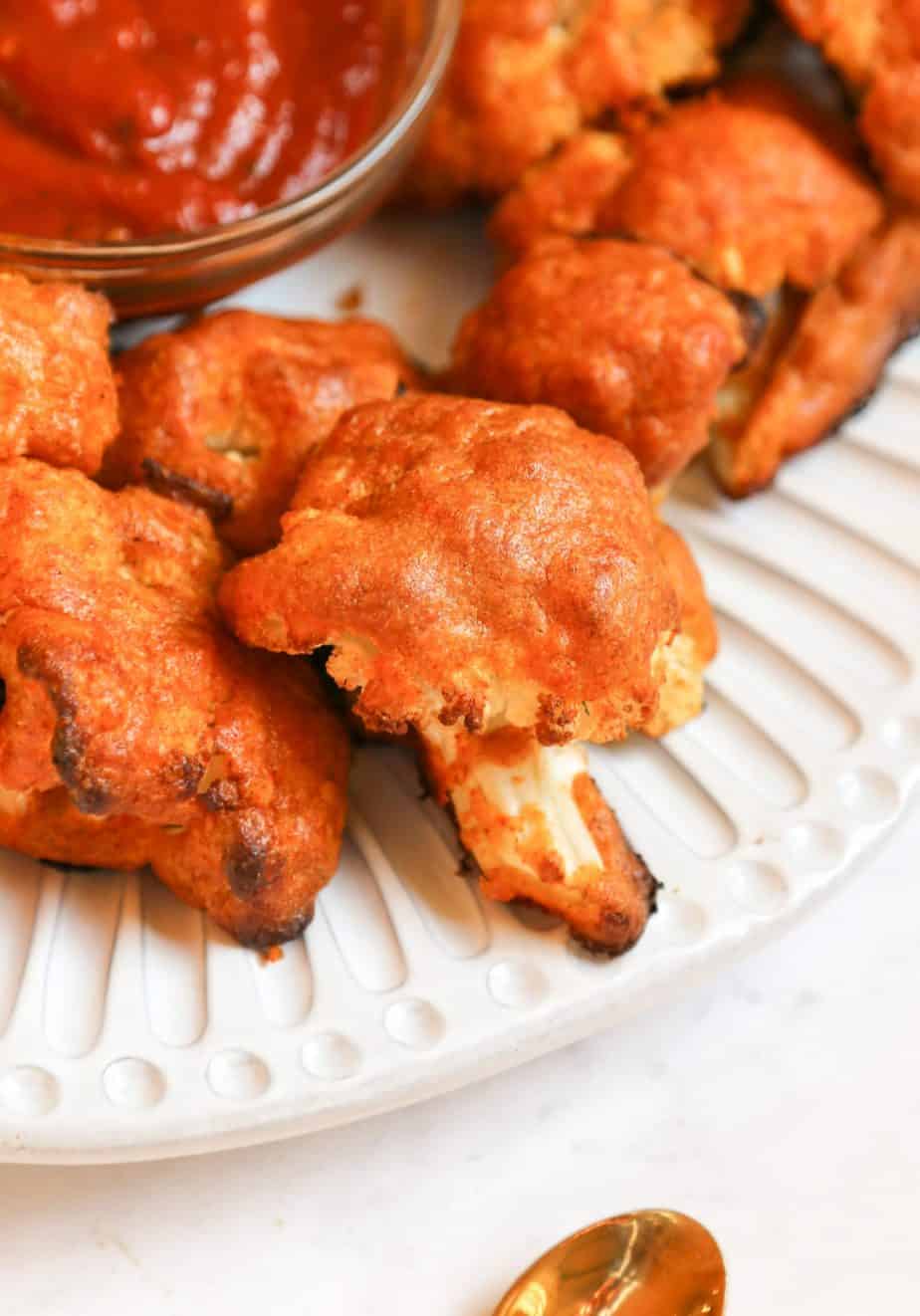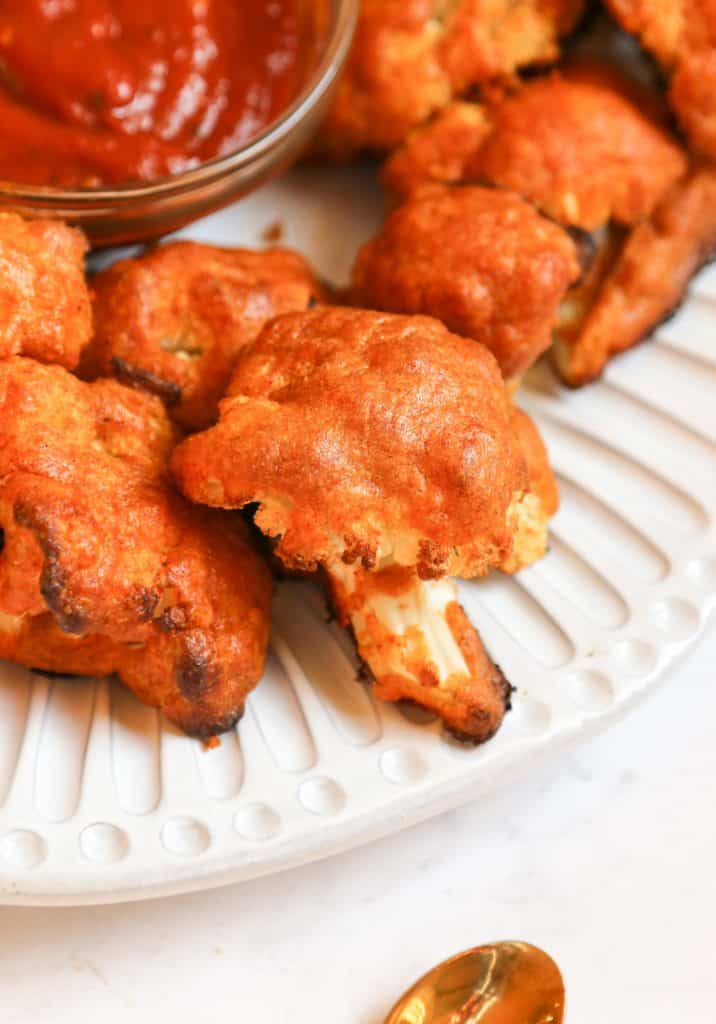 Ingredients You Need For Keto Cauliflower Wings
One of the things I love the most about these tasty bites is that they only use 6 ingredients and that includes salt! Heres what you'll need:
Ingredient Substitutions for Gluten Free and Vegan Cauliflower Wings
Almond Milk: Instead of almond milk you can use any other milk of your choice. Coconut milk would be a great substitute if you're following a keto diet.
If you don't have my Peruvian Spice Blend (although It's perfect for this recipe) you can substitute it out for 2 tsp paprika and 1 tsp cumin. You can throw in onion powder or a chili powder as well. Another option is to use a Mexican style spice blend you have on hand already.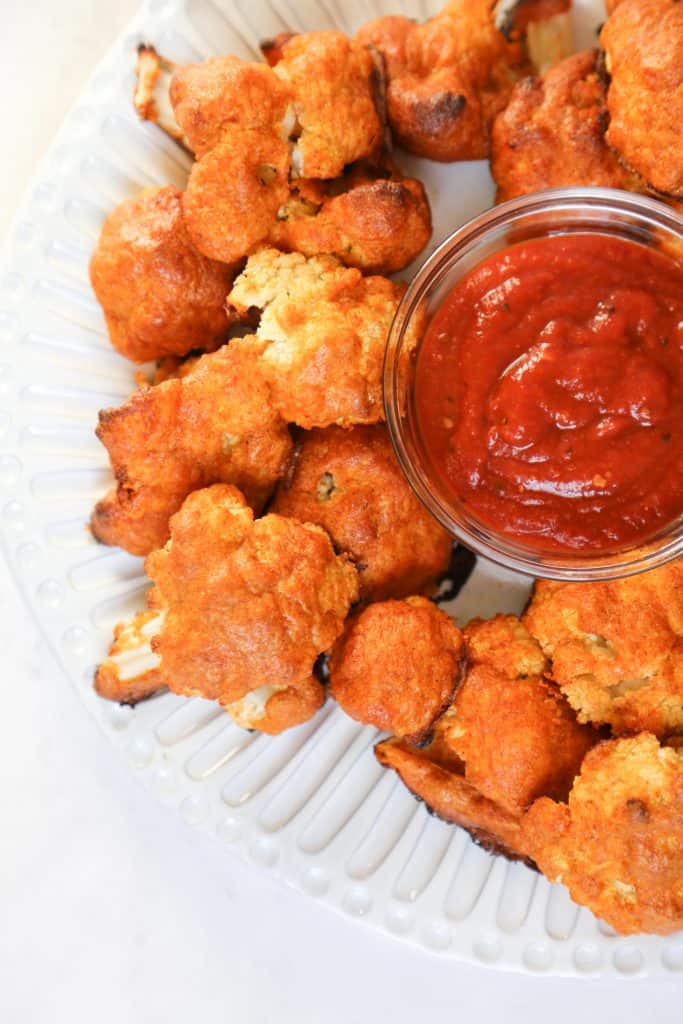 How to Make Vegan Keto Cauliflower Wings
Step 1: Slice the Cauliflower
First, preheat the oven to 400 degrees. Or if you want to use an air fryer set it to 420. Now that we've got that covered, cutting a head of cauliflower into florets sounds simple enough, but how do you do it without making a huge mess?
Flip it upside down and then slice away the stem and leaves. Using your hands break apart the florets where they naturally fall apart. See the video for visual instructions.
Time Saving Tip: Buy pre-washed cauliflower florets. I can usually find them at Trader Joe's and Whole Foods.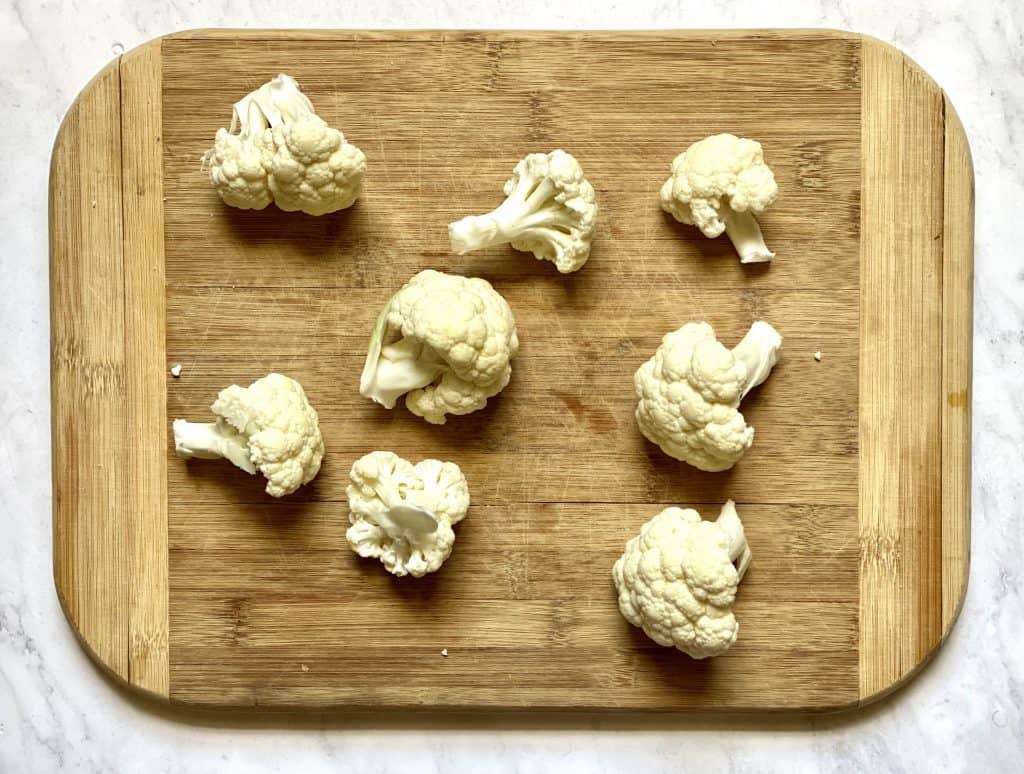 Step 2: Make the Batter
In a mixing bowl, combine the flour, almond milk, Peruvian spice blend and sea salt with a whisk. The batter should have a pasty consistency and be pink.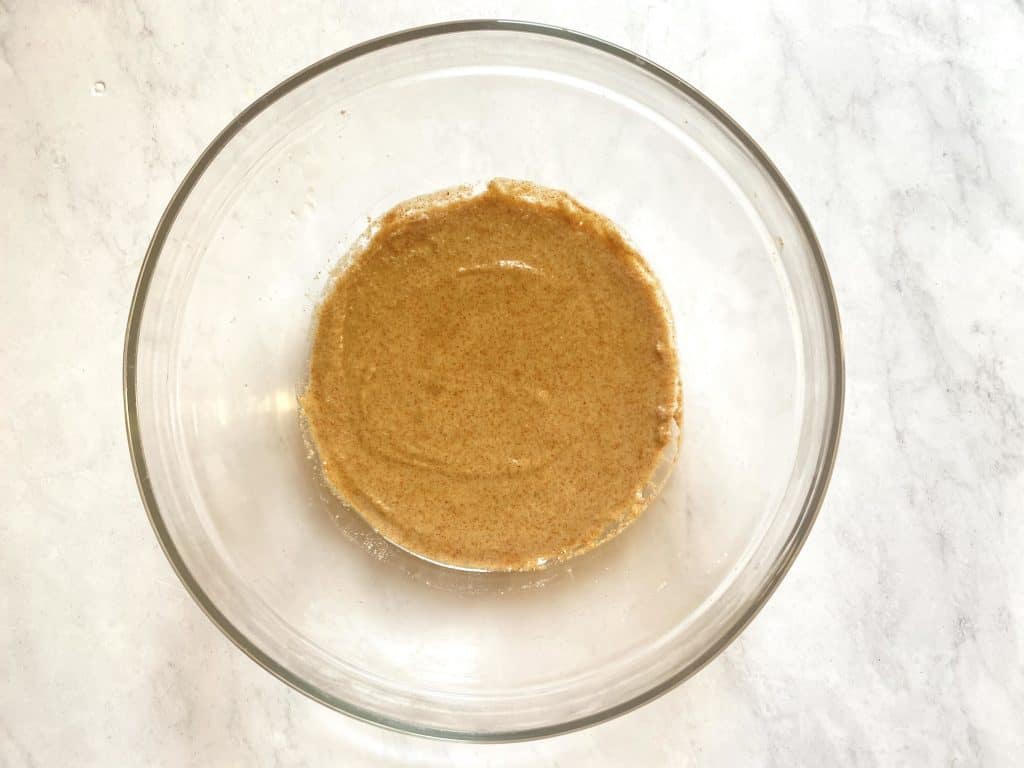 Step 3: Prepare the Cauliflower
Dip each floret in the batter until they're completely coated. Shake off the excess and place them onto a parchment lined half sheet tray making sure to place them 1-2 inches apart. You may need 2 trays.
Whatever you do, don't pile them on top of one another because then they won't get crispy. You'll get a steamed mush mess instead. Cook the cauliflower wings in the oven for 20 minutes, but if you have an air-fryer cook them for 12 minutes.
Equipment You'll Need To Make Keto Cauliflower Buffalo Wings
You don't need a lot of special equipment to make this recipe. In fact, it's one of the few buffalo cauliflower wing recipes out there that doesn't require an air fryer. I made these wings both ways. So if you have an air fryer (good for you) you can use it!
But if you haven't jumped on the air fryer band wagon yet then you can follow the instructions to make them in the oven. Making cauliflower wings in the oven and air fryer are similar. They just cook faster in the air fryer. Oven baked cauliflower wings are still crispy and delicious!
What is the Best Air Fryer For Vegan Keto Cauliflower Wings?
There are so many air fryers on the market; if you don't already have one picking the right one can be overwhelming. I've done some digging around and here are the top two air fryers I found for making keto cauliflower wings.
Philips Airfryer, Avance Turbo Star, Digital, Black, HD9641/96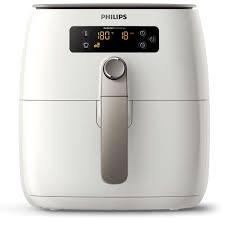 PROS
Small
Cooks Well
Easy To Clean
Portable
Easy to Use Without Burning Yourself
CONS
The Philips Airfryer Avance Turbo Star is by far the best option out there for a number of reasons. This air fryer is on the more expensive side at $247. As far as aesthetics go, I like this air fryer because it looks nice and it's a smaller size, yet still holds 1 pound of food. I also like the drawer handle for removing the food. This allows you to pull out the food without burning your hands.
A nice touch is that the air fryer starts counting down the time during the last minute of cooking. This is helpful for me since I tend to put things in the oven and then forget about them.
The cooking results for the cauliflower were great. They were nice and crispy on the outside and tender on the inside.
The air fryer is easy to clean because the bottom is non stick. So it's easy to wipe the excess grease from the food off. It's nice to enjoy fried food without the mess.
GoWISE USA 3.7-Quart 7-in-1 Air Fryer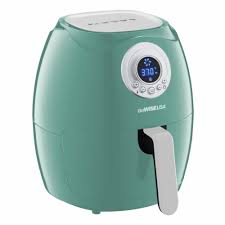 The GoWISE USA 3.7 Quart 7-in-1 Air Fryer is the best affordable option I could find at $69 dollars.
The digital settings on this air fryer are a bit harder for me to use. I had to ask my husband for help. But once I got it going it cooked the food nicely. Like the Phillips air fryer it was short enough to fit under the cabinet.
I appreciate this because I hate cluttered countertops. So I'm able to store this air fryer in a cabinet, under the counter. If you have shorter shelves you can turn it sideways to store it.

Can I Eat Cauliflower Wings on Keto?

Yes, you can eat cauliflower wings on keto as long as they are breaded with a keto friendly flour like almond flour or coconut flour. See the section below for more information on keto friendly flour. Cauliflower is low in carbs and versatile making it a great vegetable to eat while you are following a low carb diet.
What is the Best Keto Friendly Flour?
You can ask anyone following a keto diet what the hardest part of the lifestyle is, and many say that they miss bread! I mean who doesn't love a good old fashioned food made with real flour?
But if you want to follow strict "take no prisoners" kind of diet you have to find satisfaction in different recipes like the wings!
Here are a list of some of the best Keto Friendly Flours to cook with:
Almond Flour: 11 grams fat, 6 grams carbs
Chia Seed Flour: 15 grams fat, 18 grams carbs
Chickpea Flour: 1.5 grams fat, 13 grams carbs
Hazelnut Flour: 12 grams fat, 8 grams carbs
Coconut Flour: 4 grams fat, 18 grams carbs
Is Cassava Flour Keto?
Cassava is a type of root vegetable, kind of like a sweet potato. So it's chuck full of carbs. One forth of a cup of cassava flour has 28 grams of carbohydrates which is more than half of the general rule, which is to have under 50 grams of carbs per day.
Although cassava flour is good for you because it's made from a root vegetable there is no grain! So cassava flour is a great flour to use for those on a grain-free or paleo diet. Cassava flour is very fine and light. I like using it for fluffy recipes like this grain free sweet potato gnocchi!
Is Almond Flour Keto?
The answer to this question is probably obvious since I use almond flour in this keto recipe. But let me tell you why it's a good keto friendly flour. One fourth cup of almond flour has only six grams of carbs.
A majority of its macro nutrients are made up of fat followed by protein. This fits the keto ratio of eating 75% of your calories from fat, 20% from protein and 5-10% from carbs. These percentages are flexible depending on the diet you're doing.
I also like almond flour for this recipe because the flour gets crispy in the oven. If you don't have almond flour you could use some other keto friendly flour like coconut flour!
Is Coconut Flour Keto Friendly?
Coconut flour is perfect for a keto lifestyle. It's low in carbs as it only has 6 grams of net carbs per 1/4th cup. You can use coconut flour to make keto bread, cookies, and waffles.
I don't recommend switching the almond flour for coconut flour for the keto cauliflower wings because the amount would be different. You cannot swap them equally.
How to Store Keto Cauliflower Wings
Cauliflower wings are not very good at waiting around in the fridge for days before getting eaten. While they won't spoil or anything like that; the batter will start to get soft. So they'll lose their crispy edge.
But don't worry they're still delish. You can also reheat them in a toaster oven to dry them out enough to return some of that heavenly crunch.
If you want to leave them in the fridge I would say that you should eat them within 4 days. But I doubt they'll last that long!
Store the cauliflower wings in an air tight container. Try to lay them out in one flat layer. If you have to pile them on top of each other then use a paper towel or parchment paper between layers to prevent them from sticking together.
How to Reheat Keto Cauliflower Wings
Toaster: If you have leftovers to reheat, the best way to reheat them before serving is to put them in the toaster oven at 250 degrees for 20 minutes. This will help warm them up and dry them out so that they taste as crispy as possible. For best results you should make these cauliflower wings as close to serving as possible. The leftovers tend to get soggy and the wings loose their crisp.
Microwave: If you want to reheat them in the microwave, then put them on a microwave safe plate lined with a paper towel (to absorb excess moisture) and reheat them for 1 minute.
Can you Make Cauliflower Wings in Advance?
While you can make these wings ahead, I suggest that you make it as close to serving as you can. I've tried to make this recipe in advance before. Doing so results in soggy cauliflower wings.
When you add the batter to the cauliflower ahead of time and let it sit in the fridge the cauliflower gets soft and the batter gets soggy. It makes it harder for the cauliflower wings to get crispy in the oven or air fryer.
However, if you're in a rush you can cook parts of this recipe in advance to speed things along. Here's how:
The best way to make these wings ahead (for entertaining) is to do all of the prep before hand. You can mix the batter and chop the cauliflower ahead of time. Cutting the cauliflower ahead of time will help dry it out so that you will get even crispier cauliflower wings!
What to Serve With Keto Cauliflower Wings
These wings are the perfect finger food for a party. I can see them being served on game day when everyone wants to sit around the television and snack instead of having a sit down meal. These wings would go well with a dip like BBQ sauce, ranch dressing, or salsa. I use my new favorite Classic BBQ Sauce from Primal Kitchen.
If you make this recipe don't forget to tag me on Instagram with hashtag #eatingworks ! I love seeing your creations!
Keto Cauliflower Wings Web Story
Is Cauliflower Good On A Keto Diet?
Cauliflower is one of the most popular vegetables to eat on a ketogenic diet for a number reasons! Everywhere you go these days you can find a "cauliflower" version of your favorite snack.
Cauliflower has replaced the flour in pizza crusts, chips, and even gnocchi! That's because cauliflower is the perfect food to eat on a keto diet and keto has increased in popularity over the last few years.
Cauliflower is low in calories. One cup of cauliflower only has 27 calories in it.
If you're on a low carb diet then cauliflower is perfect for you! 1 cup of cauliflower has only 5.3 g of total carbs and if you take the fiber out it only has 3.2 g of net carbs.
Cauliflower is virtually fat free. 1 cup of cauliflower has only .3 grams of fat.
Protein is almost non existent in cauliflower at 2.1 grams. If you are trying to stay in ketosis then you can easily eat lots of cauliflower without eating more than the recommended 10% – 20% daily caloric intake from protein.
Even though cauliflower is low in all of the macronutrients it is still a nutrient dense food. It's rich in essential vitamins, minerals, antioxidants, dietary fiber and minerals.
When it comes to cooking cauliflower, it is as versatile as veggies come! They can be prepared in many ways.
Cauliflowers work well in low carb recipes as a replacement for traditional potatoes. Any soup or stew that calls for potatoes can easily be replaced by cauliflower.
Cauliflower's mild flavor is similar to tofu. It doesn't really taste like anything and will take on the flavor of whatever sauce you prepare it in. This makes cauliflower a good addition to many types of cooking and flavor profiles.
Can I use Frozen Cauliflower for Keto Cauliflower Wings?
I don't recommend using frozen cauliflower for keto cauliflower wings. Frozen cauliflower gets soggy when it thaws out. The extra moisture from the frozen cauliflower will dilute the batter and make it less crispy once cooked. Frozen cauliflower is a great ingredient to have on hand for gluten free pizza crust and soups, but if you want to make cauliflower wings just use fresh cauliflower.
Are Birds Eye Cauliflower Wings Keto?
No Bird's Eye Cauliflower Wings are not keto friendly! They have 33 grams of carbs per serving and artificial sweeteners that raise your glycemic index.
Are Cauliflower Buffalo Wild Wings Keto?
The cauliflower wings offered at the popular restaurant Buffalo Wild Wings are not keto friendly. They run about 440 calories per serving and are deep fried. Not to mention the restaurant claims that they are vegan or vegetarian, but the wings are prepared with beef shortening. The wings have too many carbs to be considered vegan friendly.
Are Cauliflower Wings Good For Weight-loss
The long and the short of it is that it depends. Some clean cauliflower wings are great for weight-loss while others will only help pack on the pounds. Cauliflower is a great diet food but if they are deep fried (like the ones at buffalo wild wings) and prepared with regular flour they are going to be fattening and unhealthy.
The kind of cauliflower wings that are good for weight-loss are…
Baked in an oven or cooked in an Air Fryer instead of fried in grease.
Prepared with keto, low carb or grain free flour instead of regular breading.
How Many Carbs Are In Cauliflower Wings?
The amount of carbs in cauliflower wings depends on the recipe itself. In this recipe there are 14 grams of carbs per serving and 6 grams of net carbs. Since the net carbs are so low this recipe is good for those who are following a ketogenic or low carb diet. Of course they still have some carb content so you have to limit your intake.
Unfortunately, to stay in ketosis you almost always have to limit your caloric intake. Especially since you are supposed to limit your protein intake to 10% – 20% of your caloric intake a day. Cauliflower is naturally low in carbs and so is almond flour.
Can you have cassava flour on keto?

Cassava is a type of root vegetable, kind of like a sweet potato. So it's chuck full of carbs. One forth of a cup of cassava flour has 28 grams of carbohydrates which is more than half of the general rule. Which is to have under 50 grams of carbs per day.

Although, cassava flour is good for you because it's made from a root vegetable; there is no grain! So cassava flour is a great flour to use for those on a grain-free or paleo diet.

Cassava flour is great for a grain free diet, paleo diet, vegan or anti-inflammatory diet, but not for keto. A better flour choice for keto would be coconut flour or almond flour!
Do cauliflower wings have protein?

Cauliflower wings don't have as much protein as traditional chicken wings but they do have some. My keto cauliflower recipe has 5 grams of protein per three pieces.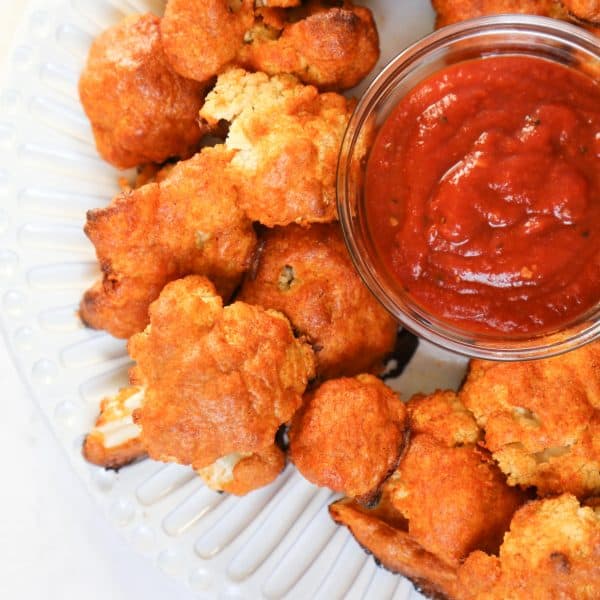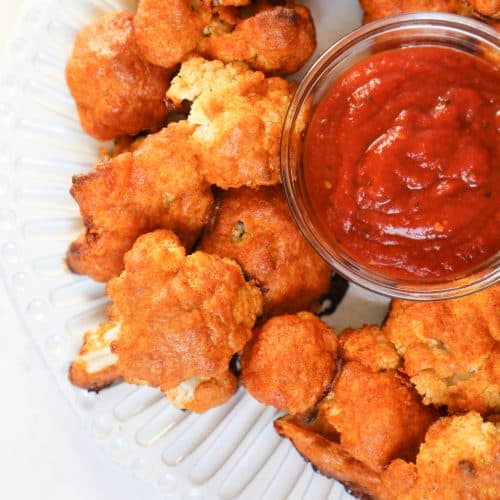 Keto Cauliflower Wings
These baked keto cauliflower wings are firey, crispy & vegan.
Print
Pin
Rate
Instructions
Preheat the oven 420 degrees. In a small bowl mix the flour, olive oil and peruvian spices. Once well combined add the milk and whisk until a batter the consistency of tahini forms.

Toss the cauliflower in the batter. Shake excess batter off and place the cauliflower on a lined baking sheet.
Notes
If you don't have my Peruvian spice blend you can find substitute options In the post above under "substitutions"
Nutrition
Serving:
3
pieces
|
Calories:
156
kcal
|
Carbohydrates:
14
g
|
Protein:
5
g
|
Fat:
10
g
|
Saturated Fat:
1
g
|
Polyunsaturated Fat:
1
g
|
Monounsaturated Fat:
4
g
|
Sodium:
831
mg
|
Potassium:
310
mg
|
Fiber:
3
g
|
Sugar:
8
g
|
Vitamin C:
48
mg
|
Calcium:
79
mg
|
Iron:
1
mg