Chocolate Bon Bons (Raw Vegan Chocolate)
Chocolate Bon Bons – Impress your friends with these fancy raw vegan chocolates… But shh.. don't tell them how easy they are to make! With only 3 healthy ingredients these Chocolate Bon Bons are tasty and guilt free! Even if you can't cook you'll master this Chocolate Bon Bon Recipe!
This post may contain affiliate links. As an Amazon Associate I earn from qualifying purchases at no cost to you. See my Affiliate Disclosure to read my policy and more about affiliate links.
I used the left over easy raw chocolate coating from the Vegan Chocolate Truffles I made last week. For years I've spent a fortune on raw vegan chocolate. I alway wondered how these companies made their chocolate with so few ingredients. With a lot of research and some trial and error I figured out how to make raw vegan chocolate. I really love anything chocolate like this chocolate zucchini cake! For more vegan deserts check out these six recipes.
While I used this easy raw chocolate recipe to make chocolate bon bons you can use it in many other ways. To coat energy bites, make chocolate bark etc. I love raw vegan deserts. While I usually make raw vegan cheese cake like these cheese cake bites, I've decided to start exploring the world of raw vegan chocolate.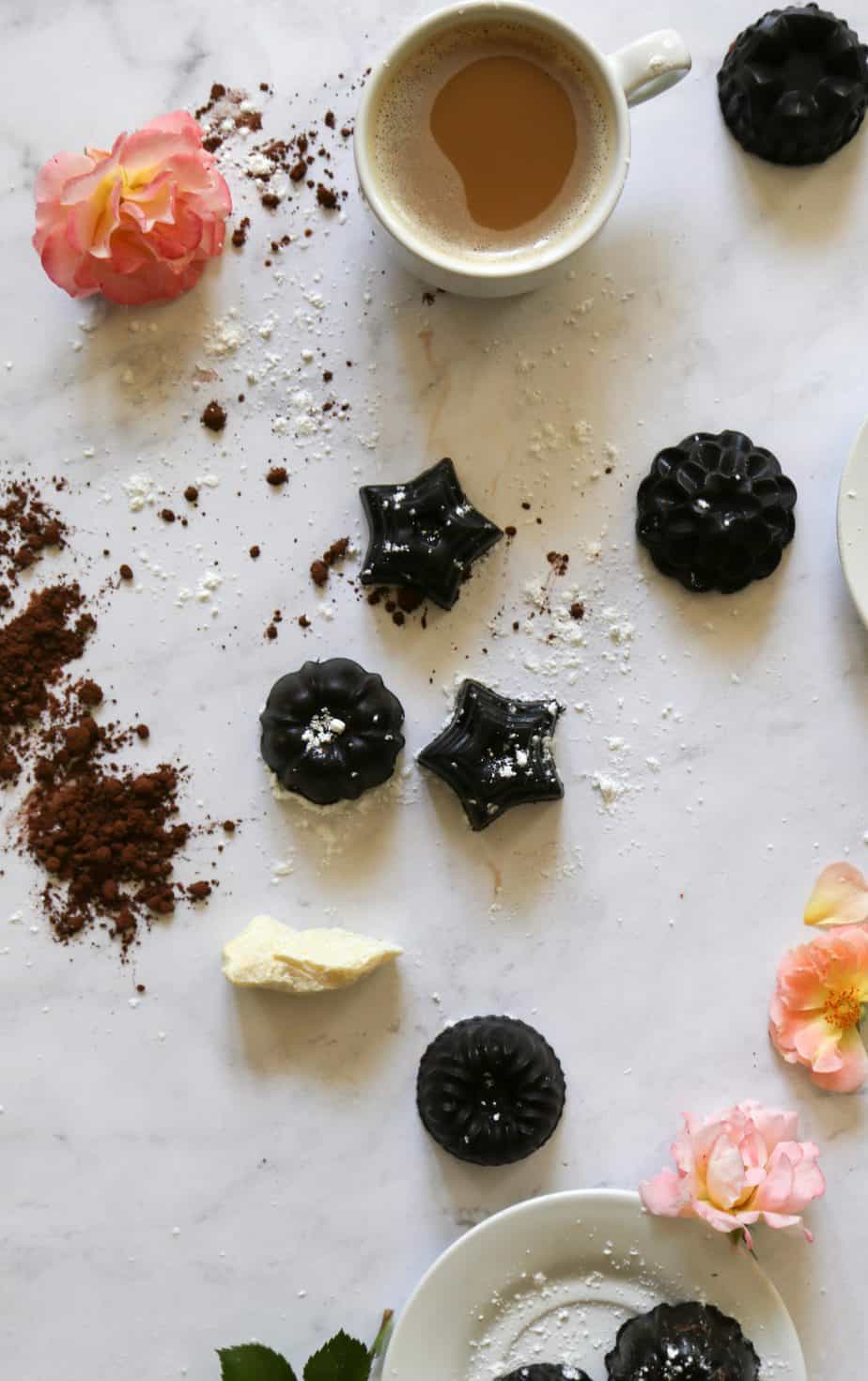 Equipment You'll Need to Make Vegan Chocolate Bon bons
To properly temper the raw chocolate for bonbons its best to use a double boiler or "Bain Marie." To do this you'll need a small sauce pot and a medium bowl. Fill the pot with boiling water and place the bowl on top of the pot. By placing the cocoa and cocoa butter in the bowl you will be able to gently melt the ingredients without overheating them.
To create the Bonbons themselves you'll need either a chocolate mold or non-stick tea cake tin
Ingredients to Make Raw Vegan Chocolate
Raw Cocoa Powder
Powdered Sugar
Raw Cocoa Butter
Raw cocoa butter for chocolate making works well since the cocoa butter remains hard at room temperature. This keeps the chocolate bon bons from melting at room temp.

How to Make Bon bons
Step 1: Boil water in a medium sauce pan and place a medium mixing bowl on top. This creates a makeshift double boiler.
Step 2: Once the water is boiling lower the heat to medium low. Place the cocoa butter in the bowl and allow it to melt. Once the cocoa butter is melted turn off the heat. Add the powdered sugar and raw cocoa powder to the bowl. Whisk vigorously until the mixture is silky smooth. Remove the bowl from the heat and transfer the cocoa into a pyrex measuring cup.
Step 3: Pour the mixture into a chocolate mould or nonstick mini cake tin. Place the tin in the freezer for 30 minutes to set.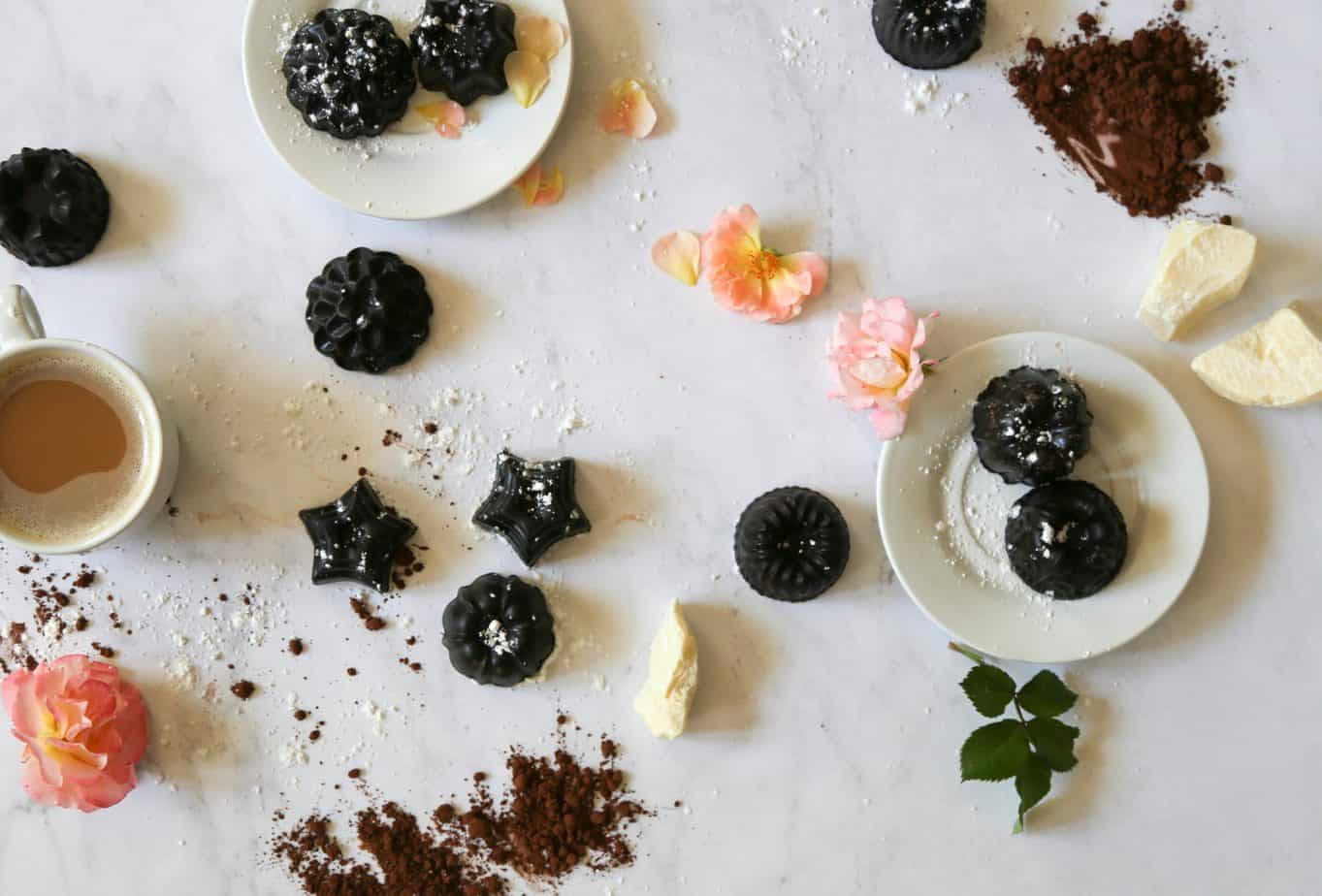 Health Benefits of Raw Cocoa Powder
Chocolate is one of the only deserts out there that's actually good for your health. From oral health to cancer prevention , raw cocoa powder has many health benefits. Here are 5 ways that cocoa is good for you!
Raw Cocoa is rich in polyphenols (antioxidants). These polyphenols have been shown to help improve blood flow, lower cholesterol and improve brain function. Raw Chocolate is rich in Flavanols which lower inflammation. Heating the chocolate kills off the Flavanols and greatly reduces the chocolate's health benefits. So these Raw Chocolate bonbons are much healthier than cooked ones!
Raw Cocoa may even help reduce high blood pressure by improving nitric oxide levels. This takes stress off of your blood vessels which could reduce your risk of heart attack and stroke!
Raw Cocoa is rich in tryptophan. The Flavanols in raw chocolate help convert tryptophan into serotonin.. A mood booster! So raw chocolate is proven to lower stress and combat depression.
Surprisingly, raw cocoa is good for type 2 diabetics. While sugar not recommended for diabetics raw cocoa that is low in sugar can help type 2 diabetics. Flavanols slow down the digestion/absorption of carbs in the gut, improve insulin secretion, reduce inflammation and stimulate the uptake of sugars from the blood stream into muscles.
Studies have shown that raw cocoa powder can help strengthen teeth and prevent cavities.
So while raw cocoa powder is good for your health sugar and dairy are not. Luckily these chocolate bon bons are low in sugar and diary free! For more information on the health benefits of raw coca powder check out this article.

How to Store the Bon Bons
These chocolates will last in the fridge for months. Just like regular chocolate bars. You can freeze them for up to 9 months. Make sure to remove the bon bons from the freezer/fridge before you eat them. That way they won't be too hard to enjoy.
Can I keep the Chocolate Bon Bons out of the fridge?
Like all chocolate the bonbons will melt if they are kept in a warm spot. But at reasonable room temperature these chocolates don't melt thanks to the thickness of cocoa butter. Raw vegan chocolates made with coconut oil are softer but must be kept in the fridge.
More Raw Vegan Deserts
Raw Vegan Tahini Cookies
With all of the benefits of raw cocoa powder I hope you make this raw chocolate recipe!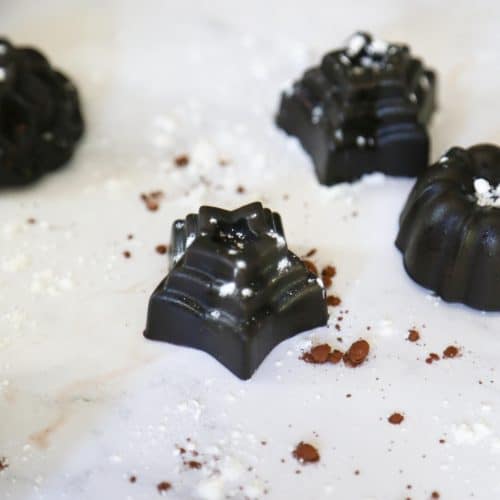 Chocolate Bon Bon Recipe
These 3 Ingredient Raw Vegan Chocolate Bon Bons are as easy to make as they are healthy. Impress your friends with these fancy chocolates that take only 20 minutes to make! Anyone can make these chocolate bon bons.
Print
Pin
Rate
Instructions
To Make the Chocolate Bon Bons
In a small sauce pan boil water. Place a mixing bowl over the sauce pan. Add the cocoa butter to the bowl and allow it to melt while stiring with an offset spatula. Once melted, turn off the flame. Whisk in powdered sugar and cocoa powder until the mixture is smooth.

Remove bowl from the flame. Transfer chocoalate mixture to a measuring cup and pour the mixture into a chocolate mould. Allow to set in the freezer for 30 minutes or until firm. Enjoy!
Notes
These chocolates are stable at room temperature.
They are best kept in the fridge 1 hour before consuming.
Nutrition
Serving:
1
Bonbon
|
Calories:
87
kcal
|
Carbohydrates:
4.8
g
|
Protein:
1
g
|
Fat:
8
g
|
Saturated Fat:
4.9
g
|
Potassium:
135
mg
|
Fiber:
5
g
|
Sugar:
1.9
g
|
Calcium:
6
mg
|
Iron:
1
mg