If you've ever wondered wether or not Tiramisu is gluten free you've come to the right blog post. In this blog post I will go over why traditional tiramisu is not gluten free. Along with gluten free alternative ingredients and recipes you can use to turn traditional Italian tiramisu into a celiac friendly treat!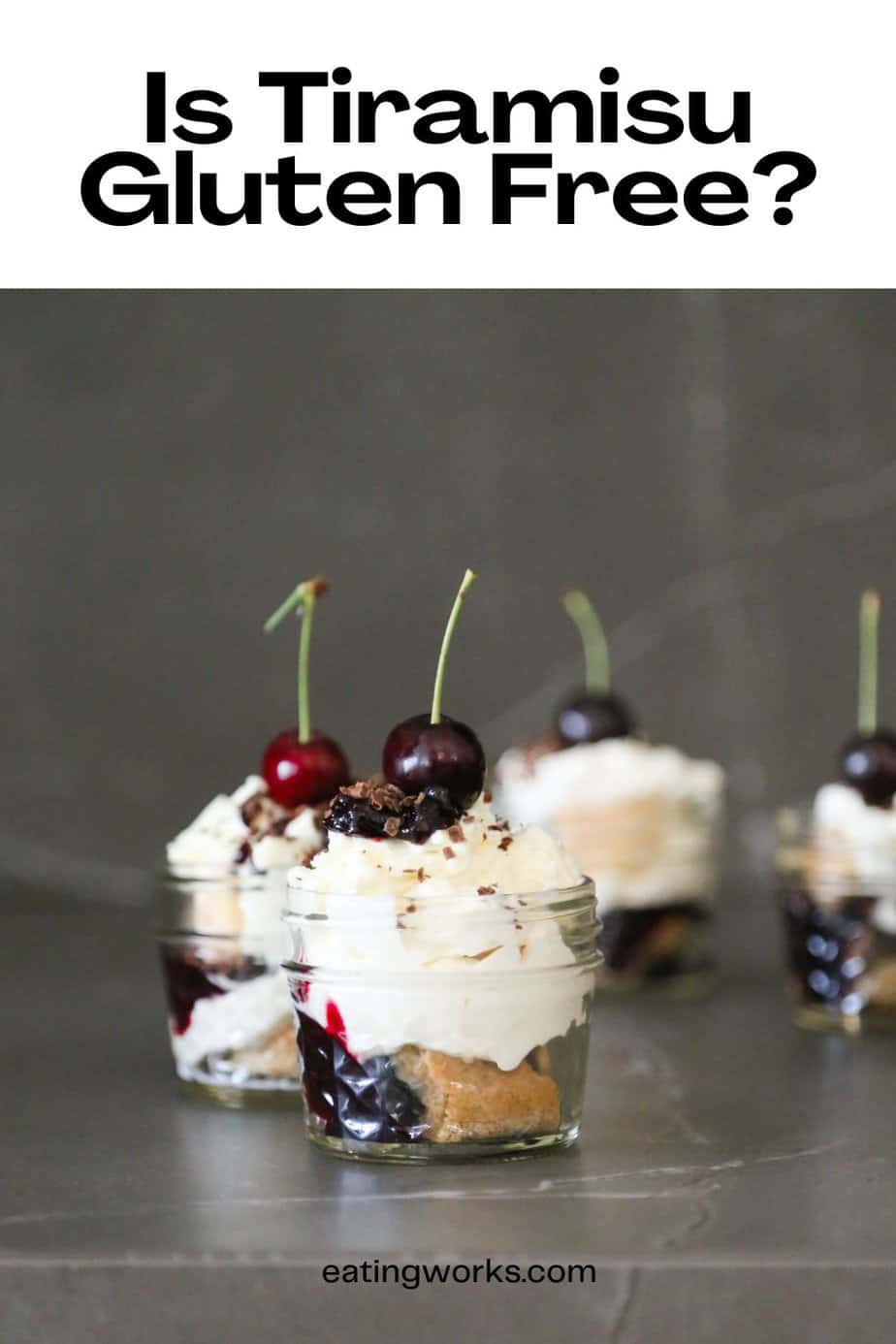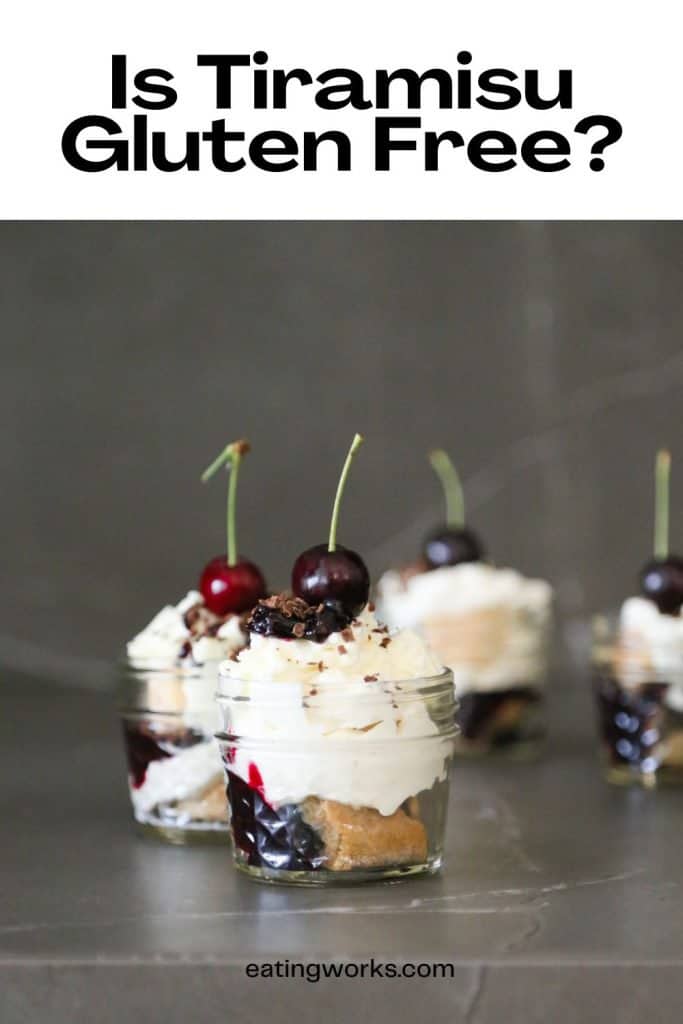 No trip to your favorite Italian restaurant to celebrate a special occasion is complete without a plate of tiramisu! While tiramisu is not naturally gluten free, it's easy enough to swap out key ingredients to make the recipe gluten free. Best part is is that it's easy to do and you don't need to be a world class pastry chef to make a delicious gf version!
This post may contain affiliate links. As an Amazon Associate I earn from qualifying purchases at no cost to you. See my Affiliate Disclosure to read my policy and more about affiliate links.
Is Tiramisu Gluten Free?
No, classic tiramisu isn't gluten free because the lady finger cookies used in the lady finger layer have gluten. All of the other ingredients in traditional tiramisu are naturally gluten free including:
Whipped Cream
Marscapone Cheese
Masala Wine
Rum
Cocoa
Chocolate
Eggs
Which Ingredients in Tiramisu Have Gluten?
The only ingredient in Tiramisu that has gluten are the lady finger biscuits used to make the cake layer. All of the other ingredients are gluten free! So all you have to do to make tiramisu gluten free is to swap out the traditional wheat based lady fingers for a gluten free version.
The only other ingredient that could have gluten in it is the alcohol used to soak the lady fingers with the coffee mixture. Masala wine and rum are the most typically used types of alcohol. Rum and wine are both gluten free.
However some people may use a coffee flavored liquor or something a bit more exotic. Always ask the chef which type of liquor was used, if any.
Best Gluten Free Lady Fingers for GF Tiramisu
Now you can make your own lady finger cookies if you're feeling ambitious. But if you want to cut to the chase and get down to business making the most amazing tiramisu ever… Just buy the gluten free kind.
Schar Gluten Free Lady Finger Biscuits
I've looked all over for gluten free lady finger cookies and they're hard to find. Although you can buy Schar brand Certified Gluten Free Lady Finger Biscuits. These shelf stable cookies are available on amazon.
More Gluten Free Alternatives for Lady Finger Layer in Tiramisu
Coffee soaked lady fingers aren't the only filling you can use for tiramisu. Once you get out of the classic recipe there's tons you can do. For example, you don't have to use marscapone cream, eggs, or egg whites!
Here are some alternatives to lady fingers you can try:
Gluten Free Sponge Cake: You can use a gluten-free sponge cake as a base for your tiramisu. Simply cut the cake into thin, finger-sized slices and use them in place of ladyfingers. You can make your own gluten-free sponge cake or buy one if available.
Gluten Free Black Forest Cake: Black Forest tiramisu is a trendy alternative to using lady fingers. The rich Black Forest cake stands up nicely to the flavor of coffee and rum.
Gluten Free Angel Food Cake: Angel food cake, which has a light and spongy texture, can be cut into slices and used in place of ladyfingers. Make sure to use a gluten-free version or bake one yourself using gluten-free ingredients.
Gluten Free Biscuits or Cookies: Choose gluten-free biscuits or cookies that have a similar texture to ladyfingers. Look for options that are not too sweet and have a light, airy texture. You can use gluten-free shortbread cookies or almond flour-based cookies.
How to Make Gluten Free Tiramisu
Making tiramisu may seem like a daunting task but it's actually really easy! Before I made my first tiramisu recipe I was like a deer in the headlights. It looked so complicated, even for a professional chef like me!
But once I got started I saw how simple the process really is. You can whip up a batch of tiramisu in about 20 minutes. Less if you use pre-whipped whipped cream or cool whip.
Here are the steps:
Combine heavy whipping cream and vanilla in a bowl. Mix with a standing mixer until stiff peaks form (5 minutes).
Break the lady fingers into thirds. Soak them in the coffee for one second and then place at the bottom of the jar. Layer each jar with whip cream and the grated chocolate. Repeat the layers until the container is full. Garnish with extra cherry drizzle, grated chocolate and a fresh cherry.
Gluten Free Cherry Tiramisu Dessert Cup Recipe
Gluten free mini cherry tiramisu dessert cups \ These treats feature layers of espresso-infused gluten free ladyfingers, light whipped cream, and a sweet homemade cherry filling. Topped with a hint of dark chocolate, each bite offers a balanced mix of sweetness and richness.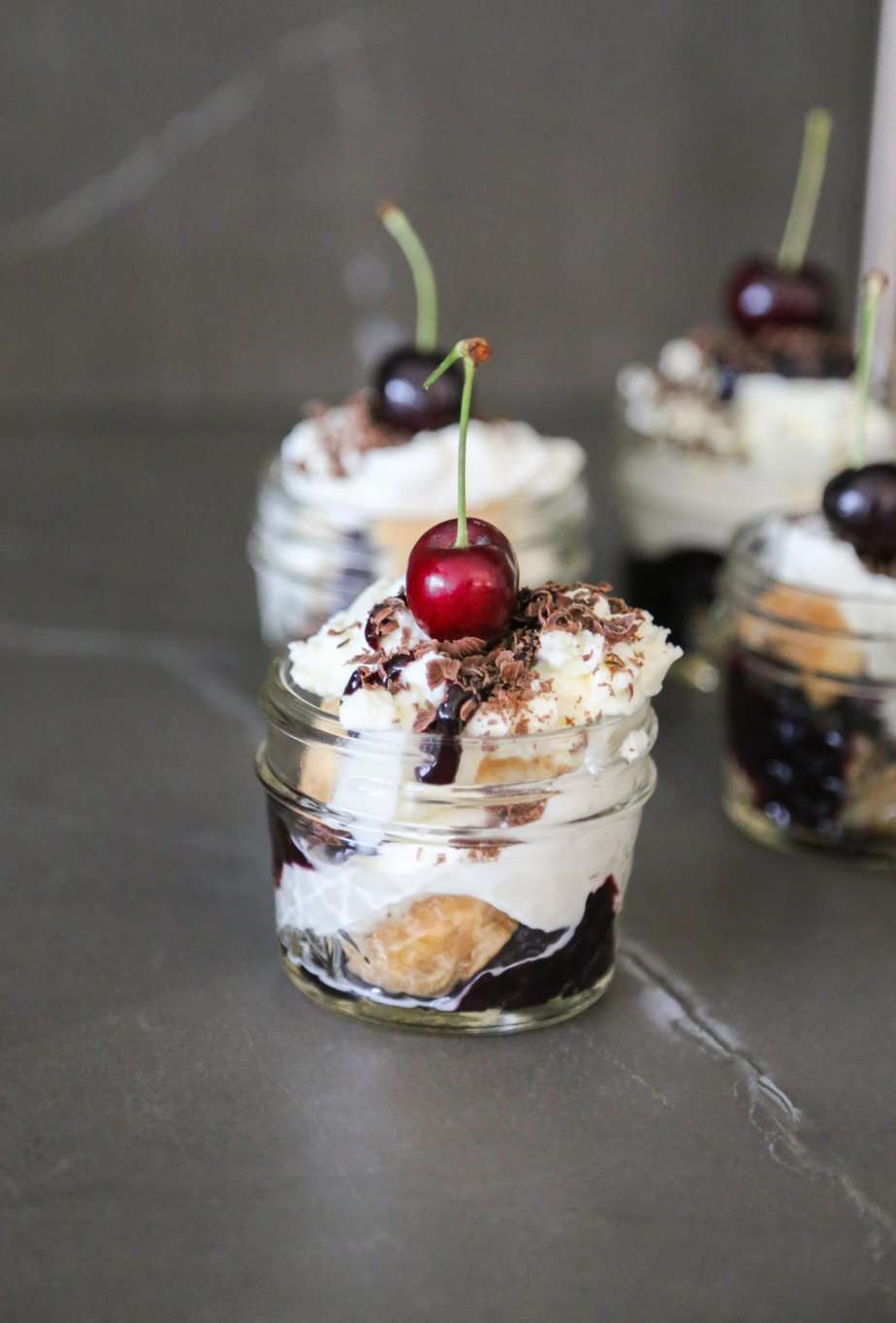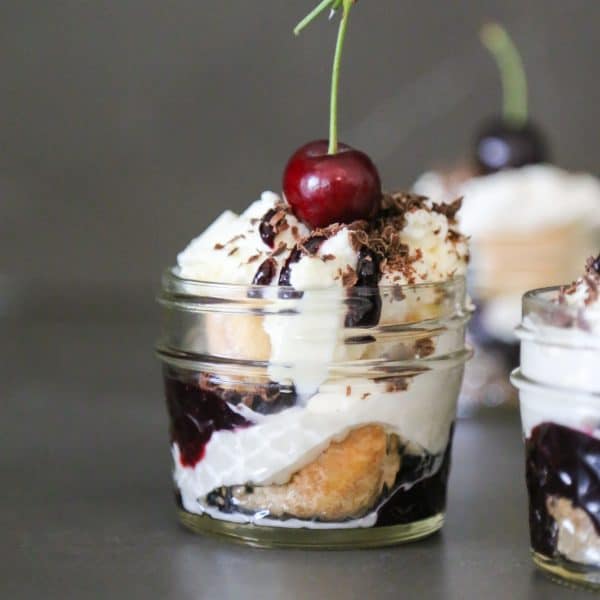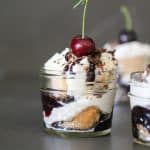 What is Real Tiramisu Made From?
Traditional tiramisu is made from mascarpone cheese, heavy cream, masala wine, rum, coffee, egg whites and lady finger biscuits made with wheat flour. Italians use raw egg whites to make tiramisu but Americans are afraid of salmonella poisoning so they usually temper the egg whites by heating them up enough to kill the bacteria but not hot enough to scramble the eggs.
Is Costco Tiramisu Gluten Free?
No Costco tiramisu is not gluten free because it's made with sponge cake which is made from wheat flour.
Is Trader Joe's Tiramisu Gluten Free?
No the Trader Joe's tiramisu torte is not gluten free because one of the ingredients listed on the package is wheat flour.