Below are gluten-free options at one of the most successful u.s. fast-food chains on the west coast, Jack in the Box!
Unfortunately, Jack in the Box is one of those fast food restaurants that has a very limited selection of gluten free menu items, especially main dishes and they have no breakfast food options. But not to worry, gluten-free food items are at Jack In The Box!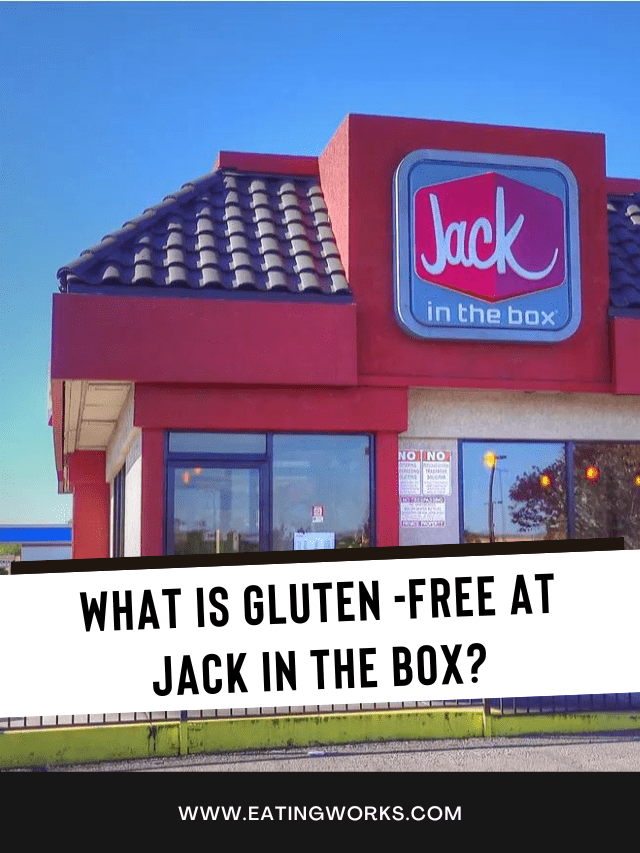 This post may contain affiliate links. As an Amazon Associate I earn from qualifying purchases at no cost to you. See my Affiliate Disclosure to read my policy and more about affiliate links.
Jack In The Box Allergen Information And Cross Contamination
On their website, Jack In The Box says that their products are made and served with egg, milk, soy, fish, and wheat. While the list of ingredients or nutrition facts does not include one of the said allergens, they may prepare other food items with the same equipment used in other products containing one or more of the allergens. Thus, you should always double check determining which food can be consumed at their restaurant if you have any food allergies or a gluten sensitivity. As there is a huge risk of cross-contamination.
Jack In The Box History
Jack in the Box is a popular fast food chain that was founded in 1951 by Robert Peterson. It was established in San Diego, California where it started out as a tiny restaurant. Over the years the once local restaurant evolved into a restaurant chain that has 2,200 locations operating primarily in the west coast region of the United States. Their fast-food restaurants are known for serving fan favorites such as egg rolls, black beans, hot dogs, onion rings, regular French fries, curly fries among others. The company also owns a small sister company known as Qdoba Mexica Grill.
Jack In The Box Gluten-Free Menu Options
While there isn't a separate Jack In The Box allergen menu for those with celiac disease or eating a gluten-free diet, Jack In The Box luckily does feature food items that may pass as gluten-free. Some of which are their salads such as the Chicken Club Salad and sauces like Sour Cream.
Now onto the gluten-free items found on the menu !
Sauces And Condiments
Buttermilk House Dipping Sauce
Fire Roasted Salsa
Buffalo Dipping Sauce
Honey Mustard Dipping Sauce
Log Cabin
Syrup
Sweet & Sour Dipping Sauce
Tartar Sauce
Zesty Marinara Sauce
Chipotle Sauce
Creamy Italian Sauce
Creamy Ranch Sauce
Mayo-Onion
Mustard
Peppercorn Mayo
Sun-Dried Tomato Sauce
Fire Roasted Salsa
Grape Jelly
Grilled Onions
Mayonnaise
Mustard
Pride Margarine Spread
Red Onion
Secret Sauce
Sour Cream
Strawberry Jelly
Taco Sauce
Gluten-Free Sides At Jack And The Box
Hash Browns Sticks (5 pcs.)
Chiquita Apple Bites with caramel
Gluten-Free Salads At Jack And The Box
Chicken Club Salad with Julienne Chicken
Grilled Chicken Salad
Side Salad
Southwest Chicken Salad with Julienne Chicken
Note: The above features salad options without wheat flour or gluten ingredients. However, it is important to note, what Jack In The Box's Allergen Information Handbook states: "Allergen information does not include salad dressing or crunch toppings."
Gluten-Free Main Courses Jack And The Box
The only thing is there grilled chicken strips (important there breaded chicken strips are not gluten-free as they are made with wheat flour!). Hopefully more gf options for main courses will be offered in the future!)
Shakes And Desserts
Shake, Chocolate with Whipped Topping
Shake, Strawberry with Whipped Topping
Shake, Vanilla with Whipped Topping
Drinks
Barq's Root Beer
Coca-Cola
Coffee, High Mountain Arabica (Regular & Decaf)
Dasani Bottled Water
Diet Coke
Diet Dr. Pepper
Dr. Pepper
Fanta Orange
Fanta Strawberry
Gold Peak Classic Blend Iced Tea
Hi-C Fruit Punch
Iced Coffee, Caramel M x
Iced Coffee, Mocha M x
Iced Coffee, Original M x
Jumpin' Jack's Splash
Jumpin' Jack's Splash, Diet
Milk, Low Fat 1% M
100% Apple Juice Minute Maid
Lemonade Minute Maid
Orange Juice Minute Maid
Sprite
Are Jack In The Box Hamburger Patties Gluten-Free?
Jack in the Box's sandwiches and burgers are all made on gluten-containing bread so aren't suitable for a gluten-free dieter.
Is The Chicken Teriyaki Bowl At Jack In The Box Gluten-Free?
Not all restaurants may honor this request, but you can ask for the teriyaki bowl with grilled chicken instead of the teriyaki chicken. The teriyaki sauce is the only thing that makes the bowl (contains rice, chicken, and broccoli) not gluten-free.
Do Jack In The Box Tacos Use Corn Tortillas?
Jack In The Box tacos in their taco box are made with white corn tortillas. You can learn more about their nutritional info here.
Sources