Is Starbucks Hot Chocolate Gluten Free?
Is Starbucks hot chocolate gluten free?
Quick answer: Yes. All of the hot chocolate drinks are gluten-free except for the caramel and toasted white hot chocolate and any with toppings other than whipped cream.
Be sure to check out my are Starbucks egg bites gluten free article!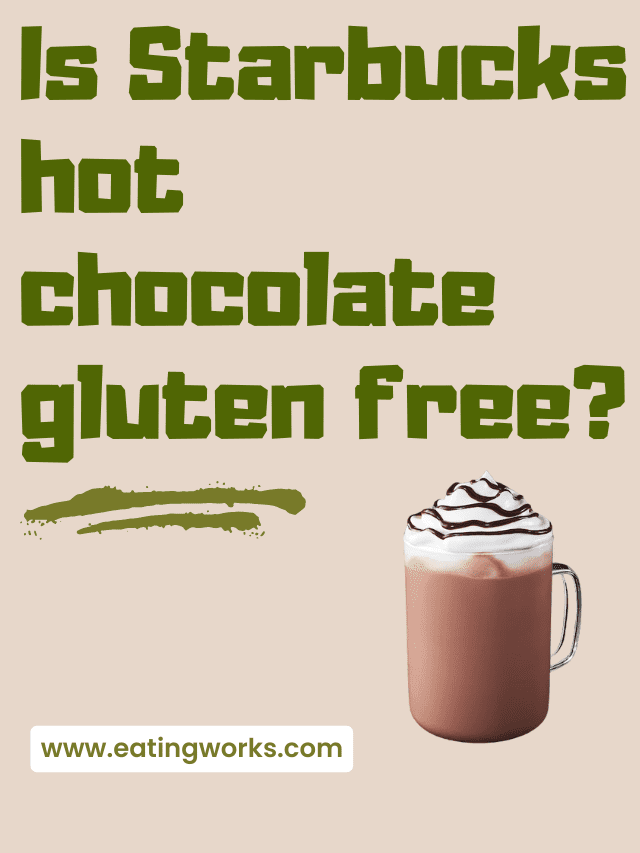 This post may contain affiliate links. As an Amazon Associate I earn from qualifying purchases at no cost to you. See my Affiliate Disclosure to read my policy and more about affiliate links.
Table of Contents
Does Starbucks hot chocolate have gluten?
All of Starbucks hot chocolates do not contain gluten except for the toasted white chocolate and caramel flavor.
How much is Starbucks hot chocolate?
If you want a simple hot chocolate at Starbucks, you will pay $2.75 for a tall, $3.25 for a Grande, and $3.45 for a venti.
Does Starbucks sell hot chocolate year round?
Hot chocolate is available at Starbucks all year, but the winter menu adds some seasonal flavors like toasted white, peppermint, and peppermint white.
Ingredient list of Starbuck's Hot Chocolate!
Taken directly from Starbuck's website, the ingredients in their hot chocolate includes MILK, MOCHA SAUCE [WATER, SUGAR, COCOA PROCESSED WITH ALKALI, NATURAL FLAVOR], WHIPPED CREAM [CREAM (CREAM, MONO AND DIGLYCERIDES, CARAGEENAN), VANILLA SYRUP (SUGAR, WATER, NATURAL FLAVORS, POTASSIUM SORBATE, CITRIC ACID)].
Is Starbucks Hot Chocolate made with milk?
All Starbucks Hot Chocolates are made with steamed 2% milk and topped with whipped cream.
Doe Starbucks have sugar free hot chocolate?
Yes, Starbucks has sugar free hot chocolate. Starbucks has sugar free hot chocolate on its menu to cater to anyone looking for low-carb hot chocolate.
Is Starbucks Peppermint hot chocolate gluten free?
Starbucks Peppermint Mocha and Peppermint Hot Chocolate is in fact gluten free.
Is Starbucks hot chocolate vegan?
Starbucks hot chocolate is not vegan because its ingredients are made of animal products.