Outback Steakhouse Gluten Free Menu Guide 2023
In this menu guide, I'll highlight all the gluten-free menu items at Outback Steakhouse. I will also address any common questions asked when ordering gf options off the Outback Steakhouse menu. In addition I'll include copycat recipes you can make at home.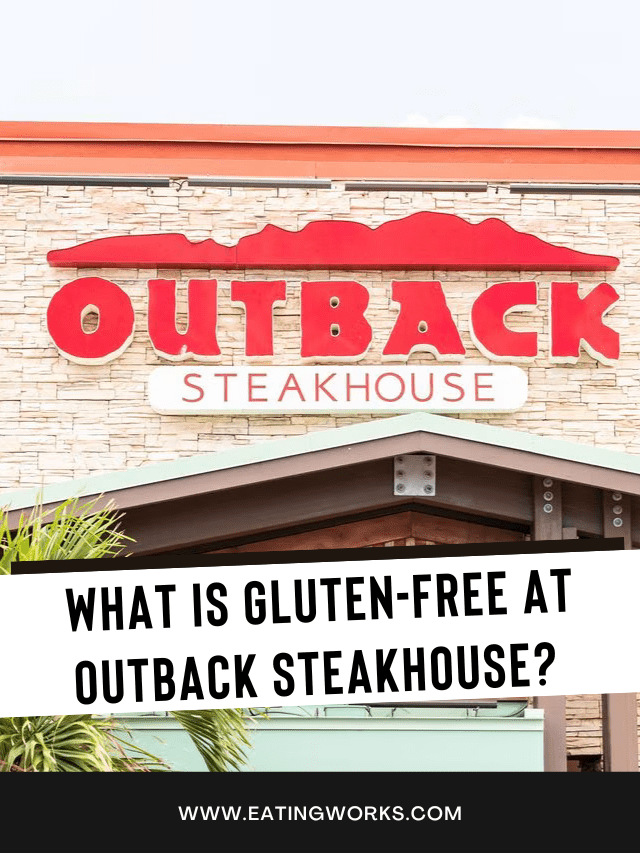 This post may contain affiliate links. As an Amazon Associate I earn from qualifying purchases at no cost to you. See my Affiliate Disclosure to read my policy and more about affiliate links.
Table of Contents
Outback Steakhouse Gluten-Free Menu
These are all the gluten-free items I could find at Outback Steakhouse. Note all gluten-free options listed below do not contain wheat flour or gluten, based on the Outback Steakhouse Gluten Free Menu PDF. These gf menu items still have the potential for cross contamination and other traces of gluten, so if you have celiac disease or any serious gluten-related disorders you should proceed with with caution.
Drinks
Coca-Cola Products
Dr Pepper
San Pelligrino
Acqua Panna
Iced Tea
Lemonade
Aussie Palmer
Strawberry Lemonade
Kiwi Strawberry Lemonade
Alcohol
Margaritas
Blueberry Lavender Lemonade
Sauza Gold Coast Margarita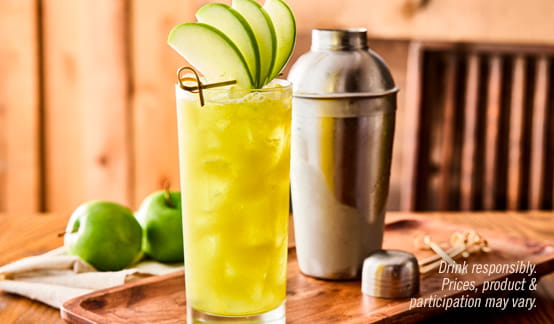 Big Bowl Salads
Aussie Grilled Chicken Cobb Salad
Brisbane Caesar Salad
Fresh Strawberry Salad
Gluten Free Salad Dressings
Ranch
Caesar
Honey Mustard Sauce
Tangy Tomato
Creamy Blue Cheese Dressing
Light Balsamic Vinaigrette
Aussie-Tizers
Grilled Shrimp on the Barbie (served without bread)
Entrees
Drover's Ribs & Chicken Platter
Grilled Chicken on the Barbie
Alice Springs Chicken
Pineapple & Pork Medallions
Baby Back Ribs
Steak
Victoria's Filet Mignon
Outback Sirloin (Center-Cut)
Ribeye
Bone-In Ribeye
Bone-In New York Strip
Melbourne Porterhouse
Steak Toppings
Grilled Onions
Roasted Garlic Butter
Grilled Shrimp
Steamed Lobster Tail
Steak 'N Mate Combos
Signature Sirloin & Grilled Shrimp
Signature Sirloin & Grilled Chicken Breast
Ribeye & Grilled Shrimp
Filet Mignon & Lobster
Seafood
Perfectly Grilled Salmon
Lobster Tails
Botany Bay Tilapia
Steakhouse Potatoes & Sides
Homestyle Mashed Potatoes
Baked Potato
Sweet Potato
Fresh Seasonal Veggie
Fresh Mixed Veggies
House Salad (made without croutons)
Caesar Salad (made without croutons)
Sweet Finish
Chocolate Thunder from Down Under
Common questions asked when ordering gluten free at Outback Steakhouse!
Are Outback Aussie fries gluten free?
Outback Steakhouse's Aussie Fries are not GF. Instead, a gluten-free menu item you can order is veggies without seasonings or you can request salad.
Is Outback brownies gluten-free?
A chocolate lover's dream. The gluten-free brownie under the rich vanilla ice cream and homemade whipped cream is a flourless chocolate pecan cake cut into squares. It is one of the most popular menu items at Outback Steakhouse and the perfect dessert to order if you are on a gluten-free diet.
Are the cheese fries at Outback gluten-free?
The fries are coated in a light flour-based coating, and the cheddar cheese sauce is not suitable for a gluten-free diet. If you are looking for a gluten-free option, Outback does offer a range of other side dishes that do not contain any gluten ingredients, such as mashed potatoes, mac u0026 cheese, fresh greens, and sweet potato fries.
Gluten free Outback Copycat Recipes
Gluten Free Brown Bread
Enjoy the heartiness of whole wheat bread when you try this gluten free brown bread recipe. This gf whole grain bread is wheaty and delicious, all while being wheatless.

-Gluten Free On A Shoestring
Click here for the recipe!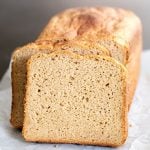 Vegan Avocado Brownies
These vegan avocado brownies are sure to be your new guiltless pleasure since they're made with the healthiest ingredients.
Check out this recipe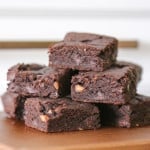 Gluten Free Brownie Sundaes Recipe
These Gluten Free Brownie Sundaes are easy to make, and full of rich and delicious chocolatey flavor. You would never guess they are gluten free, because they are so gooey and chocolatey. You will love this recipe.

-Six Sisters Stuff
Click here for the recipe!
Gluten-Free Homemade Oven Fries
Here is a fast and easy recipe for spicy Gluten-Free Oven Fries, a favorite with gluten-free kids and the perfect side for a big juicy burger.

-The Spruce Eats
Click here for the recipe!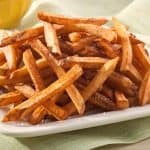 Crispy Chicken Tenders
Crispy gluten free chicken tenders! Perfectly juicy, tender, and so easy to make. These easy tenders are sure to be a favorite. They cook up easily in the oven or you can use your air fryer for even faster results.

-All The Healthy Things
Click here for the recipe!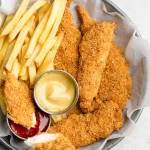 Air Fried Blooming Onion (Gluten-Free)
Make Outback Steakhouse's Famous Blooming Onion using the air fryer. This recipe is also easy to make and is the perfect gluten-free meal.

-Air Fryer Fanatics
Click here for the recipe!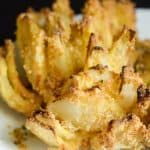 Gluten Free Vegan Baked Blooming Onion
Here's my version of an Outback Steak House Bloomin' Onion that is gluten free, Vegan, dairy free, eggless, soy free, peanut nut free and tree nut free. You can enjoy a safe and healthier version in the comfort of your own home and not worry about cross contamination in the fryer.

-Petite Allergy Treats
Click here for the recipe!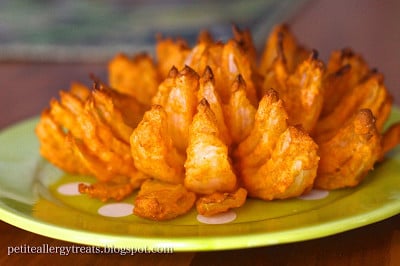 Vegan Gluten-free BBQ Ribs (soy-free-friendly, nut-free)
These BBQ ribs are vegan, gluten-free and healthy. They are chewy too so you get a similar experience to eating a traditional non-vegan rack of baby back ribs.

-Salty Bean
Click here for the recipe!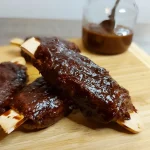 Gluten-Free Smothered Pork Chop Recipe (Dairy-Free)
Easy gluten-free hearty meal of tender pork chops smothered in a rich and savory onion gravy.

-MamaShire
Click here for the recipe!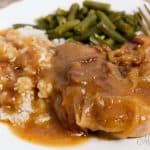 Peppercorn-Crusted Beef Filet Tenderloin
This perfectly cooked, juicy beef tenderloin, surrounded by the most delicious pepper and rosemary crust, is a showstopper.

-Gluten-Free Living
Click here for the recipe!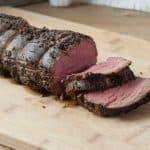 Summary of Gluten Free Menu Options at Outback Steakhouse
Pro tips and a quick summary of everything gluten free at Outback Steakhouse
When you order at the restaurant or on the app for delivery/pickup, tell them you have an allergy or Celiac Disease so they take precautions with your food.
Outback Steakhouse has plenty of gluten-free offerings on their regular menu from steak to ribs to seafood and even salads.
Eating out at a restaurant with a menu as large as the one at Outback Steakhouse is overwhelming if you're on a low carb diet.
Check out this quick menu guide where I show you all of the low carb options at Outback.