Anyone on a plant based or gluten free diet absolutely loves hummus. It's the perfect vegan protein! Hummus is versatile, easily available, tasty and can be made in 100's of different ways. When you search for "hummus recipes," you'll find 91,800,000 results on Google! If you're new to hummus and a gluten free diet then this ultimate guide is perfect for you. I'm going to answer the question, "Is Hummus Gluten Free?" once and for all. We'll also cover what hummus is, what it's made from, gluten free brands of hummus you can buy, how to make gluten free hummus at home and more!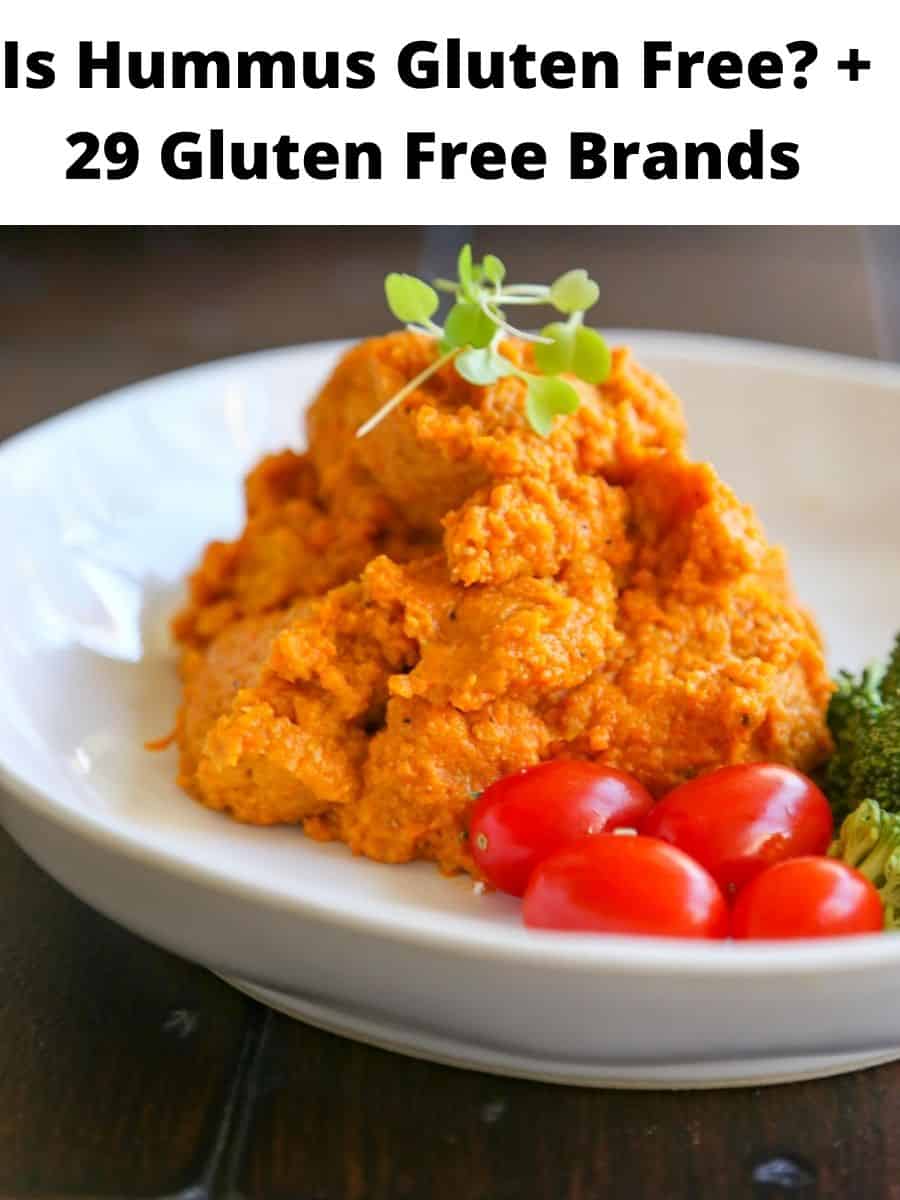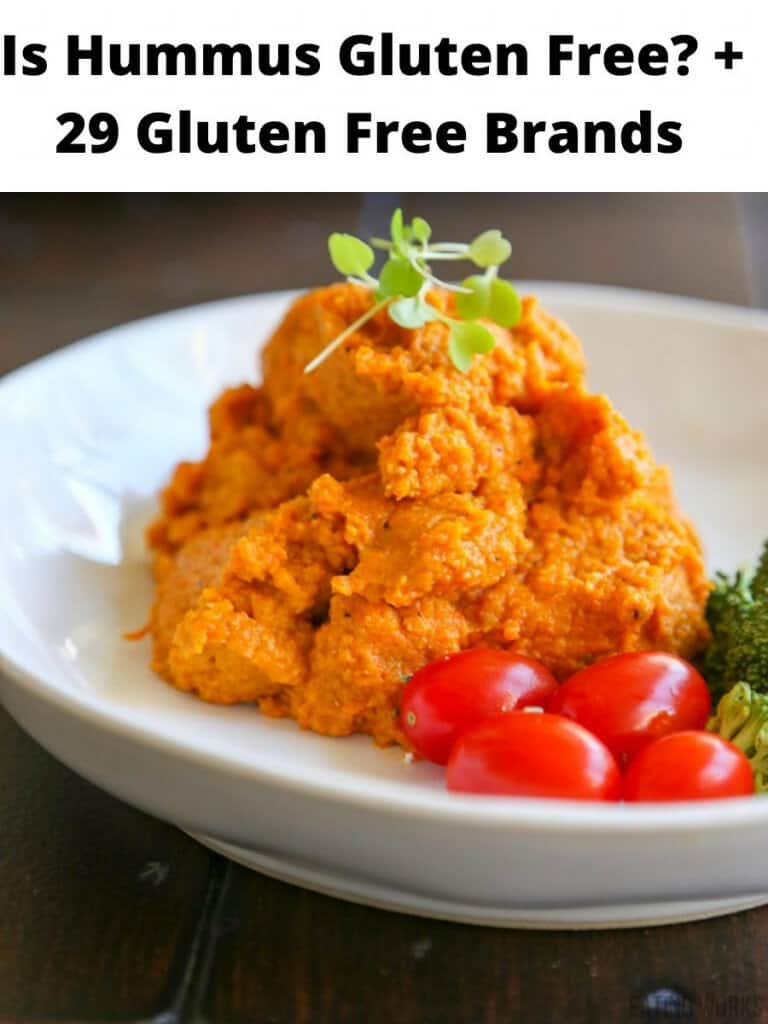 If you don't want to read thousands of words on hummus then click one of the jump links in the table of contents below which will take you to the section of this post where I answer your specific question.
Table of Contents
If you're new to a gluten free lifestyle then you're probably trying to figure out what you can eat at a restaurant, what to buy at the grocery store and what recipes you can cook.
Transitioning to a gluten free lifestyle can be exhausting. There's so much information out there and you suddenly have to stop to check the ingredients of almost everything you eat. I want to demystify gluten free living for you so that you can enjoy food and feel good. You'll be happy to know that you can add hummus to your list of gluten free foods to enjoy.
This post may contain affiliate links. As an Amazon Associate I earnfrom qualifying purchases at no cost to you. See my Affiliate Disclosure to read my policy and more about affiliate links.
What Is Hummus
Hummus is a smooth creamy paste made from blending ground sesame seeds (tahini), chickpeas (garbanzo beans) and some acid like lemon juice. It's typically used as a condiment for dipping or to enhance another dish like a gyro or wrap.
What Ingredients Is Hummus Made From
Basic hummus is made from the following five ingredients.
Garbanzo Beans also known as Chickpeas aka Grams
Tahini also known as Ground Sesame Seeds
Fresh Chopped Garlic
Lemon Juice
Salt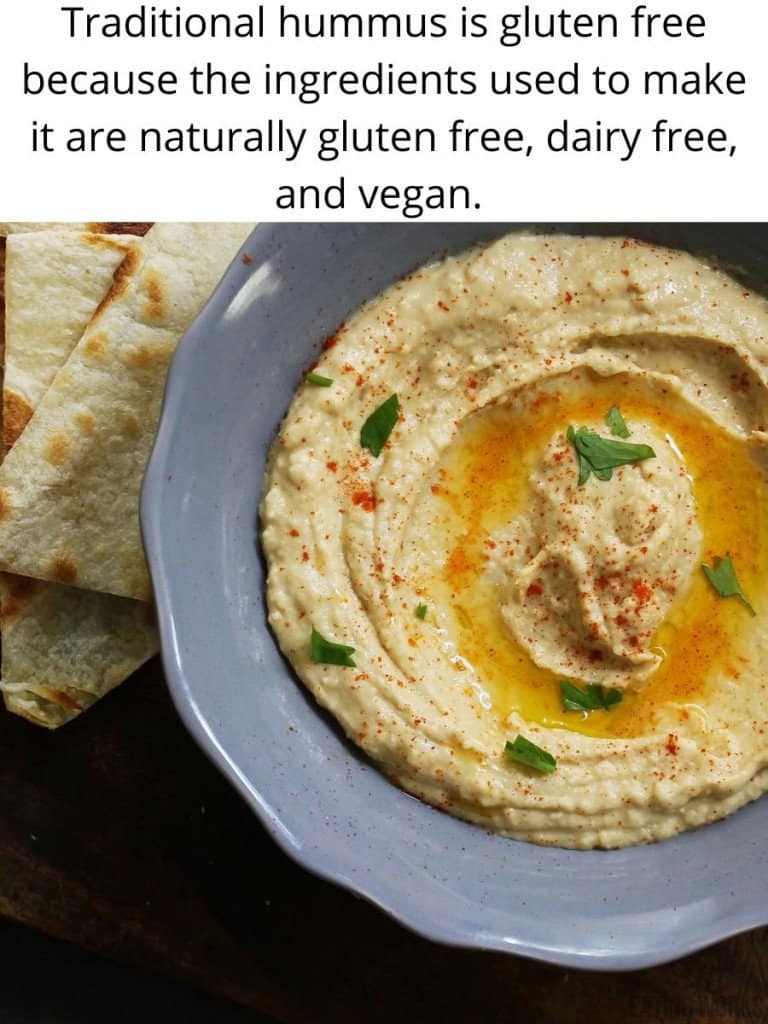 There are tons of variations of hummus including zucchini hummus, carrot hummus, etc. These ingredients are all suitable for a gluten free diet but hummus variations may have ingredients that contain gluten so its important to pay attention.
Where Did Hummus Come From?
Hummus translates in arabica to "ground chickpeas" and the earliest hummus recipe came from a cook book dating back to the 13th century! There are many theories and claims of where hummus originally was invented throughout the Middle East. So we at least know that hummus came from North Africa or Iran.
In it's simplest form of preparation hummus has been consumed in Egypt and the Levant. Everyone throughout the Middle East ate chickpeas but they prepared them differently like in stews and other hot entrees.
Hummus as we know it today didn't appear in written records before the Abbasid period in Egypt.
Is Hummus Gluten Free?
Yes hummus is gluten free! Since the ingredients used to make basic hummus are all naturally gluten free, hummus is generally accepted as a gluten free food.
But… before you get all excited about gluten free hummus there are some things to consider. Even though hummus literally only contains 5 ingredients that are naturally gluten free, it isn't always gluten free when you buy it in the store.
This could be due to three factors.
Gluten could be added to the hummus as a thickener.
The factory where the hummus is made could also be processing foods that contain gluten. In this instance cross contamination is a possibility and companies won't say that the hummus is gluten free for liability reasons.
If you aren't buying classic hummus, the ingredients added into the variation you're buying could have gluten. They usually don't but it's important to check the ingredients.
Is Store Bought Hummus Gluten Free?
So when you buy hummus it's always important to CHECK THE LABELS. But to make your life easier I have a list of brands that guarantee their hummus is truly gluten free.
Is Tahini Gluten Free?
YES, Tahini Is Gluten Free! Isn't that great news? I'm so happy I'm shouting the news from the rooftops.
To understand why tahini is gluten free we should look at what tahini is and the ingredients it's made from. By definition tahini is: A smooth paste made from ground sesame seeds.
Sesame seeds are gluten free since they're in the nut family and don't contain wheat of any kind. Hooray! That means if you're on a gluten free diet you can enjoy tahini and foods that contain it including hummus.
For more information and a list of gluten free tahini brands take a look at this article I wrote on Gluten Free Tahini.
What Is Gluten?
Gluten is a broad term used to describe the proteins found in wheat products. The three types of wheat that are predominantly associated with gluten are wheat, barley and rye. However gluten proteins can be found in food additives and other forms of wheat like wheat berries, durham, spelt and more).
In order to help you remember what gluten is, when you think of "gluten" think of the word "glue." That is because gluten is literally the, "glue" that holds food together. Gluten proteins are created in bread when the dough is kneaded. Gluten looks like the beautiful lattice webbing (holes) found in traditional bread like a baguette.
Gluten can also be found in unexpected foods. Below is a list of common additives that have gluten in it. If you are on a strict gluten free diet because you have celiac disease I suggest that you print out this list and bring it with you when you go to the supermarket. Cross reference all of the products you buy to make sure that one of these gluten additives isn't listed in the ingredients.
After a few trips to the grocery store you'll have the list memorized and you'll be surprised to find that your brain has been trained to look for gluten products. Once you know what to look for going to the supermarket won't be as stressful.
21 Ingredients That Have Gluten To Look For In Pre-Packaged Food Products: Including Hummus
Wheat (bran, germ and starch)
Malt (since it's made from barley)
Cracker Meal
Soy Sauce
Kinkel
Vital Gluten
Wheatgerm
Sulfosccinate
Seitan
Rusk
Teriyaki Sauce
Durum
Semolina
Einkorn
Emmer
Farina triticale
Farro or faro (spelt)
Graham flour
Hydrolyzed wheat protein
Modified wheat starch
Rye
Which Brands of Hummus Are Gluten Free?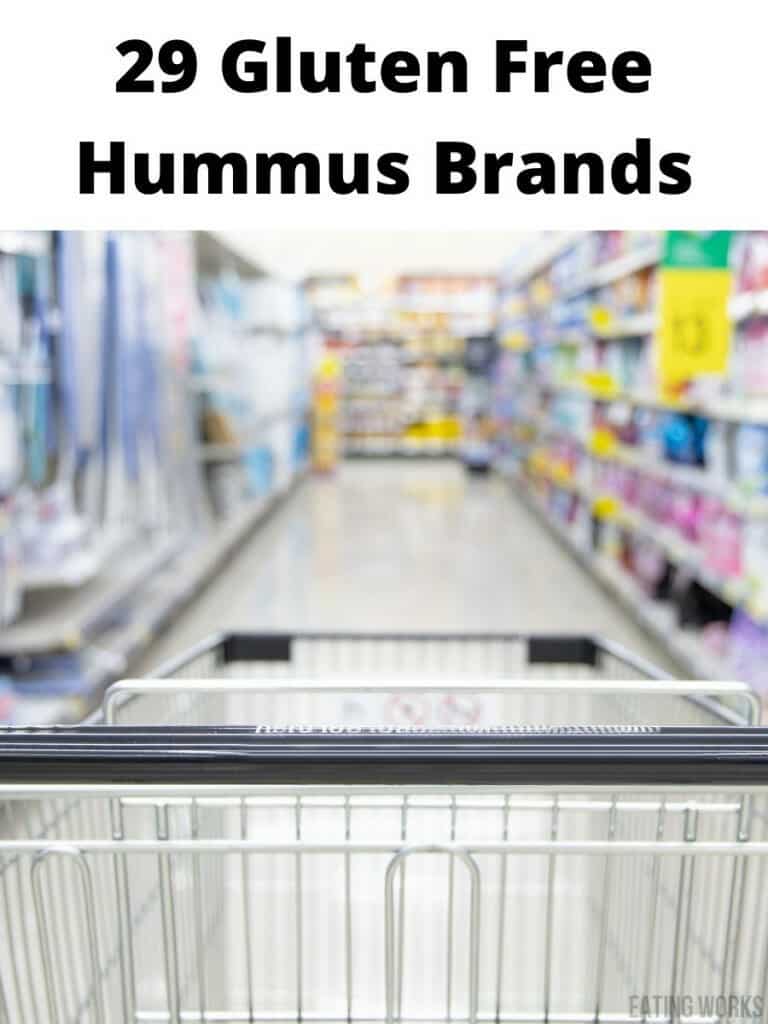 Most brands of hummus are labeled gluten free. Some brands use flour to thicken the hummus which makes it not gluten free. Many of these brands advertise the wheat flour as one of the ingredients. Or they manufacture the hummus with equipment that also comes into contact with gluten.
Is Sabra classic hummus gluten free? Quick answer: Yes Sabra classic hummus is gluten free. All of Sabra hummus flavors are vegetarian and gluten free.
29 Gluten Free Hummus Brands
18 Refrigerated Gluten Free Hummus Brands
Aldi's Simply Nature Organic Hummus
Athenos Hummus
Blue Moose Hummus
Esti Authenitc Greek Hummus
Sprout's Market Corner Artichoke Spinach Hummus
Tribe Hummus
The Hummus Guy
11 Shelf Stable Gluten Free Hummus – That Doesn't Need To Be Refrigerated
Boars Head Hummus
Fazlani Foods – Shelf Stable
Lilly's Hummus
Nature's Promise Organic Hummus
Roots Vegan Hummus
Sabras Hummus
Hummus Classical Gourmet
How To Make Gluten Free Hummus At Home
If you want to make sure that your hummus is 100% gluten free and safe to eat if you have celiac disease then you can make it at home. Since hummus is so widely available in grocery stores a lot of people don't think about making it.
Some of the benefits of making homemade hummus are:
It's much cheaper
You get a larger quantity
You can control the flavor by adding more or less spice
If you're on a renal diet you can reduce sodium
You can make fun flavors
With the cost of food rising it certainly makes more sense to use a can of chickpeas to make hummus than it does to spend 6 dollars or more on a 5 ounce container of organic hummus.
To make my favorite hummus at home check the recipe card below, but it's very easy!
Instructions For Homemade Gluten Free Hummus
This gluten free hummus on my blog was also made with carrots. I like using another vegetable to cut the amount of chickpeas in the hummus down to lower the calories and increase the flavor.
For more detailed instructions on how to make hummus at home check out this post!
Ingredients
Instructions
Preheat oven to 400-F. Arrange carrots on a baking sheet and coat with oil or butter. Season with salt and pepper and bake until soft and slightly golden (30 minutes).
Remove the carrots from the oven. Peel off any burnt parts and mash with a fork
In a food processor combine all ingredients. Combine until emulsified. Enjoy!
What If I don't Have Tahini?
If you don't have tahini on hand it's no big deal! You can easily make tahini at home right now! Click here to get my home made tahini recipe!
Is Hummus Vegan?
Yes, hummus is vegan because all of the ingredients used to make it are naturally vegan. However, be careful to check the labels of store bought flavored hummus for dairy and meat products. 90% of the time hummus is vegan.
Does Hummus Have Diary?
No hummus is typically vegan and dairy free. The traditional ingredients in hummus are all plant based and vegan. Hummus flavors that could have dairy or other animal products added to them are feta hummus or spiced beef hummus.
What Do You Eat With Hummus
Hummus is enjoyable as apart of hot dishes or as a dip. Some common foods that hummus goes well with include:
Pita
Crackers
Cut Vegetables
Falafel
Tortilla Chips
Corn Chips
Hummus can also be used as a condiment in:
Wraps
Sandwiches
Burgers
Fish
Chicken
Lamb
Gyro
Salads
Falafel is my favorite food to eat hummus with. Falafel is usually gluten free but it is fried. I made a healthy gluten free baked falafel recipe. If you want to make it or learn how to make falafel check out the post!
Baked Gluten Free Falafel Recipe.
Is Falafel Gluten Free?
Chickpeas don't contain gluten so traditionally made falafel is gluten-free. Some recipes use wheat flour and other filler ingredients which contain gluten. So if you're on a strict gluten-free diet you can make this recipe. But when eating out at restaurants always make sure to ask whether or not the falafel is gluten-free. Especially if you have a condition that is made worse by gluten such as celiac, IBS or chronic constipation. Even though this recipe is gluten-free it does contain seeds. So if you have a nut allergy you should not make this!
Common Questions And Answers
Is hummus O.K. for Celiacs?
Yes hummus is fine for celiacs to eat since it's widely accepted as gluten free. Of course some brands of hummus are thickened with wheat so they aren't gluten free. Also check ingredient labels on flavored hummus since the ingredients to flavor the hummus may not be gluten free. Traditional hummus is almost always gluten free and safe for people with celiac disease to eat.
Does hummus have gluten or dairy?
No hummus is typically vegan and dairy free. The traditional ingredients used to make hummus are all plant based and vegan. Hummus flavors that could have dairy or other animal products added to them are feta hummus or spiced beef hummus. Also most hummus is gluten free since the ingredients used to make traditional hummus are all derived from plants and not wheat.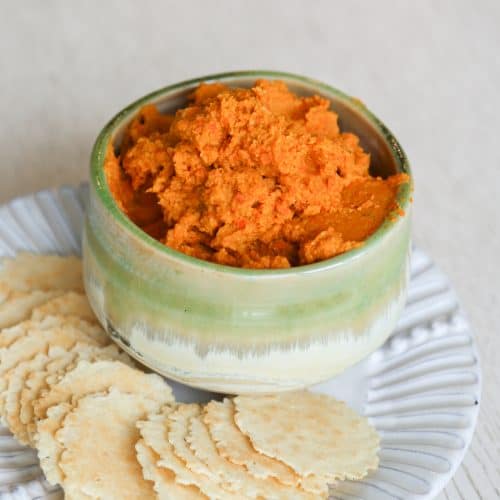 Gluten Free Hummus with Roasted Carrots (Vegan)
You'll love this gluten free carrot hummus from the first dip! Flavored with roasted carrots and a spanish spice blend gives it a smokey savory flavor.
Print
Pin
Rate
Ingredients
1 1/2

C

Roasted Carrots

1 pound peeled

1 1/2

C

Chickpeas

prepared and soaked or one 15 oz can

1/4

C

Olive Oil

cold pressed

1/2

C

Water

1/4

C

Mellow White Miso

chick pea miso if you are avoiding soy

1

tbsp

Lemon Juice

optional

1

tbsp

Peruvian Spice Blend
Instructions
Preheat oven to 400-F. Arrange carrots on a baking sheet and coat with oil or butter. Season with salt and pepper and bake until soft and slightly golden (30 minutes).

Remove the carrots from the oven. Peel off any burnt parts and mash with a fork

In a food processor combine all ingredients. Combine until emulsified. Enjoy!
Nutrition
Serving:
8
oz
|
Calories:
129
kcal
|
Carbohydrates:
11.2
g
|
Protein:
1
g
|
Fat:
8
g
|
Saturated Fat:
1.2
g
|
Sodium:
412
mg
|
Potassium:
257
mg
|
Fiber:
6.1
g
|
Calcium:
27
mg