Are artichokes keto? How many carbs in artichokes? Get answers to those questions and find out why artichokes are one of the most nutritious keto-friendly veggies!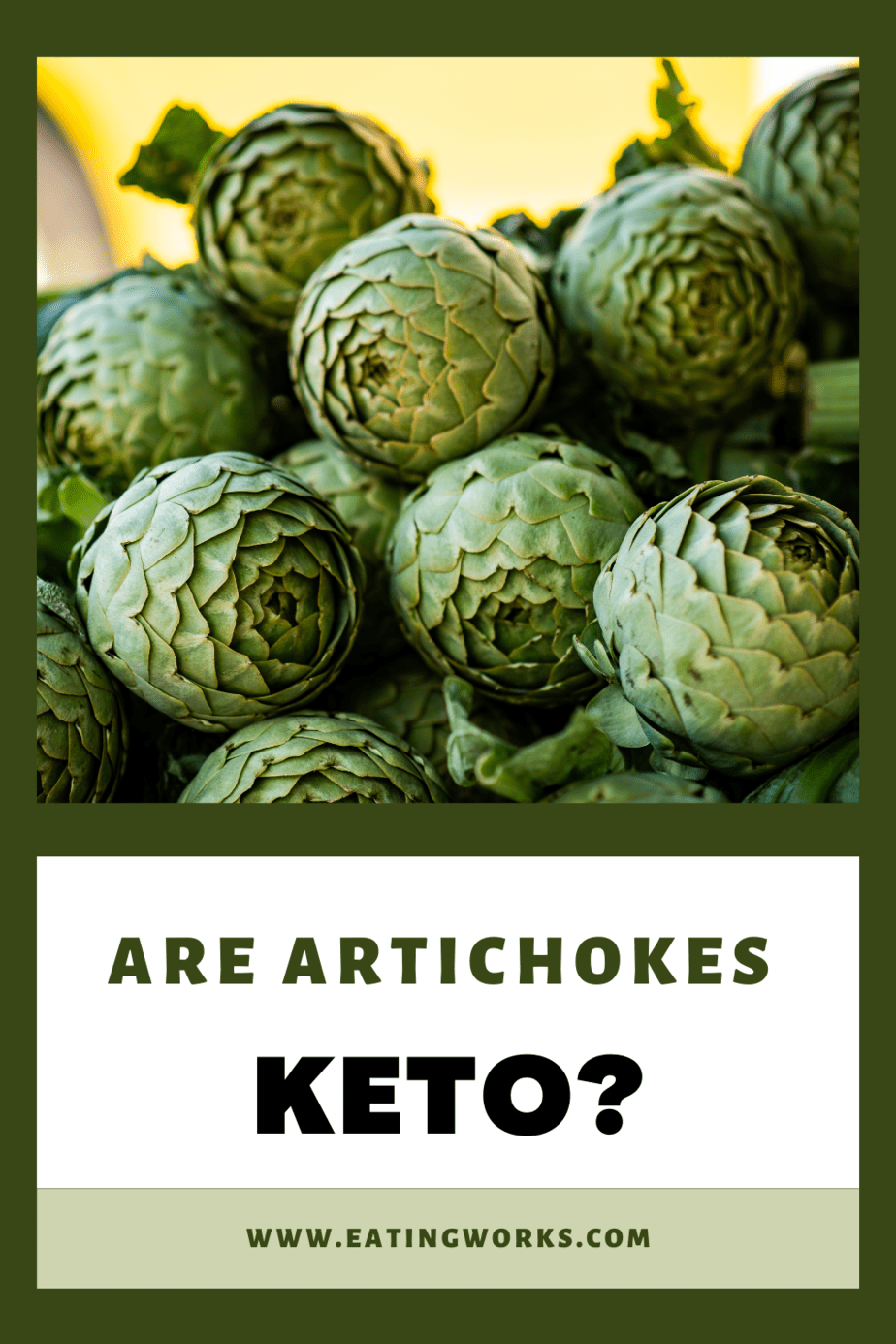 This post may contain affiliate links. As an Amazon Associate I earnfrom qualifying purchases at no cost to you. See my Affiliate Disclosure to read my policy and more about affiliate links.
Are artichokes keto friendly?
Yes! You can absolutely have artichokes on keto, thanks to their low carb count. However, keep in mind that the low carb content in this thorny vegetable is not as significant as other keto veggies, such as zucchini or broccoli.
Are artichokes low carb?
Artichokes are delicious and nutritious. One medium-sized artichoke (120 grams) contains 14 grams of carbs. However, 10 grams of come from fiber, making it very low in digestible grams of net carbs (71).
Is a medium artichoke or a large artichoke better?
The smaller the artichoke, the more tender the leaves as well, which means, baby artichokes are almost entirely edible. The larger the artichoke, the more woody the leaves, and those are inedible.
Can you eat artichokes on a keto low carb diet?
You can absolutely eat artichokes on a low carb diet. With only approximately 14 grams of carbs per ½ cup serving, artichokes make an excellent choice for low-carb vegetables.
What is the lowest carb vegetable to eat?
The lowest carb vegetables to eat include spinach, cabbage, and kale. The best low-carb option to eat is spinach. Spinach without a doubt is the lowest carb at 1 net carb per 100 gram serving.
Are Jerusalem artichokes keto?
Jerusalem Artichoke should be avoided on keto because it is very high in net carbs (15.84g of net carbs per 100g serving). It is important to limit your net carb consumption to 20g – 30g per day to stay in ketosis.
How many carbs are in a steamed artichoke?
One cup of fresh artichokes hearts that are cooked boiled and drained without salt have 2.92 g protein, 9.39 g of carbs, and 4.54 grams of fiber (total dietary fiber).
Do marinated artichokes have carbs?
Artichoke Hearts Halves & Quarters Marinated In Oil is 2g total carbs, 0 g net carbs, 1.5 g fat, 1g protein, and 20 calories.
What vegetables are keto friendly?
The best vegetables for keto dieters include mushrooms, spinach, celery, and tomatoes. A person who is on a ketogenic diet may wish to avoid starchy vegetables, such as beets, potatoes, and sweetcorn.
Are artichoke hearts in a jar good for you?
Artichoke hearts in a jar aren't only keto but they provide a variety of good health benefits. They are an excellent source of fiber, vitamin K, folate. These low carb veggies are also a very good source of vitamin C and magnesium.
Do you rinse jarred artichokes?
Yes. You rinse jarred artichokes before using them to reduce the sodium content.
What is the base of the artichoke?
The edible part of the artichoke is known as the base of the petal.
Can you eat the entire artichoke leaf?
No you do not eat the entire artichoke leaf. However if properly cooked, the rest of the leaf should come off easily.
What is the best way to eat artichoke hearts?
There are varieties of ways to consume artichoke hearts if you are keto. Some people choose to peel away the petals of the artichoke and only eat the heart of the artichoke. However, some of the beneficial effects of artichokes are in the artichoke leaves. To get the full health benefits, you can pull the outer leaves off of the top of the artichoke and scrape off the meaty heart of the artichoke with your teeth.
Other ways to eat artichoke hearts?
According to the California Advisory Board, ways to eat artichoke hearts include:
To eat artichoke hearts, you pull off outer petals one at a time. You can serve them artichokes hot or cold.
Dip base of petal into a dip such as sour cream or melted butter; pull through teeth to remove soft, pulpy portion of petal. Discard remaining petal.
Spoon out fuzzy center at base; discard. The bottom, or heart, of the artichoke is entirely edible. Cut into small pieces.
What goes with artichoke for dinner?
If you are on a keto diet, artichokes can pair well with any type of salad or soup for dinner. Here are some salad recipes and soup recipes that are perfect to pair with artichokes for dinner if you are on a keto diet.
Are artichokes good for diabetics?
Consuming artichokes are great for diabetics and those looking to lower insulin resistance. Why? Eating artichokes manages blood sugar. Not only that, artichokes have high levels of inulin.
Do artichokes spike blood sugar?
No. Artichokes and artichoke leaf extract help lower blood sugar levels. One study in 39 overweight adults found that consuming artichoke extract daily for two months lowered fasting blood sugar levels compared to not supplementing.
Are artichokes high in sugar?
There is slightly over 1 gram of sugar a medium-sized globe artichoke when you eat the leaves and the heart.
Is artichoke good for weight loss?
If you want to lose weight, artichoke leaf extract has several health benefits and can be an excellent choice in helping you reach your goal. As a matter of fact, this plant has properties that stimulate the digestion of fats and helps in the reduction of bad cholesterol (LDL) and triglycerides.
Are artichokes good for blood pressure?
Based on certain research and scientific studies, consuming artichoke leaf extract made from artichokes found in a grocery store, does in fact including lower cholesterol.
Can artichokes be included in a kidney-friendly diet?
Animal studies in 2016 conducted by the Pakistan Journal of Pharmacological Science reported that artichoke extract delivered by injection normalized kidney function in rats with drug-induced kidney disease. However these same effects have yet to be demonstrated and studied in humans. The general rule of thumb though is its ok to have artichokes in a kidney friendly but in moderation. This is because of their high potassium content.
Can you eat artichokes raw on a keto diet?
Yes you can eat raw artichokes on a keto diet. Although most artichoke recipes call for the vegetable to be steamed, sauteed or braised, a great way to eat artichokes is raw.
Are artichokes good for gut bacteria?
Artichokes contain both prebiotics and probiotics which have been shown to positively impact the composition of gastrointestinal microbiota, leading to improved immunity, digestion, and nutrient absorption1. The good bacteria gut microflora is essential for inhibiting pathogenic bacteria growth..
Are artichokes good for your heart?
Studies conducted suggest artichoke consumption may benefit heart health. However more research needs to be done as no conclusion was drawn from these studies that artichoke consumption reduced risk of heart disease.
What is a fun fact about artichokes?
The artichoke is an unbloomed flower, part of the sunflower family, from the Mediterranean and the Canary Islands. Artichokes are one of the oldest foods known to humans. According to Greek mythology, the artichoke became known through the Greek God Zeus.
More Keto Articles!