In this menu guide, I'll highlight all the gf options available at KFC. I will also address any common questions asked when ordering gluten free at KFC. In addition I'll include copycat recipes you can make at home.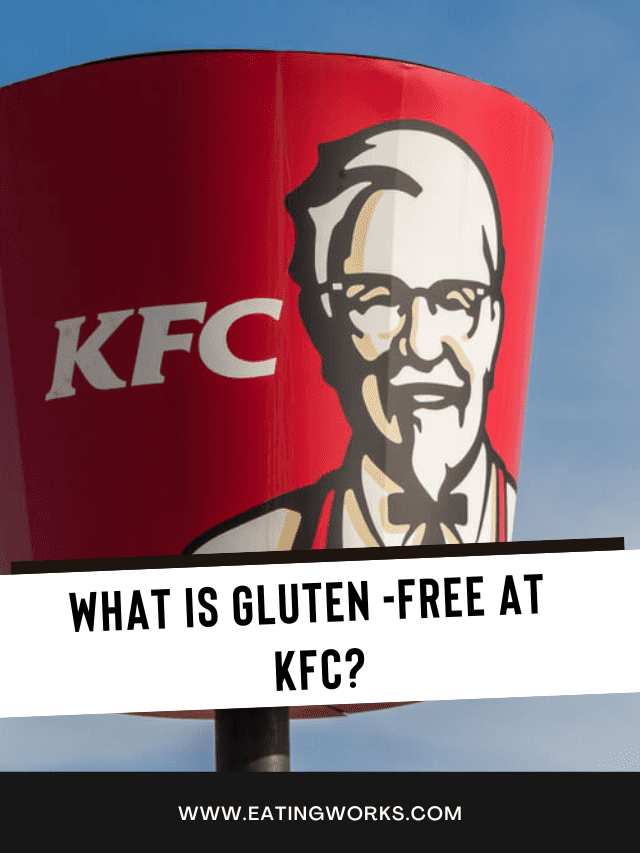 This post may contain affiliate links. As an Amazon Associate I earn from qualifying purchases at no cost to you. See my Affiliate Disclosure to read my policy and more about affiliate links.
KFC History
KFC (also known as Kentucky Fried Chicken) is an international fast food chain that was founded by Harland Sanders in 1930. At the time, he was in the midst of a depression, but still mustered the courage to open his first local restaurant in a small gas station in Kentucky. During this time, the restaurant was known as Sanders Court & Café.
KFC is one of the few original American brands that showcases a rich tradition and history. Their success is partly attributed to a list of secret spices and herbs which were written on the back of Harland Sanders kitchen door more than 70 years ago. In 1936, Sanders' restaurant began enjoying massive success, and by 1950, the Kentucky state governor named him colonel, the highest honor that a U.S. state can bestow upon a citizen.
KFC Today
Currently, KFC is the most popular chicken fast food restaurant chain in the world, specializing in their same original recipe, as well as other new options such as extra crispy chicken, chicken nuggets, French fries, buttermilk biscuits and homestyle sides. There are around 18,000 KFC locations in the world spread across 115 countries and territories. Despite opening so many locations globally, the company has still not compromised on its famous fried chicken recipe even for a second.
KFC Gluten-Free Menu Options
Below are gluten-free options at one of the most successful United States fast-food chicken chains, KFC!
Unfortunately, if you go to this fast food restaurant , you won't be able to eat any of the famous fried chicken that they are named for. None of the KFC chicken products are gluten-free. You can, however, eat some of their select sides and salads.
Side Dishes
Coleslaw
Corn on the Cob
Green Beans
Mashed Potatoes
Sweet Kernel Corn
Important: The gravy that comes separately with the mashed potatoes does have gluten in it.
Salads (not including dressing or croutons)
Caesar Side Salad
House Side Salad
Dressing
Heinz Buttermilk Dressing
Hidden Valley The Original Ranch Fat-Free Dressing
KFC® Creamy Parmesan Caesar Dressing
Marzetti Light Italian Dressing
Dipping Sauces
Buttermilk Ranch Dipping Sauce Cup
Colonel's Buttery Spread
Creamy Buffalo Dipping Sauce Cup
Finger-Lickin' Good™ Dipping Sauce Cup
Honey Mustard Dipping Sauce Cup
Honey Sauce Packet
Summertime BBQ Dipping Sauce Cup
Sweet N Tangy Dipping Sauce Cup
Kids Drinks
Capri Sun Roarin' Tropical Fruit
Chocolate Milk 1%
Milk 1%
Milk 2%
Brisk Raspberry Tea
Dr. Pepper
Kids Meal
Beverages
All beverages are gluten-free
Common Questions Ordering Gluten Free At KFC
Is KFC popcorn chicken gluten-free?
If you have a gluten sensitivity unfortunately KFC (Kentucky Fried Chicken) is not the place to eat chicken. None of KFC's chicken is gluten-free. You can, however, eat some of their side dishes and salads.
Why is KFC grilled chicken not gluten-free?
Fried chicken uses a wheat flour blend, and while KFC provides a few gluten-free alternatives, as so many restaurants are now due to the rising demand for gluten-free meals and sides, nearly all of KFC's items have wheat or gluten ingredients in them. In other words, cross-contamination is a risk in an open kitchen environment for anyone who has a gluten allergy.
Are KFC fries gluten-free?
The fries themselves are gluten-free, but they're cooked in the same frying oil that contains gluten. So if you have Coeliac disease your best bet is to avoid eating their fries because of the high risk of cross contamination.
Is KFC gravy gluten-free?
Unfortunately the gravy itself does contain gluten. However KFC's mashed potatoes are signature and creamy. So the next time you order remember to skip the gravy and just get plain potatoes.
Gluten Free KFC Copycat Recipes
Enjoy gluten free fried chicken that tastes just like KFC when you follow this recipe. I'm sure you'll agree that this gluten free KFC chicken recipe is a keeper.
This crispy, gluten free popcorn chicken is basically gluten free KFC style fried chicken bites. Deliciously crunchy with my own blend of herbs and spices!
If you've been craving that salty savoury KFC chicken this is the perfect gluten free KFC copycat chicken recipe for you!
Summary of GF Menu Options at KFC
Pro tips and a quick summary of everything gluten free at KFC
When you order at your local KFC, drive through, or even online, tell them you have Celiac Disease or gluten allergies so they take precautions with your drinks and food.
None of their chicken is gluten-free!
KFC has very limited options if you have a gluten intolerance. Outside of gluten-free sides, salads and dipping sauces, there aren't many things to eat here if you are on a gluten-free diet.
Quick answer. Yes. KFC's coleslaw is gluten free. It is freshly prepared with finely sliced cabbage, carrots, onion, and topped with their signature gluten-free dressing.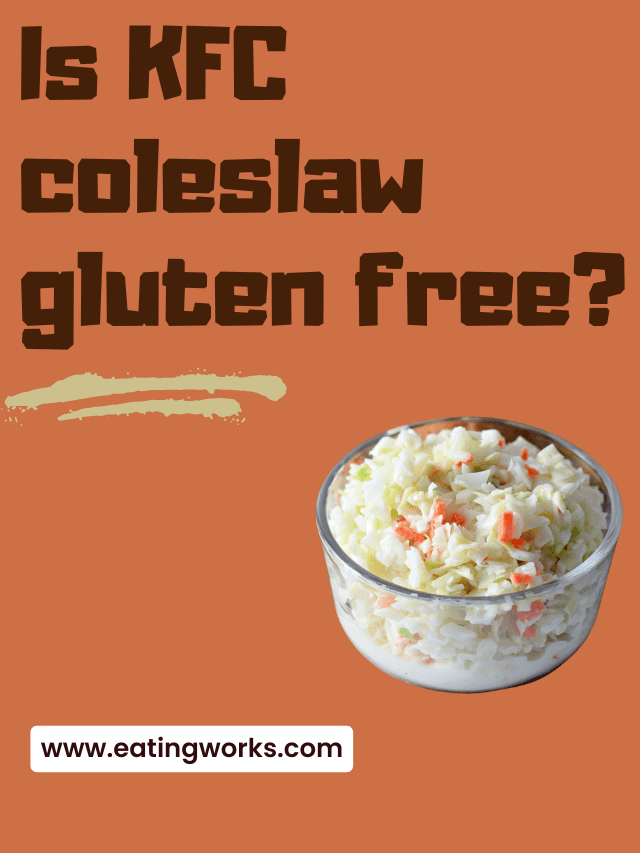 Sources
Other Gluten Free Menu Guides!
Other Keto Menu Guides!