These are the most flavorful plant based Roasted Rainbow Carrots you've ever had. They're easy to make, use one pan and can be made vegan, vegetarian are gluten-free and nut free.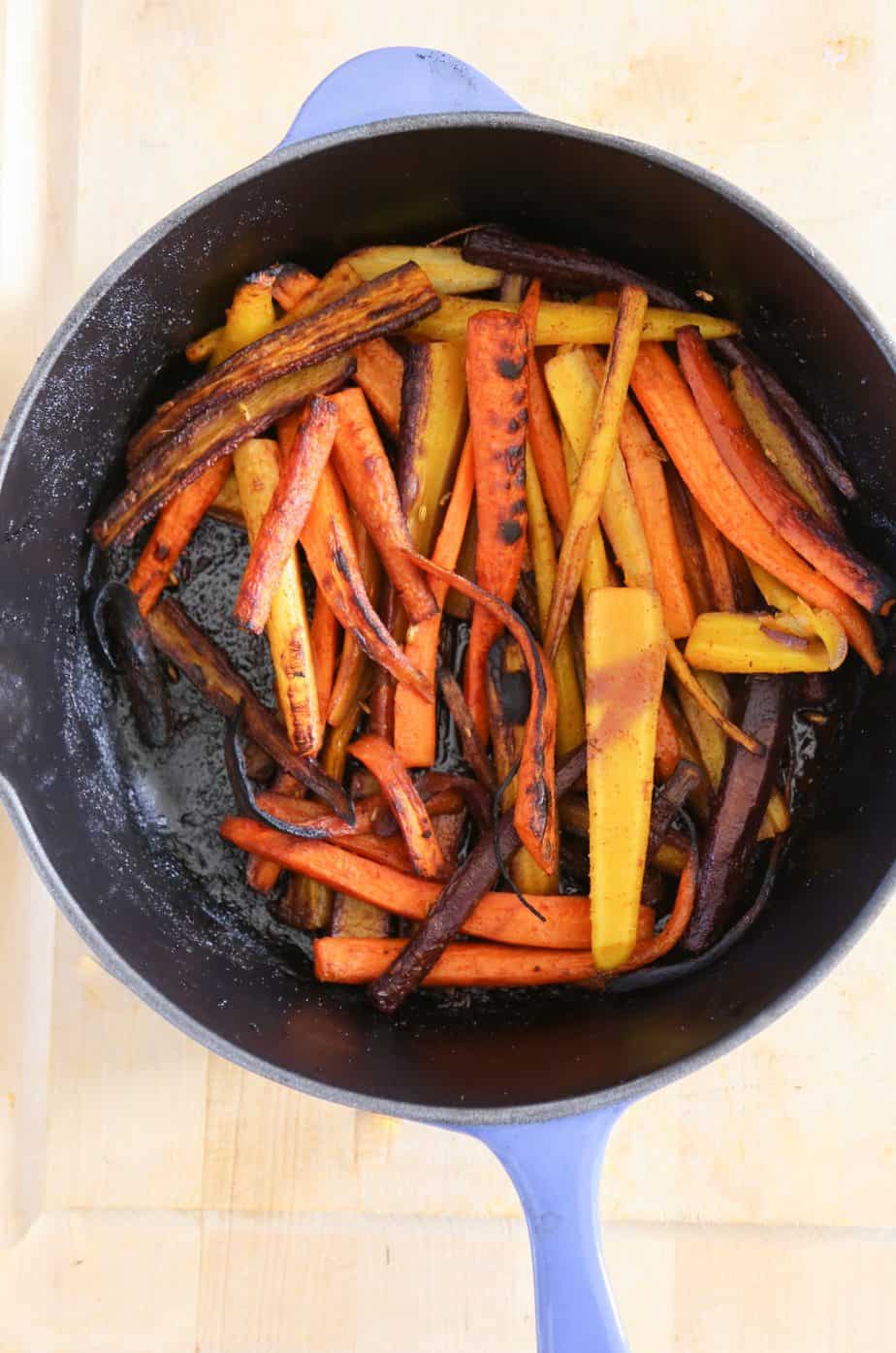 This post may contain affiliate links. As an Amazon Associate I earn from qualifying purchases at no cost to you. See my Affiliate Disclosure to read my policy and more about affiliate links.
Table of Contents
Why You'll Love These Easy Rainbow Roasted Carrots
There is so much to love about these one pan Rainbow Roasted Carrots! Here are a few of my favorites.
Lots of Flavor -> These are the most flavorful carrots you've ever had.
One Pan -> Easy clean up.
Low In Fat -> There is very little fat in these carrots.
Plant Based -> The entire recipe is made from veggies, herbs and spices.
Vegetarian or Vegan -> Anyone can enjoy this dish.
Minimal Prep Time -> Takes 10 minutes to prep.
Everyday Ingredients -> You probably already have what you need.
Ingredients for Rainbow Roasted Carrots
Plain Goat Yogurt
Parsley
Cilantro
Lemon
Baby Carrots
Substitutions For Roasted Carrots
Ingredient Substitutions
– Goat Yogurt -> Any greek style yogurt will work you can even use vegan yogurt.
– Lemon Zest -> You can skip this to simplify the recipe.
– Cilantro -> Swap fresh for dried (1 tsp)
– Parsley -> Swap fresh for dried (1 tsp)
– Maple Syrup -> Stevia, honey, agave or brown sugar
– Rainbow Carrots -> Regular fresh or frozen

How to make easy roasted carrots
Heat oil in a medium non stick skillet. Add paprika, cumin, mustard, fennel and sugar and bloom for 1 minute. Add carrots and mix. Place the lid on pan and roast in the middle of the oven for 40 minutes.
Wish together yogurt, harissa, parsley, thyme, cilantro and lemon zest. Season with salt and pepper. Set aside
To serve place carrots on a platter and drizzle sauce on top. I like to serve them right out of the skillet nice and hot!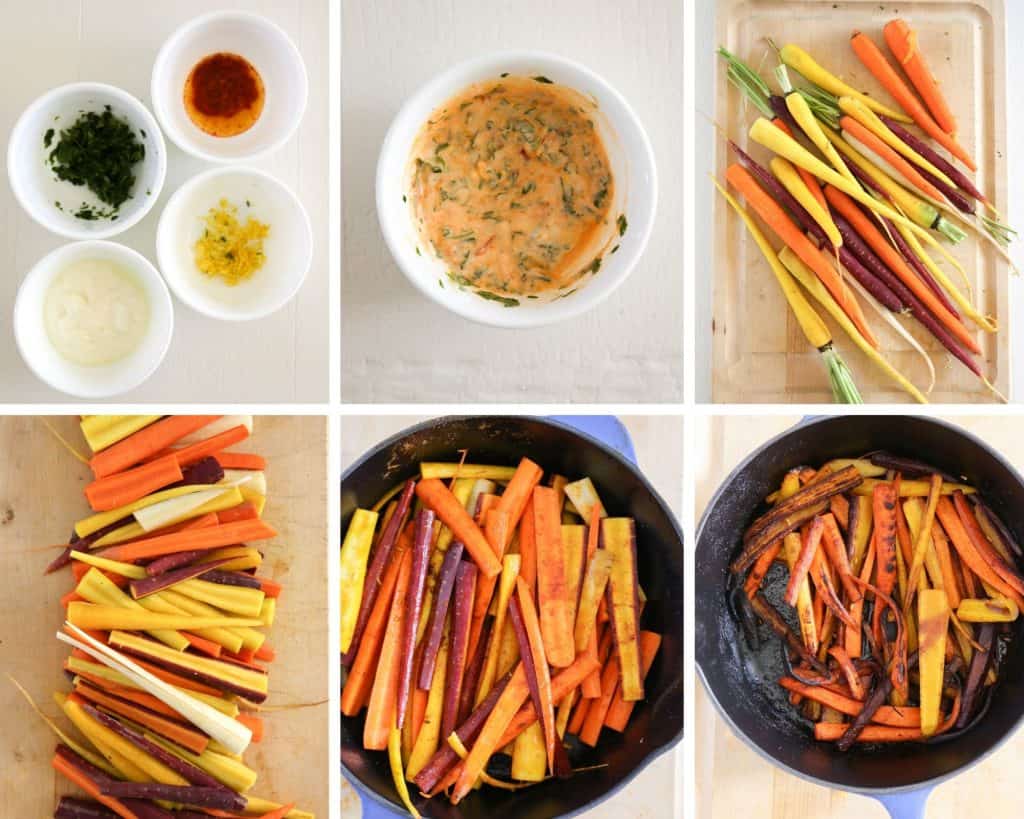 Tips for Best Roasted Carrots
Should I Peel My Carrots Before Roasting?
Yes! You should absolutely peel your carrots before roasting them because the skin of the carrot is tough and dry which prevents the seasoning and fats from penetrating the carrot. Peeled carrots come out softer and juicier then non peeled. Not to mention the skin is dirty so peeling it ensures a clean carrot.
Do I Have to Peel Purple Carrots?
You don't have to peel any of the carrots but it's recommended. The purple ones should be peeled as well.
How Are Rainbow Carrots Different?
Rainbow carrots are similar to regular orange carrots. They're pigment (purple, yellow or orange) depends on where and when the seeds are planted. Growers stick to the growing conditions for each color so that they can control which color they produce.
Do Rainbow Carrots Taste The Same?
Rainbow carrots taste almost exactly like orange ones. But there is a very subtle difference in flavor from yellow, to orange and purple carrots.
Are Rainbow Carrots Genetically Modified?
Rainbow carrots aren't genetically modified. The orange carrots we are used to are a more modern variation that was cultivated in the 1600's. So while individual types of carrots can be genetically modified you don't have to modify the genes of a carrot to make it rainbow.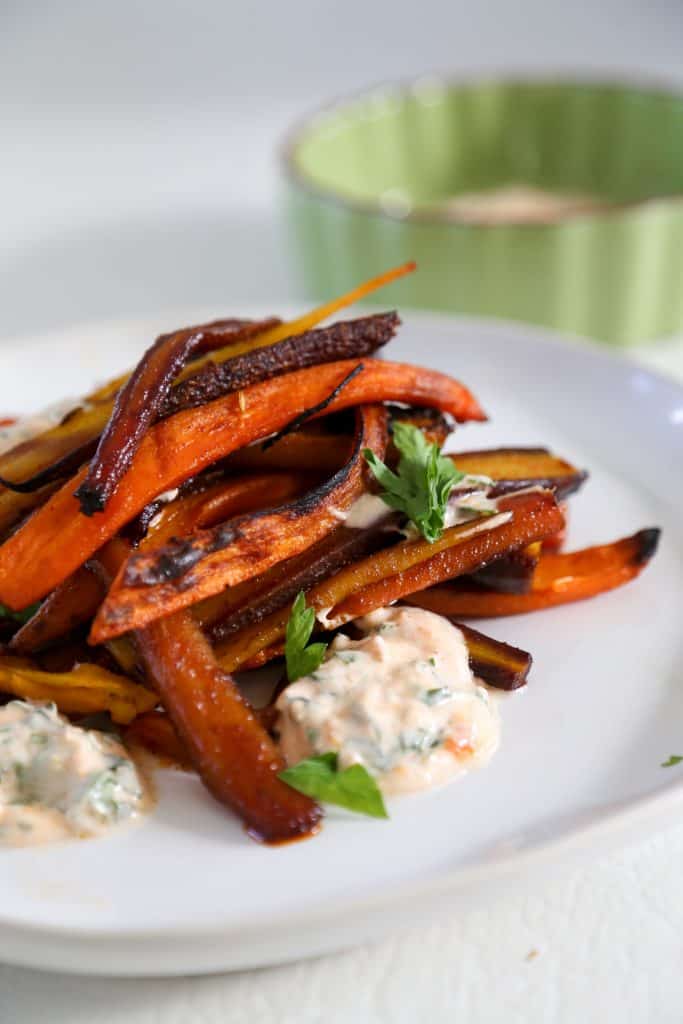 How to Serve Easy Rainbow Roasted Carrots
I like serving these carrots along side a tasty salad and protein.
The flavors from the salmon and carrots make the perfect pair. If you're entertaining try it with a dry red wine like my all time favorite Oberon.
How to Reheat Simple Rainbow Roasted Carrots
I like to reheat these carrots in the oven at 200 degrees for 20 minutes. Once they're warm take the lid off of the pot and turn on the broiler for 5 minutes. This will crisp up the carrots.
You can also reheat them in the toaster oven on a sheet of tinfoil. I would not put them in the microwave. This will make them soggy.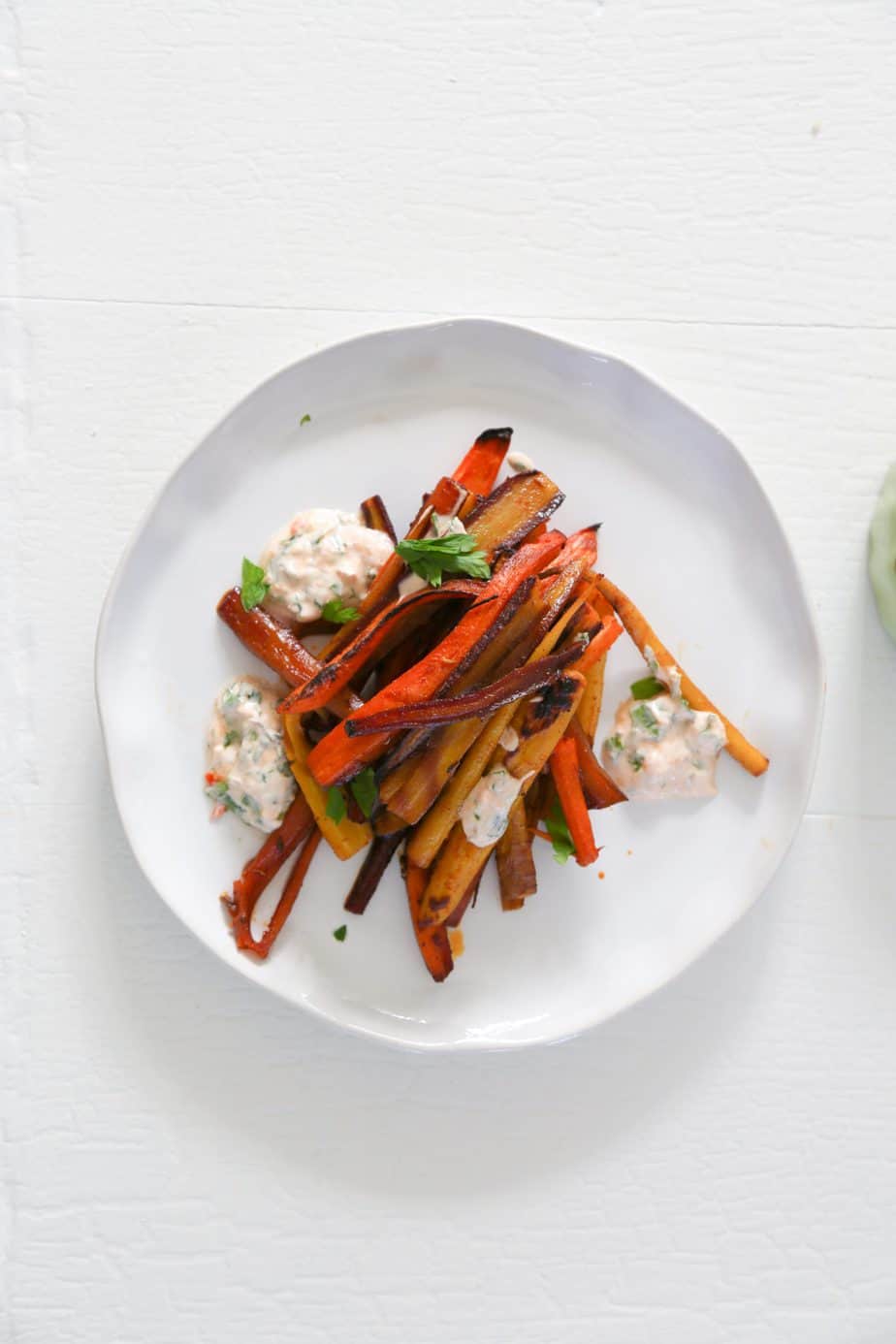 More Easy Vegan Side Dishes
You can find the google web story for this recipe here !
Rainbow Roasted Carrots
These carrots are rubbed with spices and cooked just until tender. A great source of beta-carotene antioxidants and other nutrients. The carrots are sweet and savory with just a hint of spice from the creamy yogurt sauce!
Print
Pin
Rate
Instructions
Preheat the oven to 350. Mix yogurt, harissa, sparsely, thyme, cilantro and lemon zest. Season with salt and pepper, set aside.

Melt butter in a deep lidded cast iron pan. Add paprika, cumin, mustard, fennel and maple syrup and bloom for 1 minute. Add carrots and mix until coated with sauce. Place in the oven for 35 minutes. Turn on broiler and remove lid for 5 minutes to brown the carrots.

Plate the carrots with plenty of yogurt sauce.
Nutrition
Serving:
1
cup
|
Calories:
165
kcal
|
Carbohydrates:
18
g
|
Protein:
2
g
|
Fat:
10
g
|
Saturated Fat:
6
g
|
Polyunsaturated Fat:
1
g
|
Monounsaturated Fat:
3
g
|
Trans Fat:
1
g
|
Cholesterol:
27
mg
|
Sodium:
238
mg
|
Potassium:
368
mg
|
Fiber:
4
g
|
Sugar:
13
g
|
Vitamin A:
16203
IU
|
Vitamin C:
12
mg
|
Calcium:
90
mg
|
Iron:
1
mg