50 Best Salads For Weight Loss!
Best Salads For Weight Loss List (Page 3)
Made with kale, cherry tomatoes, avocado, tempeh bacon, and a creamy tahini dressing, this vegan BLT salad is hearty enough for a meal, but it also makes a great side dish.
Kale Caesar Salad with Roasted Chickpeas is a hearty dish that makes a terrific meal any time of the year. It's great for a complete meal on its own, and it's a great option as a side for pasta or sandwiches, too.
Simple and fresh Shirazi Salad! This refreshing Persian cucumber and tomato salad is so quick and easy, full of fresh flavors, healthy, crisp, and crunchy! It's a great side dish, appetizer, topping, or accompaniment to so many dishes! Naturally gluten-free, vegan, paleo, and keto, this classic Iranian salad recipe will be your new favorite!
All the colors and lush flavors of summer in a delightful, gluten-free, & vegan Rainbow Buckwheat Salad. Crisp healthy veggies, sweet blueberries, and fragrant spices like cardamom pull this easy salad recipes together.
This perfect healthy and fresh Spring Salad Recipe is the only one you need! Celebrate the season with all the bright and delicious flavors of springtime produce in this easy-to-make green salad! Including crisp and crunchy veggies like snap peas and asparagus, with refreshing notes of mint, and tender arugula leafy greens, all lightly dressed with a simple vinaigrette!
You will love the flavors in this Easy Mandarin Salad recipe! This Asian-inspired vinaigrette is bursting with flavors of ginger and soy sauce creating the perfect salty-sweet combination to top your crispy salad. It's a great healthy choice for lunch or dinner.
You can make an easy garden salad that will last all week. This simple salad stays crisp, fresh, and delicious, so you can enjoy a side salad every night. It's a great meal prep weight loss salad to save you time and makes a quick lunch.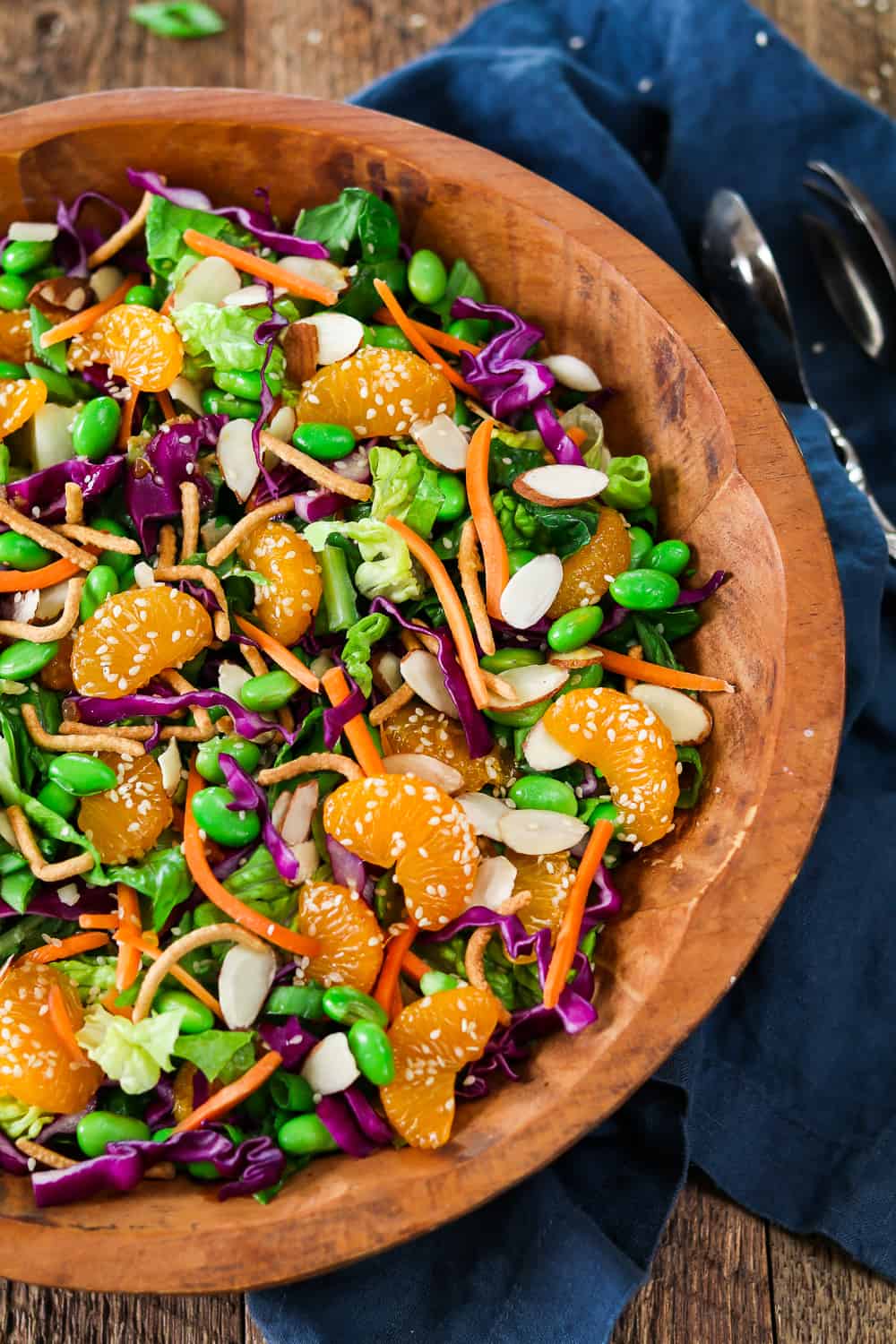 Asian Chopped Salad with Sesame Ginger Dressing – So light & and packed with health benefits, yet so satisfying! Plus, it's SO easy to put together and you won't need to cook anything!
This Wellness Salad is a copycat recipe from The Cheesecake Factory. Packed with loads of nutritious raw veggies, nuts and fruits and topped with a lemon and blueberry vinaigrette, this is the ultimate salad to help you achieve your weight loss goals!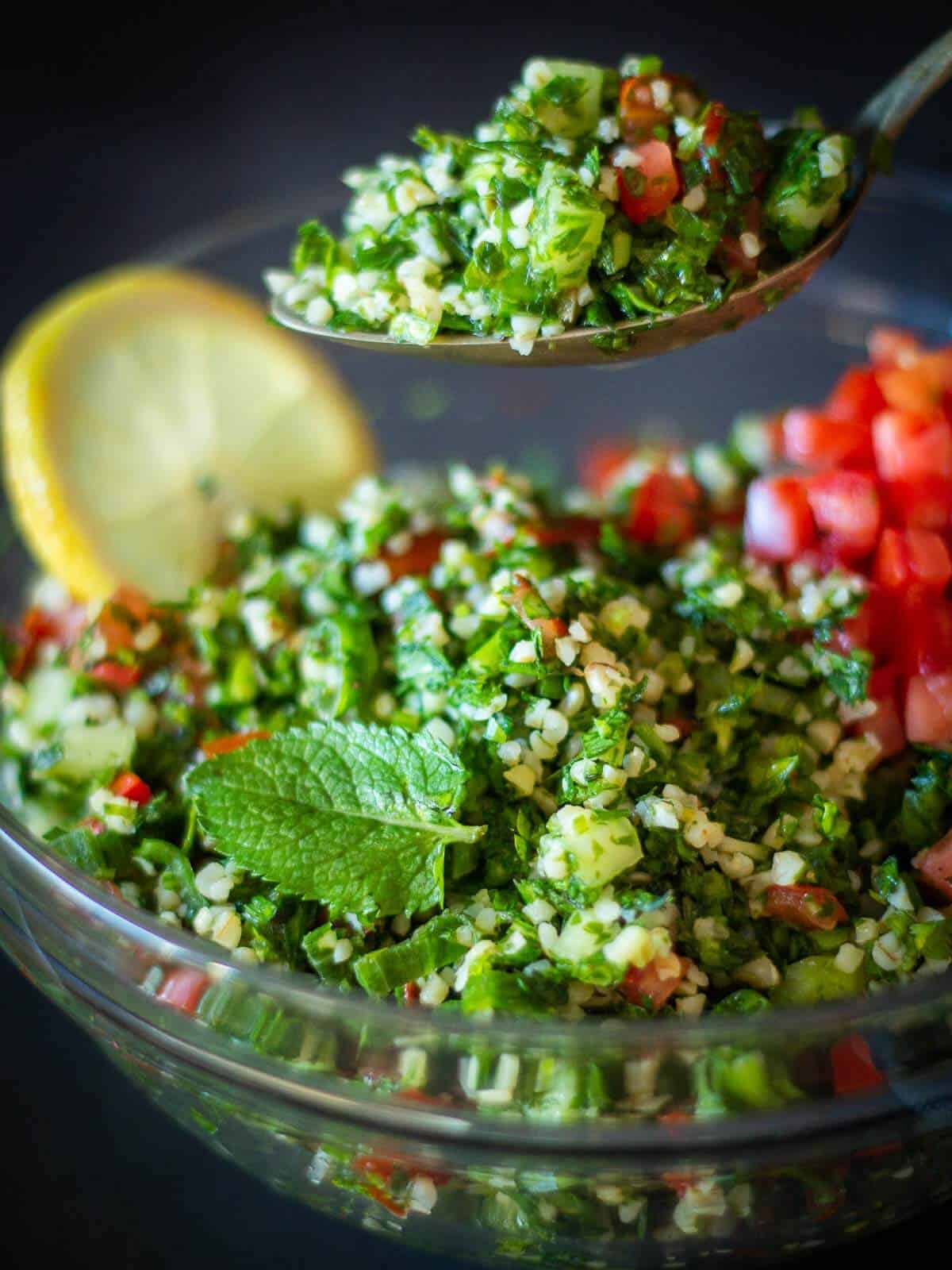 This Authentic Tabbouleh Salad Recipe, a Traditional Lebanese salad with parsley, is definitely a favorite salad recipe! It's light, refreshing, and perfect for satisfying if you are trying to maintain a healthy diet.
Looking for more tasty salads that are great for weight loss? Check out Kale Salad with Apple Tahini Dressing and Brussels Sprouts Salad Vegan!