Enjoy 45 of the best vegan cranberry recipes this holiday season!
Whether you prefer tart fresh cranberries, dried cranberries, or cranberry juice, there are so many vegan recipes with cranberries you can add to your personal holiday menu!
Check out these vegan sauces, vegan sides, and vegan breakfast recipes featuring cranberries.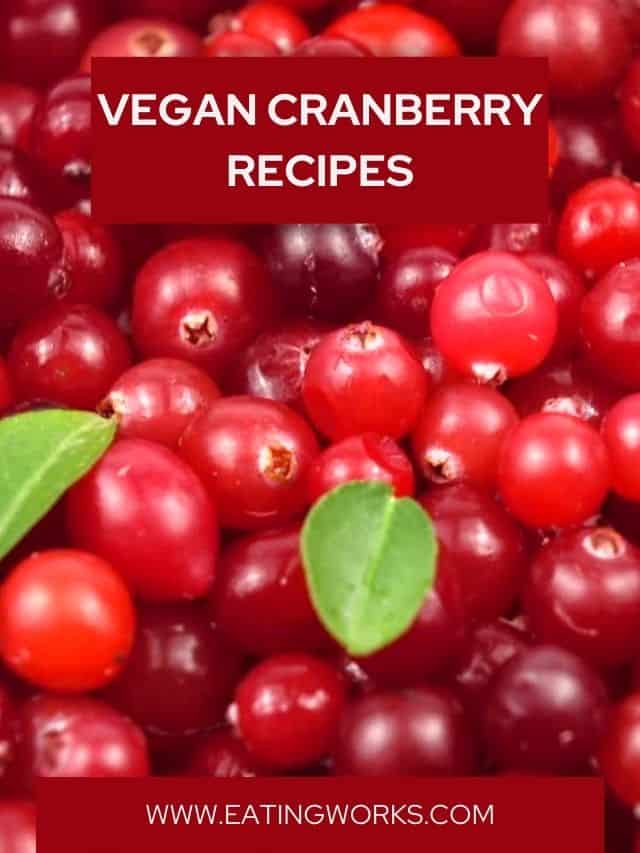 This post may contain affiliate links. As an Amazon Associate I earn from qualifying purchases at no cost to you. See my Affiliate Disclosure to read my policy and more about affiliate links.
Are canned cranberries vegan?
Yes, most cranberry sauce is vegan. Even the canned kind is vegan.
Is Ocean Spray jelled cranberry sauce vegan?
Ocean Spray jelled cranberry sauce is suitable for vegans. While it does not say vegan on the label, the ingredients include cranberries, high fructose corn syrup, corn syrup, and water.
So Ocean Spray jelled cranberry sauce does not contain any animal-derived ingredients.
How do you thicken cranberry sauce without gelatin?
To thicken cranberry sauce without gelatin mix together 1-2 teaspoons tapioca or cornstarch until smooth.
Then add it to the simmering cranberry sauce while whisking constantly, and simmer just until thickened.
What is the healthiest way to consume cranberries?
After purchasing fresh or frozen cranberries at your grocery store, you can consume this delicious fruit by making a smoothie, oatmeal, salsa, or granola.
Are cranberries anti-inflammatory?
Cranberries are high in anthocyanins. These are the compounds that give cranberries their dark red color.
Studies have shown that they may have anti-cancer and anti-inflammatory effects.
Do cranberries clean your liver?
Cranberry juice contains a lot of antioxidants, which help your body cleanse toxins in a number of ways.
They can help eliminate free radicals from the liver, reducing the damage they can cause to liver cells.
Be sure to check out my vegan cranberry recipes healthy google web story!
Vegan Fruit And Vegetable Recipes Collection
The BEST Collection Of Vegan Cranberry Recipes